Location, Location, Location
Drawing from a color palette and design elements that define the surrounding Sonoran Desert, the Palm Springs Convention Center (PSCC) offers stunning views and year-round clear blue skies, making for a perfect meeting space for your next event. Located 1.5 miles from the Palm Springs International Airport, PSCC is within walking distance of 1,600 hotel rooms and just blocks away from downtown Palm Springs and the historic Palm Canyon Drive. Whether it's a leisurely stroll or a morning power walk, the views of the surrounding San Jacinto Mountains help create a stress-free stay.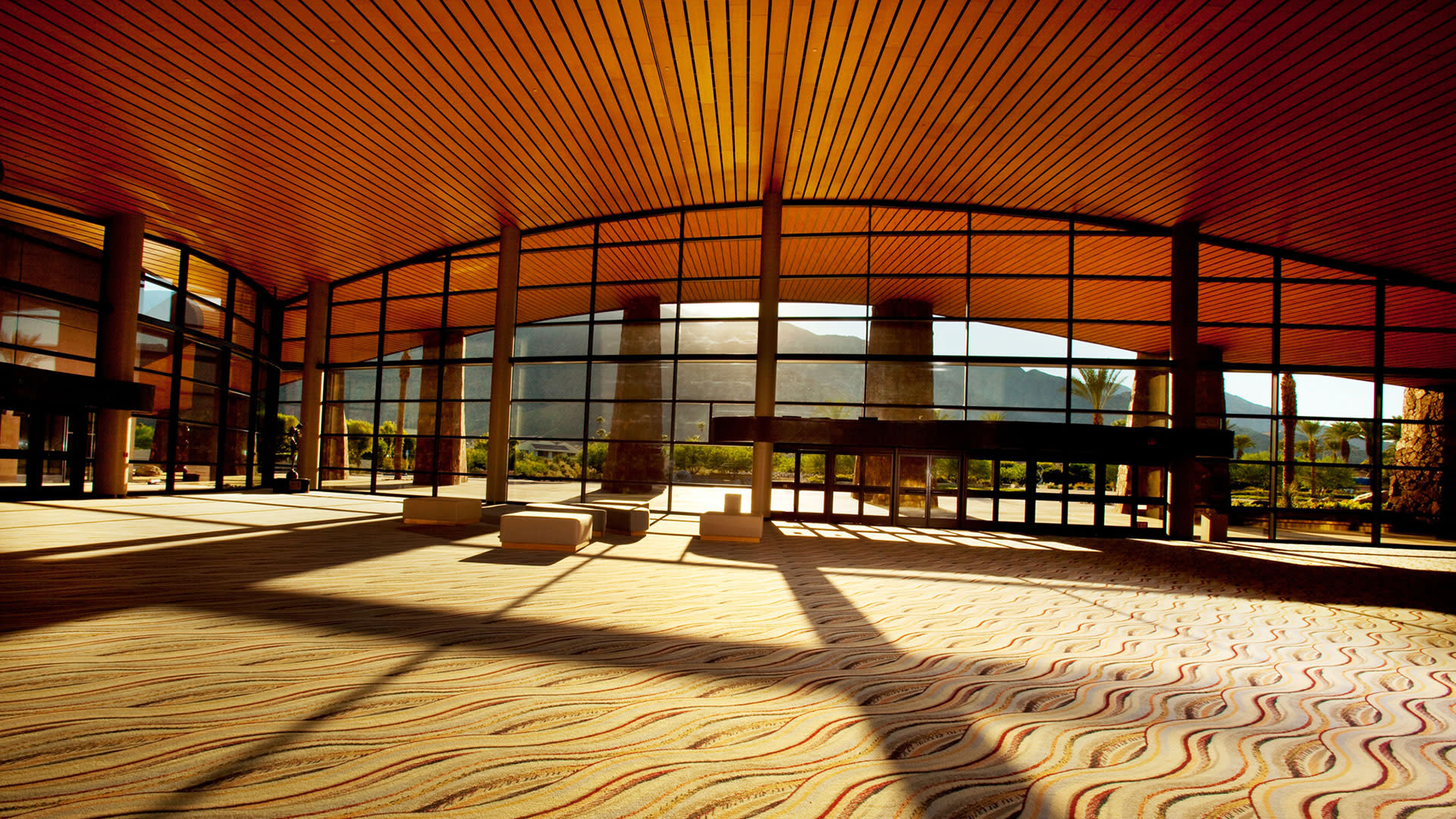 Meeting Oasis
The 261,000-square-foot facility is within easy walking distance of 1,600 hotel rooms. Yet, it often finds event organizers scratching their heads and wondering if this is a convention center with 410 guest rooms or a Renaissance Hotel with more than 180,000 square feet of dedicated meeting space. PSCC and the Renaissance Palm Springs often team up to create a seamless experience for attendees.
PSCC also sizes up with 112,000 square feet of fully carpeted exhibit space, 15 meeting rooms and a 20,000-square-foot ballroom that can all be configured into competition venues, media rooms, registration areas, warm-up spaces and dining spaces. An 18,000-square-foot lobby with panoramic mountain views, a 20,000-square-foot Event Lawn and the adjacent Jackie Lee Houston Plaza enhance options.
Oasis Hall – 92,000+ square feet of column-free exhibit space accommodating up to 9,524 in theater-style seating.
Primrose Ballroom – 20,016 square feet of carpeted exhibit hall space comprising four individual rooms that range from 2,825-6,337 square feet; total seating capacity of 1,668.
Mesquite Rooms – Up to eight individual rooms ranging from 900-1,800 square feet; total seating capacity of 68-155 in theater-style seating. 
Smoketree Rooms – Up to six individual breakout rooms that can combine for 4,680 square feet; total seating capacity of 55-325 in theater-style seating.
Safety First
To meet the needs of the highest level of health and safety, the Palm Springs Convention Center is implementing a comprehensive and best-in-class program to provide the highest levels of cleanliness and safety while inspiring consumer confidence, all in partnership with leading medical professionals, industry experts and public health officials. At the very heart of this effort is our focus on making our guests and employees feel safe and comfortable in a welcoming environment. We will provide the most advanced hygienic safeguards that serve our clients, guests, staff members, teams, and all other visitors.
GBAC STAR™ is the cleaning industry's only outbreak prevention, response and recovery accreditation for facilities. The Palm Springs Convention Center is one of a few U.S. Convention Centers that are GBAC accredited. This is the gold standard of prepared facilities. This accreditation means that a facility has:
Established and maintained a cleaning, disinfection and infectious disease prevention program to minimize risks associated with infectious agents like the novel coronavirus (SARS-CoV-2).
The proper cleaning protocols, disinfection techniques and work practices in place to combat biohazards and infectious disease.
Highly informed cleaning professionals who are trained for outbreak and infectious disease preparation and response.