What constitutes the perfect pub? The answers vary widely based on whom you ask. Some prefer a down and dirty ambiance with nothing but beer on the menu. Others look for watering holes with great bar bites to soak up the drink. Then there are those looking for a high-class atmosphere and artisanal ales. But everyone will agree that the term pub, short for Public House, is known universally to simply describe a perfect and non-pretentious place to hang out, sip and snack.
Greater Palm Springs is growing a colorful pub scene. Find your designated driver and take an old-fashioned pub crawl from one end of the oasis to the other.
New Pubs in Greater Palm Springs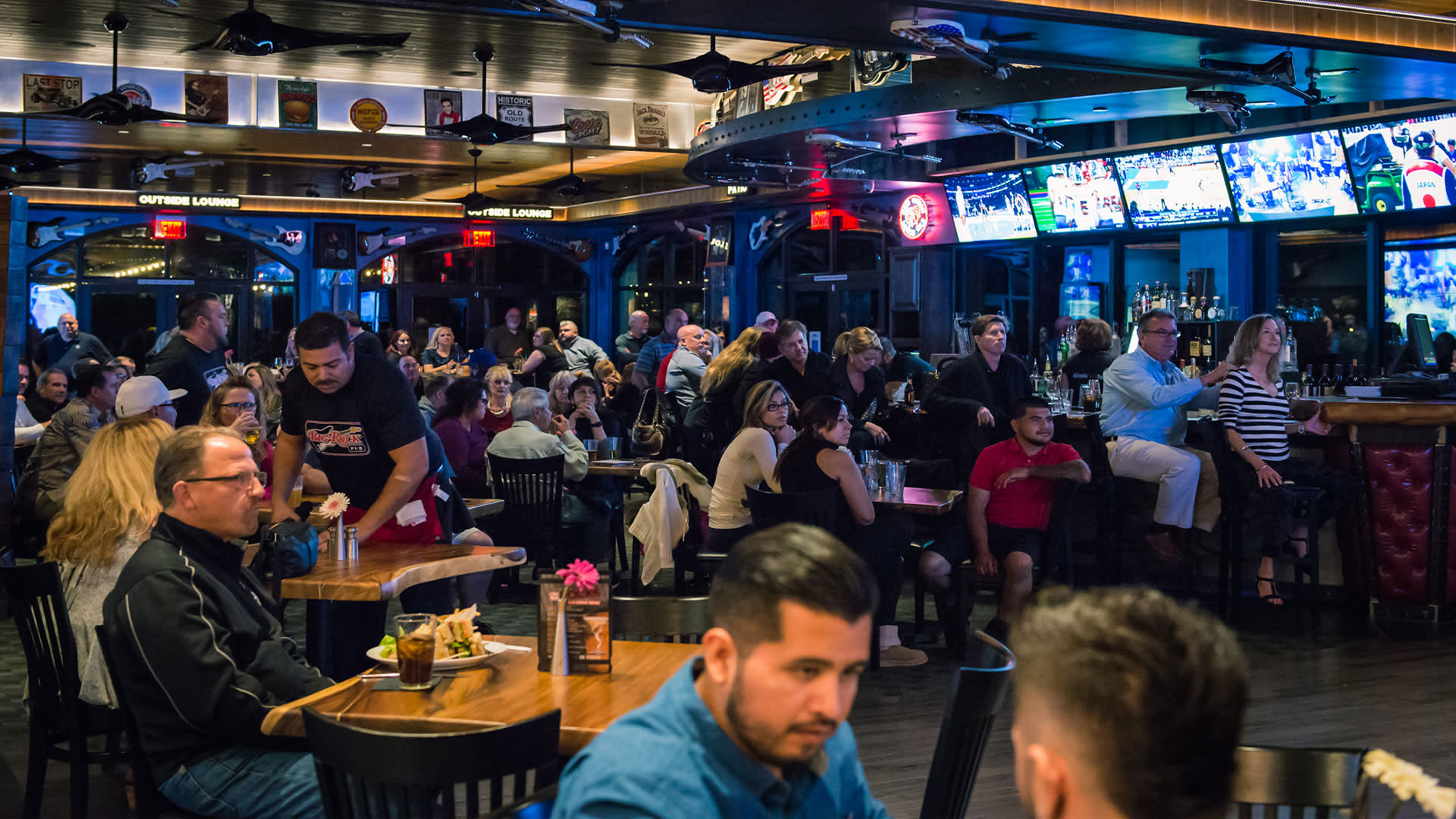 Big Rock Pub in Indio is a vast sports bar and entertainment venue with a rock & roll theme. One- of- a- kind artwork and paraphernalia of musical legends adorn the walls along with music videos, rock-umentaries and sports events.  Lively, loud and large, the bar features music by rotating local bands three nights a week. The creative menu features dishes with tongue in cheek names like "Earth, Wings and Fire," an upgraded take on standard wings using Jidori chicken which has been brined and smoked over apple and cedar chips.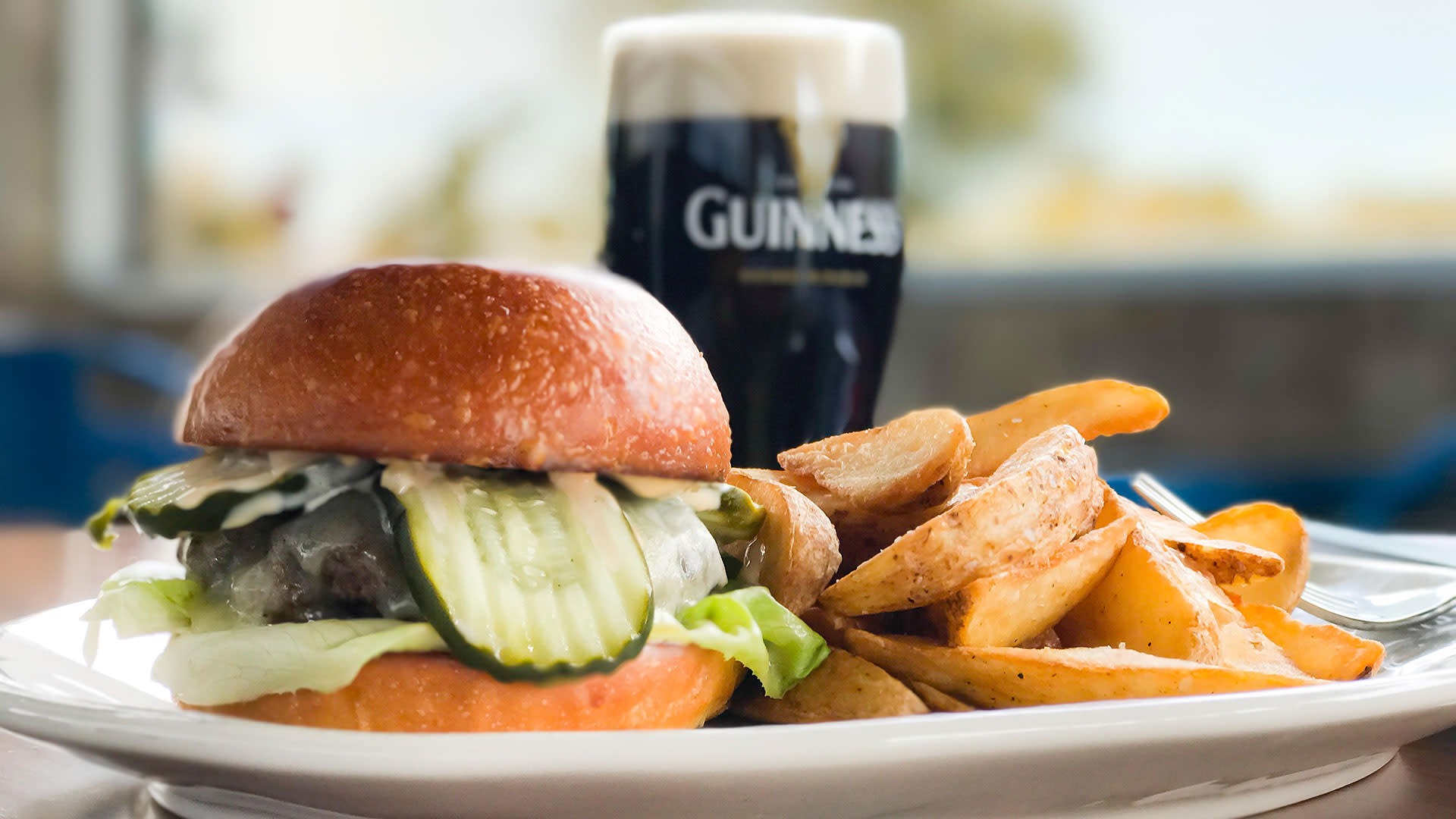 At the River in Rancho Mirage, Fox and Fiddle elevates the heritage of a highly social British pub into a vibrant, contemporary gastropub that's high on style. Think steel blue upholstered bar chairs, raised booth seating, cool wood throughout and a classic moose head on the wall. Traditional pub fare like Scotch eggs, poutine, bangers and mash, shepherd's pie and fried pickles is given a gourmet overhaul and daily happy hour from 3-6 p.m. boasts $5 draft and well beer, wine and cider.
Favorite Local Pubs in Greater Palm Springs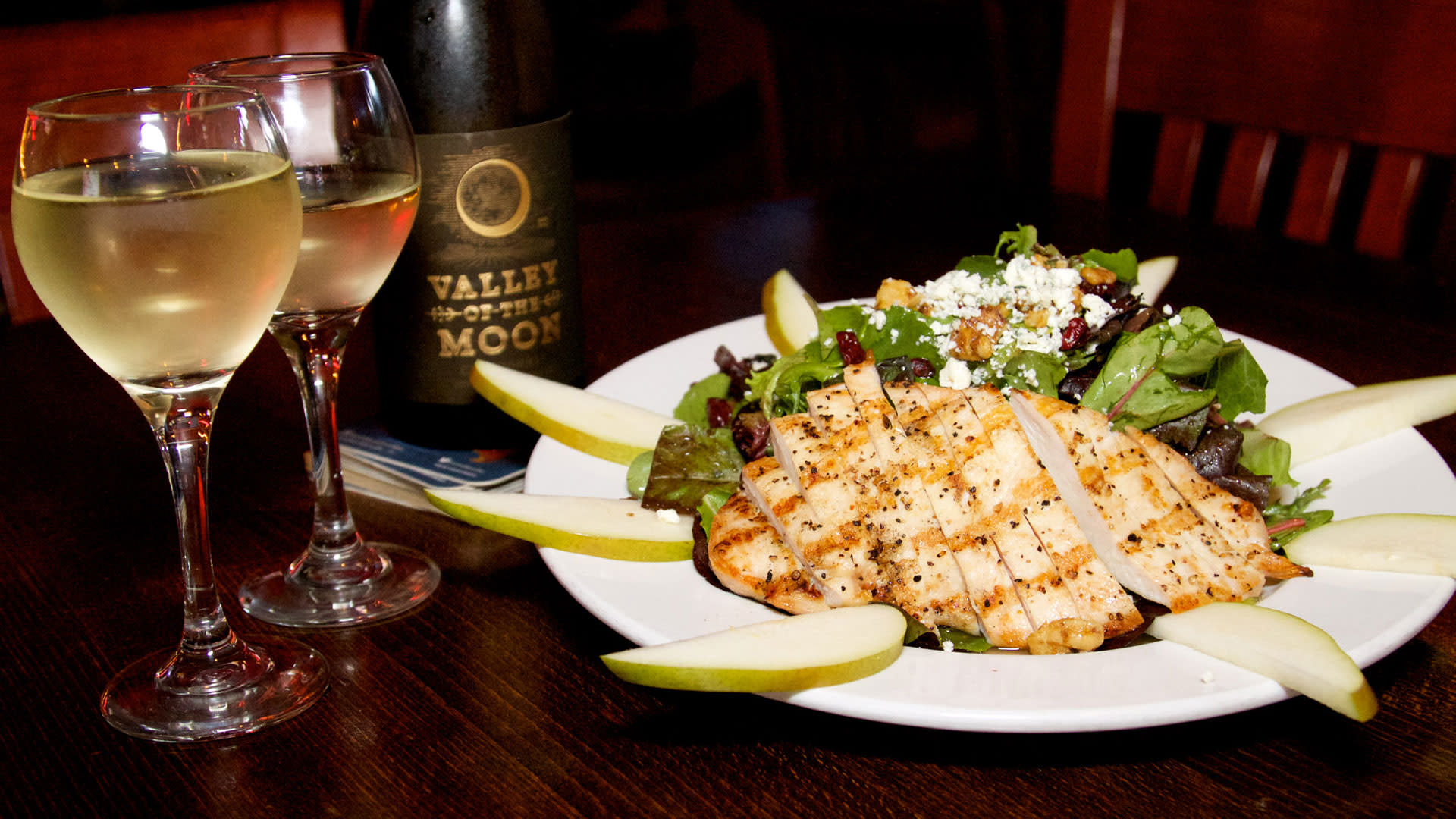 In downtown Palm Springs, Village Pub Bar & Grill offers indoor or outdoor seating and a jovial, bustling atmosphere. It's a great place to enjoy a gorgonzola, chicken and pear salad on the patio along with Patrick the bartender's signature Ojos Locos—a take on the classic mule with Tullamore Dew, fresh lemon, simple syrup and ginger beer. The pub's chef, George Gonzalez, recently launched a new menu that touches upon popular dishes from Mexico, Argentina, Ireland, Italy, England and Jordan alongside regular pub food. Nightly live entertainment includes both bands and DJs.
Also downtown is Hair of the Dog English Pub, one of the oldest dives in the area. Crowded, dark, intimate, boisterous and packed with regulars from 7 a.m. to 2 a.m., it's a great place for those looking for no-frills local flavor and unassuming brews.
Back in Indio, the Tack Room Tavern on the grounds of the Empire Polo Club provides a more rustic, Western vibe and décor. Some of the bar seats can be straddled because they resemble horse saddles. The beloved joint has comfort American food like baby back ribs, a jumbo stadium dog, a "10 Goal" Kobe burger and Polo potato skins. A pizza place operates outside on a shared expanded patio. Happy hour specials run all week long, and local bands play live on Friday and Saturday nights.
Looking for more places to raise a glass? Don't miss these secret watering holes in Greater Palm Springs.