The Greater Palm Springs area is known for its blissful climate that cries out for memorable moments under a dazzling sun or an equally brilliant moon. It is no surprise that visitors to the area are often swept away by the alluring prospect of dining al fresco. Whether you are looking for a casual snack and a glass of wine or a full course, world-class dinner beneath the stars, you will find a romantic patio to please any palate.
Spencer's | Palm Springs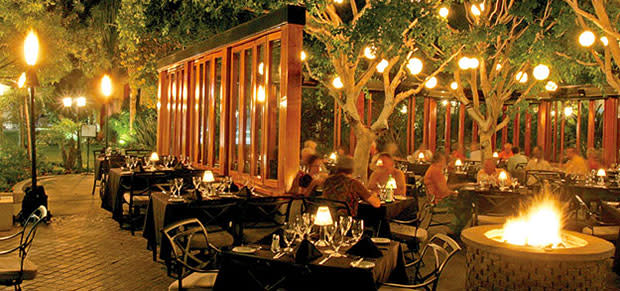 In Palm Springs at the base of the San Jacinto Mountains, Spencer's boasts a tucked away garden patio, privately framed in wood just off to the side of the indoor dining room. Guests can hear piano music tinkling out from the inside as birds tiptoe around their feet. A classic American cuisine is served with a French Pacific Rim influence, heavy on lobster and steak offerings with appetizer favorites that include coconut shrimp and mini braised beef wellington sandwiches. The Sunday brunch is renowned for its five types of eggs Benedict and the dessert banana cream pie martini. Elegant wine pairing dinners are offered frequently.
Le Vallauris | Palm Springs
Also in Palm Springs, Le Vallauris offers old school-style luxury in a French Mediterranean estate setting. The courtyard bursting with trees envelops an intimate setting of tables adorned with fresh flowers floating in bowls set by staff dressed traditionally in white and black. A white board is presented to guests with the daily menu, and owner Paul Bruggemans is known to stop by and say hello. Enjoy a high-class lunch of butter soaked escargot and sautéed sweetbreads or come for a weekly prix fixe dinner. Splurge on champagne knowing your meal will be pricey but worth every penny.
Catalan | Rancho Mirage
For more down-to-earth romance, check out the small patio at Catalan in Rancho Mirage. The restaurant creates Mediterranean delights with an Italian and Spanish emphasis. For fun, enjoy a glass of bold red with the mixed tapas plate that includes goat cheese stuffed pickle peppers, smoked chorizo, garlic shrimp, sautéed mussels, fish cakes, duck fat chips with Spanish blue cheese and harissa and honey Jidori chicken wings. Then share classic paella and an entree such as the grilled veal skirt steak with queso cabrero and cauliflower puree, shaved Brussel sprouts and bacon and tomato jam. Acoustic Spanish guitar and other small musical acts often add to the casual, breezy ambiance.
La Spiga Ristorante Italiano | Palm Desert
When craving hearty yet sophisticated Italian food, La Spiga Ristorante Italiano in Palm Desert offers a lavishly landscaped garden property with vignette seating of your choice. Sit on the gorgeous patio offering views of sienna-colored mountains while eating tender balls of polpette or octopus. Reserve a table in the brick-lined patio with three private-dining gazebos guarded by hollyhock-entwined trellises, a cozy fireplace, a putting green and a wood-burning pizza oven.  Or enjoy papardelle and taglietelle on the piazza under a dark night sky. The "Valentino" gazebo for two tucked away in the fruit trees is currently under construction and will be available soon.
Cuistot | Palm Desert
Another Palm Desert bastion of good taste is the famous Cuistot, a large rustic French farmhouse in the desert serving traditional countryside gems like classic Lyon-style quenelles, wild mushroom soup and roasted quail or rabbit saddle by Chef Bernard Dervieux. The patio overlooks the adjacent Galen Sculpture Garden full of earthy, sustainable landscaping and art—a perfect atmosphere for cognac and a floating island dessert or a raspberry feuillete full of vanilla custard on a bed of warm caramel.
The Grove Artisan Kitchen | Indian Wells
The Grove Artisan Kitchen is tucked inside the Mediterranean village-inspired Miramonte Resort in Indian Wells. Seating provides a sweeping view of the property's romantic architecture bursting with fuchsia bougainvillea, Italian fountains, piazzas and stonework, olive trees, citrus groves and herb and flower gardens. A perfect spot for watching the sunset while savoring farm-to-table, fresh California cuisine favorites such as the sunchoke pizzetta with ricotta and fresh chicory, a pistachio blue salad with hydroponic butter lettuce or creative entrees like rock fish, calamari and fennel fritto misto, desert sage rabbit pasta or the California coastal catch of the day.
Lavender Bistro | La Quinta
Dressed in pristine white, spring greens and royal purple, the patio at La Quinta's Lavender Bistro beckons diners to enjoy hearty steaks and seafood among the light-strung trees. Bring a bottle on Sunday when there is no corkage fee and enjoy it alongside a duo of Gouda and Stilton cheese with poached peaches and Coachella Valley date relish. Or come for Tuesday night dinner when bottles are half off and splurge on a roasted Australian lamb loin with goat cheese polenta cake. Live music is often featured.
Jackalope Ranch | Indio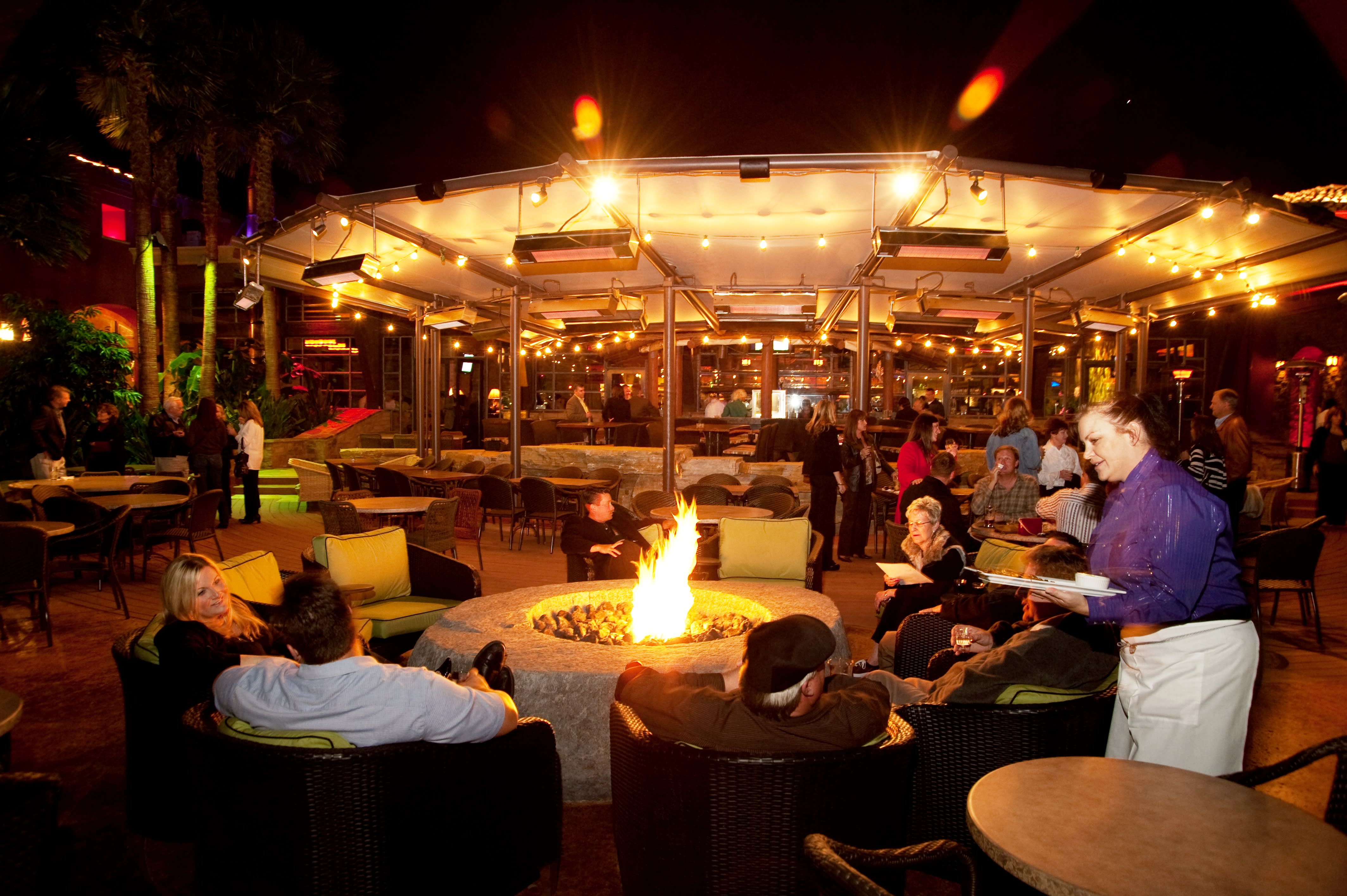 On the east end of the valley lays Jackalope Ranch, an enormous lodge on 6.5 acres with California ranch fare and classic BBQ. Kick back like an upscale rancher and enjoy lush outdoor seating set against waterfalls and fruit trees while diving into a plate of baby back ribs and brisket accompanied by the cool refreshment of a fresh watermelon or coconut margarita. Live music gets the place hopping on a regular basis.