From mouthwatering food festivals and world-class sporting events to star-studded film premiers and unparalleled music festivals, the calendar is always bursting with exciting events in Greater Palm Springs. Find your vacation inspiration with this sneak peek of can't-miss signature events in the oasis for the 2016-2017 season.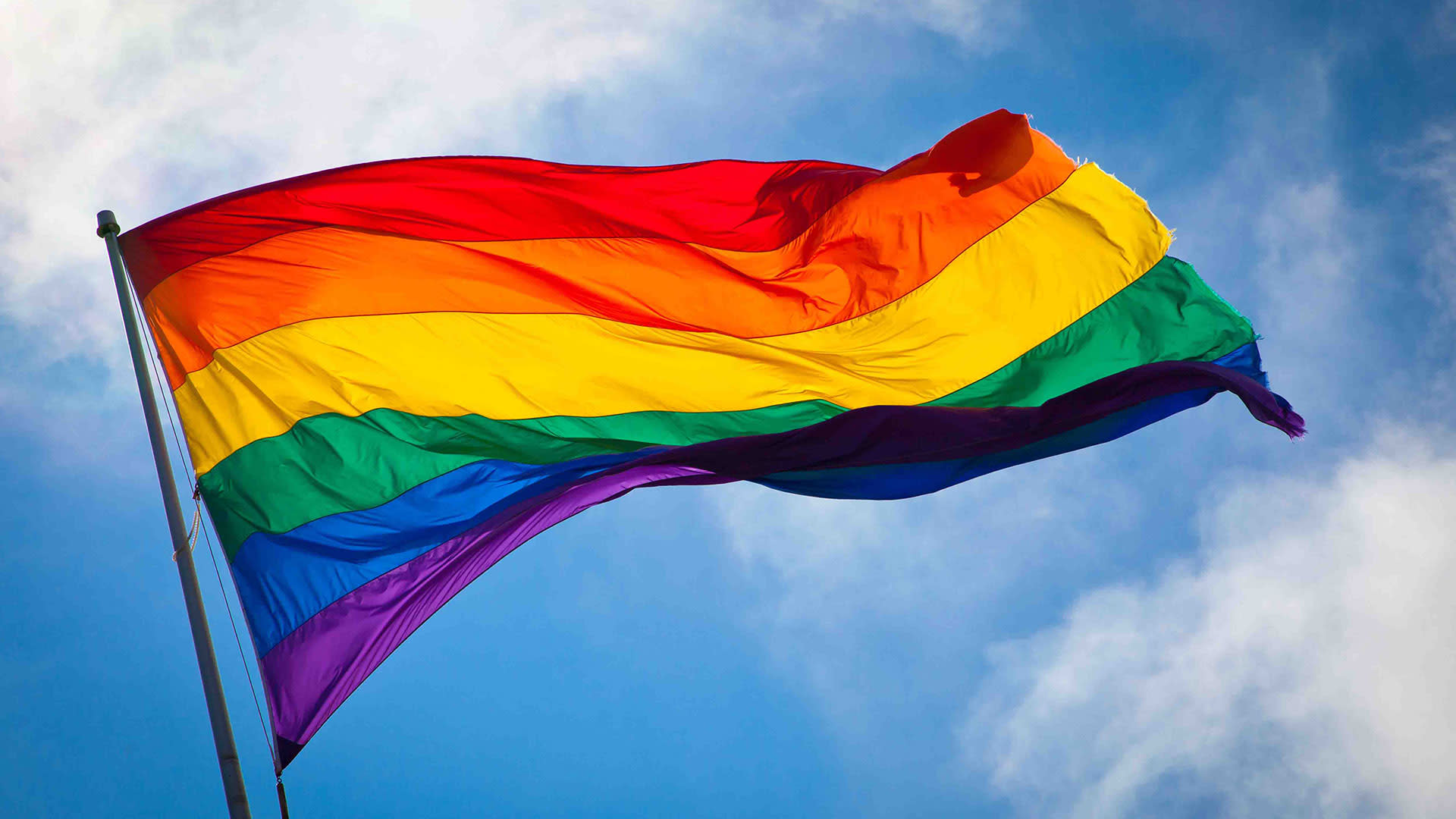 Greater Palm Springs Pride Weekend | November 5 – 6
Downtown Palm Springs transforms into one big, fabulous block party during the Greater Palm Springs Pride festival. This weekend celebration of the LGBT community includes a free festival, a lively parade and nightly parties. Join more than 100,000 people for this festive weekend.
Indio International Tamale Festival | December 3 – 4
Sink your teeth into savory and sweet treats during the Indio International Tamale Festival, held the first weekend of December in downtown Indio. Local restaurants, home cooks and vendors from across the country offer up dozens upon dozens of tamale varieties, all while vying for the festival's top honors. Try award-winning tamales, traditional favorites or the downright quirky throughout the weekend.  
Palm Springs International Film Festival | January 2 – 16
Celebrities have had a long love affair with Greater Palm Springs, dating back to the days of Marilyn Monroe and the Rat Pack. Today's A-listers flock to the oasis every January for the star-studded Palm Springs International Film Festival, now in its 27th year. With its exclusive film screenings, panels with industry leaders and the famed red carpet of the annual Gala, the Palm Springs International Film Festival is not only one of the most popular events of the season – it's also one of the largest film festivals in North America.
CareerBuilder Challenge Golf Tournament | January 16 – 22
Once known as the Bob Hope Chrysler Classic, the CareerBuilder Challenge Golf Tournament brings the PGA tour to Greater Palm Springs – and for good reason. With more than 100 local golf courses and famed designs by the likes of Pete Dye, Greg Norman and Arnold Palmer, it's no wonder celebrities and pros alike love teeing off in the oasis. See the pros tackle La Quinta's most challenging courses during this annual tournament.
Southwest Arts Festival | January 26 – 29
Often named one of the top events in the country, the Southwest Arts Festival brings a menagerie of art to the Empire Polo Club in Indio. Wander through lawns filled with sculptures, blown glass, paintings, photography, textiles and other mediums from more than 200 acclaimed artists.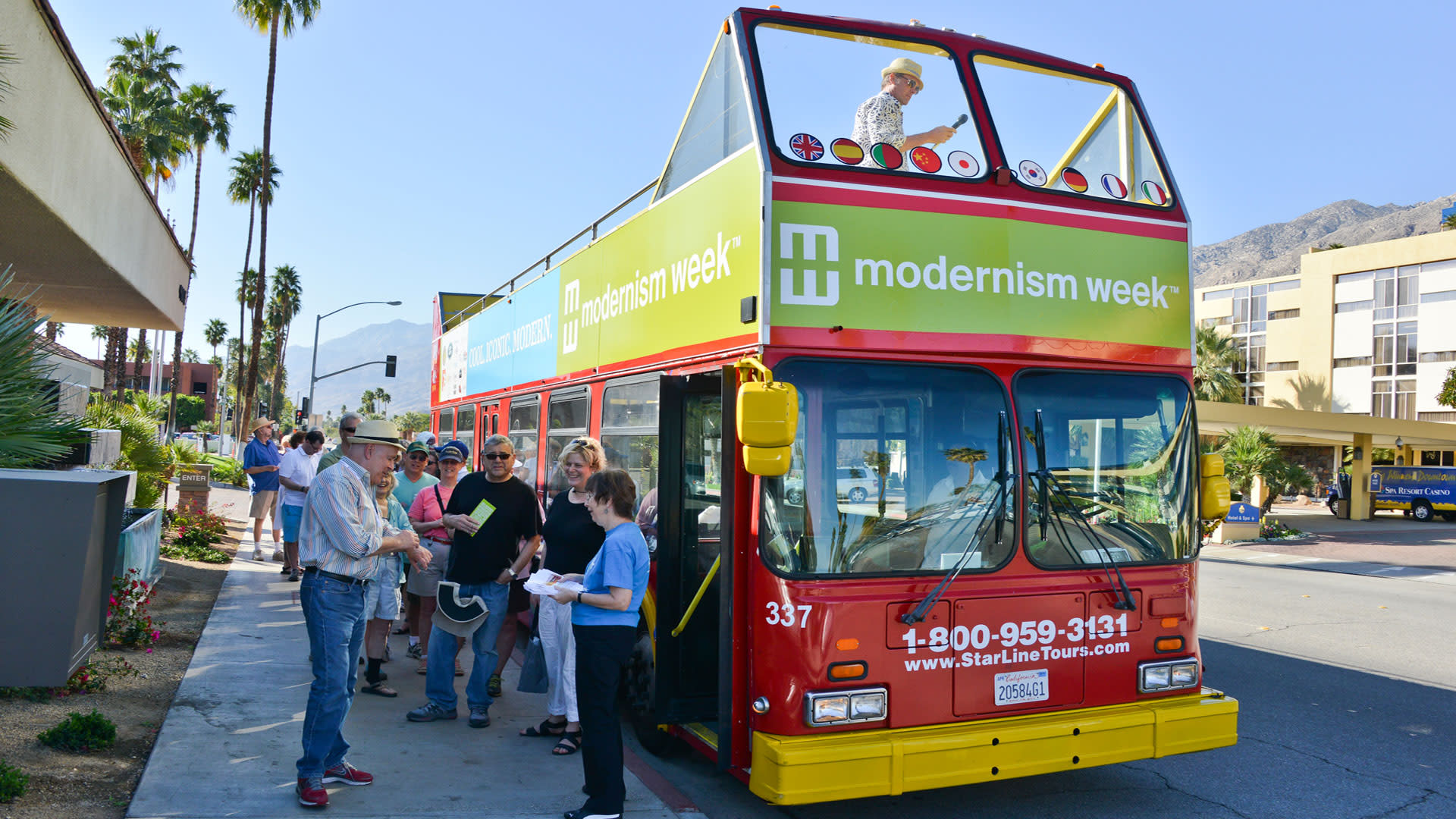 Modernism Week | February 16 – 26
Greater Palm Springs' impressive collection of midcentury modern architecture takes center stage during Modernism Week, a 10-day celebration of these iconic designs. Take a double-decker bus tour through the historic neighborhoods of Palm Springs, get special access to the most exclusive homes of the oasis or raise a glass during a retro-themed cocktail hour. With more than 250 events scheduled, there's something for every architecture enthusiast to enjoy during Modernism Week.
La Quinta Arts Festival | March 2 –5
You won't want to miss the top-ranked fine arts festival in the nation – and it's right here in Greater Palm Springs. More than 230 renowned artists display their finest works at the La Quinta Arts Festival, returning in 2017 for its 35th year. These featured artists draw more than 20,000 attendees to the scenic La Quinta Civic Center Campus for a weekend of art and entertainment.
Rhythm, Wine & Brews Experience | March 4
Concert season in Greater Palm Springs kicks off at the Empire Polo Club in Indio with the Rhythm, Wine & Brews Experience, an evening filled with live music, craft beer and wine tastings. The musical lineup mixes local bands with the likes of 311, B.B. King and Big Bad Voodoo Daddy, so there's always something for everyone to enjoy.
BNP Paribas Open | March 6 – 19
Top tennis players and enthusiastic fans come to Greater Palm Springs every March for the BNP Paribas Open, a legendary tennis tournament in Indian Wells. As one of the most notable tennis tournaments in the world, the BNP Paribas Open offers nearly two weeks of high-stakes matches among world's best professional tennis players. As one of the top tennis venues in Southern California, the Indian Wells Tennis Garden draws a record number of attendees year after year.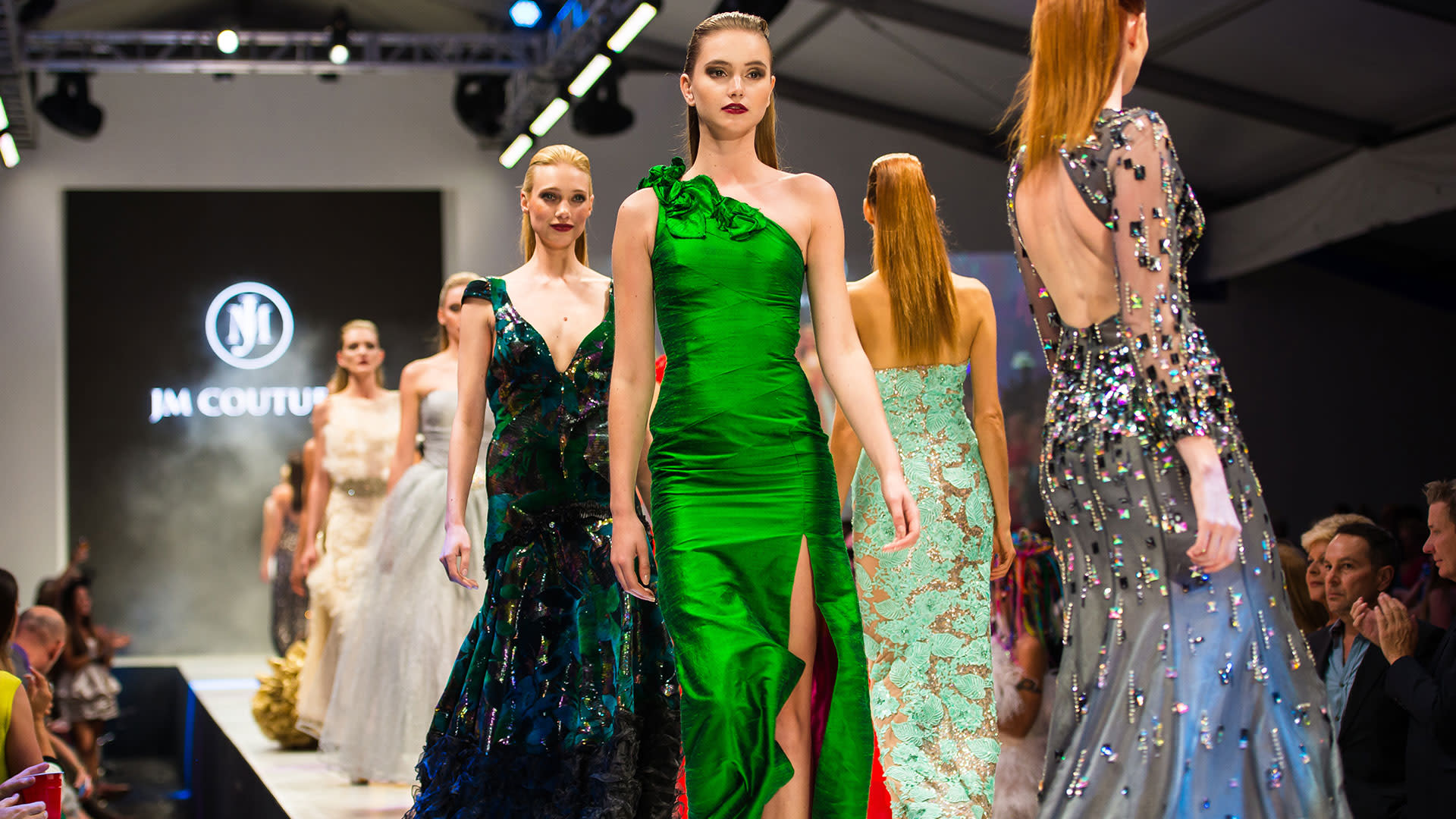 Fashion Week El Paseo | March 18 – 25
They don't call Fashion Week El Paseo the "best in the west" for no reason. This Greater Palm Springs fashion show highlights avant-garde designs and top designers from the fashion world, all while offering exclusive trunk shows, runway events and parties. Fashionistas, mark your calendar for this fashion-forward event.
Food & Wine Festival Palm Desert | March 24 – 26
Calling all foodies and home cooks: this is the signature Greater Palm Springs event for you. Learn techniques and recipes from some of the country's most honored chefs, get a cookbook signed by your favorite chef and learn all about the flavors of Greater Palm Springs. The highlight of the weekend is the Grand Tasting, a flavorful feast featuring more than 60 restaurants and 40 wineries, breweries and distilleries.
LPGA ANA Inspiration Championship | March 27 – April 2 
The best women golfers in the world are coming to compete in Golf's First Major tournament at Mission Hills Country Club in Rancho Mirage. The competition will be fierce for the $2 million purse, coveted Dinah Shore Trophy, the famous jump in to Poppie's Pond and the honor of wearing the coveted Champion's white robe. Children 17 and under get in free with a paid adult.
Indian Wells Arts Festival | March 31 –  April 2
After the BNP Paribas, the world-famous Indian Wells Tennis Gardens transforms into an artisan village with thousands of one-of-a-kind art pieces from more than 200 juried artists on display. Considered one of the top art festivals in the nation, the Indian Wells Arts Festival stuns not only with art, but also hands-on demonstrations, an art station and live jazz music. Enjoy a cocktail, nibble on foodie delights and set your sights on incredible examples of top-notch art.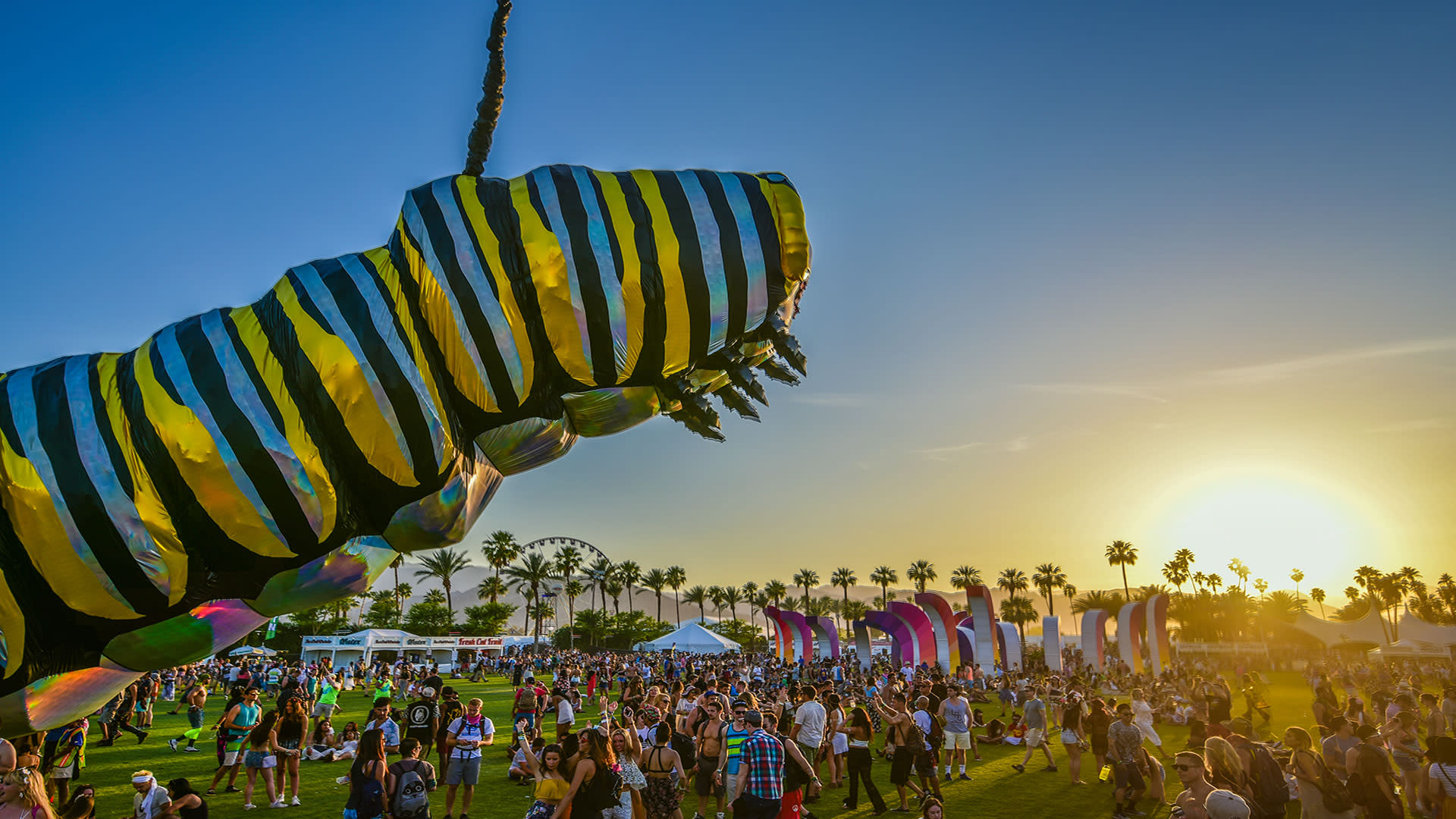 Coachella Valley Music & Arts Festival | April 14 – 16; 21 – 23
Known as one of the world's premier music festivals, the Coachella Valley Music & Arts Festival hardly requires an introduction. This mega music extravaganza stretches across two weekends to bring top artists, mind-bending artwork and an unparalleled festival experience to Greater Palm Springs.
Stagecoach Country Music Festival | April 28 – 30
The Empire Polo Club goes a little big country as Goldenvoice follows its popular Coachella Valley Music & Arts Festival with the Stagecoach Country Music Festival. Heavy-hitting headliners and the impeccable Goldenvoice concert experience make this music festival a must for any country music fan.
Greater Palm Springs Restaurant Week | June 2 – 11
Discover new flavors and local restaurants during Greater Palm Springs Restaurant Week, a 10-day event featuring prix fixe menus at dozens of restaurants throughout the oasis. Between meals, enjoy Restaurant Week discounts on hotels, spa treatments and popular activities in Greater Palm Springs.
Photos Courtesy of: Chris Miller and Tom Brewster