Autumn officially begins in September when both temperatures and leaves drop around the nation. However, in Greater Palm Springs, autumn is barely perceptible weather-wise, but culinary-wise fall is everywhere. This is the time when creative chefs throughout Greater Palm Springs offer new tastes of fall – caramelized Brussels sprouts, venison, curries and apples, butternut squashes, cider brined meats, tart cherries, spiced yams, cashews and coconut.   
So, when summer's metallic sunlight turns golden and blue shadows ripple across lavender mountains from sunrise to sunset, head to the oasis to taste fall's sumptuous bounty waiting at these prime restaurants and bistros.
Capitalizing on its Modernism heritage, the bright, fun Eight 4 Nine in Palm Springs' Uptown Design District attracts a lively crowd for lunch, dinner and late night bar scene. Its stark white canvas, bold shades of raspberry, blue, purple and lime, and eclectic furnishings and fixtures creates an environment that is pure whimsy.
Chef Chuck Courtney joins owners Willie Rhine and John Pascal in this iconic restaurant.  The chef's tasty interpretation of fall includes Mushroom and Brussels Sprout Toast: Roasted mushroom and caramelized Brussels sprouts with house-made ricotta, black garlic, fresh herbs and cracked pepper served on a ciabatta crouton.
His imaginative Curried Cauliflower Bisque adds coconut, jalapeno and lime for a delicious, gluten-free starter. Marsala Pork Tenderloin is tucked with dried plums, roasted spiced yams, candied bacon, garden-fresh greens and toasted pine nuts. And a Cider-brined Duck Breast comes atop pinot noir risotto accompanied by tart cherry, greens, and cracklings. 
Eight4Nine is open for lunch daily from 11 a.m. to 3 p.m. and dinner from 5 to 10 p.m. with happy hour in the lounge from 3 to 5 p.m. Weekend brunch is from 9 a.m. to 3 p.m.  The bar is open from 11 a.m. to close daily.
You can catch Executive Chef Freddy Rieger weekly on CBS Local Channel 2 offering cooking tips and demos in a brief segment after the evening news. The lovable Italian-German chef with his New Jersey accent always signs off with, "Fahget about it," and a wink as he pushes his finished plate towards the camera.
Chef Freddy oversees five diverse cuisine restaurants and the Special Events Center at Fantasy Springs Resort Casino. He and his creative culinary team offer new fall dishes from three of the restaurants.
New Tuna Taco Sliders from POM Restaurant wraps perfectly grilled tuna and fresh vegetables inside corn tortillas, drizzled with a creamy, spicy chipotle sauce. A Crisp Chilean Sea Bass in Black Bean Sauce at JOY Asian Cuisine is a decadent tempura-crusted sea bass served with scallions and asparagus in a rich bean sauce. Banana Nut Crepe dessert from The Bistro brings the warm and nutty flavors of bananas and walnuts wrapped inside delicate French pastry pancakes.
The resort encompasses a luxury hotel, Las Vegas-style gaming, world-class entertainment in the event center, five international dining outlets, championship golf, and poolside lounging. Restaurant hours vary; check website for hours and to make reservations.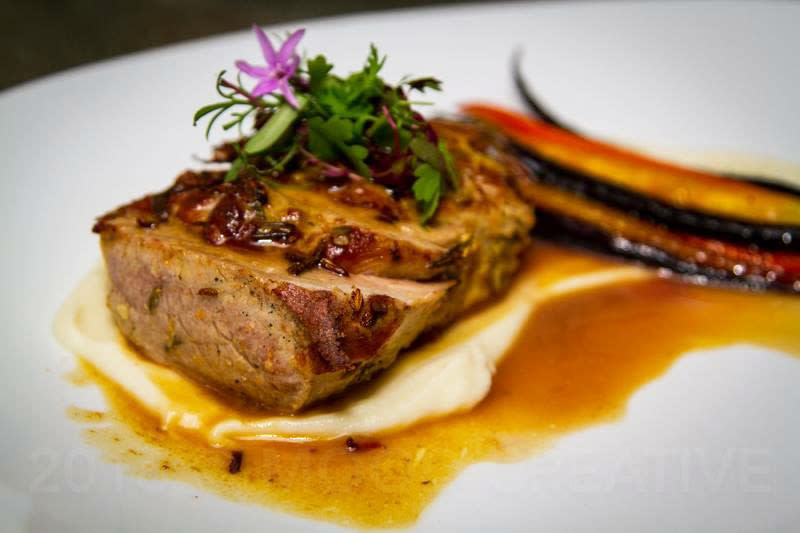 Downtown Palm Spring's landmark Las Casuelas Terraza brings back its two seasonal specials -- fresh pomegranate guacamole and sweet corn tamales – offered only while fresh pomegranates and sweet corn are in season.
Corn tamales are made with Coachella Valley sweet corn, Monterey Jack cheese, pineapple and poblano chiles, hand-made in the kitchen from a Delgado family recipe. The pomegranate guacamole – a traditional recipe from Patty Delgado – blends diced fresh Fallbrook avocado, onion, chopped tomato, cilantro and pomegranate seeds. The pomegranate guacamole and sweet corn tamale are available on the menus in the dining room, cantina and at Pronto, the curb-side take out window.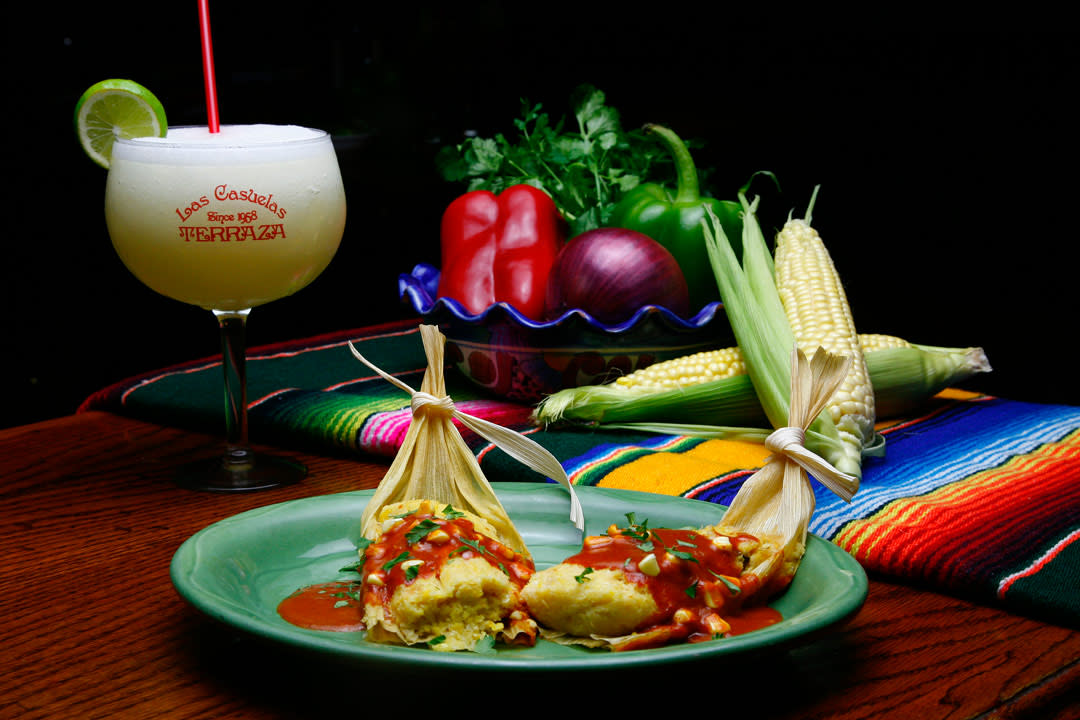 This grand dame of Palm Springs' fine dining, Le Vallauris' fichus shaded patio and formal dining rooms have seen the likes of Hollywood celebrities, power brokers and local glitterati for over four decades. Executive chef Jean Paul Lair and pastry chef Laurent Dellac create a stellar French-California cuisine using local and sustainable products.
This fall, find on the hand-written menu a Roasted Veal Filet Mignon and brown rice risotto with chanterelles, hazelnut in a veal demi-glace accompanied by sautéed Swiss chard.  Another salute to autumn's game season is Seared Venison Saddle Tournedos with merlot cranberry reduction and pomme Dauphin with butternut squash custard. 
The storied Parker Palm Springs, an eclectic mix of French, funk and fabulous, is set in a secluded labyrinth of shade trees, towering bushes and hidden paths. The Parker's French-born executive chef Herve Glin oversees Norma's, for indulgent comfort food, and Mister Parker's, a dark, seductive bistro.
Fall tastes at The Parker include two vegan dishes: Curry Cauliflower Couscous with seared asparagus, pickled fennel and turnips with shave carrots and salsa verde; and a Trio of Roasted Heirloom Baby Carrots, Moroccan style.    
Glin also created a Crispy Sweet Potato Gnocchi with European leeks in sherry vinegar, sweet tarragon and shaved Pecorino. A great start for an evening of wine and friendship, he says.
Executive Chef Kieran Fleming has a delectable autumn menu in store for the casino's casually elegant Steakhouse restaurant. Dine with views of the mountains from the Mediterranean style patio.
Starting with appetizers are Pork Belly Sliders with quail egg and jalapeno bacon relish; and Foie Gras Brulee with toast points and fig jam.  A hearty Charred Kale and Iceberg Salad is tossed with blood oranges, dried cranberries and almonds in a champagne vinaigrette.  Great new Steakhouse entrees are Flat Iron Steak with chimichurri sauce over truffle pommes frites; and a Wagyu Rib Eye Steak.
SO.PA's new Michelin-starred Chef Chris Anderson speaks with a soft North Carolina accent, and cooks with one, too.
But Anderson's food and culinary vision goes way beyond his southern roots; his experience includes some of France and America's most innovative restaurants. His vision is to translate flavors and techniques from his experiences to create elevated locally and seasonally inspired dishes.
For fall, Anderson offers Southern Surf and Turf – pork loin and shrimp mousse roulade, Newsom's country ham with fried mustard seeds on buttermilk blinis with purplette onions, corn shoots, citrus, coriander blooms and crystal lettuce blooms. His Alaskan king crab dish is perched atop ramen noodles surrounded by chanterelle mushrooms, current tomatoes, corn, golden wheat, sea bean, bronze fennel and cucumber bloom.
SO.PA's intimate outdoor dining area is enclosed by garden walls for privacy, shaded during the day by pepper trees that are aglow with amber lights for dinner.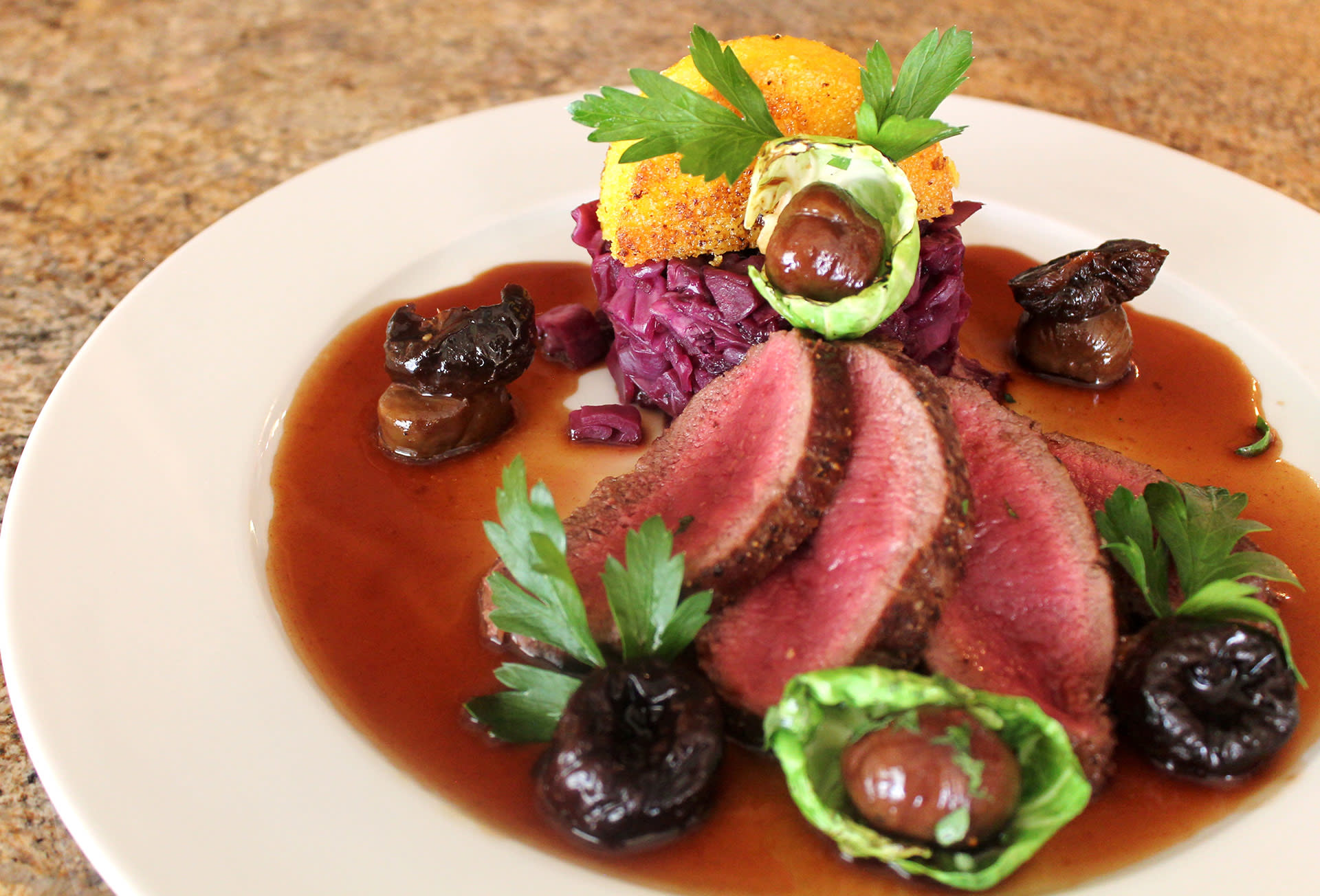 Johannes Bacher's upscale casual restaurant in downtown Palm Springs is seguing with new modern European dishes. Beginning Oct. 1, the creative Austrian-born chef will premiere two modern European dishes as the regular dinner menu continues to feature many of his classic favorites (think schnitzels).
This fall, he brings on board Prosciutto-wrapped Rainbow Trout stuffed with Dungeness crab and spinach with pineapple sauerkraut, grapes and rock shrimp dill sauce. Also featured is a sliced New Zealand Venison Loin with braised red cabbage and polenta cake with prunes in an Armagnac reduction.
James Beard Award Winning Chef Jimmy Schmidt's "Heritage Apple Valley" festival takes place at Morgan's in the desert from Sept. 19 through Oct. 2.
Morgan's heritage apples come from artisan farmers of the Apple Valley just west of Greater Palm Springs in the foothills of the San Bernardino Mountains. This area's unique late summer climate ripens these heirloom varietals to a perfect balance of bright tartness laced with sun kissed sweetness, along with exceptional crisp texture from cool nights. Heritage Idared Apple and Chanterelle Risotto is laced with Wagyu bacon and Manchego surrounded by Idared emulsion. Pan Roasted Apple Cider Cured Breast of Duck is atop a caramelized empire apple confit, plumped ravioli and pinot ver jus, as well as pink lady apple sticks with a crispy scallion salad topper.
Chef Nick Tall presents a bevy of new autumnal flavors at the Purple Palm this season. The innovative young chef's refreshing cooking style is deceptively simple, bringing to the forefront a deep understanding of flavor profiles, texture, color and artistry from five years in Asia.
Tall's flavor palate and cooking techniques bringing a fusion of east and west with such menu items as Fried Okra with roasted red peppers, chayote and green ketchup. His Chorizo Stuffed Squid is partnered with sunburst squash, baby spinach and saffron citronette. Deeper fall flavors resonate in the Cedar Roasted Salmon with molasses lacquer, smoked celery root, baby kale, sherry and preserved figs. His Pan-Seared Seabass layers shiitake mushrooms, sweet potato root and greens with shredded prawns and lemongrass.
Photos courtesy of: John Pascal, Fantasy Springs Resort Casino, Joane Garcia-Colson, Herve Glin, Kathleen Bennett and Colony Palms Hotel.