Who doesn't love an all-American pizza pie? Greater Palm Springs is rife with options from flat crust to fat crust and everything in between. Whether you are looking for a famous quarto formaggio or something more creative like white sauce beneath artisanal vegetables, you can satisfy your urges in the oasis.
PALM SPRINGS
Spaghetteria is an unassuming, family owned and operated locals' favorite joint with an authentic down home feel where the pies are large and flat and made with love. Try the luscious primavera veggie pizza with a side of spaghetti Bolognese and a glass of classic Chianti.
For more than 37 years Johnny Costa's Ristorante has been serving up a margherita pizza to die for in true Napolitano style with traditional bufala mozzarella and homemade sauce cooked in a brick oven. If you're looking for a warm and classy old school restaurant experience with wine, Frank Sinatra playing in the background, and Italian family style hospitality, this is the place.
For take out or super casual service, Bill's Pizza is a local's favorite offering flour imported from Italy or an alternative sourdough crust, both cooked in a gas fired brick oven. The bestselling and wickedly tangy Elton John comes with garlic infused olive oil sauce, artichoke hearts, tomatoes, cooked spinach, red onions and four cheeses plus feta.
Foodie snobs and those on the hunt for the hip and trendy will love Birba's crispy crusted and artsy pies that come gluten free on request for an extra two bucks. Two favorites are the braised greens, green olives, Serrano chile and smoked mozzarella pizza or the egg, pancetta, pecorino and spring onion version. The craft cocktails and outdoor seating with mountain views are notable too.
Craving a hunk of Chicago deep-dish swimming in cheese and chunks of tomato? Giuseppe's Pizza and Pasta is for you. Although their deep dishes are supreme, they also offer specialty thin crusts like a white pizza with clams or a salad pizza made with Parmesan crust, mixed greens, balsamic vinaigrette, onions, tomatoes, beets, garbanzo beans and pepperoncinis.
For a massive, greasy New York style slice in a happy hour bar, head downtown to NYPD, which boasts an XXXL option at 28 inches around and pizzas with names like Infraction which is a BBQ chicken and Misdemeanor. No frills toppings and drinks. On Sundays, head down for their Bloody Mary Buffet.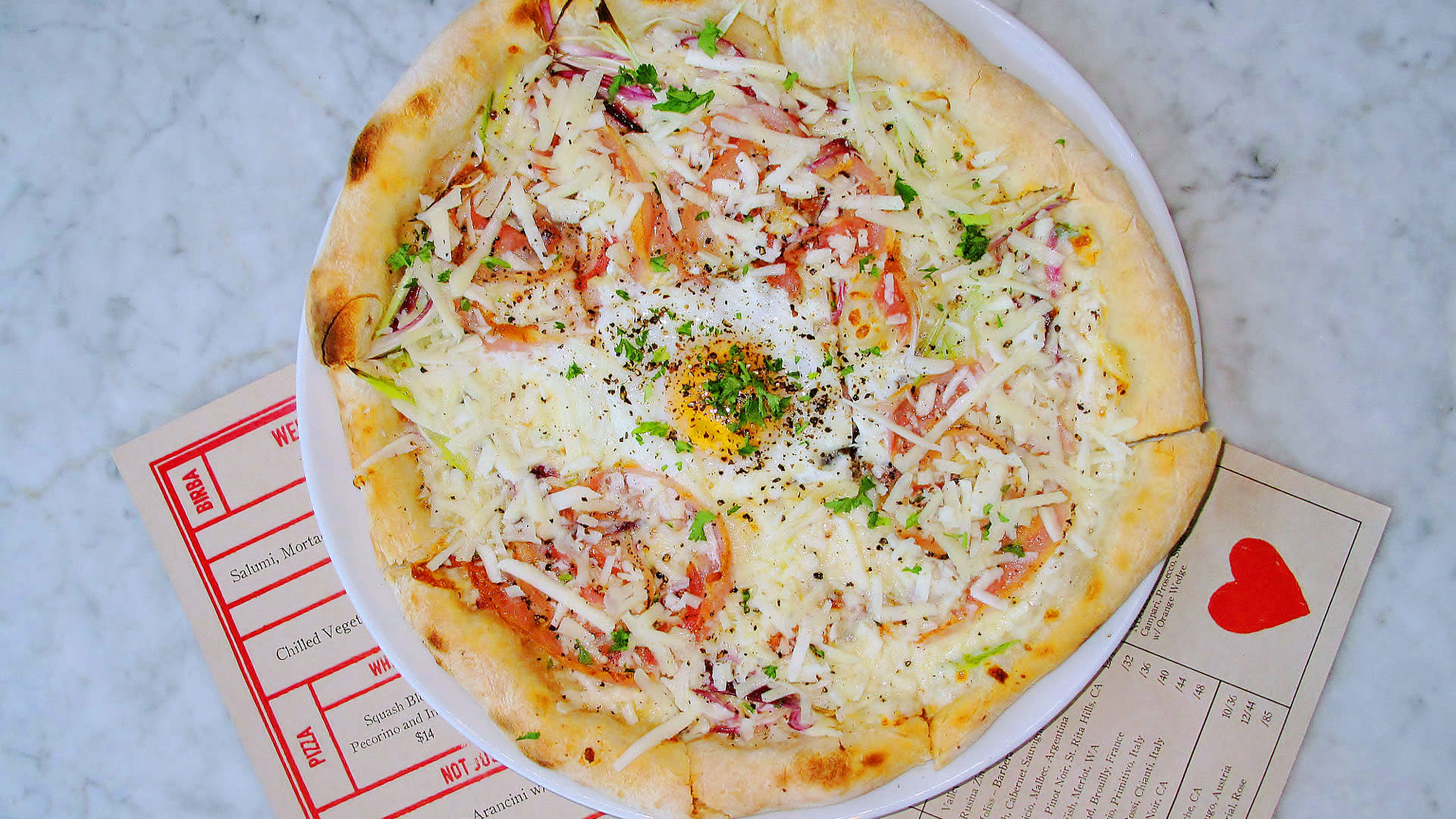 CATHEDRAL CITY
Nicolino's is a desert staple providing a restaurant that feels like grandmother's living room stuck in an unassuming strip mall. The Nonnie's Garlic Bread starter is like a pizza in itself swimming in creamy garlic-laden cheese. Much like the entire down home-style menu, the pizzas are no nonsense with traditional combinations such as Lotsa Meats'a and Vegetarian although they do also offer a BBQ chicken pie. 
Upper Crust Pizza prides itself on California-style pizza built on high gluten, unbleached wheat flour crust using minimally processed tomatoes for the sauce and housemade mozzarella. Their Hombre pizza with ground beef, red onion, tomatoes, black olives and jalapenos is a fan favorite. Their pizza parlor setting is equipped with video games and comfortable booths and tables. Family friendly fare.
RANCHO MIRAGE
The Slice boasts a New York pizzeria feel with its casual sit down ambiance, brick walls and black and white checkered tiles. Their authentic tasting, Big Apple-worthy crust and economical prices make it a local's favorite place to grab a slice before a movie or to order for home delivery. The stuffed pizza features double crust, double cheese, sausage, pepperoni, onions, peppers and mushrooms.
Pieology is relatively new to the pizza scene in Rancho Mirage, located in the Rancho Las Palmas Shopping Center and sharing outside walls with Starbucks. If you can dream it up, they can dish it out (their motto) with the popular concept of designing your own creation that comes down to 78 billion pizza possibilities, including imaginative crusts. The restaurant is well-known for its fundraising events as well which they call Pie-lanthropy and Pie-ing it forward.
PALM DESERT
On El Paseo, the always-hopping Piero's Pizza Vino features a bar and intimate, charming dining room to enjoy Florentine pizzas in two styles. Pizza Bianches come with white sauce and an array of interesting choices like the sweet gorgonzola, rapini and caramelized apple. The most popular however is a Rosses (red sauced) Polpette strewn with adorable, dense and delicious meatballs alongside tomato, mozzarella, bell peppers and mushroom.
The young and perpetually ready to party flock to The Hood for live music, brews and enormous disks of dough brightened up with house specials such as sweet and spicy pepperoni with jalapeno and pineapple or the spud pie topped with sliced baked potatoes, mozzarella, cheddar and bacon. Play a few games of beer pong while waiting for your pizza!
Billy Q's is a super casual spot you could throw shorts over your bathing suit to dine within. The small location has several television screens, free Wi-Fi and a sports theme design and offers gluten free and sourdough pizzas as well as traditional. It's a neighborhood gathering spot for normal pies like The Works with all ingredients or over the top concoctions like veggie with ranch sauce and pastrami with Swiss.
Papa Dan's is a family-style joint known for their savory pizzas full of crumbly, spicy, ground sausage and red-checkered tablecloth joviality complete with a full bar. Their unique Lombardi comes topped with turkey and gorgonzola. They also offer gluten-free crusts.
Blaze Pizza offers the latest trend in assembly line fast-fired pizzas on a perfectly crisp crust baked in a rapid 180 seconds! Build your own or choose from their signature pizzas that include everything from a Simple Pie of mozzarella, parmesan and red sauce to the Green Stripe with pesto drizzled over grilled chicken and roasted red peppers.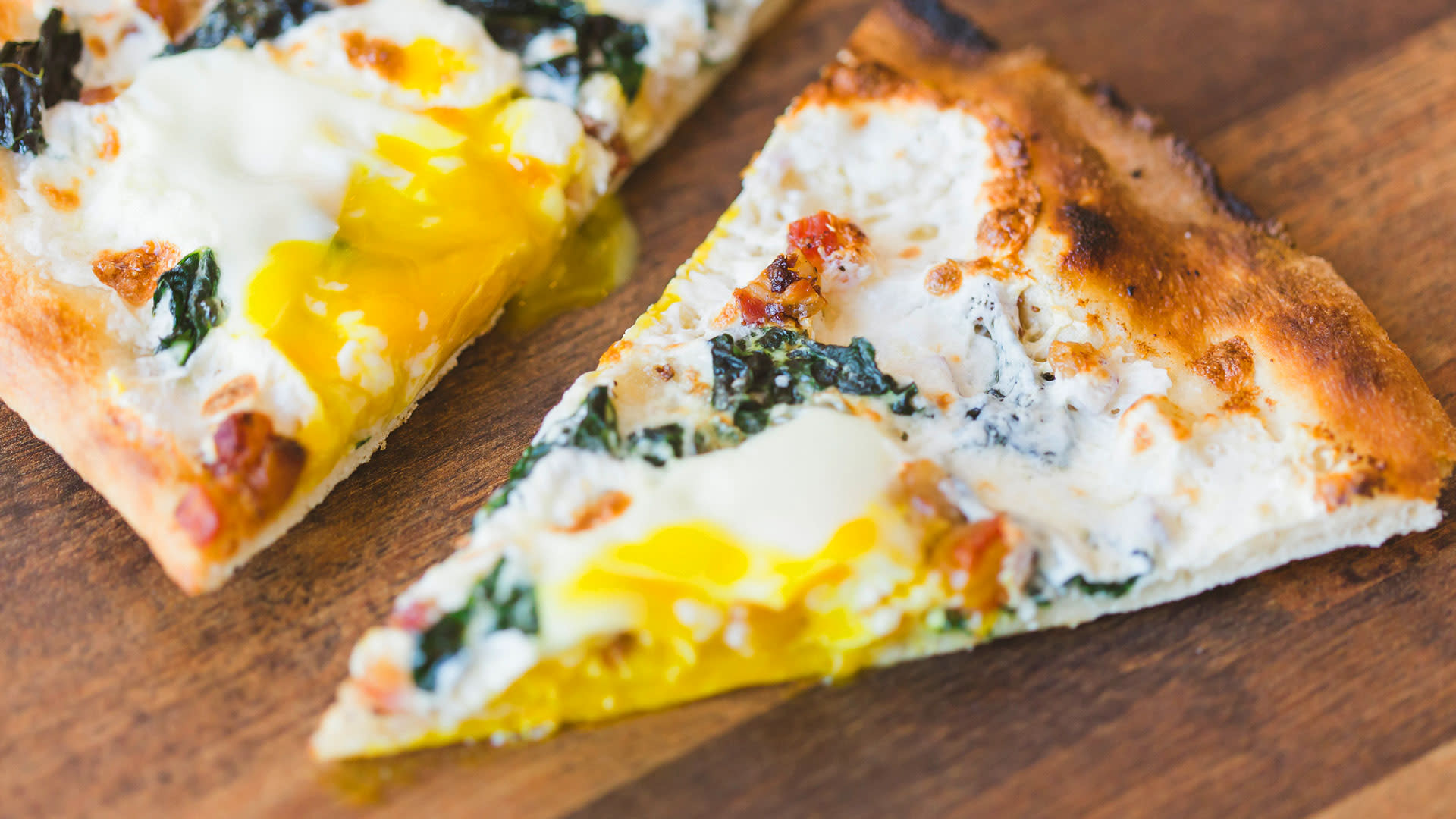 LA QUINTA
Rosati's is a franchise started by an Italian family from Chicago in 1964 that delivers a tried and true version of deep-dish pizza alongside crispy thin, double dough, pan and super stuffed crusts. They also serve three vegan pizzas including the Spinach Trio with spinach, sliced tomato and feta.  The Godfather stars Italian sausage and hot giardiniera peppers.
Stuft Pizza Bar and Grill provides a laid back family friendly spot to enjoy traditional pizzas like meat lovers and Hawaiian alongside more adventurous pies. The Breakfast Pie consists of scrambled eggs, applewood bacon, green onions, cilantro and a dash of Cholula hot sauce. There are multiple televisions, happy hour specials and an outdoor patio. Another popular location in Palm Desert is located in the Westfield Palm Desert shopping mall.
Hungry yet? These are just a few of our delicious options in Greater Palm Springs. If you are looking for more mouthwatering finds, visit www.dineGPS.com.