With sunny skies, majestic canyons and miles of ravishing landscape, Indian Wells is the perfect setting for simply stunning, world-class resorts. In fact, this oasis is world renowned for its luxurious, self-contained properties that offer top-notch accommodations, excellent dining, pampering spas and a wealth of activities and entertainment all within breathtaking scenery. Cancel all calls and get in proper vacation mode at these amazing resorts that truly raise the bar on exceptional getaways.  
It's hard to resist the luxury of an AAA-Four Diamond resort, and the recognition is well deserved at Hyatt Regency Indian Wells. This incredible, 530-room property is all about spoiling guests with well-appointed rooms, lush grounds, terrific service and plenty of activities, including Camp Hyatt for kids, an award-winning golf course and the blissful, pampering Agua Serena Spa. There are seven swimming pools, including family fun on the DesertPipe water ride, as well as an adult pool with plush cabanas. The resort's signature Lantana Restaurant is considered one of the best in the valley. Why not take resort indulgence a step further by cozying up in one of the resort's luxury-drenched villas, which include private courtyard, whirlpool and personalized butler service.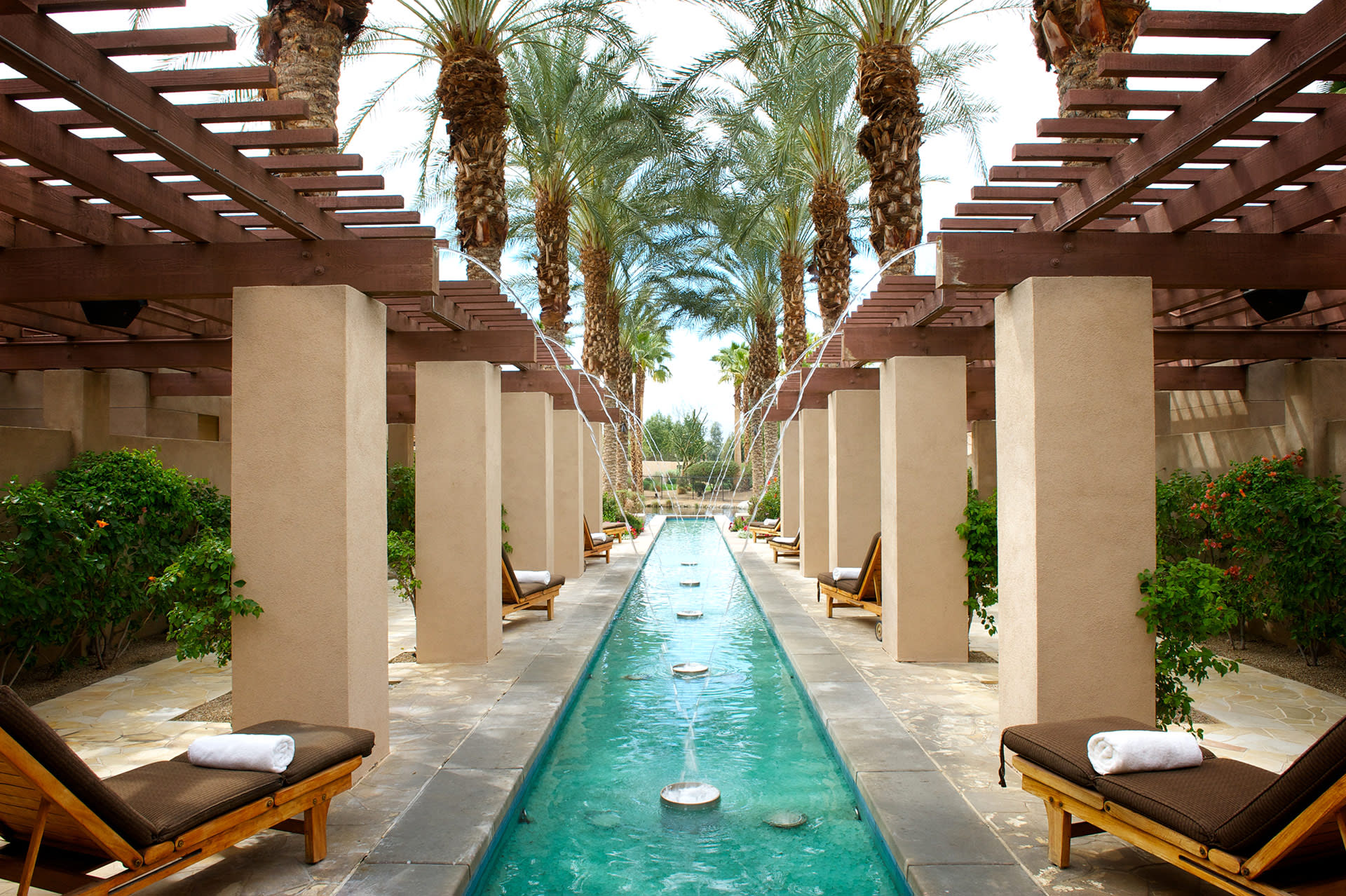 A huge hit for millennial travelers and young families, Renaissance Esmeralda Resort & Spa, Indian Wells is a massive fantasy resort that excels at creating memories. Not only are all balcony-equipped rooms (including modern, retro-styled Star Suites) comfortably cozy for all types of travelers, the perks of the resort go above and beyond when it comes to proper vacationing. From complimentary activities on weekends and a unique, white-sand beach at the pool to drive-in movies and Camp Oasis for kids, the resort is imaginative with its amenities. It also likes to think big with its indulgent poolside cabanas at two pools, five stellar food and beverage outlets, three shops and full-service, state-of-the-art spa and fitness center. Needless to say, the Renaissance is large and in charge!
Who doesn't love a pampering boutique hotel opened by Golden-Era film stars? History resonates at Indian Wells Resort Hotel, a timeless, recently renovated hotel founded by Hollywood legends Lucille Ball and Desi Arnaz in 1957. Providing plenty of privacy and removed in its own secluded sanctuary, Indian Wells Resort Hotel is framed by the gorgeous canyons Indian Wells is known for. While the hotel boasts contemporary flair, it's still reminiscent of the Rat Pack era, defining a moment in time, and visitors will feel nostalgic with its retro ambience and atmosphere. With live entertainment in its signature Frank's Place Restaurant and Lounge, heated swimming pool, two outdoor tennis courts and poolside bar, the hotel is as luxurious as they come with the novelty twist of a nostalgic time warp.
Unlike the midcentury modern and contemporary themed resorts in Greater Palm Springs, Miramonte Resort & Spa is Mediterranean inspired with beautiful gardens, tile rooftops, red bougainvillea, olive trees and Venetian-style terraces. Visitors truly feel like they've entered a small slice of European heaven. At the heart of the resort is its pampering Well Spa, surrounded by gorgeous herbs and citrus gardens. The spa's creative treatments, some designed just for couples, its saltwater pool and co-ed courtyard have earned it raves from spa-lovers. Enjoy a romantic evening at Grove Artisan Kitchen, the signature restaurant at the resort—equipped with an outdoor courtyard and gurgling stone fountain—that serves unforgettable farm-to-table cuisine.