Jeffrey Sanker's White Party Palm Springs is by many counts the pinnacle gay event of the season in Greater Palm Springs. More than 30,000 revelers will gather in and around the Renaissance Hotel Palm Springs for three days and nights of fun in the sun and dancing in the dark—including a special live performance this year by pop superstar Kylie Minogue.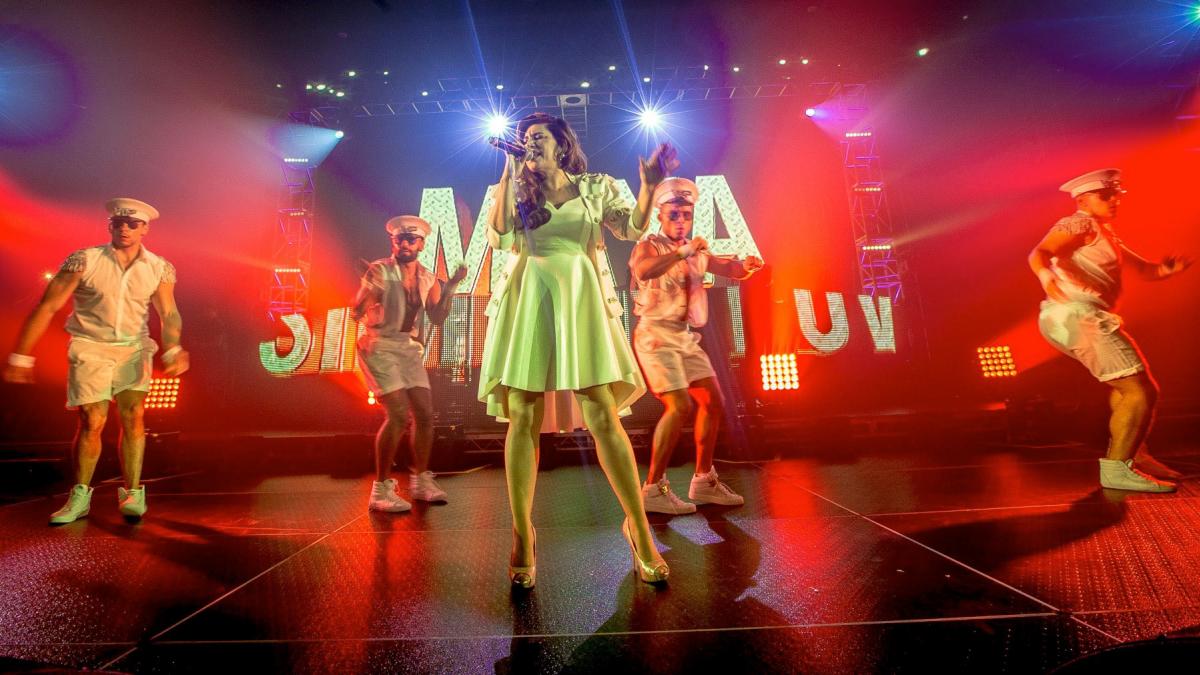 That all sounds grand—and trust us, it is—but sometimes, you need to have the basics laid out for you. That's where our guide to White Party Palm Springs 2018 comes in. Here's all the info you need to know about the biggest ticketed gay event in the nation, returning to Palm Springs April 27-30.
What
Jeffrey Sanker's first White Party was held 29 years ago, when 300 gay men, mostly from Los Angeles and mostly friends of the party promoter, occupied half of the Marquis Hotel (now Hard Rock Hotel Palm Springs) for a pool party and several dance parties helmed by a single DJ. Despite playing host to the lesbian gathering, Dinah Shore Weekend (which Sanker has cited as his primary inspiration), Palm Springs in 1989 was nowhere near as established a gay getaway as it is in 2018, largely thanks to the influence of these two flagship events.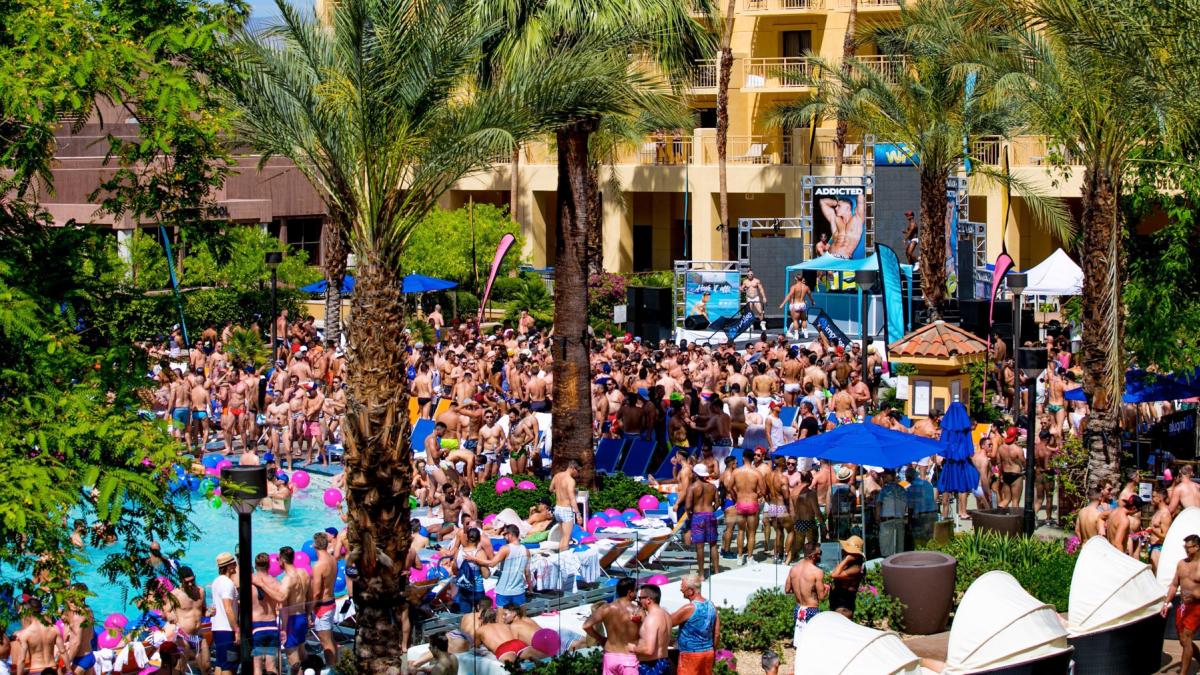 Today, White Party Palm Springs attracts upwards of 30,000 attendees from around the globe and is considered one of the major circuit parties in the nation, if not the world. From famed pool parties to the over-the-top indoor main event to sanitarily sleazy after-hours gatherings and the iconic outdoor T-Dance with its fifteen-minute fireworks finale, White Party Palm Springs is a rite of passage for some and a beloved annual tradition for others.
Who
White Party Palm Springs is open to any and all who wish to attend, as long as they're at least 21-years old. Despite the name, White Party tends to be a genuine melting pot of all different colors, types, and, despite the endlessly chiseled abs in every promo pic, sizes.
Kylie Minogue, Circus T-Dance Headliner
The veteran international pop star whose many hits include "Can't Get You Out of My Head" and "Love at First Sight" performs live at the Sunday T-Dance in support of her many gay fans and her fourteenth studio album, "Golden." Minogue morphed from a popular soap opera star in her native Australia to pop princess across the world with 1988's cover of "The Loco-Motion." Since Minogue rarely makes it to our shores to perform, this will be a unique opportunity for White Party revelers to discover, or rediscover, one of the most enduring pop stars of our time.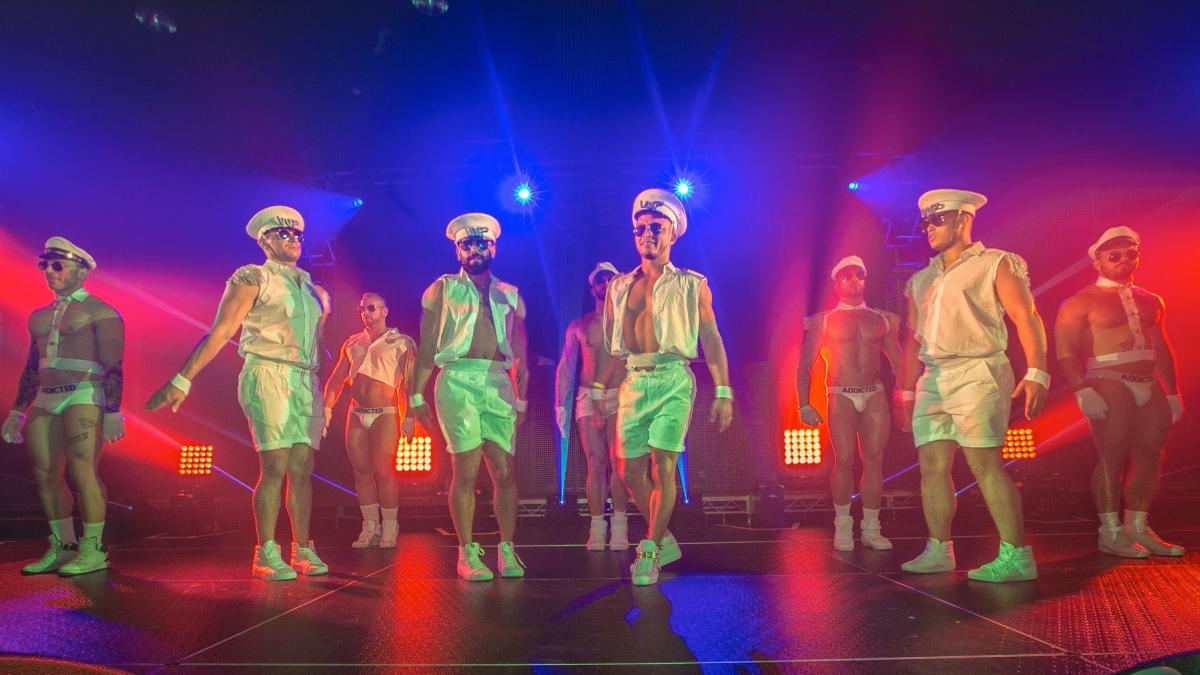 The White Party DJ lineup includes PAPA party resident DJ Alex Lo, Brazilian DJ and remixers Ana Paula and Tommy Love, Chicago circuit staple Cindel, Australian dancer/producer-turned-DJ Dan Slater, Mexican mixmaster Isaac Escalante, award-winning gay circuit all-star Grind, Chicago house pioneer Ralphi Rosario, LA rising star Serving Ovahness, Guadalajara performance DJ Isis Muretech, Spanish hitmaker Suri, Alegria originator and Miami cha-cha king Abel, and WE Party resident DJ Sr. Edu.
When
Friday, April 27
Splash Day Club Pool Party Kickoff party at host hotel; music by DJ Isis Muretech. (Renaissance Pool, 12-6pm; tickets at door)
Sleaze An "erotic sensory overload" with DJ sets by Serving Ovahness and Ana Paula (Renaissance Event Center, 10pm-5am)
Saturday, April 28
Papa Wild! Day Club Pool Party LED screens, poolside dance floor, VIP daybeds and cabanas; featuring Israeli actor Eliad Cohen and his Papa Party underwear line. DJ sets from Alex Lo & Tommy Love. (Renaissance Pool, 10am-7pm)
Outdoor Yoga Yogi Master Francisco Ramos leads recharging morning yoga session out in the morning air. (Convention Center East Lawn, 10:30am)
Impulse Hosts 12-Step Recovery Meetings Courtesy White Party and Impulse Los Angeles (Renaissance Snow Creek Conference Room, 7pm)
White Party Ice World The Main (indoor) Event transforms the giant Convention Center into a winter wonderland with special layout, lighting, and sound. This is the night to wear white or bust! DJ sets by Grind and Ralphi Rosario; appearance by yet-unnamed "special diva performer". (Palm Springs Convention Center, 10pm-5am)
Climax Afterhours Official afterparty featuring DJ Isaac Escalante. (Renaissance Event Center, 4-8am)
Sunday, April 29
Splash Day Club Pool Party Addicted previews its new swimwear line on the runway; DJ Cindel spins. (Renaissance Pool, 10am-4pm)
Outdoor Yoga Yogi Master Francisco Ramos leads recharging morning yoga session out in the morning air. (Convention Center East Lawn, 10:30am)
Circus T-Dance The eye-popping outdoor extravaganza with the famed White Party Ferris Wheel, a headline performance by Kylie Minogue, and fifteen-minute choreographed fireworks display. DJ sets by Dan Slater and Suri. (White Party Park, 3-10pm)
WE Closing Party Madrid's finest circuit party, WE Party, stops in Palm Springs on its international tour to close things out with international star DJs Sr. Edu and Abel. (Renaissance Event Center, 10pm-8am)
Where
White Party's host hotel is the Renaissance Palm Springs, recently spruced up and, at over 400 rooms, easily among the largest hotel in Greater Palm Springs. Several official events are held on site: the Renaissance Pool is the venue for all three Day Club Pool Parties, and the Renaissance Event Center will house the Sleaze and WE Closing Parties and Climax Afterhours. The Snow Creek Conference Room will host Saturday's 12 Step Meetings hosted by Impulse.
Other official event venues for the weekend include:
This is the home of Saturday's main event, Ice World. The Convention Center is located in the heart of downtown, directly behind the Renaissance. The east lawn is where you'll find morning yoga sessions on Saturday and Sunday, as well.
White Party Park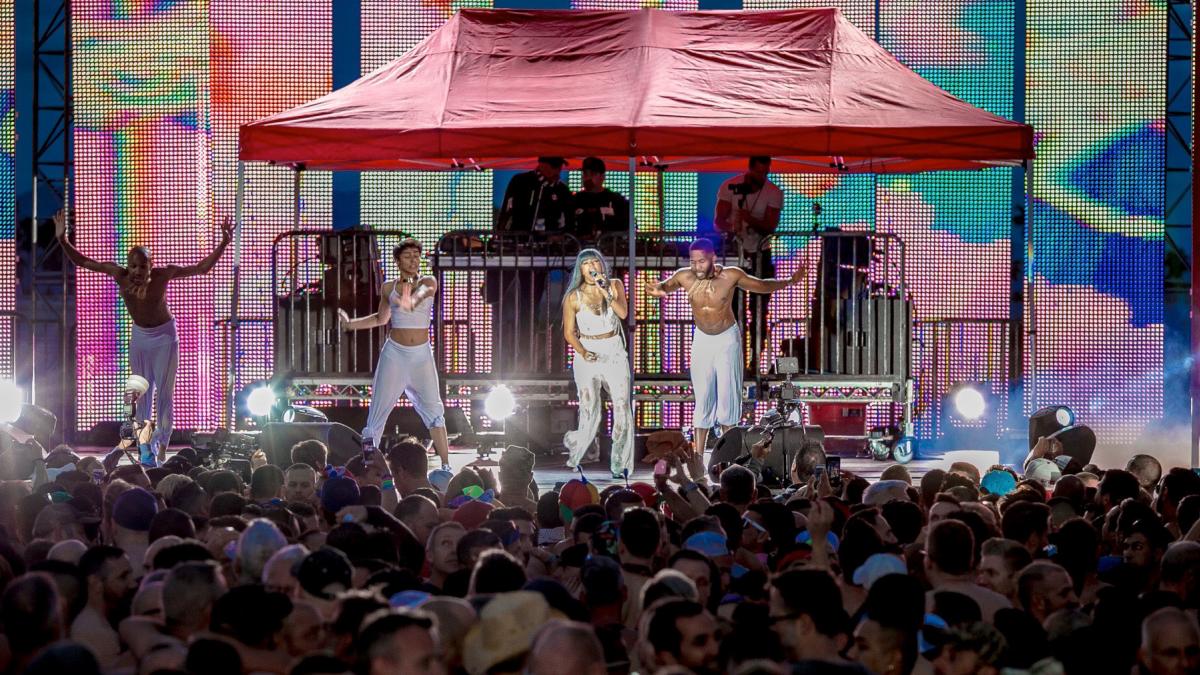 The massive outdoor Sunday Circus T-Dance takes place in a giant lot adjacent to the Renaissance Hotel. Though the White Party Ferris Wheel will be visible from a distance, you can stake the party grounds out on a map at East Tahquitz Canyon Way between Avenida Caballeros and Hermosa Drive.
How
By Air
Palm Springs International Airport supports flights from across the country through JetBlue, American, Delta, United, Alaska Airlines and more, and the airport is so charming and convenient that it's addictive. Other airports within driving distance include Ontario International, LAX and Orange County/John Wayne. Shuttles or traditional cabs can take you the short distance to the Renaissance from Palm Springs International Airport, while ride sharing vehicles from Uber and Lyft are also now allowed to pick passengers up from the airport.
By Land
Greater Palm Springs area is easily accessed off the 10 Freeway that cuts across Southern California from Santa Monica all the way to Florida; it's about two hours from Los Angeles or San Diego and four and a half from Las Vegas.
While in town
The City of Palm Springs provides a free trolley service called the Buzz bus, running Thursday through Sunday every fifteen minutes from Smoketree in South Palm Springs up through downtown and right past the Renaissance and White Party venues to Vista Chino on the North end, and back. Best part is, it's free (but do try to bring a dollar bill to tip the driver) and runs until 1am. For the most part, everything is within walking distance of the Renaissance Hotel.
Don't forget
Bring chapstick, sunscreen, sunglasses, and good shoes. Most of the event venues will be pretty restrictive of what you can bring in, so know the rules ahead of time and travel light - practice different places to tuck a wad of cash. Drink more water than you think you need to and remember that the water in Greater Palm Springs is rock hard, so pack some extra conditioner and body lotion. And you can wear pretty much anything, but especially at the main event a white outfit will best contribute to the visual intensity of a night designed to overload the senses.
For more information, visit the White Party Palm Springs website.
Images courtesy of Iggy Lopez/JeffreySenker.com