Spring break may look a little different this year, but the spirit of the springtime season lives on! After all, it's about taking time to explore new places and enjoy inspiring, outdoor experiences—free from the rigors of daily work, school or life. If your 2021 spring break plans have you in Greater Palm Springs, lucky you! There are plenty of fun, interesting and Instagrammable things to do for the whole family.

Make a Splash
Omni Rancho Las Palmas Resort & Spa

Surrounded by a 425-foot lazy river and featuring two 100-foot waterslides, Omni Rancho Las Palmas Resort & Spa's newly renovated Splashtopia water park is fun for all ages. Adults can relax in the cliff-side hot tub while the younger ones play at the sandy beach or splash around in the watery-play zones.  

Hyatt Regency Indian Wells Resort & Spa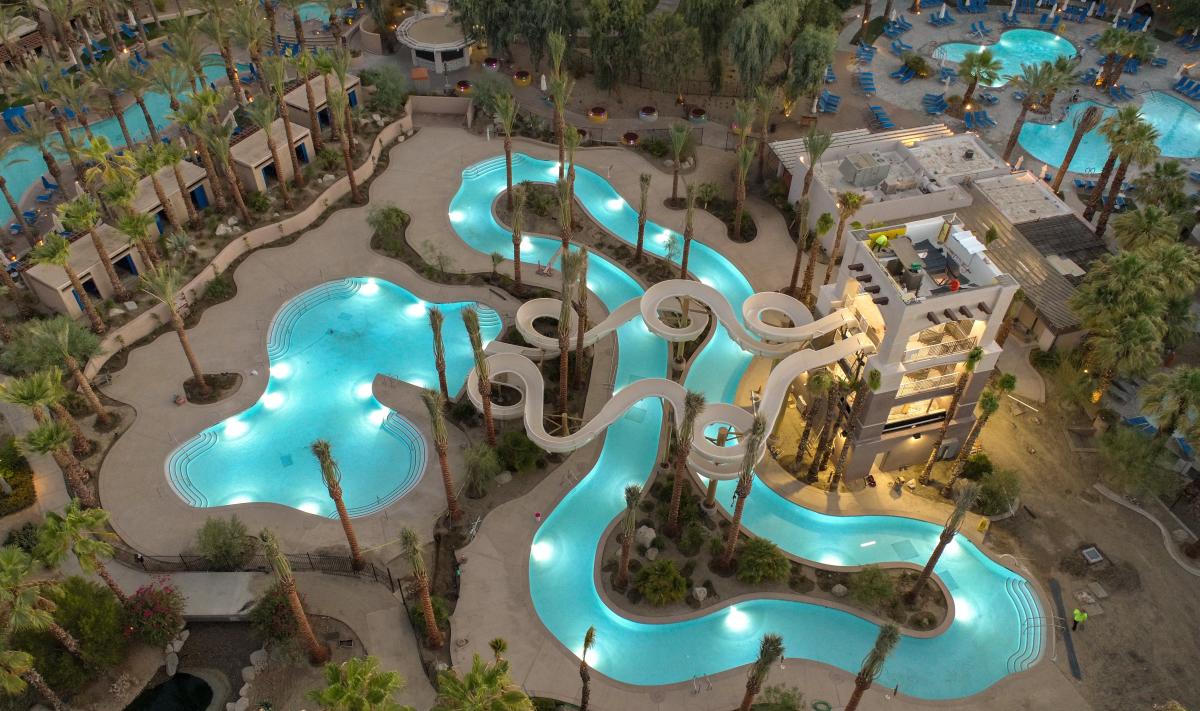 The Hyatt Regency Indian Wells also has an on-site water park, which features a three-story tower with two dueling waterslides plus a relaxing river, making either of these stays perfect for a family getaway.

Cabana Culture

Palm trees, pool floats and good vibes. There are plenty of poolside hangs and chill cabana spots for an adults-only escape to Greater Palm Springs. Relax for a bit at the free-spirited Villa Royale or spend all day at the Renaissance Esmeralda Resort & Spa, Indian Wells, whose exclusive beach room cabanas and many amenities will keep you cool. If you're looking for an outdoor experience near a spa, check out Sunstone Spa at Agua Caliente Resort Casino Spa Rancho Mirage for a more secluded ambiance. And you can't go wrong taking in the breathtaking views of the Santa Rosa Mountains at La Quinta Resort & Club.  

Enjoy Nature
Joshua Tree National Park

There's an abundance of beautiful natural areas, hikes and exploration opportunities around Greater Palm Springs. Joshua Tree National Park is one of the most unique landscapes in America. With otherworldly trees, craggy rockscapes and soothing drives, it's a must-visit when you're in the area.

The Living Desert's WildLights of Spring
Many visitors may be familiar with the Living Desert's breathtaking desert flora and fauna, as well as its annual holiday WildLights display. This year, WildLights migrates to the spring season, providing an illuminated stroll around the park nightly from March 15-28, 2021. WildLights of Spring dresses select animal habitats with dazzling lights and decorations, including the emus of the new Australian Adventures exhibit. Also new this spring, a portion of the African Safari loop will be open for guests to see cheetahs, zebras, African wild dogs and more. With all new music for this season, you can wander through the Tunnel of Lights and Discovery Center or delight the kids with a spin on the carousel before making s'mores around an open fire.

Palm Springs Aerial Tramway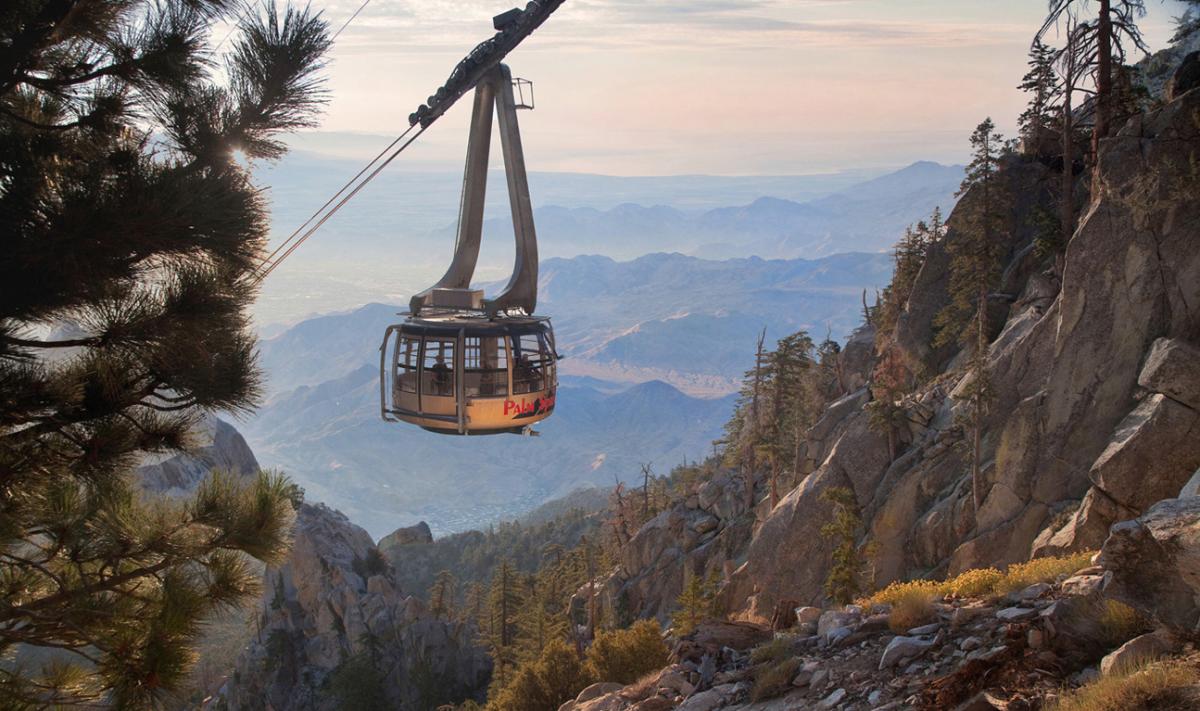 Get up, up and away from it all by taking a trip on the world's largest rotating tramcar. Your journey on the Palm Springs Aerial Tramway runs from the desert floor all the way up over two-and-a-half miles along the rugged crags of Chino Canyon, depositing you safely at Mountain Station (elevation 8,516 feet) and among the pristine alpine wilderness of Mount San Jacinto State Park.
The ride takes about 10 minutes, with the cars rotating slowly to give you a bird's-eye view of the nine cities of Greater Palm Springs below. Once you've arrived, enjoy a bite at one of the two restaurants, snap some photos from the sweeping observation decks, step inside the fascinating natural history museum and two documentary theaters, or head out on foot to explore over 50 miles of hiking trails.

Experience Tours of Greater Palm Springs
Red Jeep Tours
If you want to get even closer to nature, Red Jeep Tours is the way to do it. Step up into one of the company's signature open-air red Jeeps and enjoy the ride as your expert driver takes you through spectacular desert lands. Marvel at geologic forces, amazing desert plants and awe-inspiring landscapes up close. The guides are incredibly knowledgeable about the area, so come prepared to ask any burning questions.
Modern Tours Palm Springs


Interested in desert modern architecture? Modern Tours Palm Springs lets you take one of its self-driving tours at your own pace and in your own vehicle, making it a perfect choice for visitors who are still looking to maintain a social distance or avoid group activities. Select your tour, and the built-in mapping will steer you from stop to stop to see some of the most iconic modernist homes and buildings, as well as celebrity homes, in Greater Palm Springs. Helpful and fascinating voice narration at each stop will fill you in on the (sometimes scandalous!) history.

Desert X
Every two years in Greater Palm Springs, Desert X creates mysterious and memorable art displays that run the gamut from monolithic to more sedate. This self-guided art experience was the original safe and socially distanced outdoor art extravaganza—well before the pandemic made this kind of interaction more necessary. This year's event runs from March 12 to May 16, 2021, and includes newly commissioned works. Desert X art installations are typically large and thought-provoking sculptural pieces that are scattered around Greater Palm Springs, particularly among the desert environs. You can use the event's map to drive to the installations that interest you most.

Shop For Unique Gems
Palm Springs Vintage Market

The first Sunday of each month, vendors set out their best vintage and collectible wares at the Camelot Theaters (now known as the Palm Springs Cultural Center) for the Palm Springs Vintage Market. Held between October and May, the market is a treasure trove of retro finds ranging from clothing and furniture to even jewelry and classic cars.

Palm Springs Flea Market & Food Fest
Shoppers hunting for a bargain will want to spend some time enjoying the hustle and bustle at Palm Springs Flea Market and Food Fest. Located near the Palm Springs International Airport at East Ramon and Crossley Roads, this 7-acre venue plays host to over a hundred vendors and food trucks, as well as live performances. Look for antique jewelry, vintage clothing or modern art when the market throws open its doors for a big grand opening on March 20, 2021, continuing on weekends only until June 20, 2021.

Play Golf Under the Stars
Shots in the Night

Indian Wells Golf Resort's popular Shots in the Night is back again. With special lighting and golf technology, this after-dark experience offers a whole new take on the game. Try glow-in-the-dark golf on the driving range or take in the laser light show as you tap it out on the putting green. Food truck dining and bar service makes this outdoor activity perfect to enjoy with friends. Because it's not at all like a traditional round of golf, Shots in the Night is also ideal for getting kids into the game or for pals who don't normally have the time to commit to a full round. If this sounds like a hole-in-one, read our blog post that has all the fun details.
From natural beauty and dazzling art to sightseeing tours and unique shopping experiences, your spring break in Greater Palm Springs will be one to remember. Start planning your spring getaway with these great savings here.