It's the most wonderful time of the year in Greater Palm Springs! Twinkling lights, festive decor and cheerful spirits galore–it's all happening here! From Indio to Palm Springs, all are invited to experience the holiday magic of the desert.
Read ahead for our list of wintertime festivities and events, and get ready to have yourself a very merry holiday season in the oasis.
Ice skate under palm trees at The Renova Rink at The River, which runs through mid-January. Ice skating is available daily and local entertainment, including live bands and DJs, are scheduled through January. Special events include Chanukah Under the Stars on Dec. 17, which features a giant LED menorah, live entertainment and the chance to spin in a life-sized dreidel. 
RoboLights
Nov. 22, 2017–Jan. 8, 2018, Daily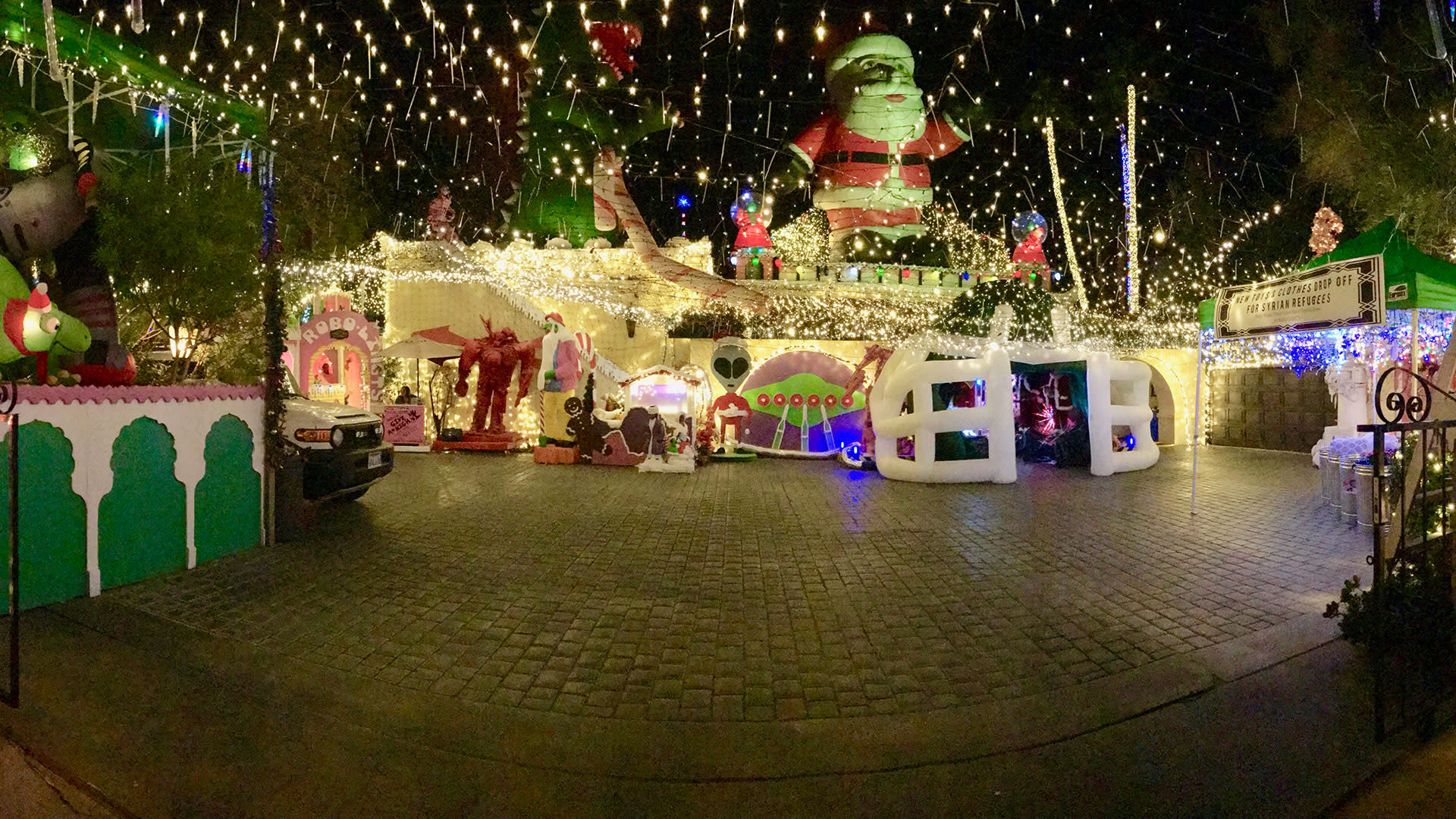 Kick off the holiday festivities this year with a visit to RoboLights, a local must-see sensation created by Palm Springs artist Kenny Irwin Jr. RoboLights is known as the largest residential light display in the country and can best be described as a sci-fi winter wonderland art display that is full of eccentric, robot-inspired festive décor and installations.
The artistic holiday light attraction sits on four acres and is the life's work of Irwin, who is constantly adding more to his famous demonstration each year. RoboLights is located in the notable Movie Colony neighborhood, on 1077 E. Granvia Valmonte in Palm Springs, and is open to the public everyday, rain or shine, from 4 p.m. to 9:30 p.m. Admission is free, but donations are always welcome at the door.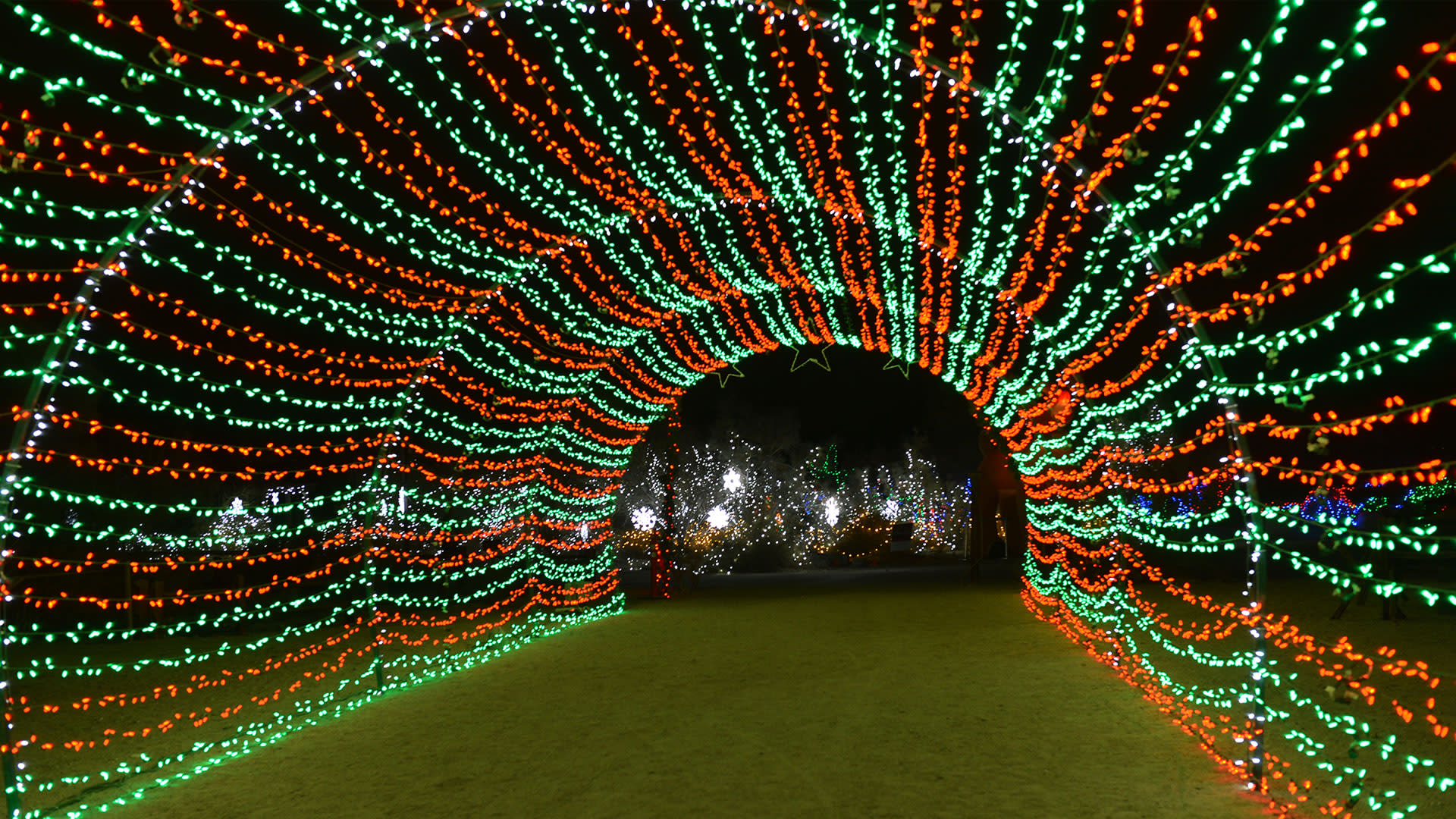 Photo courtesy of The Living Desert
Take a walk on the wild side and enjoy the 25th Annual WildLights at The Living Desert. In celebration of the event's silver anniversary, a sparkling winter wonderland awaits guests at the zoo, in addition to a unique opportunity to visit with reindeer, free with paid admission! Reindeer photo and feeding opportunities will be available for purchase each evening during WildLights.
Attendees may also gaze at more than a million colorful lights throughout the park, explore newly decorated pathways, come across a herd of life-size, luminescent animal lanterns that include giraffe and cheetahs and walk through the popular tunnel of festive lights flashing to holiday music. Nightly holiday-themed activities and entertainment will also be offered, including animal encounters, keeper chats, camel and carousel rides, as well as a spectacular view of the festive G-scale model trains with more than 3,300 feet of track, all decked out for the holidays.
WildLights takes place from 6 p.m. to 9 p.m. on selected nights throughout the season. Admission is $10 for adults, $8 for members, children and military (with ID) and children under the age of three are free.
The Christmas Nights of Lights Tour is offered through Palm Springs Celebrity Tours, and provides guests a unique lights tour experience around town. Visit and view some of the region's greatest hidden gems, and take in the lights and sounds of the holiday season, all while being surrounded by even greater company. Select seasonal dates for Fridays and Saturdays are available.
Tours take place from 6 p.m. to 8:30 p.m., and price of admission is $30 for adults while admission for children, ages 10 and under, is $15.
Don't miss out on the first ever Snow Fest in downtown Cathedral City, happening at the Civic Center Plaza and Cathedral City Festival Lawn. The holiday light parade begins at 5:30 p.m. and features more than 50 decorated floats. Afterwards, guests will enjoy the annual lighting of the Cathedral City Holiday Tree in front of City Hall, featuring the mayor and special event guest, Santa Claus.
The Festival Lawn will be covered with white bubbles and will also be transformed into a winter wonderland. Other festival fun includes an outdoor market, holiday arts and crafts, activities for kids, choir performances, food and hot chocolate, shopping and a chance to visit with Santa. In addition to this, families are invited to visit the Mary Pickford Theater at 7 p.m. for a free holiday movie screening.
Admission to the event is free and parking will be available in the City Parking Structure. Proceeds made from event will benefit Safe House of the Desert.
The Palm Springs Air Museum has a special treat for all the good little boys and girls out there this season. Come see Santa Claus as he flies into the museum on his airplane and gives out goody bags to children under the wing of a vintage aircraft. The event begins at 11 a.m. both days, and price of admission for children, 12 and under, is free with a paying adult.
Santa will be available for photos and will also open his Winter Fun Land for all in attendance, which includes actual snow for hours of cool fun and entertainment. If you have never seen snow in the desert before, this is your chance!
During this annual special event, boutique hotels and private properties open up their doors to the public to share the joy of the holiday season with festive wanderers and spectators. Walk of the Inns is a free event that takes guests through a self-guided walking tour of mid-century modern design treasures, historic inns and beautiful boutique hotels in Palm Springs.
Properties participating in the event include Casa Cody, The Rossi, Palm Mountain Resort & Spa, Andalusian Court Spa Villas, Amin Casa, Korakia Pensione, Palm Springs Women's Club, Del Marcos Hotel, La Serena Villas, The Three Fifty Hotel, Palm Springs Tennis Club and Spencer's Restaurant, just to name a few.
The Palm Springs Art Museum is the official starting location for the event, which offers guests complimentary maps for their evening adventures. The event is held from 5 p.m. to 8 p.m. and benefits Well in the Desert. Participants are asked to donate an unwrapped toy to assist with the nonprofit's annual toy drive.
Palm Springs Gay Men's Chorus Joyful Traditions at the Palm Springs Art Museum
Dec. 15 - 17
Get into a festive spirit with a performance of holiday classics performed by the Palm Springs Gay Men's Chorus. Performances will be held on Dec. 15 and 16th at 8 p.m. and Dec. 17th at 3 p.m.
Old Saint Nick will make a special appearance at the top of the Palm Springs Aerial Tramway, spreading Christmas cheer through free candy canes and photo opportunities for the kids. The event goes from 11 a.m. to 3 p.m.
Holiday cheer continues at The Living Desert as the zoo hosts an exclusive opportunity for families to visit with Santa and friends! This event offers guests the chance to say hello to Jolly Old Saint Nick, help make gifts for The Living Desert's animals and get up close and personal with reindeer. Breakfast for the event includes scrambled eggs, bacon, sausage, pancakes, fruit, mini bagels, yogurt and an assortment of beverage options.
Tickets for the 9 a.m. second seating are available now on the zoo's website, and admission is $33 for adults and $28 for children.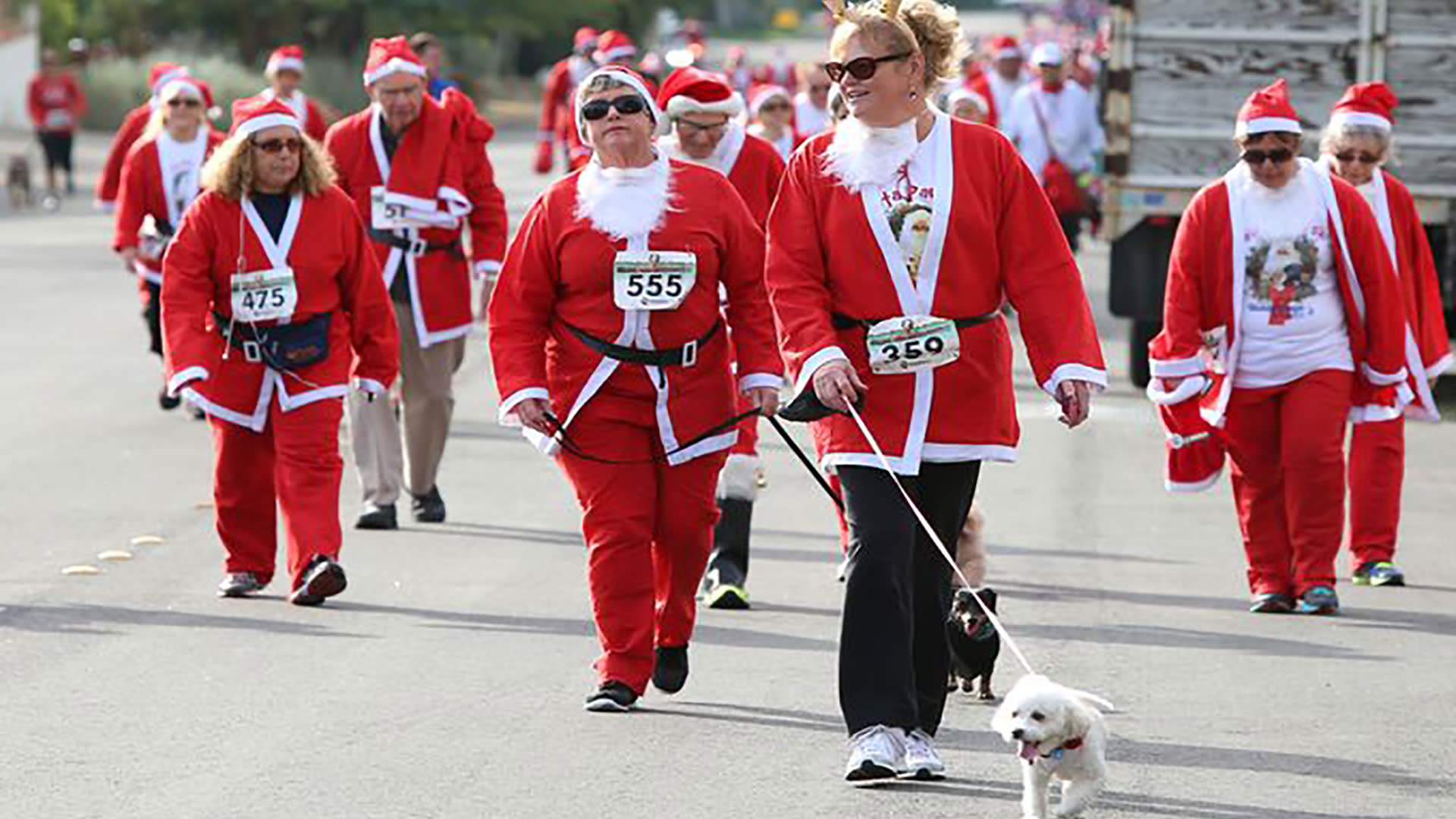 A holiday event unlike any other, the Santa Paws 5K brings out the Santa Claus in everyone, as participants dress up like the man himself and walk or run a 5K race through the Las Palmas neighborhood of Palm Springs. Upon reaching the finish line, participants are greeted with a finisher medal, as well as milk and cookies to top of the morning. The 2017 Santa Paws 5K happens from 9 a.m. to 11 a.m., and is regarded as a beloved holiday tradition for many in the oasis. The event benefits Guide Dogs of the Desert and all are welcome to attend, doggie companions included.
Online event registration is available now, and the cost is $35 per participant. Children, ages 10 and under, may partake in an elf dash after the race, and cost to participate is $5 per runner. For more information, visit the 2017 Santa Paws 5K event page.
There is something quite special about enjoying a holiday movie with your family and loved ones during the festive season. For family fun that can't be beat, visit the Cathedral City Festival Lawn for their Movies in the Park night and watch holiday classic, The Grinch.
Attendees are welcome to bring their own snacks, beverages, blankets and lawn chairs to the event, which is located at 68600 East Palm Canyon Drive (Hwy. 111) in Cathedral City. The movie begins at 7 p.m. and is free for all in attendance. Snacks and drinks can also be purchased at the event concession stand.
Spend the Christmas holiday in luxury and style as you live up the (Governor's) suite life at the Renaissance Esmeralda Resort & Spa, Indian Wells. The resort is offering guests the chance to experience an Over the Top Very Merry Holiday Getaway, priced at $15,000. This package is bringing out all the festive bells, lights and whistles to make the season shine bright!
This impressive getaway is available for a single night booking for a group of six for Christmas Eve night, with the option to add further nights. It includes limousine transfers to and from an airport or other local destinations, a $2,000 shopping credit to buy and wrap gifts for loved ones, an in-suite holiday dinner served in-person by Santa's elves, as well as an in-suite Christmas tree and entertainment during dinner. The swanky holiday package also offers an exclusive after-dinner film screening in the R Movie Theater, bedtime stories with milk and cookies provided by Santa's elves, a private breakfast with Santa on Christmas morning, a holiday family photo and an unforgettable time enjoying all resort amenities and holiday activities.
Holiday Tree Lightings
Nothing sets the mood for the holiday season quite like a tree lighting—and there are plenty to enjoy this season. In addition to the ones mentioned above, the following cities will also host holiday tree lighting ceremonies:
To learn more about wintertime activities in the oasis and to make the most out of your festive time in the region, be sure to check out more holiday activities on the Greater Palm Springs events calendar.