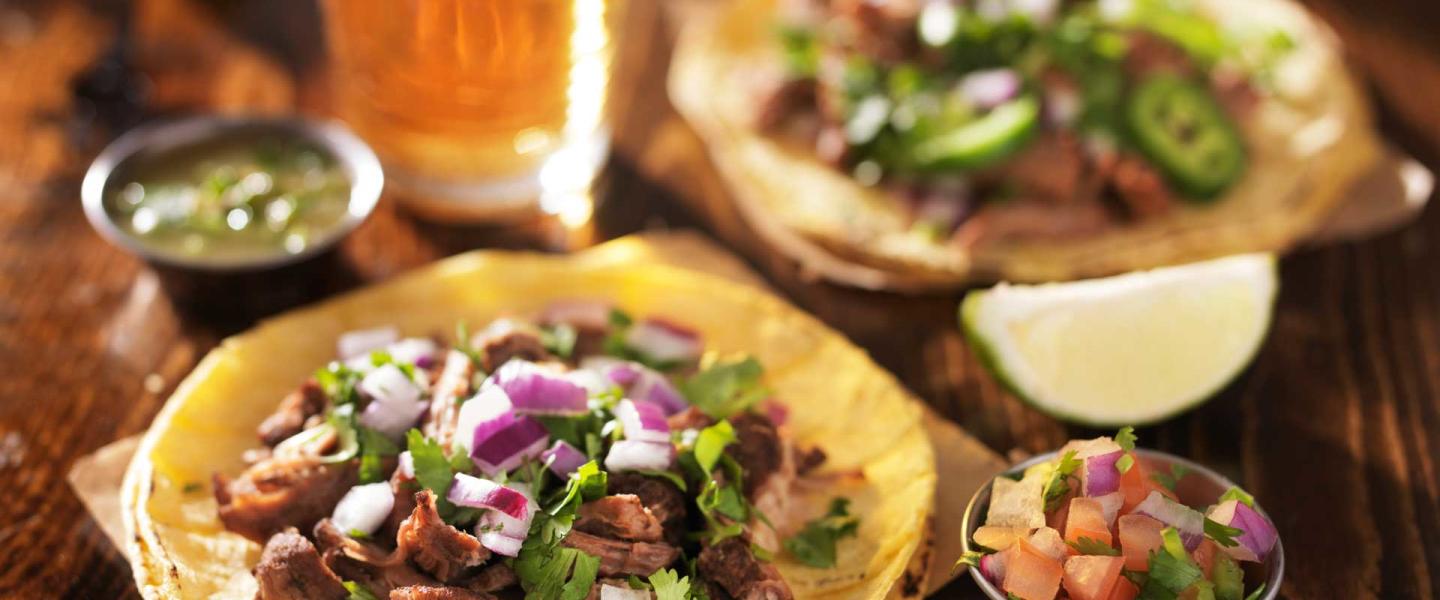 From traditional dishes like tacos and burritos to family recipes for albondigas, Greater Palm Springs is all about authentic Mexican cuisine. Visit the top six restaurants that are the locals' favorites.
The Lua family migrated from Jiquilpan, Michocan, a place often referred to as the Soul of Mexico or Alma de Mexico – hence the name. Chef-matriarch Teresa and her family, including six children, opened this popular restaurant in 1997 in Indio. The Chile Relleno en Ahogada (stuffed), a fresh poblano chile stuffed with shrimp, gets rave reviews, as does their special version of a cobb salad that includes roasted corn, Cojita cheese and spicy ranch dressing. The restaurant is beautiful; the menu is huge; and after dinner on Friday and Saturday nights, it becomes a lively Latin night club. 
This tiny treasure in Indio has a loyal following for its traditional dishes like tacos, burritos and enchiladas, and is known for its home-style Mexican breakfast items like huevos rancheros and chiliquiles (fried tortilla quarters topped with salsa and then topped with chicken, shredded cheese, cream, raw onion rings and avocado slices). Carne Asada con Camarones (grilled meat with shrimp) and shrimp-stuffed roasted gueritos (hot yellow peppers) served with soy sauce and mayonnaise are the specialties. Low key entertainment is provided by the occasional trains shooting past the restaurant on the nearby railroad tracks that give the café its special vibe. Don't be surprised to spot a celeb or two who know about this hidden gem.
Not unexpectedly, the Margaritas at this popular Palm Desert spot are wickedly wonderful and a great tribute to the blue agave plant that produces tequila.  The lunch menu offers a large selection of burritos, tortas, enchiladas and tacos, along with specialties like Fajitas Agave made with sizzling chicken or beef, caramelized onions, green peppers and garnished with guacamole and Pollo en Champinones consisting of a grilled boneless chicken breast smothered in soy sauce, onions and mushrooms. Locals' favorite items on the dinner menu include fajitas, chile rellenos and enchiladas de mole. They also have a vegetarian menu featuring meatless fajitas and enchiladas.
This popular restaurant recently moved into the heart of Palm Springs from its Sunny Dunes location and is growing rapidly. If you're adventuresome, you might want to have goat- or brain-filled tacos. You can also try some beef tongue and head meat, but the menu is mostly delicious standard offerings featuring chicken, beef, pork and seafood. Tortas (flat bread), tacos, tostadas and burritos are available with your meat of choice, and the menu also offers Mexican-style platters of seafood, meat and poultry along with Tequila and beers. The restaurant gets its name from Tlaquepaque ("a place above clay land"), an ancient Mexican city surrounding Jalisco that has been integrated into Guadalajara.
This recent offspring of the original Pueblo Viejo Grill in Indio is in the university district of Palm Desert between Frank Sinatra and Gerald Ford Drives and attracts locals from nearby communities. The menu is traditional, made with fresh ingredients and prepared to order. They have week night specials, like Fajita Madness on Tuesday and Thursday and Happy Hour discounts nightly from 3-6 pm. If you come as a group, you'll enjoy the platters of burritos, chimichangas, enchiladas and more. Each platter has 12 pieces, making it fun to order 3 or 4 platters so everyone can sample the variety of dishes. The Tequila selection is truly impressive.
Chef/owner Ernesto Gastelum came with his family to Los Angeles from Sinaloa when he was 13, and many of his recipes have been in the family forever – including this grandmother's albóndigas (meatball) soup with fresh cut vegetables. His mixed grills contain citrus marinated grilled shrimp, bacon wrapped shrimp stuffed with jalapeno and jack cheese, quail, grilled chicken and grilled steak served over grilled onions and green and red bell peppers—all  accompanied by guacamole, sour cream, pico de gallo, cheese, rice and beans. The mixed grills can be made for one, two or four people. Enjoy "Happy Hour" $5 house Margaritas all day, every day, with $6.95 Happy Hour appetizers daily from 5 to 7 p.m.