Nothing beats a great slice of pizza - Whether you prefer traditional flavors or you're looking for something bold and unique, Greater Palm Springs restaurants have something for every kind of pizza lover. Dig into delicious pies at this SoCal oasis!
Dine safely with takeout and delivery options. 
Bill's Pizza
Bill's Pizza (in Palm Springs and Palm Desert) has become a local's favorite, and with good reason. With everything from the traditional Pepperoni pizza to their popular Specialty Pizzas, Bill's pies are unlike any other. 
Don't miss their signature Elton John pizza topped with garlic-infused olive oil sauce, artichoke hearts, tomatoes, cooked spinach, red onions, four-cheese and feta. Make it healthier with the gluten-free crust option for their 10-inch pies. Whether you're grabbing a large pizza for the whole family or getting a slice on the go, Bill's Pizza has you covered. 
Birba
It doesn't get more authentic than Birba in Palm Springs. Stop by this cozy spot for some of the best handcrafted cocktails, homemade pasta and authentic wood-fired pizza. Their patio features high top tables amid trees with hanging lanterns that create the perfect atmosphere for a casual night out. 
Their menu features a variety of pies including the classic Margherita pizza, their Tutto Carne pizza, featuring a variety of meats and more. Be sure to try their signature Birba pizza, topped with prosciutto, honey, chili oil and San Marzano tomatoes. Plus, Birba gives guests the option to dine for a cause as they offer a pizza that benefits a different charity every month. 
Brickworks
Experience traditional pizza with a twist at Brickworks Bistro. This hip eatery is located in the heart of Downtown Palm Springs, making it the perfect spot to stop for a slice when exploring the bustling Palm Canyon Dr. Brickworks has something for every appetite with a variety of appetizers, pasta, salads, sandwiches and, of course, their signature wood-fired pizzas, complete with a gluten-free crust option. 
If you're into the classics their Tomato + Mozarella pizza topped with Roma tomatoes, fresh basil and sea salt is the one for you. Looking to spice it up? Dig into their Chili Lime + Avocado topped with fresh mozzarella, pepperoni, sausage, roasted poblano peppers, cilantro, lime and avocado. Whatever your preference you're in for a great dining experience at Brickworks.
Barrel District Pizza
Stop by Barrel District Pizza in Cathedral City for a charming dining experience and some of the best pizza in this SoCal oasis. This hidden gem boasts a charming interior, an inviting patio and excellent service. Take your pick from a diverse menu including delicious starters, salads, tacos and pizzas.
Barrel District's pizzas feature everything from classic topping combinations like their Hawaiian Pie and Margherita pizzas to a variety of unique creations like their savory The Coachella pizza, topped with fresh tomato, black olives, artichokes, mushrooms, onion, basil, finished with a garlic-infused oil drizzle, and fresh avocado. They also cater to the more health-conscious by including a cauliflower crust option for all their pizzas. 
Enzo's Bistro and Bar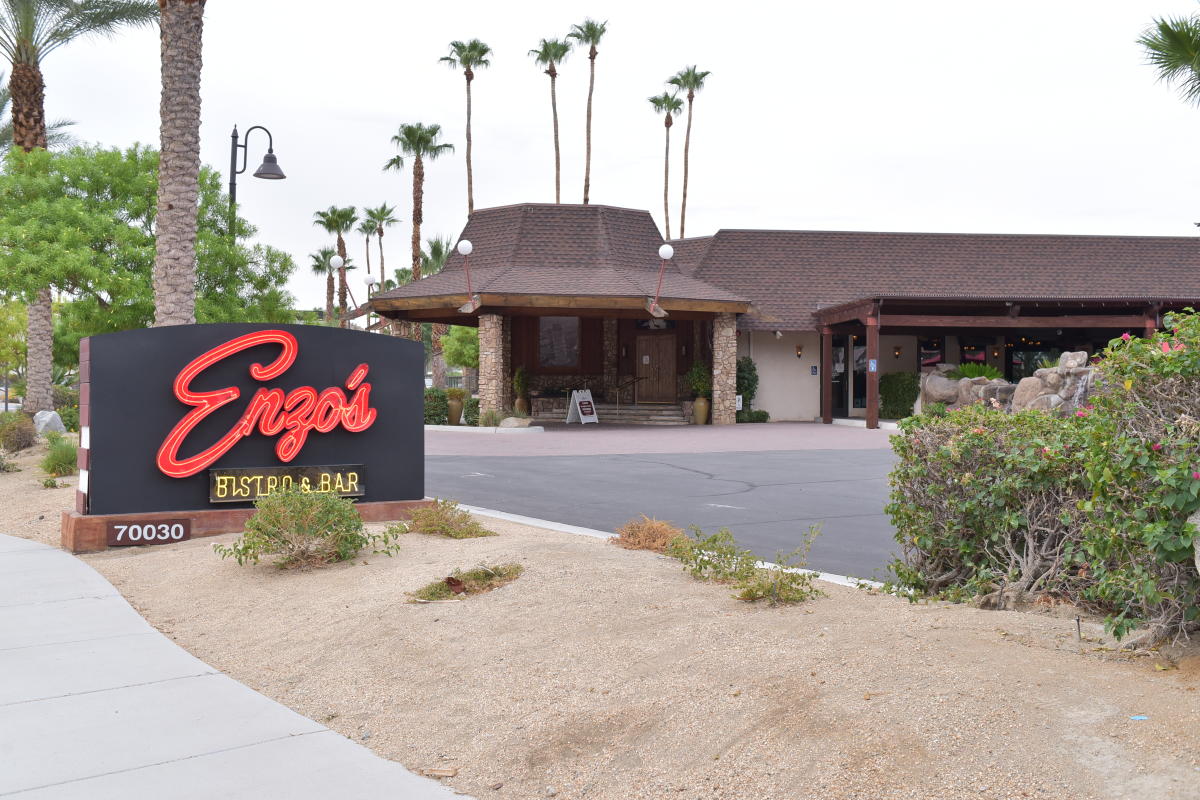 You'll feel right at home when you walk into Enzo's Bistro and Bar. With locations in both Rancho Mirage and La Quinta, Enzo's serves some of the most deliciously authentic Italian cuisine in Greater Palm Springs. Their menu offers something for everyone in the family including salads, pasta, fish, steak and chicken entrees among many others. 
Keep it classic with their Margherita or Pepperoni pizzas, or try something new by digging into their flavorful Constatina pizza, topped with sliced Parma prosciutto, roasted peppers, artichokes and gorgonzola cheese. Dine at their welcoming outdoor patio for a dining experience under the palm trees. 
Upper Crust Pizza
Upper Crust Pizza has been a local's favorite for over 25 years. Their menu features everything from classic appetizers like their delectable garlic bread and chicken wings, to sandwiches, calzones, salads and family meals. 
On your next visit, be sure to try their signature Everything pizza topped with pepperoni, ham, salami, bacon, Italian sausage, red onion, mushrooms, bell pepper, black olives, and pineapple. If you're looking to keep it light their Pizza Lite includes a medley of vegetables topped with a light layer of cheese.
Sweeten the deal by trying their Lunch Special; A slice of pepperoni pizza, garden salad and 24 oz. drink for only $7.95, available from 11 a.m. to 3 p.m. Monday through Friday.
The Slice
A slice of New York in Greater Palm Springs – The Slice in Rancho Mirage offers a casual and fun dining atmosphere and delectable New York style pizza. With a variety of Italian dishes including Lasagna, Shrimp Scampi, Meatball Subs and more The Slice has something for every craving. 
Their pizza is a true standout. If you would prefer to build your own they offer a wide variety of toppings including plentiful meats, vegetables and even a gluten-free crust. When in doubt you can never go wrong with any of their specialty pizzas; Their Barbecue Chicken Pizza, topped with BBQ sauce, chicken, cilantro, red onion and mozzarella cheese is truly heavenly. 
Polo Pizza Co. 
Polo Pizza Co. in Indio is a modern pizza bar serving a variety of enticing menu items including their signature gourmet pizzas. Located at the famous Empire Polo Club, this pizza joint features a spacious outdoor patio perfect for anyone looking to dine al fresco. 
Dig into any of their menu items, from yummy starters to fresh salads, and specialty pizzas, Polo Pizza Co. has something for every appetite. A classic pepperoni pizza is never a bad idea, but if you're looking for something different The Polo pizza, topped with house-made white sauce, shredded cheese, bacon, baby spinach, dates, and caramelized onions is a real treat.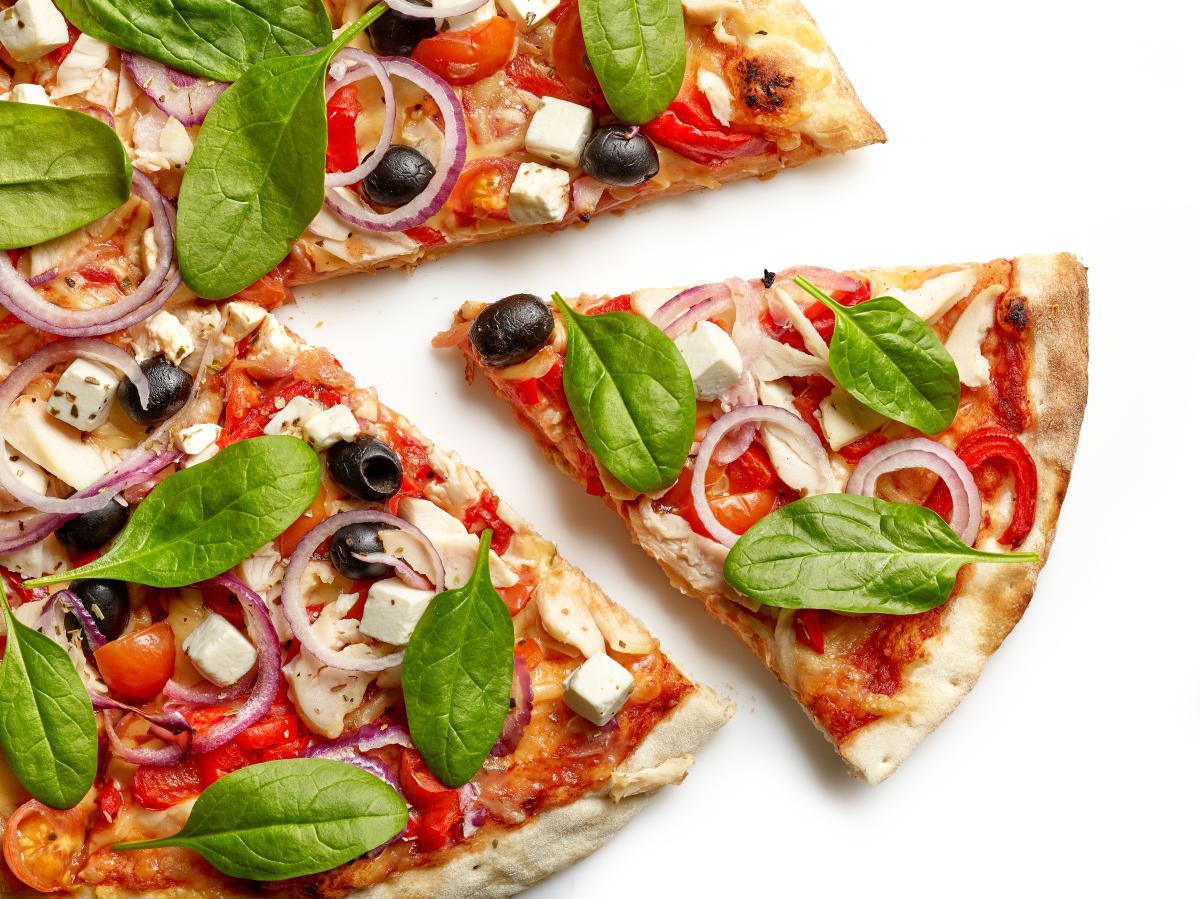 Dig into more culinary favorites in Greater Palm Springs – Check out who is offering takeout and outdoor dining here. Bon appetite!