Hotel rooms can be found all over Greater Palm Springs, but sometimes you want more than four ordinary walls. We've found some of the most memorable and Instagram-worthy hotel rooms and suites in the oasis.
Bedouin Suite, Korakia Pensione
Let the desert environment of Greater Palm Springs transport you to another desert far away. The Bedouin Suite at the Korakia Pensione feels like you've traveled to Morocco. This large suite off the main hotel courtyard features an expansive sitting area with carved wood furniture and bright white stucco walls. The bedroom's queen-sized bed sits high on a built-in platform that gives the room a regal air.
Adjacent to the bedroom is a large indoor/outdoor stone tub with a rain shower. The suite is rounded out with a full kitchen and private patio with stunning views of the San Jacinto Mountains.
1950s Airstream Trailer, Hotel Paseo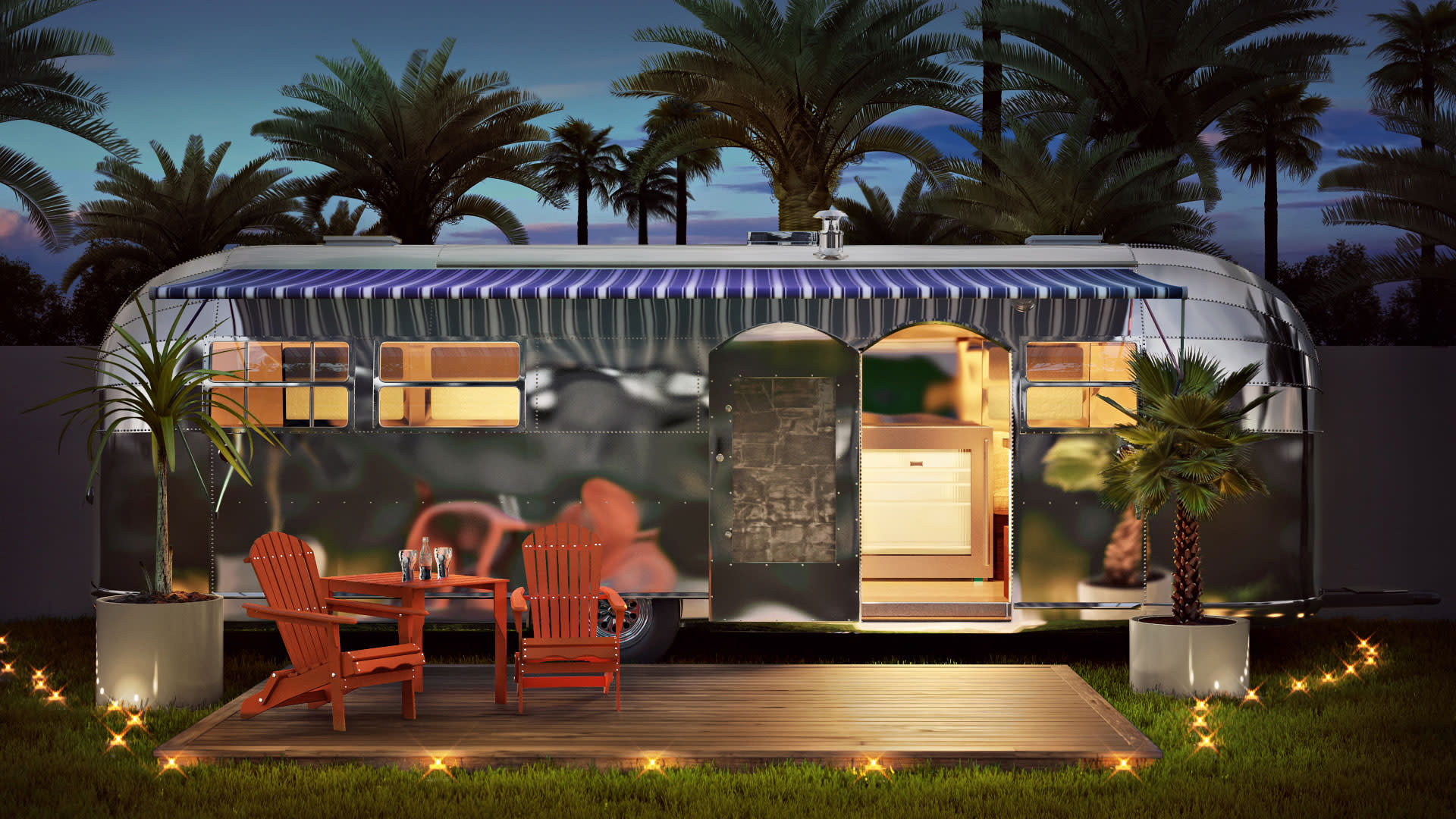 It's a shining silver bullet tucked into a lush courtyard adjacent to the hotel; the Airstream Trailer suite at the new Hotel Paseo in Palm Desert provides guests all the amenities of a hotel with the kitschy feel of a vintage (but luxurious!) trailer.
A deck and sunshade awning provide plenty of outdoor space to relax in, unless you prefer to relocate to the spacious public bar or serene spa. The hotel is set to open by the end of 2017.
Presidential Suites, Agua Caliente Casino Resort Spa Rancho Mirage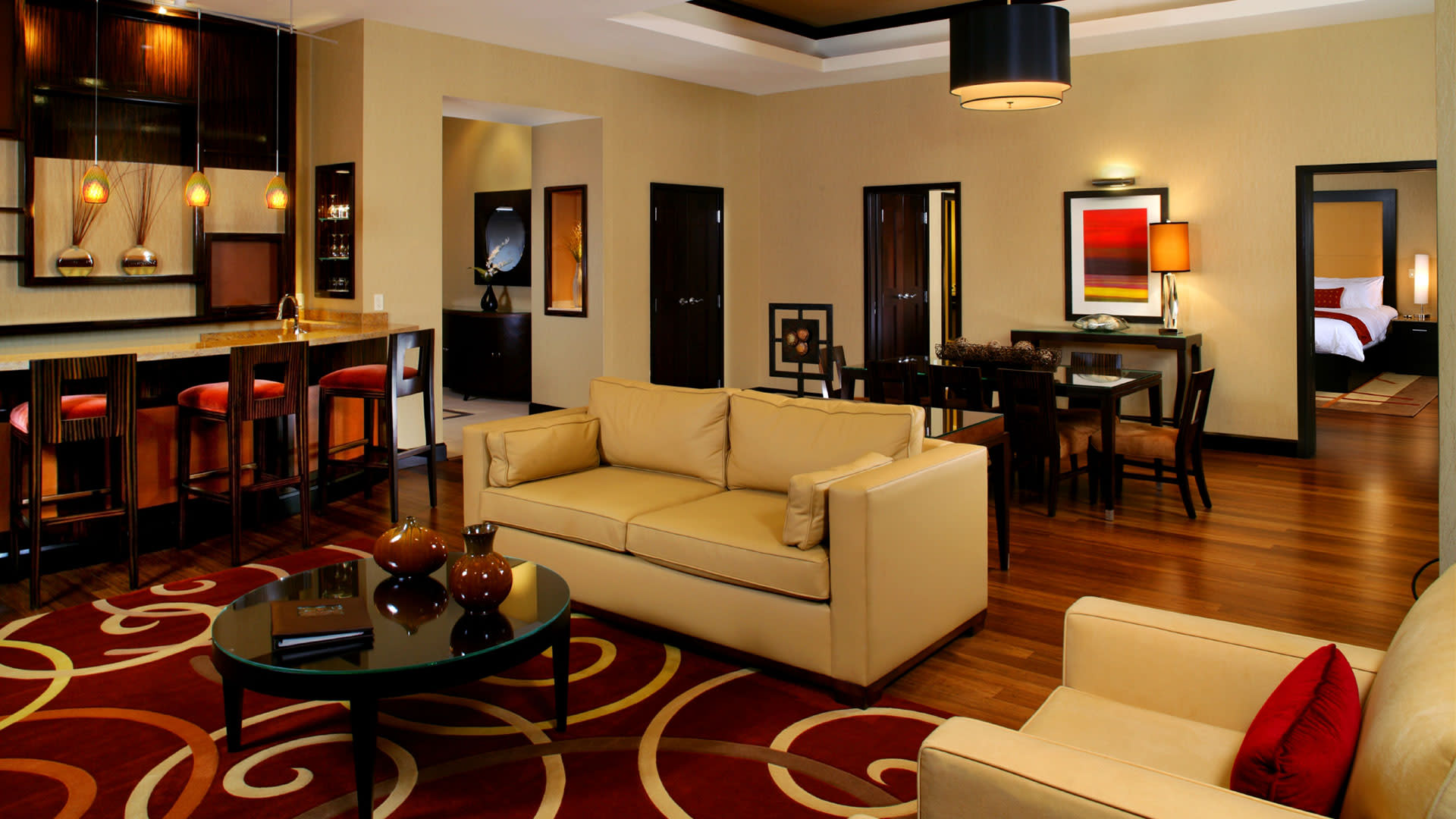 For the ultimate in luxury, the Agua Caliente Casino Resort Spa Rancho Mirage offers two lavish Presidential Suites. Located on the top two floors of the hotel, these 1,650-square-foot suites have panoramic views of the San Bernardino and San Jacinto mountains and feature separate dining rooms and living space. The bathrooms are also spacious and include a flat screen television, jetted spa tub, makeup table, his and her sinks, and a relaxing deluge shower.
If you're inclined to leave your luxury room, there's a world class spa, dynamic casino and entertainment center plus many options for dining.
Pretty in Pink Room, Palm Springs Rendezvous
There's nothing like sleeping in the same spot as a celebrity and enjoying the spoils often reserved for the elite. Film icon Marilyn Monroe actually stayed in the room now known as the Pretty in Pink Room at the Palm Springs Rendezvous.
Outfitted for Marilyn fans, guests can use the vintage-styled vanity area to get ready for a night on the town, or relax in the huge whirlpool tub.
With touches of bold fuchsia and vintage furniture and details, the room is sure to transport guests back to the 1950's, though modern and more popular amenities like a refreshing pool and Wi-Fi are also at hand.
Frey Lounge, Orbit In
Named after star desert modern architect Albert Frey, this sumptuous suite at Orbit In takes you back in time with its eclectic modern furnishings.
Outfitted with a massive stone fireplace, and opening via sliding glass doors onto both the pool deck and a private courtyard, there's views all around.
Sip the hotel's signature "Orbitini" cocktails prepared at the wet bar as you listen to music on the in-room record player, or lounge and look around at the photos taken by famed photographer Julius Shulman.
At the end of a long day, take in the last of the desert sun by cooling off in the private outdoor shower before retiring to the cozy queen bed.
These are just some of the stunning hotel rooms and suites that can be found across Greater Palm Springs that provide just a bit more luxury, and add that 'wow factor' to your next visit. For more, check out our full listings of hotels in Greater Palm Springs.