A Valentine's Day getaway to Greater Palm Springs is always a great way to rekindle the romance. What could be more romantic than holding hands as the sun makes its deep-hued departure over the snow-capped San Jacinto Mountains? Or smooching beneath a dark sky dotted with brilliant stars?
Things really kick into high gear for lovebirds in February, when oasis restaurants roll out lavish menus celebrating l'amour and spas amp up their treatments for two.
To indulge in the destination's sweetest dining and spa deals, check out the sweetheart offerings going on for February 2017.
Romantic Dining a Deux in Greater Palm Springs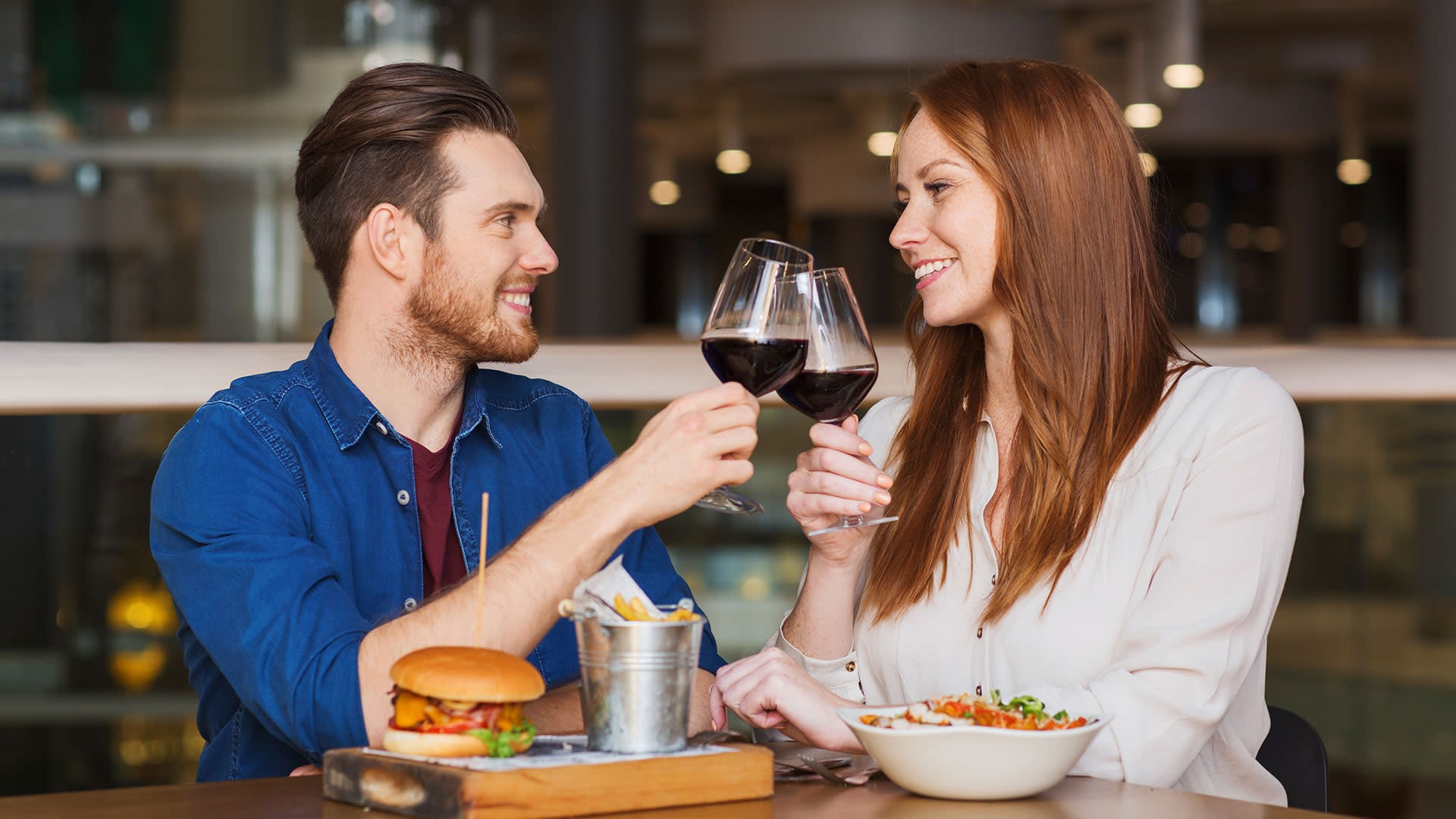 Agua Caliente Casino Resort Spa Rancho Mirage | Rancho Mirage
The luxurious, AAA Four Diamond Agua Caliente Casino Resort Spa Rancho Mirage offers plenty of dining options on Valentine's Day. Enjoy a surf and turf combo ($59) at The Steakhouse, a petite filet and scallop duo ($27) at Water's Café or immerse yourself in a grand dining extravaganza at the Grand Palms Buffet ($34.99) where options include Oysters Rockefeller, lobster smashed potatoes and boneless shank of lamb. The Steakhouse is open 5 – 10 p.m.; the other restaurants open at 11 a.m.
bluEmber, Omni Rancho Las Palmas Resort & Spa | Rancho Mirage
One of the most popular alfresco dining locations in the oasis, bluEmber at the Omni Rancho Las Palmas Resort & Spa is the perfect spot for an intimate night out. The a la carte Valentine's dinner menu serves up classic dishes with a contemporary spin. Start with the Pacific Northwest Oysters with Chile-Avocado Mignonette, then try the crab-crusted halibut with black mussels, cockles and a white corn creamless clam chowder. Cap off the meal with a dulce de luche with strawberry mousse and vanilla crème anglaise or the chocolate stem strawberries with a Grand Marnier and passionfruit glaze.
Café at Shields Date Garden | Indio
What better way to romance your date than with actual dates? Greater Palm Springs' famed Shields Date Garden is pulling out all the stops on Valentine's Day, including live musical entertainment. The special three-course a la carte menu features Shields' famous stuffed dates, which are prepared with bleu cheese crumbles, jalapeño and prosciutto, then wrapped in bacon and topped with drizzled balsamic and demi-glace. Other local bites include the heart of palm soup and the must-get date sticky bread pudding served with vanilla ice cream and a homemade caramel sauce made with raw organic agave syrup. Dinner is served 4:30 – 8:30 p.m.
Cliffhouse Grill & Bar | La Quinta
If dinner with a view is the key to kindling your romance, you'll love the natural surroundings at the La Quinta-based Cliffhouse Grill & Bar. The restaurant, located on a rock outcropping above the desert floor is surrounded by mountains and known for its views of the valley. Try to secure a seat on the outdoor patio near the flowing waterfall or the massive stone fireplace. The a la carte Valentine's Day menu includes such tasty starters as steamed Eastern Mussels or baked artichoke. For the entrée, indulge in twin lobster tails or spice rubbed prime rib.
EIGHT4NINE | Palm Springs
Romance abounds at Palm Springs' EIGHT4NINE restaurant, where the décor is an eclectic mix of rustic farmhouse and contemporary fixtures. Hand holding is a must, but it might be difficult when you dig into a lavish four-course, prix-fixe menu starting from just $49 per person. Start with amuse bouche, then the starters, which range from cornmeal-crusted northwest oysters to hoisin lamb meatballs. Main course options include espresso-braised lamb shank, a poblano chile relleno or lobster and shrimp linguini alfredo. For dessert, you won't want to miss the locally inspired Coachella Lime Pie.
Grove Artisan Kitchen, Miramonte Indian Wells Resort & Spa | Indian Wells
At the Miramonte Indian Wells Resort, there are plenty of ways to indulge in a romantic meal. At the Grove Artisan Kitchen, a mouth-watering four-course menu features artisan farm-to-fork dishes like lobster bisque with vanilla foam, arugula parmesan-crusted lamb and an over-the-top Strawberry Macaroon all prepared by Executive Chef Paul Hancock. The menu starts from $45 per person. Or book the exclusive seven-course Chef's Table Dinner. If you're feeling adventurous Chef Paul will incorporate ingredients that act as aphrodisiacs to set the tone for the night ahead. The menu starts from $75 per person. No matter which meal you choose, be sure to cap off your evening with the Strawberry Rhubarb Crisp, a uniquely local treat made with Kadota figs and date ice cream.
Jackalope Ranch & The Chop House at Jackalope Ranch | Indio
Indio-based Jackalope Ranch and its sister restaurant, The Chophouse at Jackalope Ranch, are a favorite oasis location for alfresco dining. The 21,000-square-foot venue includes several patios, two waterfalls, and a Southern Pride smoker serving up apple, cherry and hickory wood-smoked delicacies. For Valentine's Day, the two restaurants are combining forces for one lavish a la carte menu. Inspired by the classics, starters include lobster bisque and jumbo shrimp cocktail. For the entrée, be sure to try some of the Chophouse's famed barbecue like the bone-in Ribeye chop, BBQ baby back ribs or the surf and turf. For dessert choose between the chocolate cappuccino mousse cake and the New York-style cheese cake.
Lantana California Cuisine, Hyatt Regency Indian Wells | Indian Wells
Cozy up to your special someone at Lantana at the Hyatt Regency Indian Wells, where sushi plays a starring role on the Valentine's Day menu. First course options include a shared sushi appetizer, lobster Philly roll or crab salad avocado, while the appetizer course serves up a tasty variety of soups and salads. For the main course, the options range from a roasted chicken breast to grilled filet mignon to wild mushroom gnocchi. But the star of this lavish dinner for two is the dessert course, a chocolate lovers buffet, with such selections as white chocolate and pistachio panna cotta, double chocolate bread pudding and hand-painted chocolate bars. The menu starts from $95 per person, but a $40 per person wine pairing option is also available.
LULU California Bistro | Palm Springs
At Downtown Palm Spring's LULU California Bistro, the menu features fresh ingredients and generous portions. Beautifully decorated for Valentine's Day, the restaurant features a special Valentine's dinner from 4-10 p.m. The three-course dinner includes a selection of six delicious soups and appetizers; ten delectable entrees including Chilean sea bass, filet mignon and shrimp linguine; and seven decadent desserts with a champagne toast. Be sure to reserve early—last year's event sold out quickly.
Melvyn's Restaurant | Palm Springs
Iconic Palm Springs restaurant Melvyn's is always a popular hot spot on Valentine's evening. Fortunately, their romantic prix-fixe menu is available from noon through midnight on Feb. 14, but If you're coming for the live music, plan to arrive after 7 p.m. The $65 Chef's Tasting Menu (plus tax and gratuity) offers a three-course display including some of Melvyn's best known specialties. Among the offerings: oysters on the half shell, Cervena venison medallion with sturgeon caviar, red polenta, cauliflower and blood orange jus; and chocolate devil's food cake.
Mr. Parker's, The Parker Palm Springs | Palm Springs
The dim, sexy atmosphere inside Mr. Parker's, which is located in The Parker Palm Springs, is the ideal location for a little Valentine's Day canoodling. The romantic menu is full of lavish delicacies—pan seared filet and foie gras with dried chili mole, anyone? What's more, many of the menu items are specially designated as aphrodisiac items, in case you need a little culinary help in jump starting your evening. Among the so-designated items are the Osetra caviar and salmon roe, creamy forest mushroom soup, jumbo prawn trio with artichoke hearts and lychee and vanilla bean mousse. The four-course menu is $95 per person, but a Charles de Cazanove Brut Champagne Reims supplement is also available.
Peak's Restaurant, Palm Springs Aerial Tramway | Palm Springs
Mix things up at the Palm Springs Aerial Tramway, where you can celebrate your romance in the midst of an alpine forest. The mountaintop restaurant is serving a romantic, three-course, prix fixe menu, and menu items include an appetizer course with options such as Ahi Poke or mixed greens, an entrée course, including filet mignon, Salmon en Papillote or potato gnocchi; and white chocolate strawberry Crème Brule for dessert. The menu will be available 11:00 a.m. - 4:00 p.m. and 5:00 p.m. - 8:00 p.m. and is priced from $59.95. Reservations are recommended. Tax, gratuity and tram admission are not included.
Wally's Desert Turtle | Rancho Mirage
In Rancho Mirage, Wally's Desert Turtle has been a desert icon for nearly 40 years. Founded in 1978 by Wally Botello, founder of the acclaimed Velvet Turtle restaurant group, Wally's serves up an eclectic California menu under the leadership of Executive Chef Pascal Lallemand. For Valentine's Day, Chef Pascal is serving up a romantic three-course dinner with such offerings as bay shrimp salad, wild mushroom soup, braised beef short ribs, Superior Farms roasted lamb and warm chocolate lava cake. The dinner is priced at $78 per person, but alternate entrees can be selected with an upgrade to $90 per person.
Workshop Kitchen + Bar | Palm Springs
Workshop Kitchen + Bar, which transformed a historic movie theater into a James Beard award-winning restaurant, is bringing the eclectic to Valentine's Day menus. Whether you're in the mood for Octopus Carpaccio, carrot risotto, black cod with honey-lavender glaze or duck breast with yucca puree, you're sure to find something you love on Workshop's for-one-day-only menu. The three-course menu starts at $80 for the kind of romantic (communal tables) or $100 per person in the booths. Be sure to add on a specialty, only-at-Workshop cocktail to set the mood. Seatings start from 5 p.m. and run through 10:45 p.m. Reservations are highly recommended.
Zin American Bistro | Palm Springs
Wine lovers should plan a Valentine's dinner at Zin American Bistro, where the extensive wine list has earned the restaurant multiple "Best of Award of Excellence" nods from Wine Spectator magazine. Zin is serving up some of its favorite menu items for Valentine's Day, including wild mushroom truffle soup, seared Hudson Valley foie gras over spinach black truffle with apricot sauce, bacon-wrapped pork medallions, tofu croquette and lobster tail with coconut lemon grass sauce. The dessert list includes Mindy's cheesecake and lemon sorbet with Grand Marnier-marinated fresh strawberries. The three-course menu starts from $69.99, but upgrades and optional wine pairings are also available.
Romantic Spa Treatments in Greater Palm Springs
If you're looking to amp up the quality time you spend with your sweetie, many of the destination's hotels and spas are offering distinctive Valentine's Day spa treatments for two. Among the offerings:
Ace Hotel & Swim Club | Palm Springs
At the Ace Hotel, the Feel Good Spa is offering massage lessons for Valentine's Day. The 90-minute program, which includes a glass of champagne, will leave you feeling refreshed, and you'll also bring home professional techniques you can use again and again. From $180.
Agua Caliente Casino Resort Spa | Rancho Mirage
Romance abounds all month long at Sunstone Spa at the Agua Caliente Casino Resort Spa. The Rocks and Roses Massage features Swedish massage techniques combined with warm lava stones and rose-infused cream that leaves you feeling rejuvenated. 50 minutes; from $155. Or, the Polished Gem for Two includes a full body scrub using raw sugar, clay and rose, to help soften and nourish the skin. Following the scrub, a full body rose quartz massage renews and warms the heart, making it perfect for the couple wanting to reconnect. 80 minutes; from $395.
Hyatt Regency Indian Wells | Indian Wells
Body painting reaches a new romantic high at the Agua Serena Spa at the Hyatt Regency Indian Wells. In the one-hour Colors of Love session, you'll work with an instructor who will demonstrate tips and tricks, as well as popular designs, to get you started. Color your partner's arms, legs and hands or give them a temporary tattoo with your name on it. Or, if you're looking to experience California's wine culture, the one-hour Vino and Vinyasa yoga class demonstrates the principles of yoga as well as conscious wine tasting, which when combined help heighten the senses. A 24-hour advance reservation is required.
Miracle Springs Resort | Desert Hot Springs
For a total romance immersion, plan a spa getaway for two. With the Perfect Date getaway package at Desert Hot Springs' Miracle Springs Resort couples enjoy a romantic stay in a suite, and spend their days soaking in the resort's natural hot spring pools. The package includes a bottle of champagne and chocolate truffles at check-in, a one-hour couples massage at The Spa and 10 percent savings on any retail purchases at the Spa Boutique. Cap off your getaway with a dinner for two at the Desert Hot Springs landmark Capri restaurant, with a special menu featuring Caprese, Filet Mignon, Tiramisu and wine. Package rates are available February 14-28, 2017; mention "The Perfect Date" for special pricing.
Miramonte Indian Wells Resort & Spa | Indian Wells
At The Well Spa at Miramonte Indian Wells Resort & Spa, aphrodisiac aromas are highlighted in the special Couple's Massage. And after the treatment, you can borrow some of the resort's complimentary bikes and take a spin around the neighborhood. Be sure to make a pit stop at Shields Date Farm to split a date shake. Flying solo on Valentine's Day? Well Spa features the Singles Paradise Ritual, a two-part treatment meant to celebrate self-love. Or book the Besties Ritual for your non-romantic Valentine's Day girlfriend getaway.
Omni Rancho Las Palmas | Rancho Mirage
There are five sweetheart specials at Spa Las Palmas in the Omni Rancho Las Palmas Resort & Spa this February, but couples will especially enjoy side-by-side massages in the resort's romantic couple's suite. The treatment uses a blend of coconut and mango oil to help calm the mind and relax the body. After the treatment, keep the romance alive with a spa lunch and a champagne toast. The 50-minute package for two starts from $235 (Monday-Thursday); and $269 (Friday-Sunday.)