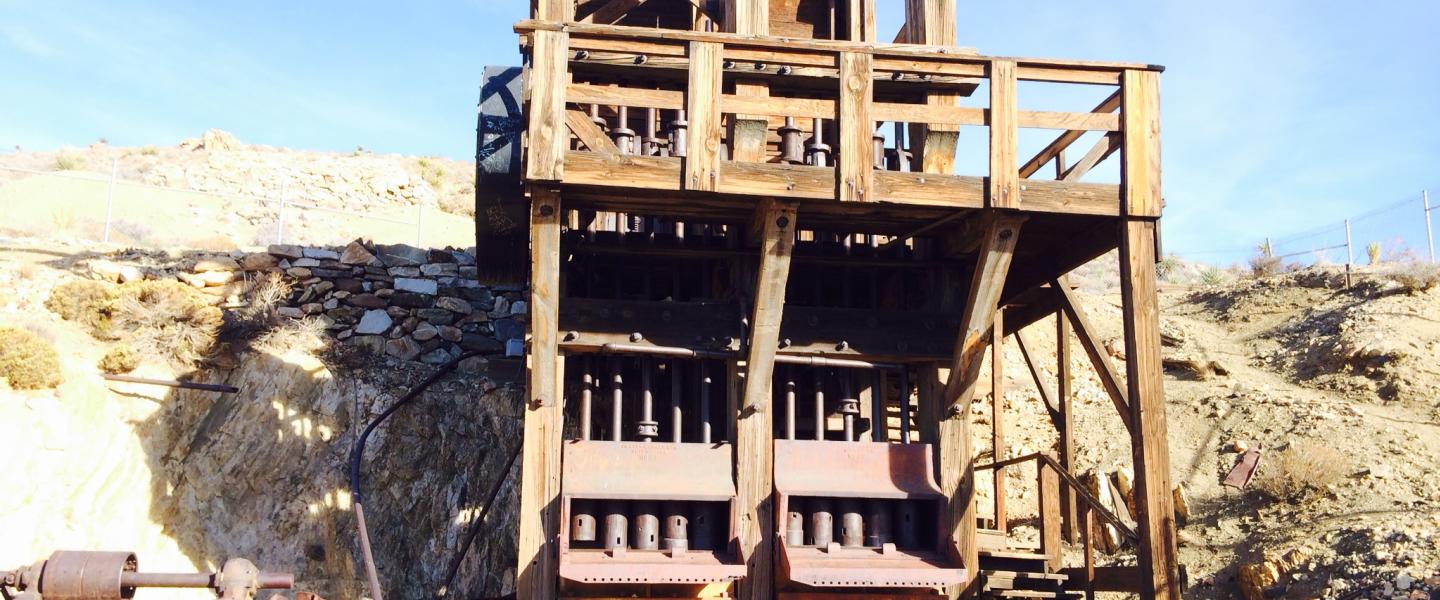 Let your feet transport you to the desert's wild natural beauty —its rocky hills, sandy terrain, lush canyons, parkland diversity and even "Indiana Jones" backcountry. All you need is a sense of adventure and you're set to experience some of the most beautiful terrian around. Here's a look at some of our favorite desert trails that will give you a variety of amazing vistas.
Day 1: Araby Trail, Palm Springs
The Araby Trail snakes up the San Jacinto Mountains behind the exclusive cliff-hugging Southridge neighborhood with some of the best views of Bob Hope's iconic space-age home you are apt to see. Other architectural landmarks include the John Lautner designed Elrod House that served as Sean Connery's bachelor pad in the 1971 James Bond classic, "Diamonds are Forever." The well maintained narrow trail includes plenty of switchbacks and a swift elevation gain that results in valley-wide, breathtaking views from the windmills to the Indio Hills, as well as a spectacular vista of the Indian Canyons. You'll eye some barrel cacti, desert coral and creosote flora along the way. The top of the trail connects with more trails if you want to continue the journey. The Berns, Garstin and Henderson trails drop down the backside of the hill.
Quick facts: 6 miles; moderate hike; 800-foot elevation gain; approximately 4 hours
Insider tips: Dogs and horses are welcome.
Day 2: Ladder Canyon, Mecca Hills
There is a reason why this Mecca Hills canyon has the name "Ladder." To hike the geologic formations that resemble those seen in Utah's scenic canyon country, adventurers scale five ladders bridging the sandstone cliffs and scaling natural waterfalls. Thanks to the San Andreas Fault that runs underneath the area, the geologic formations of Mecca Hills are among the most unusual of their kind in the world. Exposed layers of eroded rock, some more than 600 million years old reveal a natural maze of small, narrow, steep canyons. You will find the trailhead between several huge boulders and discover the first ladder on your way to discovering huge winding slot canyons and sandstone cliffs, eventually reaching a vista that stretches from the Salton Sea to Mount San Gorgonio. End the hike through a wash called Painted Canyon with mineral-rich cliffs bathed in shades of rose, red, purple and green. Desert plants from smoke trees and palo verde to Ocotillo and beavertail cacti populate the hike.  
Quick facts: 6 miles; moderate loop; 450-foot elevation gain; approximately 4 hours
Insider tips: The rare Mecca aster, a lilac tinted bloom resembling a daisy, can be found here.
Day 3: Homestead 'Cross' Trail, Palm Desert
This trail that snakes up the side of Shadow Mountain to a giant illuminated cross is thought to be a spiritual trek for some, as well as a quiet spot to meditate above it all. It's a perfect trail for a sunrise hike with spectacular views from just about anywhere along the way. Along the trail, you'll see a collection of heart-shaped rocks—find your own and add it to the mountainside. Once you make it to the top, grab a seat on the generous sized rocks and contemplate the climb or life itself and enjoy the wrap-around vistas before heading back down the trail. Attached to the base of the cross is a box containing a notepad and pen in case you want to share any inspirations or read others' thoughts at this mesmerizing spot. 
Quick facts: 3 miles; moderate hike; 700-foot elevation gain; approximately1 hour
Insider tips: This hike starts at the base of the Homme Adams Park which is an off leash dog park. Dogs are welcome on the trail, but must be leashed.
Day 4: Carrizo Canyon Ecological Reserve, Palm Desert
When a trail is only available to hikers a few months a year, you need to include it on your hiking list. Due to bighorn lambing (breeding) season, this trail is only open October, November and December. Ironically, the trailhead is a just five- minute drive from the bustling El Paseo shopping district, but you would never know it once you enter the pristine wilderness. The hike begins through a wide sandy wash filled with smoke trees, creosote bushes and desert willows.  Once you enter the mouth of the canyon, keep your eye out for the elusive bighorn sheep that blend with nature's beauty. You have a really good chance of spotting one. Cholla and barrel cactus line the canyon walls; a lone California fan palm is the perfect spot for resting before moving on to explore the falls, which are mostly dry unless we've had a recent rainfall. You can scramble the side of the first falls and explore several others to a small palm oasis.
Quick facts: 3 miles; moderate hike; approximately 2 hours
Insider tips: No dogs allowed; closed January through September.
Day 5: The Grottos, Mecca Hills wilderness area
This hike will surprise you at every turn. The landscape is dry, desolate and otherworldly, and, in  just minutes, the climb rewards you with spectacular views of the Salton Sea and the Chocolate Mountains beyond.  Continue along a barren mocha colored ridgeline to discover creamy white, glistening chunks of quartz.  After traipsing across the bleak ridgeline, you will drop down into a wash and make your way across it before heading into a long winding canyon. The cliffs are formed from mud and rocks, and it's easy to see that erosion has worked to create the cave system ahead.  Mineral deposits have worked their magic to paint the canyon walls bathed in vibrant shades of purple, pink, green, amber and rose. Make sure to take a breather in a picture perfect palm oasis along the way before venturing into the caves. Fire up the flashlights and enter through a small crevice in the canyon wall. You can either scramble up rocks and out the other end of the cave or navigate back the way you came. This hike will truly make you feel like you have earned an adventurer badge. 
Quick tips: 7 miles; strenuous hike; approximately 6 hours
Insider tips: Some of the cave openings require a belly shimmy. You may get a little dirty, but it's worth it.
Day 6: Lost Horse Mine, Joshua Tree National Park
Although Joshua Tree National Park offers a wealth of hikes—many with breathtaking views—consider this one if the kids are coming along. At the end of the trail, there are several rewards. You will discover a breathtaking vista from 5,278 feet up, as well as the fascinating remains of a ten-stamp mill known as Lost Horse Mine. The trail actually retraces the original mining road to the old gold mine that is considered one of the most prosperous of the 300 mines that once existed in the parkland. Lore claims the mine's origin dates back to 1893 when cowboy Johnny Lang discovered the mine while looking for his lost horse. The mine produced 10,000 ounces of gold and 16,000 ounces of silver between 1894 and 1931. On the trail, you'll observe mostly yucca trees as well as some juniper and a few of the namesake Joshua trees. If you're lucky, you'll spy some quail families foraging in the low lying scrub brush.  
Quick tips: 4-mile loop; moderate hike; time approximately 3-4 hours 
Insider tips: Great hike for kids. Read up on the mine's history before you take off—the kids will love it.
Day 7: Mission Creek Preserve, Wildlands Conservancy
This 4,760-acre preserve owned by the Wildlands Conservancy is located in the transition zone between the Sonoran and Mojave deserts, with flora and fauna representing both deserts. You'll traverse wetlands through erosion-striated hills, dry desert and a perennial stream. Be on the lookout for several animals that inhabit these parts, including deer, bear, bighorn sheep and mountain lions.  In the spring, you will be treated to an explosion of wildflowers. Plan to picnic at the end of the main trail inside a stone house with picnic tables inside or near the parking area under rustic stone shade structures, the remains of what was once a dude ranch for celebrities looking to escape the limelight.  
Quick tips: 3.5 miles; easy hike; approximately 2 hours 
Insider tips: For those with a desire for more adventure, the main trail connects to the famous Pacific Crest Trail as well as the Whitewater Preserve—another great hiking opportunity.