There's more to the Coachella Valley Music & Arts Festival than just music. Coachella's stellar food line-up draws foodies with experiences for all types of diners, whether you're looking for trendy food truck fare or a gourmet four-course dinner under the stars. Here's everything you need to know about what to eat at Coachella 2019.
What's New for Foodies at Coachella 2019
Postmates Pickup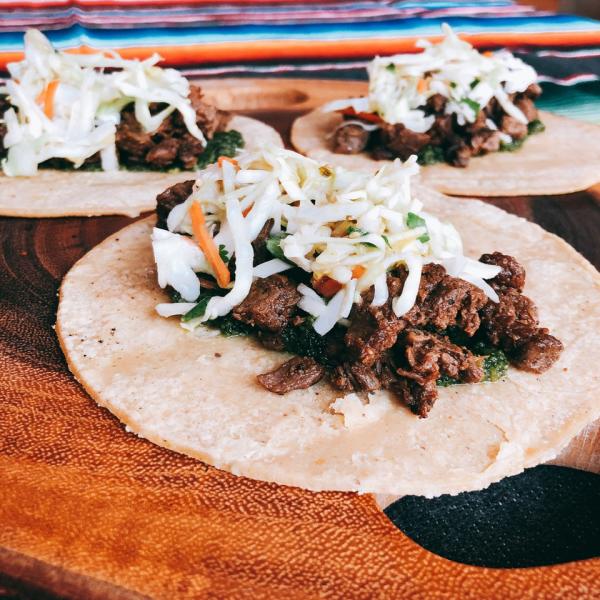 Tacos from Trejos Tacos // Image courtesy of Trejos Tacos.
Why spend time waiting in line when you can order your festival food through the Coachella app? This year, Coachella is partnering with food delivery app Postmates for Postmates Pickup. Attendees can order food from 10 restaurants, plus drinks and merch, through the app. Best of all? You'll get to skip the lines when your order is ready, thanks to special pick-up spots at participating vendors.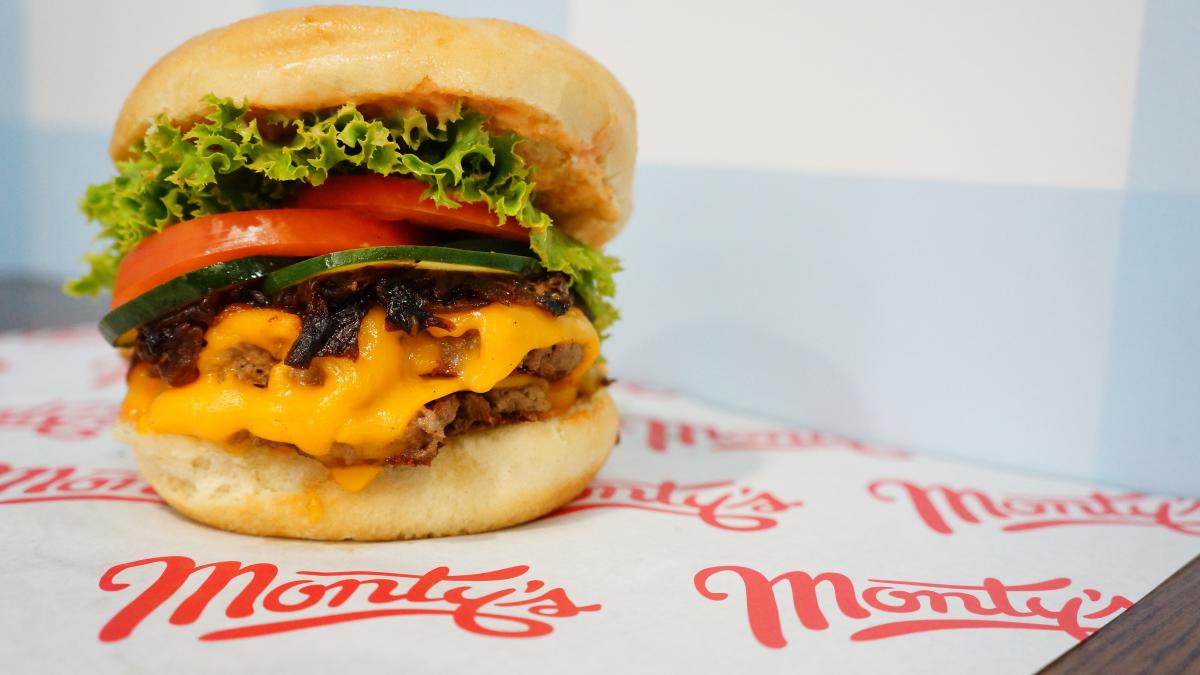 Good Burger from Monty's Good Burger // Image courtesy of Monty's Good Burger. 
Participating Postmates Pickup restaurants for Coachella 2019 include:
Cheezus
Fat Dragon
Hanjip
Monty's Good Burger
Ms. Chi
Pizzanista
Sweetfin Poke
Top Round Hamburgers
Trejos Tacos
Wolf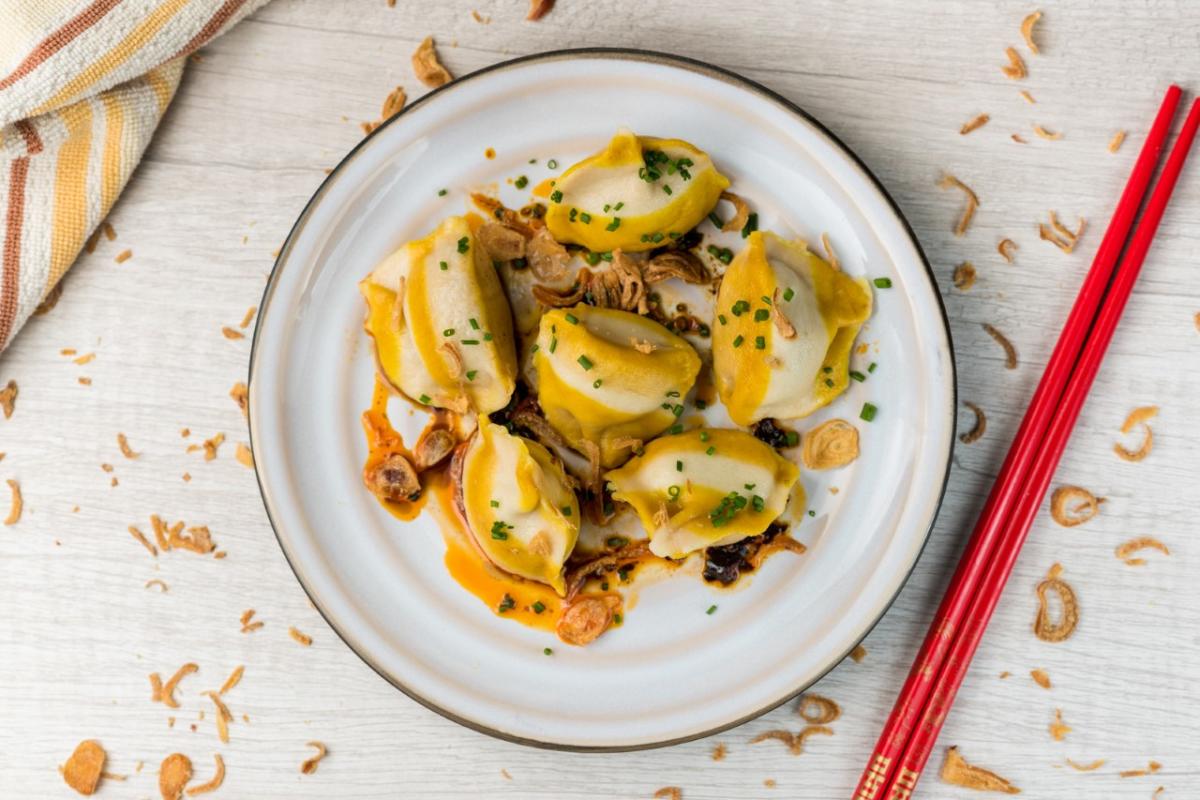 Dumplings from Ms. Chi // Image courtesy of Ms. Chi.
Don't forget to download the official Coachella app before heading to the festival so you can skip the lines all weekend long!
New Food Experiences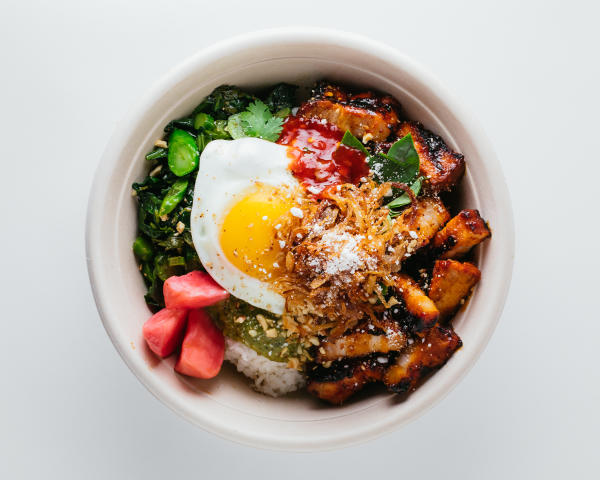 Chego rice bowl from Chego // Image courtesy of Chego. 
Chef Roy Choi is no stranger to Coachella, having fed hungry attendees for the last decade. To celebrate his 10th year at Coachella, Chef Roy is setting up his very own food section: KogiTown. This culinary installation will include all of Chef Roy's famous hits, including kogi tacos and burritos, Chego bowls and, of course, loaded Chego fries.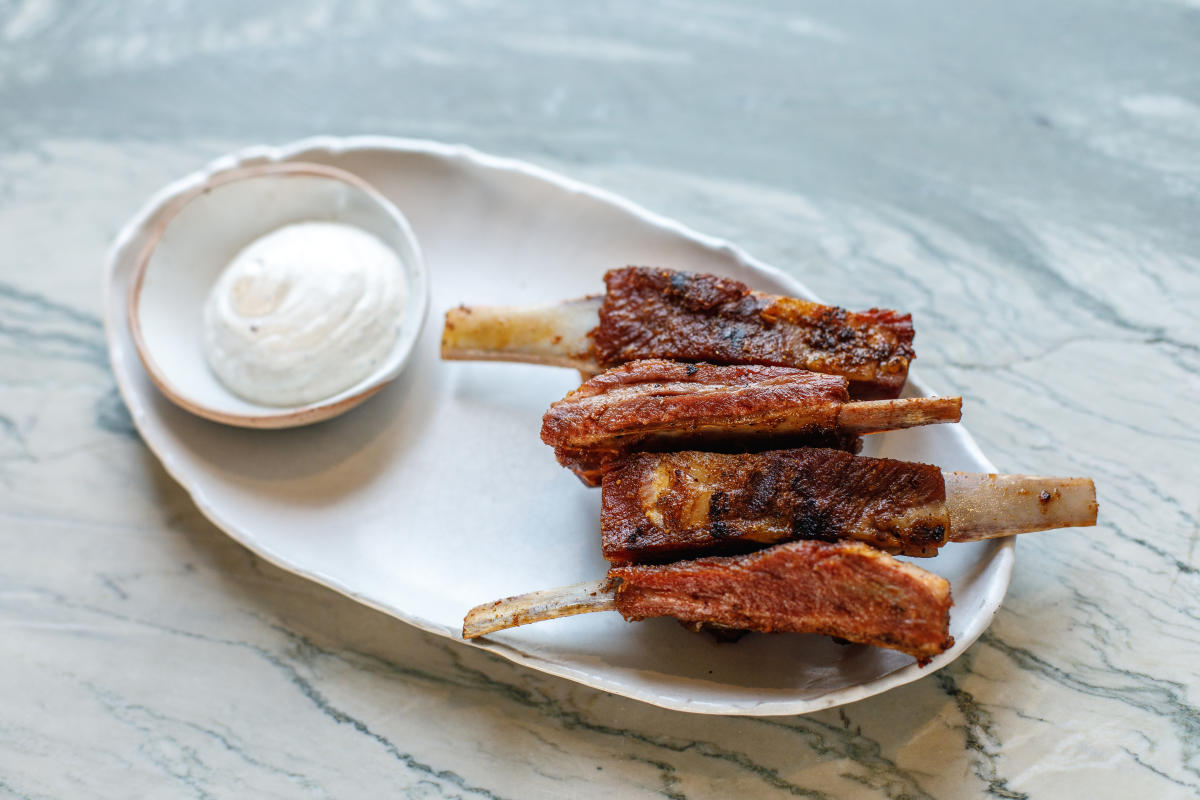 Lamb ribs from Gwen // Image courtesy of Gwen.
Attendees with a VIP wristband can reserve a seat at pop-up restaurant Gwen by brothers Chef Curtis and Luke Stone. This pop-up version of the famed Hollywood hotspot is a must-try during your Coachella weekend. Reservations are available on OpenTable.
Returning Foodie Faves at Coachella 2019
Indio Central Market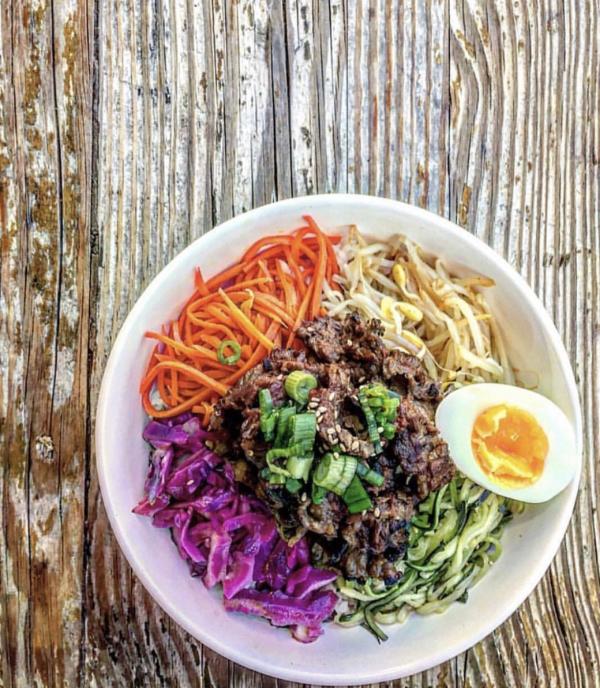 Korean BBQ Bowl from Hanjip// Image courtesy of Hanjip. 
Foodies flocked to Indio Central Market in 2018, and this shaded food hotspot is returning with more than 15 celebrated restaurants serving everything from vegan ramen (Ramen Hood) and Korean barbecue (Hanjip) to four-cheese grilled cheese (Cheezus) and orange chicken burritos (Fat Dragon). Famed restaurant Momofuku will be serving their signature spicy fried chicken sandwiches at Fuku, while attendees can refuel with coffee at LAMILL and matcha drinks from MatchaBar.
Secret Bars
Part of the fun of Coachella is exploring—and this year is no different! Attendees are encouraged to explore the field for multiple secret bars from award-winning mixologists from around the country. Keep an eye out for the return of New York City's celebrated speakeasy, PDT (Please Don't Tell). Find this secret tiki bar, and you'll enjoy some of the most curated cocktails on all the polo fields.
Outstanding in the Field
Want to up your foodie game at Coachella this year? Reserve a seat at the iconic long table of Outstanding in the Field in the VIP Rose Garden. Share a four-course family style meal with a cocktail and regional wine, all while meeting other festival guests as the sun begins to set in the desert. Plus, an Outstanding in the Field ticket grants you access to the VIP Rose Garden on the date of your dinner!
The 2019 Outstanding in the Field schedule at Coachella includes:
WEEKEND 1
Friday, April 12th: Chefs Shirley Chung (Ms Chi Cafe) & Casey Thompson (Chef Casey Thompson)
Saturday, April 13th: Chefs Nyesha Arrington (Native) & Jessica Largey (Simone)
Sunday, April 14th: Chefs Elisabeth Prueitt, Katie Hagan-Whelchel & Leah Chin-Katz (Tartine)
WEEKEND 2
Friday, April 19th: Chefs Adam Sobel (Cal Mare) & Ray Garcia (Broken Spanish & B.S. Taqueria) 
Saturday, April 20th: Chefs Susan Feniger & Mary Sue Milliken(Border Grill)
Sunday, April 21st: Chef Jason Neroni (The Rose Venice)
Full Vendor Line-Up for Coachella 2019
Indio Central Market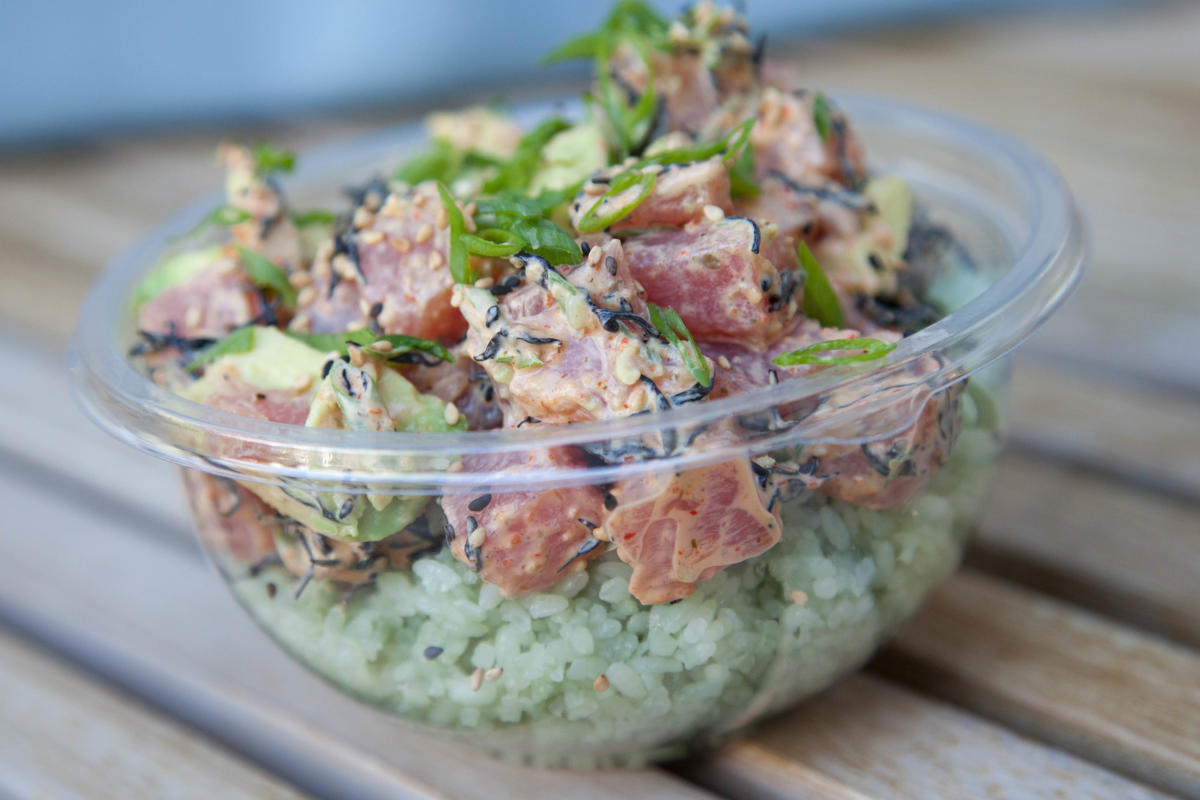 Poke Bowl from Sweetfin Poke // Image courtesy of Sweetfin Poke.
Van Leeuwen's
Fat Dragon
Fuku
Hawkin's House of Burgers
Vegatinos
Ramen Hood
Ms. Chi
Hanjip
Pizza by Round 2
MatchaBar
Konbi
Cheezus
Sweetfin
LAMILL
Beer Barn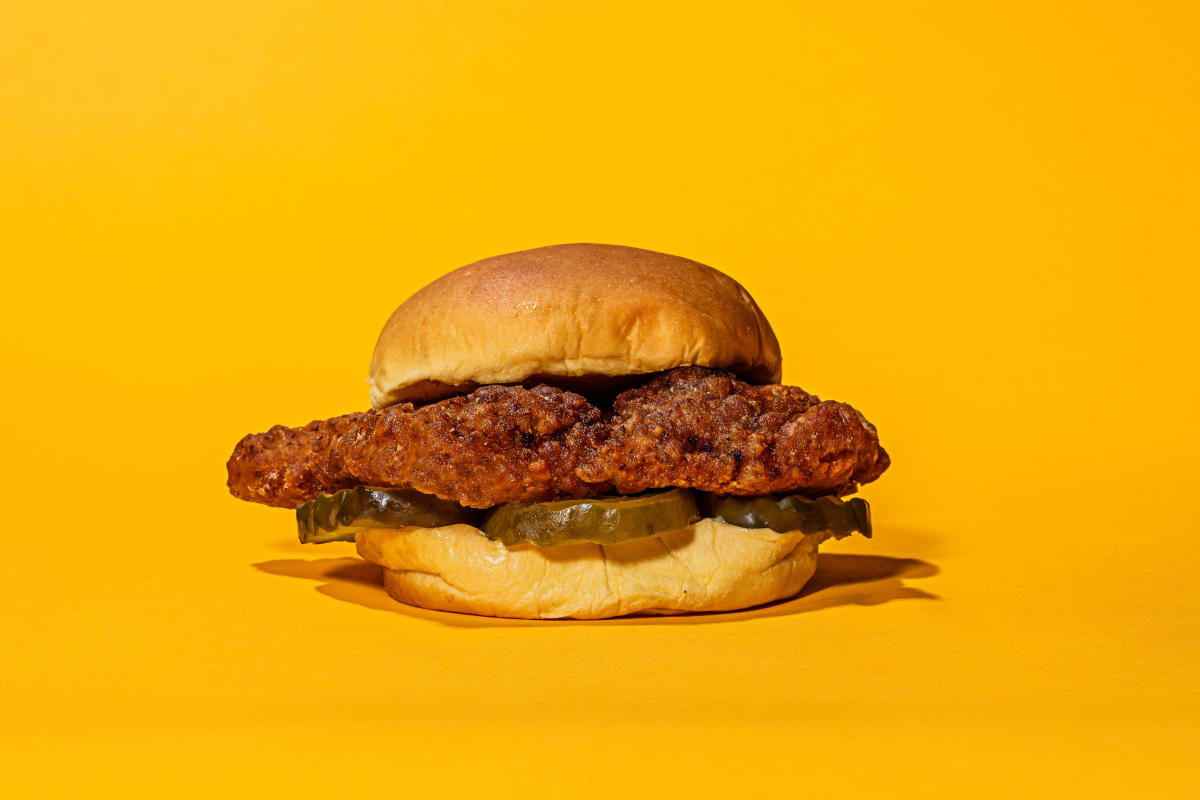 Spicy Fried Chicken Sandwich from Fuku // Image courtesy of Fuku. 
Beer Belly
Fuku
Square Peg
Top Round Hamburgers
800 Degrees
Trejos Tacos
The Cabin
Main VIP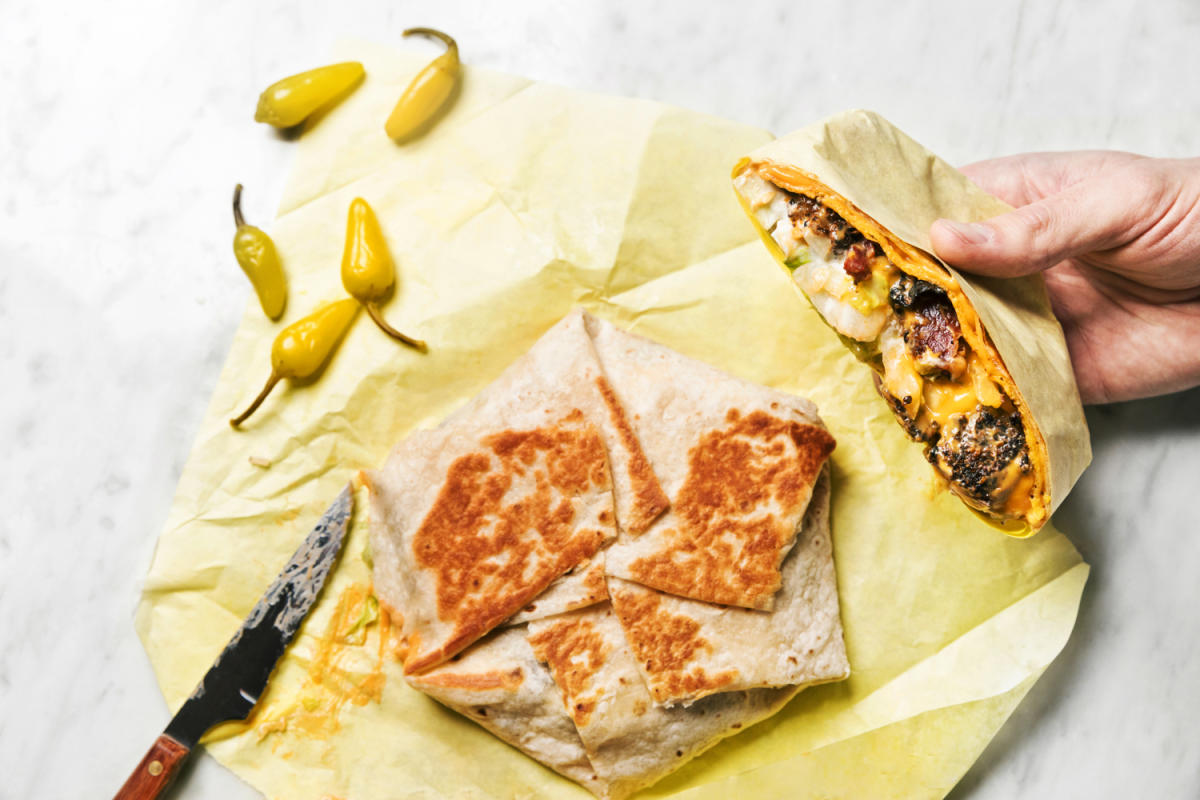 Pastrami Crunchwrap Supreme from Freedman's // Image courtesy of Freedman's.
Wolf
Tacos 1986
Freedman's
Backyard Bowls
Playa Provisions
Pizzanista!
MatchaBar
The Rose Venice
Menotti's
Van Leeuwen's
Madre!
Sweetfin
Love Hour
Gwen
Rose Garden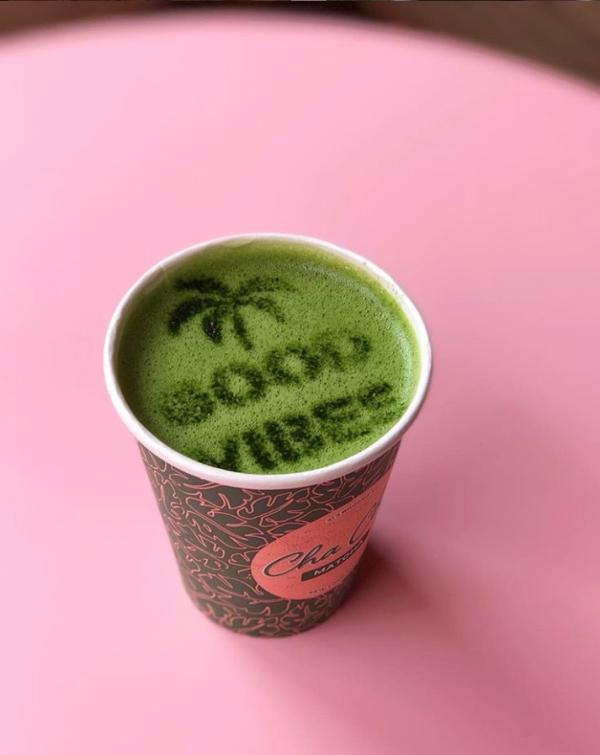 Cha Cha Maycha Latte from Cha Cha Matcha// Image courtesy of Cha Cha Matcha.
Kazu Nori
Chingu
Nana Lu
Me'ze
Augustine Wine Car
Broken Shaker
Cha Cha Matcha
Boardwalk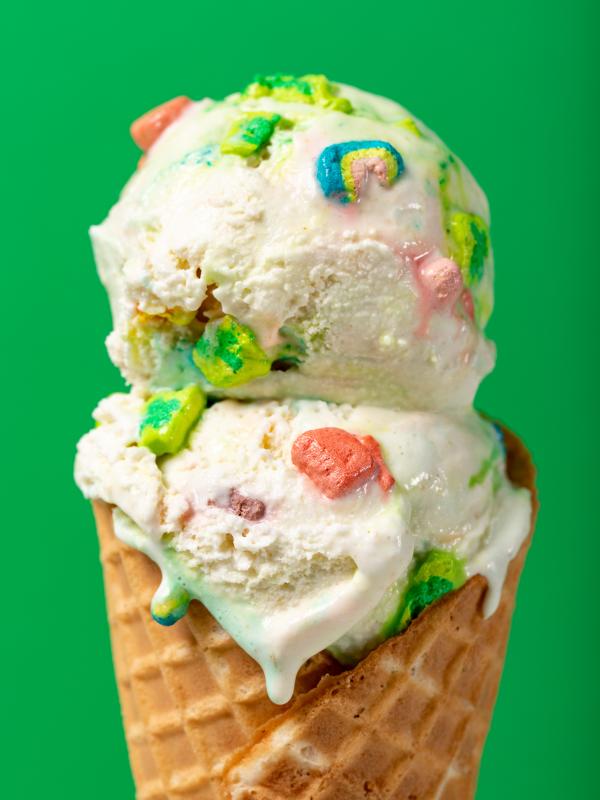 Pots of Gold & Rainbows from Salt & Straw // Image courtesy of Salt & Straw. 
Salt & Straw
Tacos Lobos
Pressed Juicery
Seabirds
Milk Box
Food Court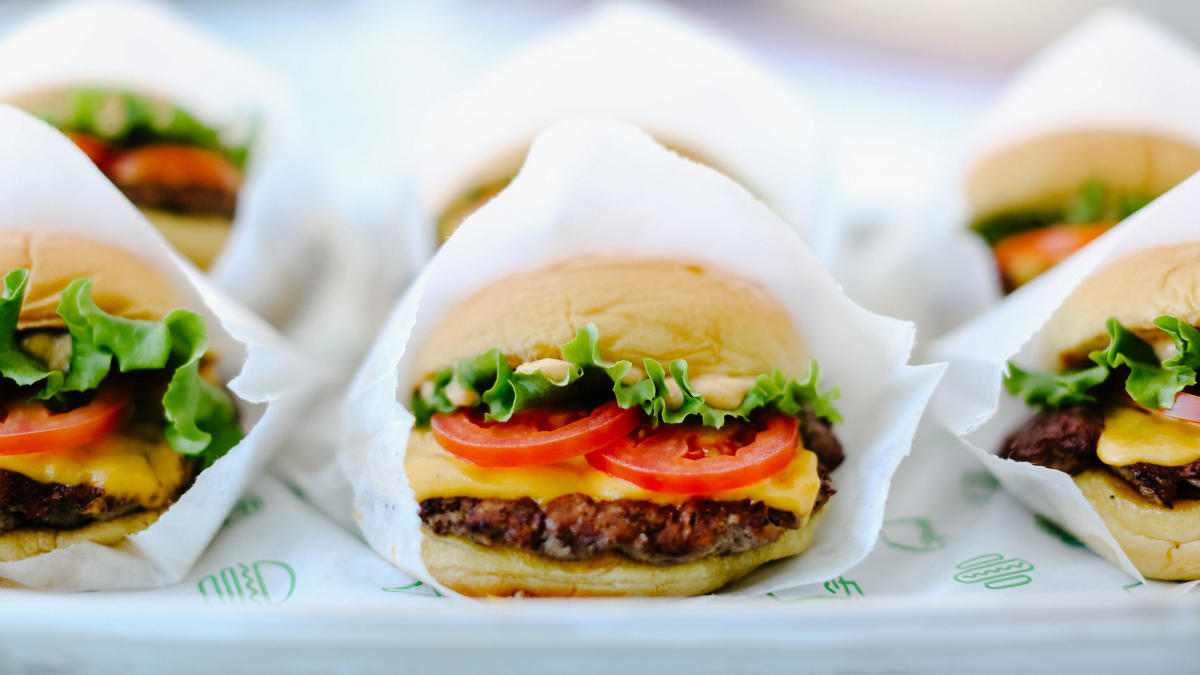 ShackBurger® from Shake Shack // Image courtesy of Shake Shack.
Shake Shack
Wingman
KogiTown
PBJ.LA
McConnell's
Hungry for more? Check out our Coachella page for more tips on how to make the most of your Coachella weekend!
Featured image by Tacos Lobos