The last major Pride of 2019, more than ever, is a time to "Sip, Sashay, and Celebrate!" The Greater Palm Springs Pride Festival and Parade have adopted the theme shared by pride celebrations around the world for 2019: "A Million Moments of Pride." Participants are encouraged to reflect on their own personal moments of pride as once again the community comes together to celebrate and honor the past and inspire a better future.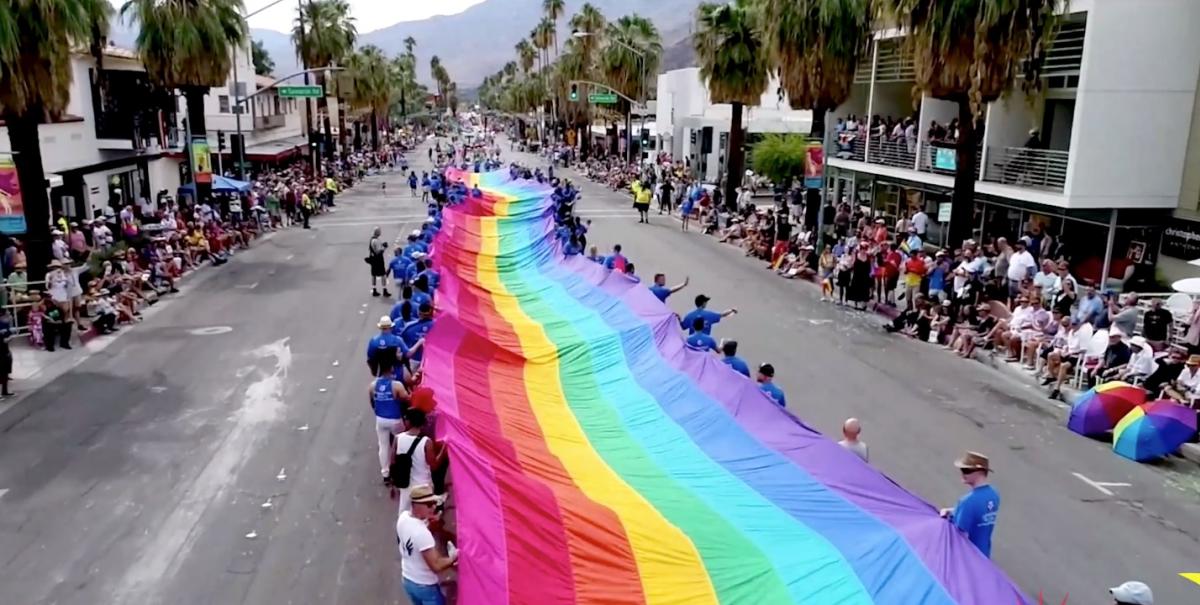 Ron deHarte, President of the Board of Directors of Greater Palm Springs Pride, says "Our visibility remains our greatest tool to push back against those who oppress us. The Palm Springs Pride events will create moments of visibility for the LGBTQ community. We invite you to come together in celebration and use the platform that Pride provides to peacefully resist hate, discrimination, intolerance, racism and bigotry."
The marquee event of Pride weekend is the Sunday morning Pride Parade, which steps off in the Uptown Design District at Tachevah and Palm Canyon Drive and travels south through downtown ending at the entrance to the Pride Festival at Amado. Approximately 200 groups are expected to participate as contingents in the parade.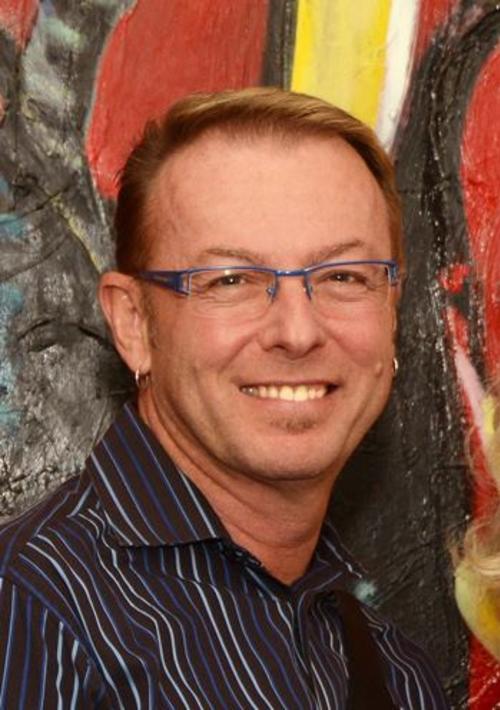 Michael C. Green
Michael C. Green is Community Grand Marshal this year in recognition of his years of support for community organizations, raising funds and having a positive impact through his leadership.  He and his husband, Stephen Boyd, have been owner/operators of the Triangle Inn Palm Springs since 2000. Green channels his passion for cinema into his role as executive director of the Palm Springs Cultural Center with its variety of programs, including the annual Cinema Diverse LGBTQ film festival.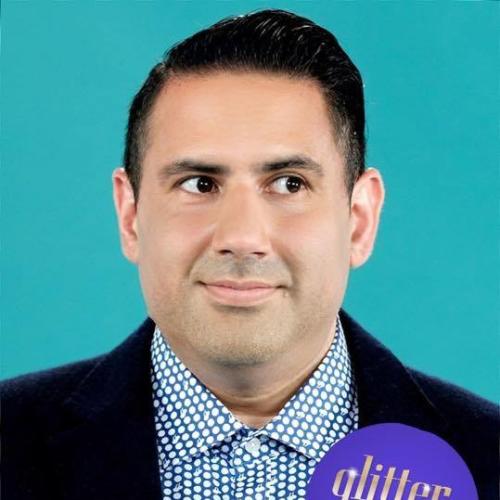 Alexander Rodriguez
Alexander Rodriguez of "On the Rocks with Alexander: Where Celebrities and Cocktails Mix" is this year's Media Grand Marshal. Rodriguez's grandmother, who lived in Palm Springs, taught him about fashion growing up. He has served as emcee for Greater Palm Springs Pride as well as many other Pride events regionally. He has served as a board member for a variety of LGBTQ community groups, he writes for LGBTQ publications, and made history as co-host of the first Latinx LGBTQ-themed national TV program, Glitterbomb.
Palm Canyon Drive in downtown Palm Springs will be closed for the Pride Festival, taking place Saturday and Sunday. Admission is free, making Palm Springs the largest free Pride celebration in Southern California. (Donations are gladly accepted to help keep Pride officially free going forward). The festival takes place along two stretches: Palm Canyon Drive between Amado and Baristo, and on Arenas Road, from Calle Encilia to Indian Canyon.
The Pride Stage at Palm Canyon Drive and Amado Road will feature an array of drag and vocal performances on Friday, Saturday, and Sunday, including the headliners, iconic R&B group TLC on Saturday at 8:00 p.m. The U.S. Bank Stage at Palm Canyon and Arenas is emceed by local drag fave Bella da Ball with a full schedule on Saturday and Sunday. Performers include Marina Mac and the Palm Springs Gay Men's Chorus among many others.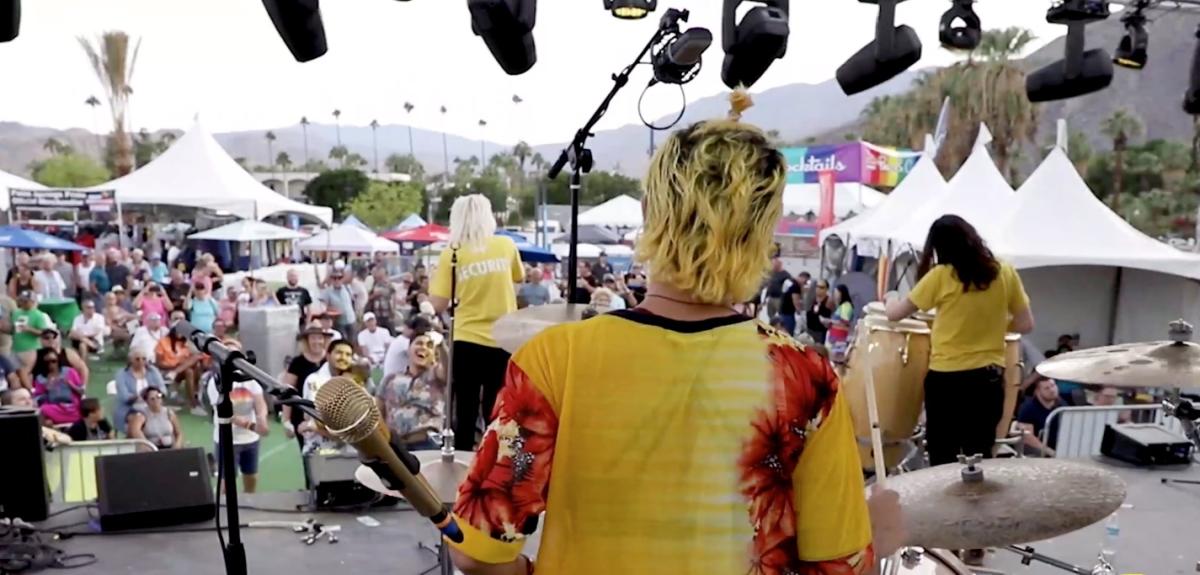 On the Arenas District Stage, DJ's, drag performers, and vocalists, including Maxine Nightingale, will keep the party going in the heart of the Arenas Road District. New this year, the KGAY "Pride of the Valley Stage" presented by Gay Desert Guide, at Palm Canyon Drive and Tahquitz Canyon Way, will welcome a nonstop dance mix with DJ's Eric Ornelas, Ray Rhodes, DJ Drew G, DJ Galaxy, and more. 
For the first time, "adult beverages" will be allowed throughout the special event zone, so you can stroll while enjoying your drinks. There's a diverse array of artists, entertainers, food, crafts and merchandise, as well as the great shopping, restaurants, clubs and entertainment venues located along Palm Canyon Drive and Arenas Road. 
Here are the major Pride Events with links to more information provided by Gay Desert Guide:
Pride Weekend Architectural Double Decker Bus Tours 
Thu, Oct 31–Sat, Nov 2 | One of Modernism Week's most popular offerings comes to Pride Weekend. The tour provides guests with an overview of mid-century Palm Springs.
The Art of Pride Palm Springs
Fri, Nov 1, 5:30–8:30 p.m. | Palm Springs Art Museum kicks off Pride weekend with a one of a kind LGBTQ party. Explore Touching History: Stonewall 50 - LGBTQ artist commemorating the New York riots.
Arenas District Block Party
Fri, Nov 1–Sun, Nov 3 | Pop, Drag, & Rock 'n' Roll all day including Now Serving the Children, Lee Dagger of Bimbo Jones, Heather Small, Black Sabbitch. 
Palm Springs Pride 5k Run & Walk
Sat, Nov 2, 8:00–11:00 a.m. | A 5K race through the historic Old Las Palmas neighborhood
"Love Boat" Palm Springs Pride Pool Party
Sat, Nov 2, 12:00–5:00 p.m. | V Palm Springs | GED Magazine presents the 2nd Annual Palm Springs Pride Pool Party, an epic day by the pool with DJs, Drag Queens and Go-Go dancers.
HRC Garden Party
Sat, Nov 2, 1:30–4:30 p.m. | HRC Members, friends, allies and families for an afternoon of inspiration and celebration, featuring an open cocktail reception, and silent auction.
Lesbo Expo Presents the Queer Women's After Party
Sun, Nov 3, 2:30–6:30 p.m. | The Alibi Palm Springs | An afternoon of entertainment and dancing. Admission is free but you MUST reserve your spot! 
KGAY "Pride of the Valley" Dance Stage presented by Gay Desert Guide
Fri, Nov 1–Sun, Nov 3 | Corner of Tahquitz and Palm Canyon | Join your favorite DJs and KGAY on-air personalities every day of Pride. Let the dance hits play! 
L-Fund's Annual Women's HerShe Bar Palm Springs Pride Dance
Sat, Nov 2, 7:00 p.m. to midnight | Dance the night away at the L-Fund annual Woman's Pride Dance at Hotel Zoso.
Palm Springs Pride Parade 
Sun, Nov 3, 10:00 a.m. | Celebrate Millions of Moments of Pride with 60,000 of your closest friends along the parade route on Palm Canyon Drive from Tachevah to Amado. VIP breakfast precedes the parade at Desert Regional Medical Center.
Drag shows, cocktails, delicious food and more--you'll find it all year long in Greater Palm Springs! Live it up and explore LGBTQ+ nightlife and dining in Greater Palm Springs here.