The 28th annual Club Skirts Dinah Shore Weekend bills itself as the "Largest and Most Famous Girl Party Music Festival in the World," and it arrives in its Greater Palm Springs home from March 28 - April 1, 2018, at the Hilton Palm Springs and venues nearby.
Coming to town for the party? Here's your guide to the who, what, where, when and how of The Dinah.
What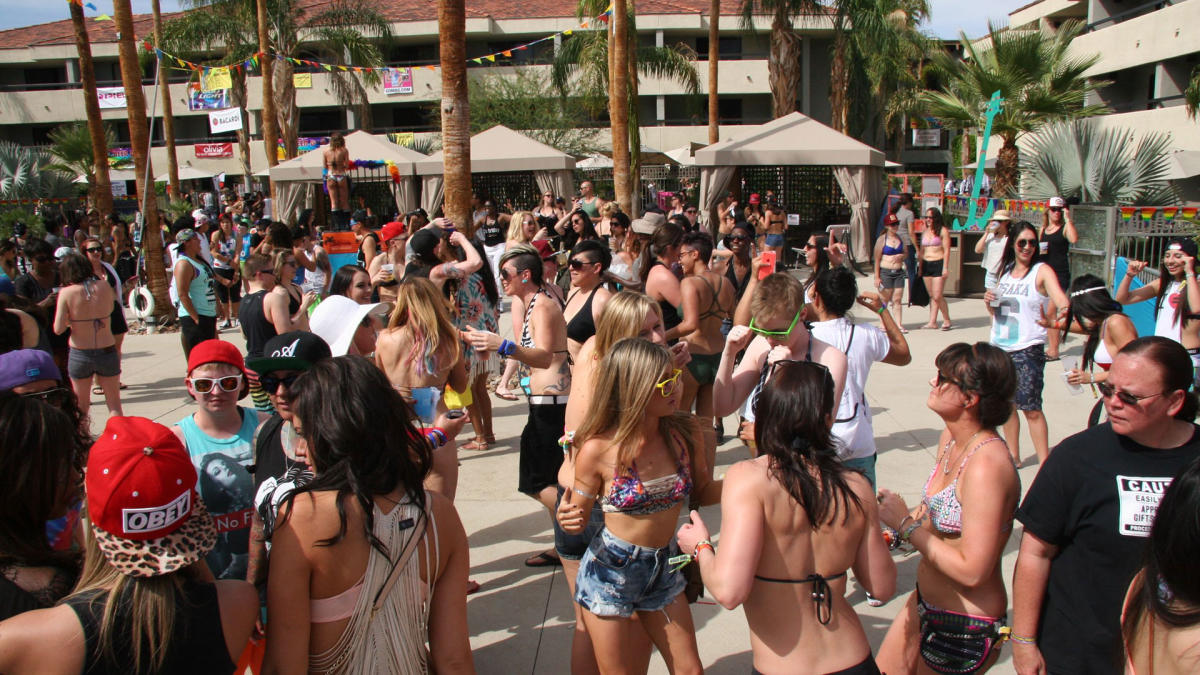 Club Skirts Dinah Shore Weekend was founded in 1991 by Mariah Hanson and began as a dance and drink party held at the Palm Springs Modern Art Museum. Over the years, Hanson would book entire hotels with all lesbian guests, and keep venues close together, thus creating an all lesbian world for one magical weekend.
But what about that name?
Dinah Shore was a popular TV personality and singer who later revealed herself to be a fabulous golfer, to boot. In 1972, Shore founded the Colgate-Dinah Shore Winner's Circle at Mission Hills Country Club in Rancho Mirage, one of the first women's tournaments to become a major on the LPGA Tour in 1983. While Mariah Hanson launched The Dinah as we know it in 1991, its roots dig down to this many-times-renamed golf championship, which attracted a good crowd of gay women from the mid-80s onward and started being known as the "lesbian spring break."
Now, Club Skirts Dinah Shore Weekend is a five-day party and music festival for women (the largest in the world), with nearly 20,000 attendees (the population of the city of Palm Springs is around 48,000) and a reputation for fun and togetherness, especially for gay and bisexual women from all around. And it's still held the same weekend that the Dinah Shore golf championship (now the ANA Inspiration) brings the best female golfers for their yearly pilgrimage to Shore's old haunts.
Who
Since the 2006 Dinah, when Mariah Hanson doubled down on the event and began booking higher profile entertainment (that year's big coup was The Pussycat Dolls), the promoter has earned reputation for sniffing out some of pop's next biggest things and planting them first in front of the friendly crowds in Greater Palm Springs. Past nearly boiling stars include Meghan Trainor, Colbie Caillat, Katy Perry, Lady Gaga, Tegan & Sara, Kesha, Dev and Iggy Azalea. And in case you notice something similar about all of those acts, this year's line-up of headliners pushes convincingly in a more inclusive direction.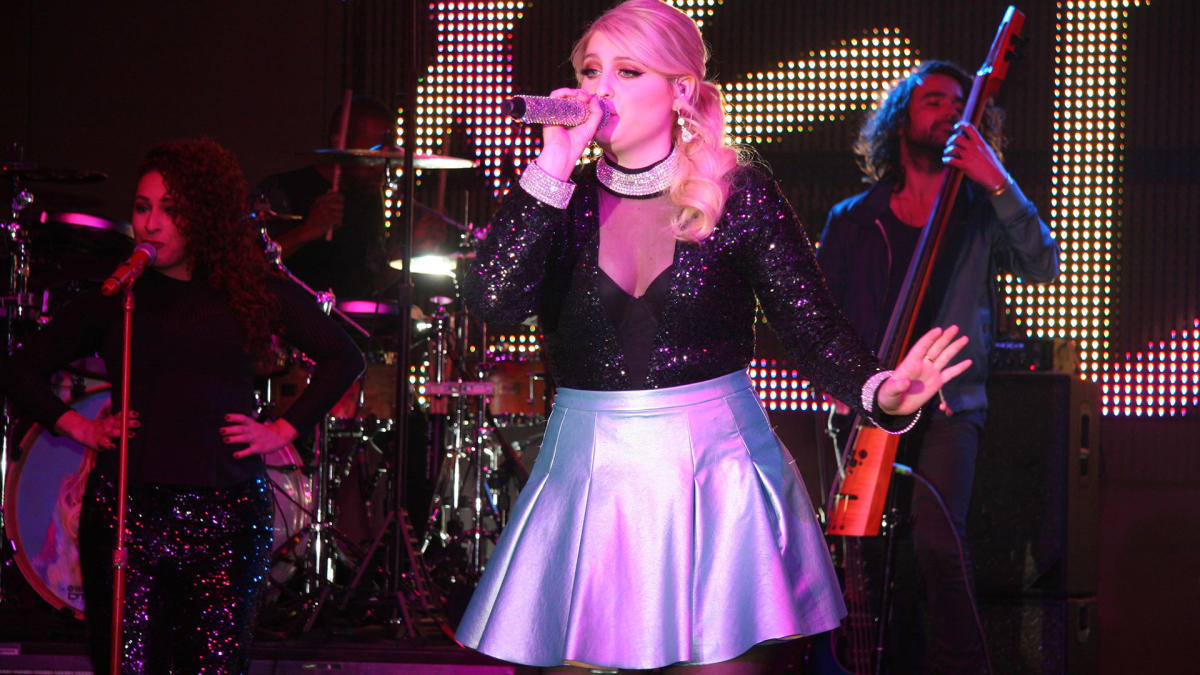 Meghan Trainor performs at The Dinah in 2014.
Asked what ideas went into planning this year's events and performance lineup, Dinah Shore PR Lead Mona Elyafi responded, in an email, that The Dinah's "theme changes every year, and this year the focus is on Women Empowerment. We are zooming in on women who have broken barriers and succeeded on their own terms. We are partnering with Outfest, Tello Films and RevryTV to celebrate female talent, filmmakers, writers, actors etc behind and in front of the camera. Together we stand strong as a viable resource and advocate for LGBTQ+ women representation in entertainment. That theme is carried through across our entire program with our full line up made of female talent."
With that, let's take a look at this year's lineup.
Rapsody
Established in the hip hop bench since 2004, this North Carolina rapper had a true breakthrough with her debut album for Jay-Z's Roc Nation, Laila's Wisdom, which was nominated for two 2016 Grammy Awards: Best Rap Album and Best Rap Song, for the single "Sassy". In both categories, Rapsody lost to frequent collaborator Kendrick Lamar, but her presence atop the genre has been noted, and approved.
Snow tha Product
A Mexican-American rapper and actress from San Jose, Snow Tha Product made waves in 2011 with her independent studio album, Unorthodox, and its viral singles: "Drunk Love" and "Holy Shit." She's made an impact with her subsequent mix tapes, including Good Nights and Bad Mornings (2014). She recently appeared on the USA crime drama "Queen of the South."
Jessie Reyez
This 26-year-old Colombian-Canadian singer is a hot rising star, following up two well-received singles, "Shutter Island" and "Figures," with the release of her debut EP, Kiddo, in 2017, and a short film "Gatekeeper: A True Story," about an experience she had with a big name producer years back who she says propositioned her for sex in exchange for a career. Jessie Reyez has become an influential voice in the #MeToo movement and an inspiration for younger women coming up.
Madame Gandhi
One of the more in your face artists working at the moment, this Georgetown and Harvard educated electro-feminist artist and DJ got her start as a digital analyst for Interscope, studying streaming platforms for usage information; she later toured with M.I.A. as her drummer, then ran the London Marathon while free-bleeding in an effort to spark conversation about menstruation and social norms (it worked). Madame Ghandi's debut EP Voices uses rap, electronica and spoken word to deliver and deliberate feminist ideas and advocate for gender equality.
Ariana and the Rose
Ariana DiLorenzo's New York-based synth pop project takes inspiration from sincere and enveloping artists like Robyn or Kate Bush, then adds in some stage magic that makes for an engrossing live performance. She performs at the Dinah following her second EP, Retrograde (2017).
Suzanne Westenhoefer and Dana Goldberg
Suzanne Westenhoefer began her career in the early 1990s on a dare, and soon became a noted glass ceiling-breaker as the first openly lesbian comedian to appear on TV (1991, Sally Jesse Raphael), to have an HBO comedy schedule (1994), and to appear on Letterman (2003). The year Westenhoefer did Letterman, Dana Goldberg began her own long career as a Jewish-raised LGBTQ activist and comedian, which has seen her appear at the Edinborough Fringe Festival, Caroline's on Broadway, Last Comic Standing, the LOGO Network and more.
Other performances by LGBT performers include Alsace Carcione and Jessie Standafer, with appearances by NFL Assistant Coach Katie Sowers, and The Real L Word's Lauren Bedford Russell, Mikey Koffman, and Rose Garcia.
When
Get tickets to any of these events or an all-access VIP Festival Pass; a limited amount of Festival Passes (Comedy Performance not included) are made available each year, as well.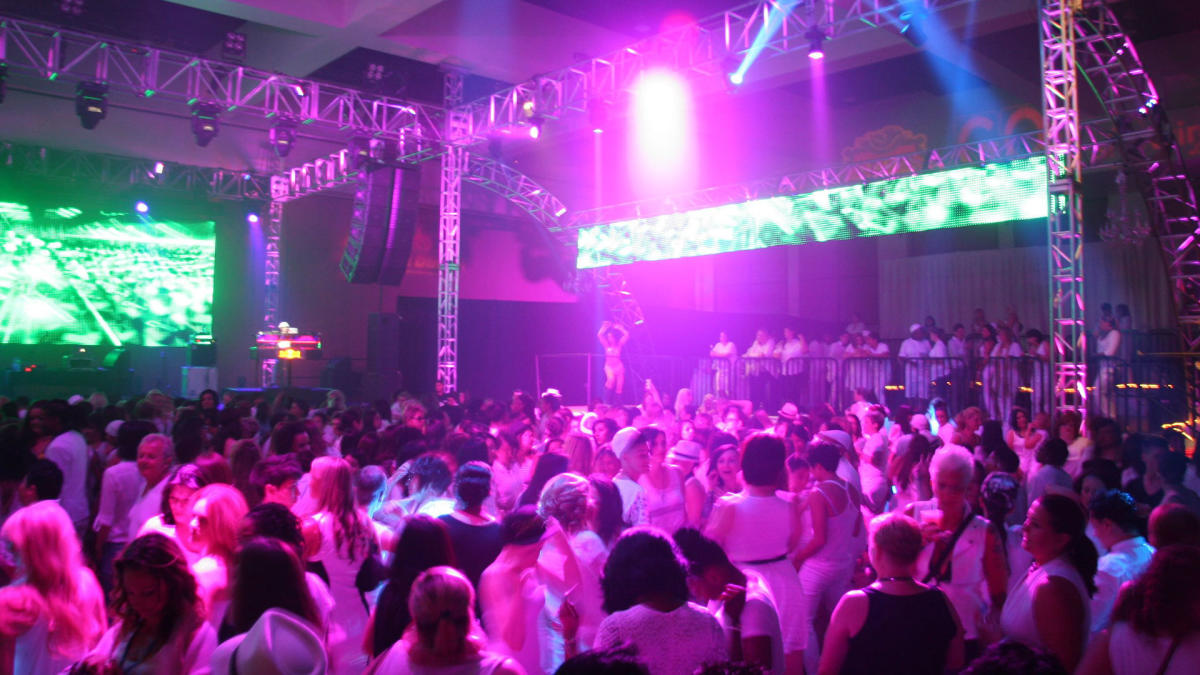 Wednesday, March 28
Official Dinah Pre-Party (Hilton Main Pool Deck, 8pm-midnight)
Thursday, March 29
The Dinah's Official Opening Party - featuring surprise special guest performance. 
Friday, March 30
Thank God It's Dinah Friday Pool Party presented with AfterEllen. Celebrity meet and greet; vendor fair; performance by Snow Tha Product. (Hilton Main Pool, 12-6pm)
50 Shades of Pink Party presented by Budweiser. Tello Films VIP reception at 9pm, celebrity red carpet arrivals 10:30pm, performance by Madame Gandhi. Guests are encouraged to wear white or pink. (Palm Springs Convention Center, 8:30pm-2:30am)
Saturday, March 31
Wet & Wild Pool Party - Celebrity meet and greet with Tello Films, AfterEllen and Revry TV; 2nd annual Stuzo fashion show; Dinah Lip Sync Battle; performance by Ariana and the Rose (Hilton Main Pool, 12-6pm)
Dinah Comedy House - featuring sets from Suzanne Westenhoefer and Dana Goldberg (PS Convention Center, 7pm door, 7:30pm show)
The Hollywood Party presented with Outfest and Tito's Vodka. Outfest Film reception with celebrity guests; red carpet arrivals at 10:30pm; Jessie Reyez performs live in concert. (PS Convention Center, 9pm-2am)
Sunday, April 1
Sunday Funday Pool Party. Second Annual Sunday Funday Games to win tickets to The Dinah 2019, Rubber Duck Dive, Best Dyke-ini Drinking a Martini), Best Dinah Cheer Guzzling a Beet contest; vendor fair; performance by 2x Grammy nominee Rapsody. (Hilton Main Pool, 10-6pm)
The Dinah's Official Closing Party - performance by Jessie and Alsace 
Where
The Dinah partners with several hotels in downtown Palm Springs, offering $10 off a Festival Pass for each guest staying at one the following during the event: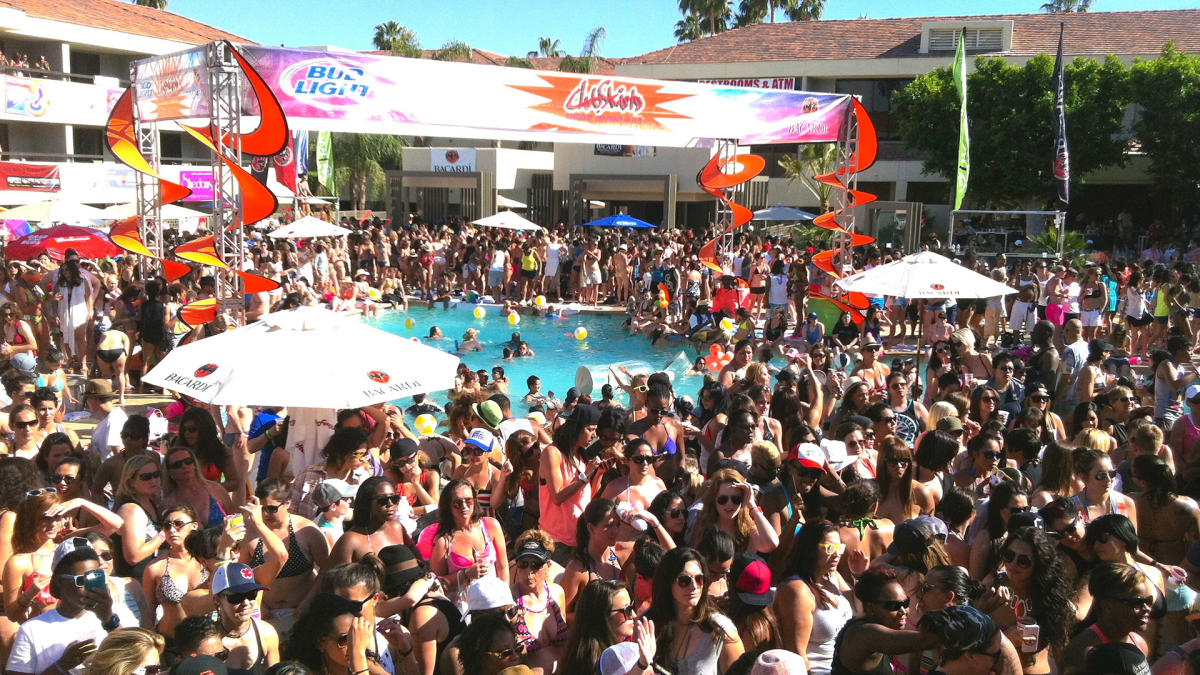 Likely to sell out any day now, the Hilton is The Dinah's primary hotel partner and plays host to all three of the official pool parties and the Wednesday night Pre-Party. Book Now
Almost equidistant to the Hilton and the Convention Center, The Courtyard is a good option for those wanting to keep a bit more cash for drinks but still be close to the action. Book Now
Hyatt Palm Springs & Renaissance Palm Springs
The other two host hotels, the Hyatt (Book Now) and the Renaissance (Book Now), are technically off the beaten path but just as suitable, in practical terms.
Other official event venues for the weekend:
The Convention Center hosts the two biggest dance parties, 50 Shades of Pink and The Hollywood, as well as the Dinah Comedy House stand-up show. Located in the heart of downtown, directly behind the Renaissance and within walking distance of the Hilton and Courtyard by Marriott.
How
By Air
Palm Springs International Airport supports flights from across the country through JetBlue, American, Delta, United, and Alaska Airlines, among others. Plus, it's so small, charming and convenient that it's addictive. Other airports in the very broadly general area include Ontario International, about an hour drive; or Long Beach, LAX, Orange County/John Wayne, or Burbank.
By Land
The Greater Palm Springs area is easily accessed off the 10 Freeway that cuts across Southern California from Santa Monica all the way to Florida; it's about two hours from Los Angeles, four and a half from Las Vegas.
While in Town
The Dinah operates with Enterprise Rent-a-Car to give attendees a discount of 15% on car rentals, but that's really only necessary should you wish to explore outside the venue neighborhood. Otherwise, the city of Palm Springs provides a free trolley service called the Buzz bus, running Thursday through Sunday every fifteen minutes from Smoketree in South Palm Springs through downtown and right past all the Dinah venues to Vista Chino on the North end. The best part is it's free (but bring a dollar bill to tip the driver if you think about it) and runs until 1 a.m. The Dinah may also arrange its own shuttles between the Hilton and other Dinah events.
Don't Forget
Lots of sunscreen. It's going to feel like a pleasant summer at the beach but that sun isn't kidding around. Drinking lots of water (filtered or bottled) is essential. Finally, take lots of pictures, especially if it's your first Dinah. You'll want to remember it for years to come.
Looking for more LGBT events and things to do? Check out our page on LGBT travel in Greater Palm Springs.
Images courtesy of Gay Desert Guide.