Communications
The Communications team has had a successful start to 2019, with 215 published articles totaling 1,489 Barcelona points. As we start Q2, we are continuing to host both individual and group media FAMs as well as travel to key markets to meet with top-tier journalists focusing on our brand pillars.
2019 Media Value: YTD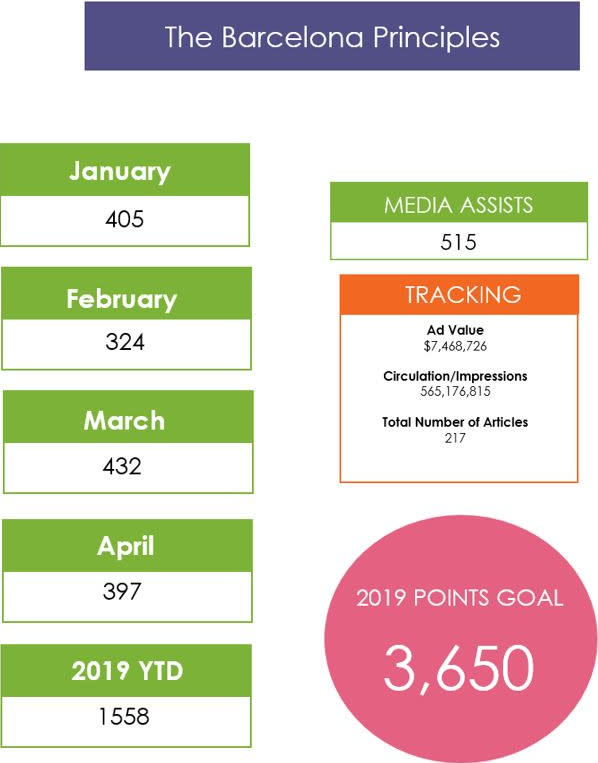 It has been a productive Spring for the Greater Palm Springs Communications team, meeting with a total of 296 journalists both in and out of market.

Visit California Mexico Mission: To better understand the Mexican traveler and capitalize on California's cache in the neighboring country, the team visited Mexico City in late March. Combining an intimate editor's dinner, an influencer brunch and a family-focused activation, the Greater Palm Springs Communications team connected with over 100 Mexican media to share stories beyond the known Palm Springs and Coachella angles.

Visit California Asia Mission: In April the team traveled to Japan and South Korea to capitalize on two of California's most mature markets. This event provided key face-to-face networking opportunities with key media in the Asia market through one-on-one meetings as well as a VIP road trip music-themed dinner. The team met with over 100 journalists and influencers.

Arts & Culture Press Trip: For the second consecutive year, the CVB partnered with Goldenvoice to host an Arts & Culture-focused press trip. During the day, the media explored Greater Palm Springs' varied art landscape, including visits to Cabot's Pueblo Museum and Palm Springs Art Museum as well as studio tours of two local artists. In the evening, press trip attendees took part in a VIP experience at the Coachella Valley Music & Arts Festival.

Greater Palm Springs hosted National Geographic China for their feature on Health & Wellness, which featured multiple partners including Hotel Paseo, Desert Adventures Red Jeep, and The Ritz-Carlton, Rancho Mirage.
Date: March 2019
Circulation: 580,000| Ad Value: $17,246
Barcelona Score: 9

Mary Holland dishes on her favorite Greater Palm Springs eats in "The Five Palm Springs Restaurants You Need to Try," featured in Food & Wine. Focusing on the variety of culinary experiences one can have in the destination, partners such as Counter Reformation, Pink Cabana, Wexler's Deli, and 4 Saints are mentioned for the unique style of cooking they're bringing to the oasis.
Date: April, 2019
Circulation: 9,388,987| Ad Value: $86,848
Barcelona Score: 9

The CVB stays on top of the latest social media and digital developments to attract travelers to our destination! We research, share ideas and interact daily on our social channels to inspire visiting print and online media, digital influencers and FAM groups to post social media content. In addition to the CVB's social media tags, we ask that CVB Partner social media handles and hashtags be utilized during the destination visit.

#VisitGPS #dineGPS #findyouroasis

 

 

To kick-off the much anticipating 2019 Greater Palm Springs Restaurant Week (GPSRW), the CVB will begin the month of May hosting an interactive culinary media event in Los Angeles. This hands-on experience will bring together food writers to experience the first taste of recipes inspired by participating restaurants. To mark the start of GPSRW, the Communications Team will host media and influencers for a progressive dining experience on May 31st.

The CVB will attend the Wellness Tourism Association (WTA) meeting in Tucson May 28-31. The WTA works to support and further the growth and development of the wellness tourism industry.

IPW, the leading international travel trade show comes to Anaheim this June connecting Greater Palm Springs with media from over 70 countries. The Communications Team will participate in the Media Marketplace, providing an important opportunity to connect one on one with key journalists interested in our destination.

In June, Greater Palm Springs will welcome SATW for its 2019 Eastern Chapter Meeting, held at Hotel Paseo. In addition to networking and professional development opportunities, the team will be leading a number of tours including pre and post conference tours featuring a number of destination immersion opportunities.

The team is also gearing up for National Travel and Tourism Week May 5-11 and Global Wellness Day June 8. 


If you have any questions about Communications and Media/PR, please contact:
Greater Palm Springs Communications Team | media@gpscvb.com