RESEARCH
During the months of October and November, the Destination Development team focused on research, working on arranging meetings for Paul Ouimet, President/CEO of NextFactor, to interview stakeholders from each of Greater Palm Springs' nine cities.
The team has also been working on the creation of the Greater Palm Springs Tourism Foundation website and a new portal. Part of this endeavor included partnering with OneFuture Coachella Valley.
DESTINATION NEXT – GREATER PALM SPRINGS DESTINATION EXPERIENCE PLAN
The CVB is continuing to work with NextFactor on the second phase of DestinationNEXT, creating a Destination Experience Plan for each city.
Paul Ouimet, President/CEO of NextFactor, conducted interviews October 7-11 and October 30–November 6 with key stakeholders from each city in order to gain more insight and prepare recommendations for new visitor experiences. Paul conducted interviews with about 5 to 15 key stakeholders from each of these cities: Cathedral City, Indian Wells, La Quinta, Palm Springs, Desert Hot Springs, Palm Desert, Indio and Rancho Mirage.
The remaining interviews that Paul was not able to conduct during those dates will be done by phone.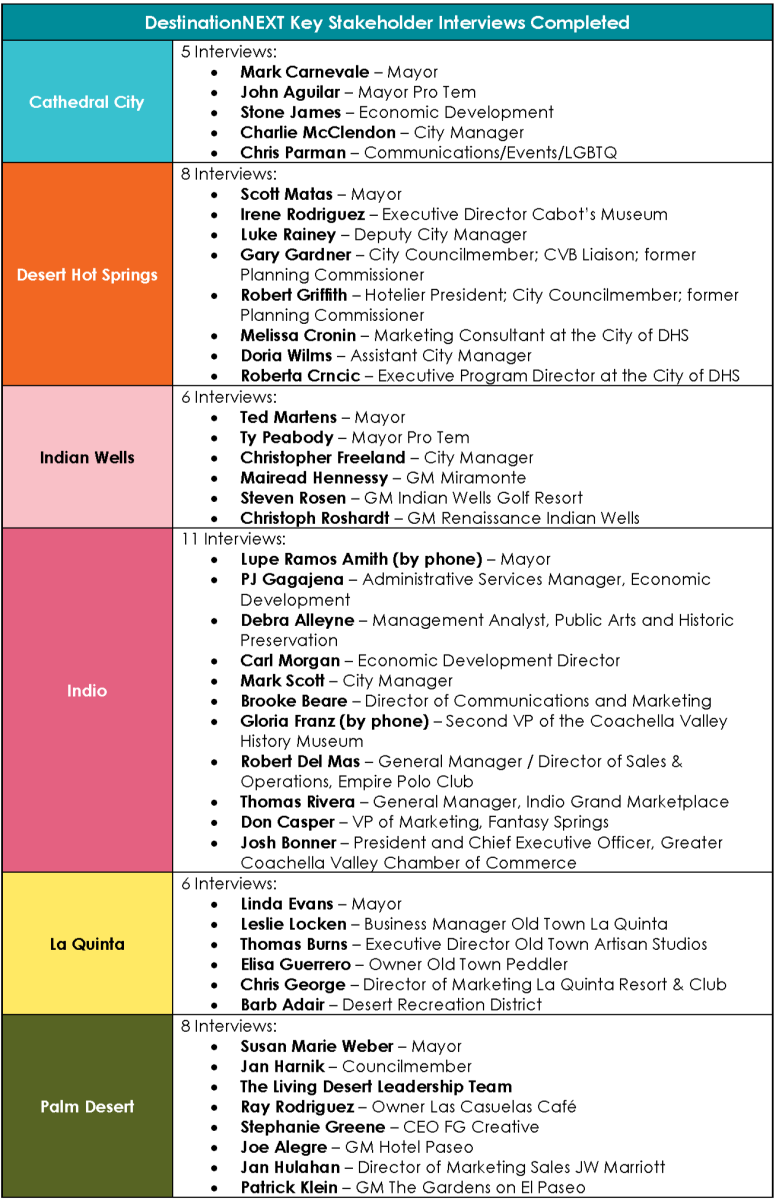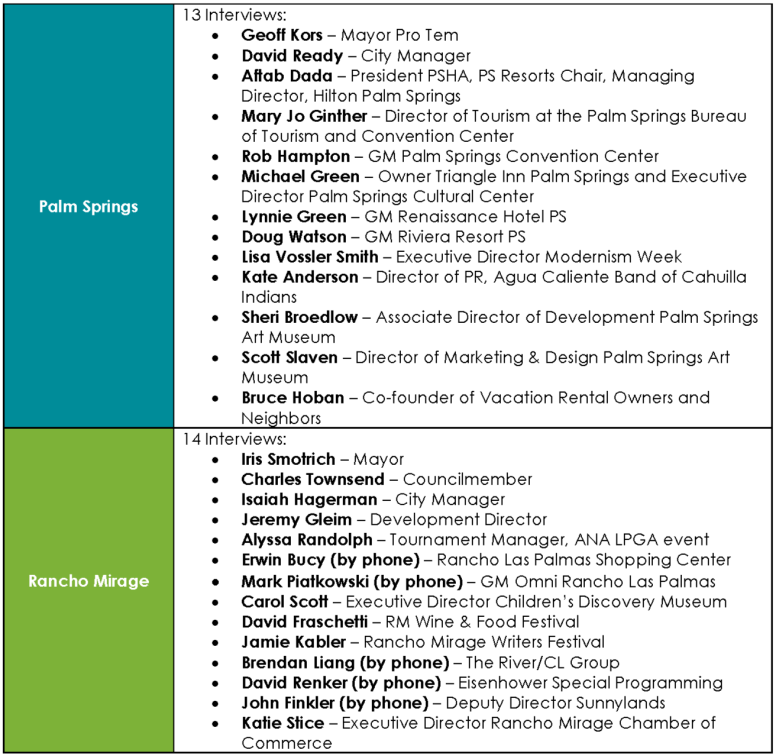 Paul will be conducting the remaining interviews by phone with:
• Ryan Stendell – Director of Community Planning for the City of Palm Desert
• Tom Scaramellino – GM The Westin Mission Hills Golf Resort & Spa
• Kelly Steward – GM The Ritz-Carlton, Rancho Mirage
• Tom Kirk – Executive Director CVAG
• Ron DeHarte – President PS Pride
• Michael Braun – President Grit Development
Final reports will be presented to each city in January/February 2020.
GREATER PALM SPRINGS TOURISM FOUNDATION
Since 2014, the Greater Palm Springs Convention and Visitors Bureau (CVB) has awarded scholarships to Coachella Valley students pursuing college majors in the tourism and hospitality industry. The CVB now awards scholarships through its Tourism Foundation, which was established in 2017.
The Greater Palm Springs Tourism Foundation supports and initiates diverse programming related to the hospitality, convention and tourism industries with funds raised from the general public and other sources. Initiatives encompass providing education and leadership training, college scholarships, volunteer and mentor development, special event promotion and cultural enhancement.
The Foundation was created to extend resources that are currently not available in the region, such as:
• Scholarships
• Volunteer Programs
• Multimedia Project
• Disaster Relief

Greater Palm Springs Tourism Foundation Partnership With OneFuture Coachella Valley
The GPS Tourism Foundation has partnered with OneFuture Coachella Valley to manage the Foundation's scholarship portal. OneFuture will:

• Market hospitality scholarship opportunities for the Foundation's scholarship program to high school seniors in the Coachella Valley

• Manage the Foundation's online scholarship portal and scholar selection process, including:
  ​○ Overseeing scholarship application intake
  ○ Providing student application support and troubleshooting
  ○ Providing Foundation scholarship reviewer trainings
  ○ Facilitating application review and scoring
  ○ Ranking applications and proposing scholar selection
  ○ Affirming document verification and scholar support

• Provide student support services, including:
  ○ One-on-one counseling
  ○ Financial aid package review
  ○ Student leadership conference
  ○ Mid-year conference
  ○ Personal mission statement
  ○ Workforce preparation/awareness
  ○ Disbursement of scholarship awards to schools
  ○ Student progress reports
OneFuture Coachella Valley will also:
• Provide dollar-for-dollar matching of the Foundation's scholarship funds up to a maximum of $13,000. The matching may be increased in future years depending on the availability of funding.
VISAVUE TREND CARDS
VisaVue tracks non-local cardholder spend in the Coachella Valley. Below are the third-quarter results for both domestic and international visitors.
In the domestic market, the top cardholder growth originated from: Las Vegas, NV (92.3%), San Diego, CA (15.7%) and Seattle-Tacoma, WA (15%). There is a drop from Tucson, AZ (-4.2%).
In the international market, the top cardholders growth for the 3rd quarter originated from: Mexico (23.3%), Germany (14.3%), Netherlands (4.5%), Australia (4.3%) and Canada (2.1%). In addition, there was a decrease from the following: China (-28.2%), Italy (-13.1%), United Kingdom (-10.7%), Switzerland (-9.7%) and France (-3%).
For more information about Destination Development, please contact:
Bob Thibault
Chief Development Officer
bthibault@gpscvb.com | (760) 969-1339