TRAVEL INDUSTRY SALES
Greater Palm Springs conducted client training events via our international offices in four countries in October. We also hosted key clients during FAMS showcasing partners across all parts of our destination. October was also our annual Travel Professional Appreciation Month, allowing us to promote special offers from our partners to encourage personal client visits. 
TRAVEL INDUSTRY SALES GOALS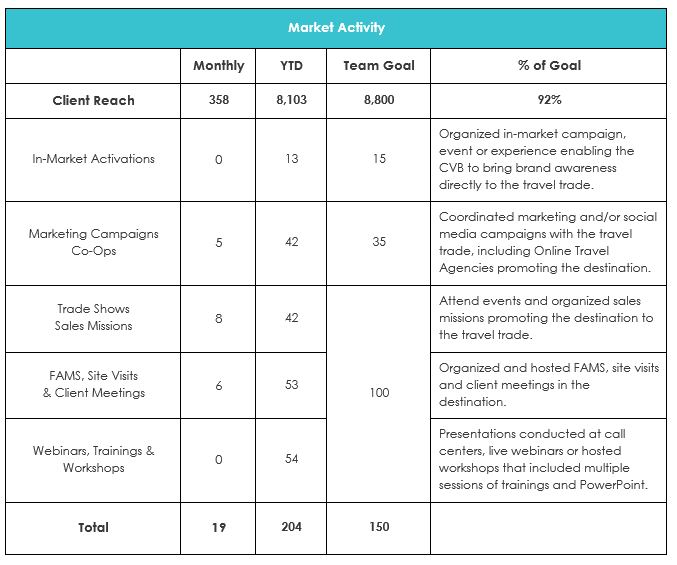 ACTIVITIES & PROGRAMS: OCTOBER
2019 Comptoir des Voyages FAM | France
TIS hosted two agents from Comptoir des Voyages in France to experience GPS. Partner participation included Ace Hotel & Swim Club, Joshua Tree National Park, Joshua Tree Saloon and Rimrock Ranch.
2019 Top Resa & Sales Day| France
The CVB joined Visit California's booth at IFTM Top Resa in Paris. This event is the only B2B travel trade exhibition in France and is recognized as the primary opportunity to reach the French travel trade, with 19 clients reached. The CVB also hosted a client event prior to the start of IFTM Top Resa, partnering with Visit Sonoma for a VIP reception with key product managers and agency owners in attendance.
2019 Club CA - Tokyo| Japan
Club California, held in Tokyo, had a total of 118 agents attend the event. The event centered around VCA's Road Trip Republic initiative.
2019 Visit California UK Super FAM| United Kingdom
Our office worked with Visit California, British Airways and American Airlines, hosting 10 agents from the UK to raise awareness of California. Partner participation included The Westin Mission Hills Golf Resort & Spa; Desert Hills Premium Outlets; Miramonte Indian Wells Resort & Spa; Doubletree Golf Resort; Desert Adventures Red Jeep Tour & Events; Hyatt Regency Indian Wells Resort & Spa; Eight4Nine Restaurant; The Ritz-Carlton, Rancho Mirage; Palm Springs Aerial Tramway; and Palm Springs Bureau of Tourism.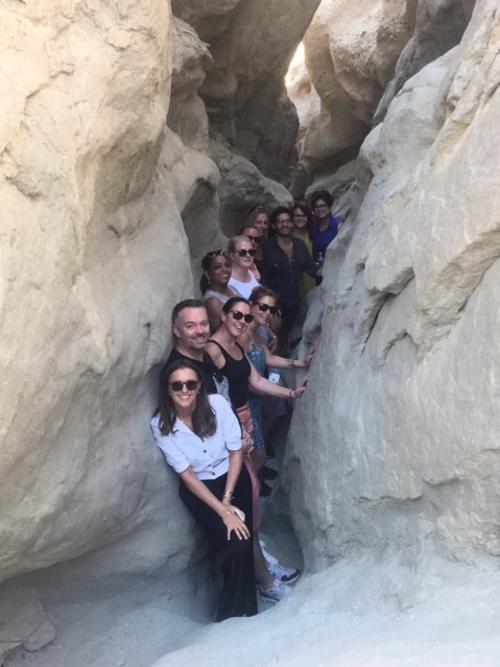 The group enjoyed an excursion via Red Jeep Tour & Events.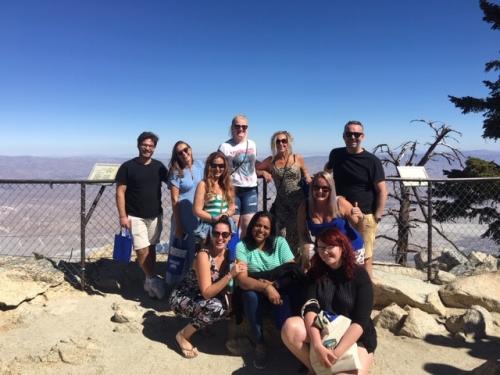 The Palm Springs Aerial Tramway provided an expansive view of the destination.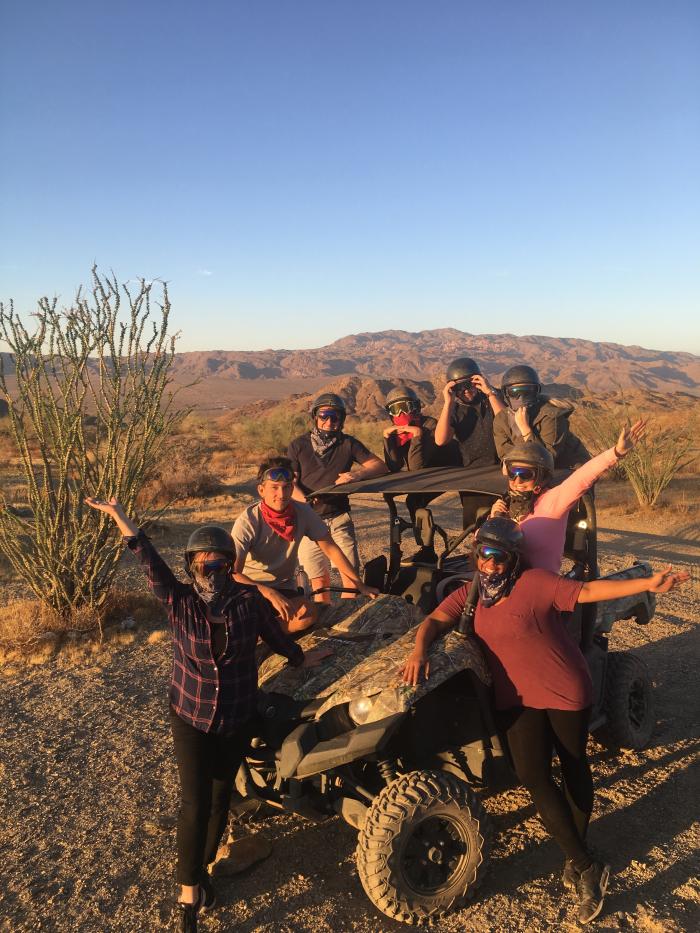 Attendees of the Young Travel Professionals FAM enjoyed off-roading with ATV Experience.
2019 Young Travel Professionals FAM | International
The CVB worked directly with Young Travel Professionals to bring eight agents from Vancouver and the Dallas Fort Worth chapter to Greater Palm Springs for a luxury FAM experience. Partner participation included Ace Transportation Inc.; Sands Hotel & Spa; Palm Springs Mod Squad; ATV Experience; Lavendar Bistro; Wilma & Frieda's; Smoke Tree Stables; Koffi; Makerville Studio; IW Coffee; Joshua Tree Music Festival; La Copine; Kate's Lazy Desert; Sky Watcher Star Tours; Shields Date Garden; Avalon Hotel & Bungalows Palm Springs; Villa Royale; The Spring Resort & Spa; and PS Underground.
2019 Visit California India Roadshow | India
Our office in India participated in the Explore California Training Day organized by Visit California. Two classes were offered in the cities of Bengaluru and Ahmedabad, with a total of 59 agents attending the event.
Club CA - Hangzhou | China
Two representatives from Canusa, Germany, came to Greater Palm Springs after the IPW Tradeshow to experience the destination firsthand. Partner participation included The Ritz-Carlton, Rancho Mirage; Desert Adventures Red Jeep Tours & Events; La Quinta Resort & Club; and Palm Springs Aerial Tramway.
MN Organization | France
Our office in France had a Lunch & Learn training with 11 travel agents from Jet Set and held meetings with two representatives from Tribu d'explorateurs and Jet Set. The meetings included updates and experiences available in the destination.
Sartha Global Marketing | India
Since June, our office in India has met with 76 travel companies. Meetings included creating customized itineraries, honeymoon holidays and road trips.
Marketing Services International | Germany
Our office in Germany had training with 11 sales agents at the DER Touristik Headquarters in Frankfurt on the California Regional partners. They also met with nine travel representatives. The companies included America Unlimited, CANUSA, Faszination Fernweh, CRD, Urlaubspiraten.de, Knecht Reisen, Flamingo Fernreisen and INFOX GmbH.
Black Diamond | Germany
Our office in the UK had training with 22 agents from USAirtours for the month of October and had meetings with four companies: American Sky, Elegant Resorts, The Winerist and Travel Counsellors.
If you have any questions about Travel Industry Sales, please contact:
Gary Orfield, Director of Travel Industry Sales​
gorfield@gpscvb.com | 760.969.1335