COMMUNICATIONS
The CVB Communications team focused on meetings, international media and the drive market throughout the summer months to boost media activity for long lead placements for what is already expected to be a record "season."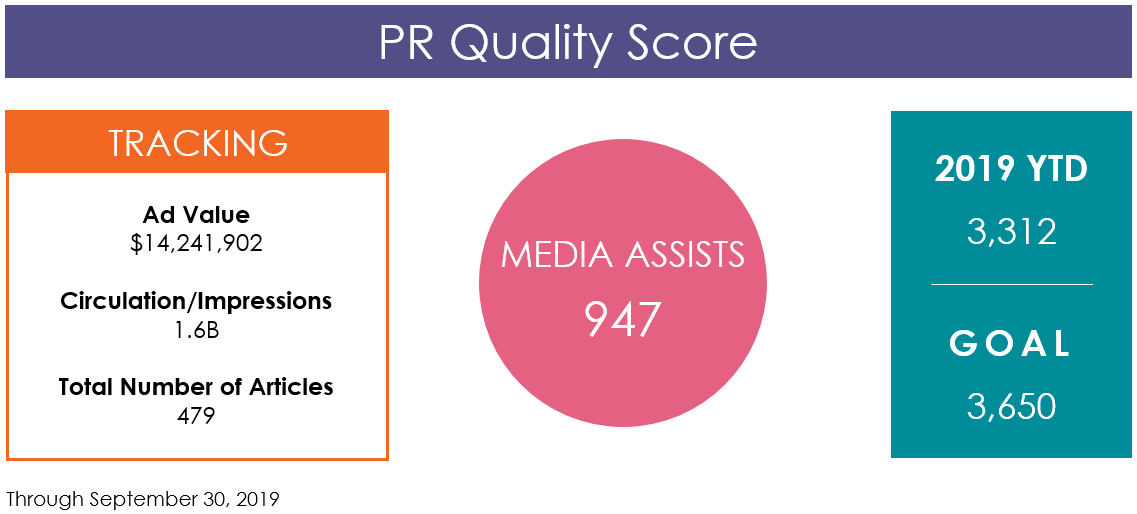 The CVB Communications team attended IPW Media Marketplace and hosted more than 50 media for Society of American Travel Writers (SATW) Eastern Chapter Conference.

In July, the team joined the Visit California Media Mission meeting with journalists in Dublin, Edinburgh and London.

In September, the team attended IMEX – the largest meetings trade show in North America -and helped increase awareness of Greater Palm Springs as a meetings destination by scheduling appointments with trade publications. Media Relations Manager Ashley Mastako was honored by CalTravel as an Emerging Leader 30 and Under at its annual conference.

The CVB Communications team also hosted its annual media dinner in the growing arts district in downtown Los Angeles for top-tier Southern California-based media. To capitalize on the creative community of the city during the event, the CVB Communications team invited local artist Sofia Enriquez to join a group of CVB city, hotel and attraction partners to share the newest stories from Greater Palm Springs. The dinner resulted in plans for forthcoming media coverage and FAM trips with LA-based media.

Kicking off the season's new air service, Director of Communications Joyce Kiehl hosted a meetings event in Sacramento to raise awareness of the connection from PSP to the state capital in partnership with Contour Airlines.

The CVB Communications team participated in the Visit California Canada Media Mission. The team met with more 65 media and influencers in Toronto, Calgary and Vancouver.

Weekend Australian, July 2019
Circulation: 219,242
Result: Media Visit

 

Canadian Traveller, September 2019
Circulation: 25,000
Result: Media Visit

 

National Geographic Traveler, August 2019
Circulation: 14,000,000
Result: Media Visit

Partnering with the CVB Convention Sales Team, Communications will host media for a Monday Night Football game at Levi's Stadium in Santa Clara. This is an opportunity to engage with trade media and meeting planners.

On October 8, the CVB Communications team will host a media dinner in San Francisco to generate coverage and FAM leads. Six destination partners will be in attendance including City of Palm Desert, Palm Springs Bureau of Tourism, City of Indian Wells, Palm Springs Aerial Tramway, La Quinta Resort & Club and JW Marriott Desert Springs Resort & Spa.

The CVB Communications team will host a group of international and domestic media on assignment to write about Greater Palm Springs' ever-popular Modernism Week Preview. Media will be in market October 16-20.

The Communications team will attend SATW National Conference in El Paso. The conference will include 24 one-on-one appointments with editors.

Made up of 10 domestic and international creators, the Visit California Digital Influencer Advisory Board (DIAB) will gather in Greater Palm Springs for its annual meeting October 16-18. The CVB Communications Team will be hosting the creators for tailored individual experiences October 18-20.

To attract New York-based food writers to the destination, the CVB Communications Team will host a media dinner highlighting Palm Desert Food + Wine on October 28 at the James Beard House in New York City. Chefs featured at the event include Andrew Copley, Tara Luzar, Andie Hubka, Gabriel Woo and Kenneth Williams. The following evening, the team will host 12 media for an interactive dining experience at the Institute of Culinary Education with Chef Chad Gardern.
If you have any questions about Communications and Media/PR, please contact:
Greater Palm Springs Communications Team | media@gpscvb.com