CONVENTION SALES
The Convention Sales team has been diligently working over the summer months where we attended 8 trade shows with 395 meeting planner appointments and 5 client events where we entertained 400+ planners.
As of September, our leads are up 2% to goal, but we are down 8% in room night production. Good news is that our 4th quarter is our strongest generator of booking room nights, and we have 338 tentative leads with 292,215 room night booking opportunities in our sales funnel that the team is aggressively pursuing.
HIGHLIGHTS
IMEX America  
Our midcentury modern home-themed booth was again a big success. We pampered 17 clients at our spa event on the Monday prior to the show. During a busy three days we had 71 set appointments and scanned 173 planners that stopped by the booth. Along with our partners, we took 15 planners to dinner over the three nights, helping close business. We are pursuing several requests following the show.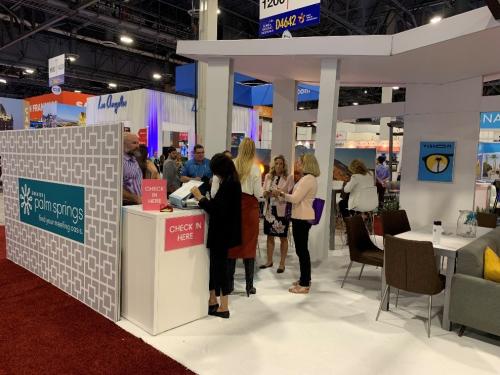 IMEX America 2019
CREATIVE REBRANDING
The Brand and Marketing teams have been great partners with convention sales in rebranding our meetings message, creating new Powerpoint presentations, quick glance information page and developing our video series. We will have 12 new videos completed by year's end that will be utilized in planner presentations and trade show appointments.
TEAM UPDATE
We have been short a sales manager from the Northeast, so Barb Quigley jumped in and has kept on top of the leads and events that had been planned in market. We appreciate her due diligence and ability to take care of both markets. We have hired our new Northeast National Sales Manager, Angela Day, who is based on the east coast. She will start November 4.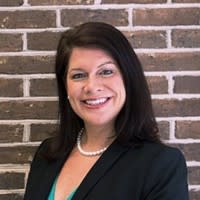 Northeast National Sales Manager, Angela Day
PALM SPRINGS CONVENTION CENTER
Convention Sales will be meeting with Rob Hampton, new General Manager of the Palm Springs Convention Center, and his team to continue our strong relationship in partnering on future convention group business. We look forward to having open dialog and developing partnership opportunities as we work together to grow convention business.
DENVER SALES MISSION
The Denver mission was once again a big hit with our planners, all in all there were 38 planners that attended and participated in our events. From an intimate lunch at The Capital Grill, indoor skydiving and a cooking class to pampering at Purelux Beauty Bar and a chance to tee off at Top Golf, our Denver-based clients and partners truly enjoyed the experience. From this event we have 2 leads pending and 2 RFPs in the works.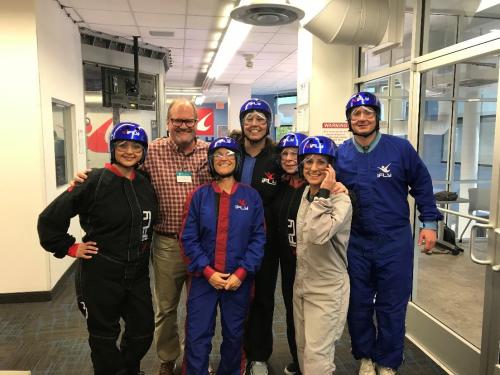 Indoor skydiving with our planners in Denver
UPCOMING MISSIONS AND EVENTS
• Arizona Client Events | November 12-14, 2019
• CalSAE Seasonal Spectacular | December 15-17, 2019 
• Association Forum of Chicagoland Holiday Showcase | December 17, 2019
BOOKING PRODUCTION ANALYSIS
Click on images to view enlarged PDF. View the full Booking Production Analysis report.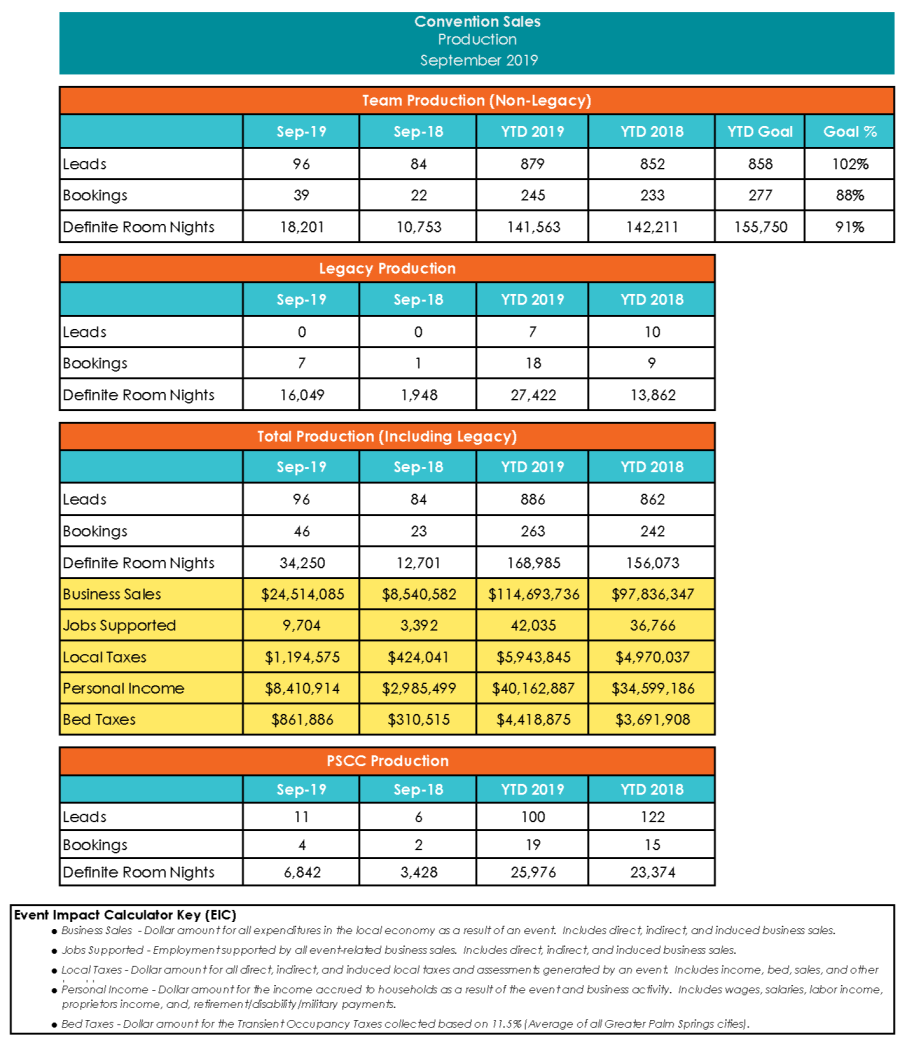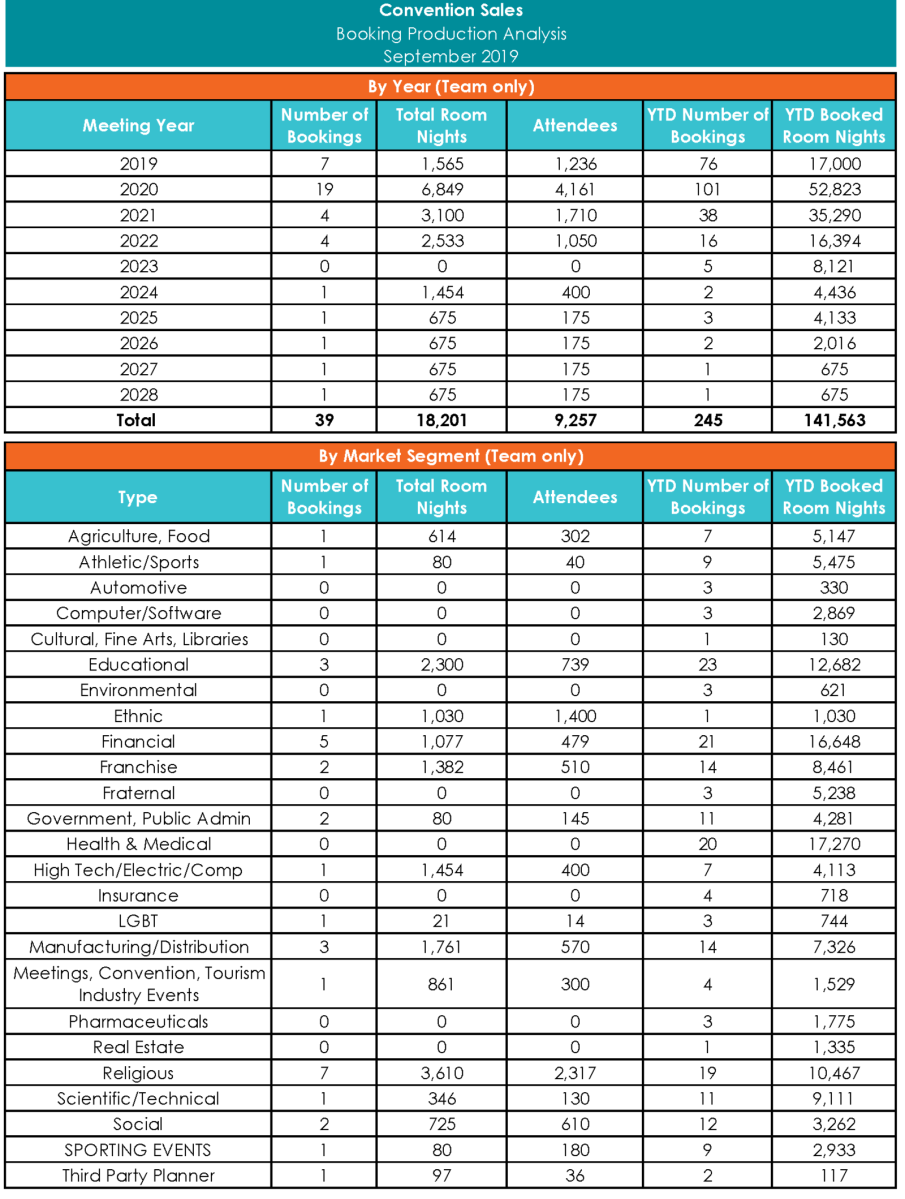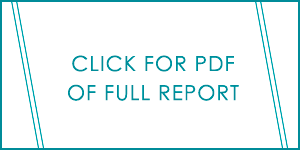 If you have any questions about Convention Sales, please contact:
Mark Crabb, FCDME, Chief Sales Officer​
mcrabb@gpscvb.com | 760.969.1304