DIGITAL ANALYTICS
In September, website traffic surpassed 2019 levels for the first time this year by 7%. In October, the trend continued to exceed 2019 levels with total sessions up 19% when compared to October 2019 due to Organic Search traffic growing by 35%. Destination-specific and events-related phrases were top keywords driving traffic to the website. Of note, "pride" phrases performed with clickthrough rates in the mid-to-high 20s. 
Visit Greater Palm Springs created and published six new landing pages on the website in the months of September and October. This included a page for Flair Airlines to promote the new flight from Toronto, a What Will You Find page (seen below) with content to support the new fall/winter campaign that launched in October, signature event pages, a holiday events page and an interactive page for Greater Palm Springs murals. The new murals page shows the location for murals as well as a virtual tour for website visitors to explore.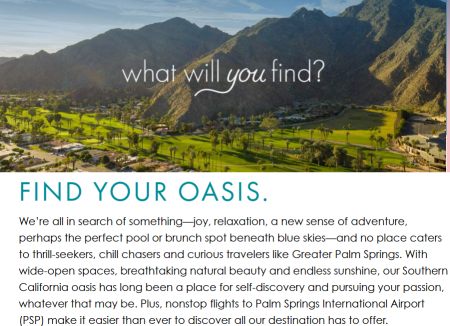 Over 20 blogs were published to the website in September and October, including an article on Celebrating Native American Culture in honor of Indigenous Peoples' Day, Where to Drink and Dine at the BNP Paribas Open, and 9 Reasons to Visit Greater Palm Springs This Fall. In October, blog post views accounted for 19.2% of total pageviews to the site with the top post being Hot Water Guide to Desert Hot Springs, Food Festivals in Greater Palm Springs and Modernism Week Fall Preview.
Visitors continue to look for more information on returning events to Greater Palm Springs. Visit GPS has updated a signature events landing page and blog, as well as maintained 15 landing pages focused on signature events. In the past two months, the signature events pages have had over 35,000 pageviews with an average of 2 minutes and 48 seconds time spent on the site.
The consumer newsletter dedicated to event information had an open rate of 28.9% and a click rate of 5.49% in September, and a 30.3% open rate with a 6.96% click rate in October—far surpassing the industry average of 16.73% open rate and 1.83% click rate respectively.
Below are dashboards showing our year-to-date total website traffic, engagement and conversion rates.
If you have any questions about Digital Marketing, please contact:
Krystal Kusmieruk, Digital Marketing Manager | kkusmieruk@gpscvb.com | 760.969.1337