PARTNERSHIP
Visit Greater Palm Springs supports our local tourism partners through promotion and marketing, education, networking and advocacy. A lot has changed in the past year; many tourism businesses have renovated, added new experiences or opened for the first time, and the opportunities for tourism partners to market and promote themselves is continually evolving. We are excited for the return of in-person networking and education events, where we can share what's new in Greater Palm Springs as well as connect Partners to resources and research to help expand your business.
---
Our first in-person networking event in over a year was hosted in July at Rancho Relaxo and Pangea Cuisine at the Atrium in Rancho Mirage. Attendees enjoyed shopping discounts at Rancho Relaxo, sips poured by Dead or Alive Bar and delectable bites from Pangea. Partners can look forward to invites to more networking, education and experience events this fall thanks to the support of our Oasis and San Jacinto Partners: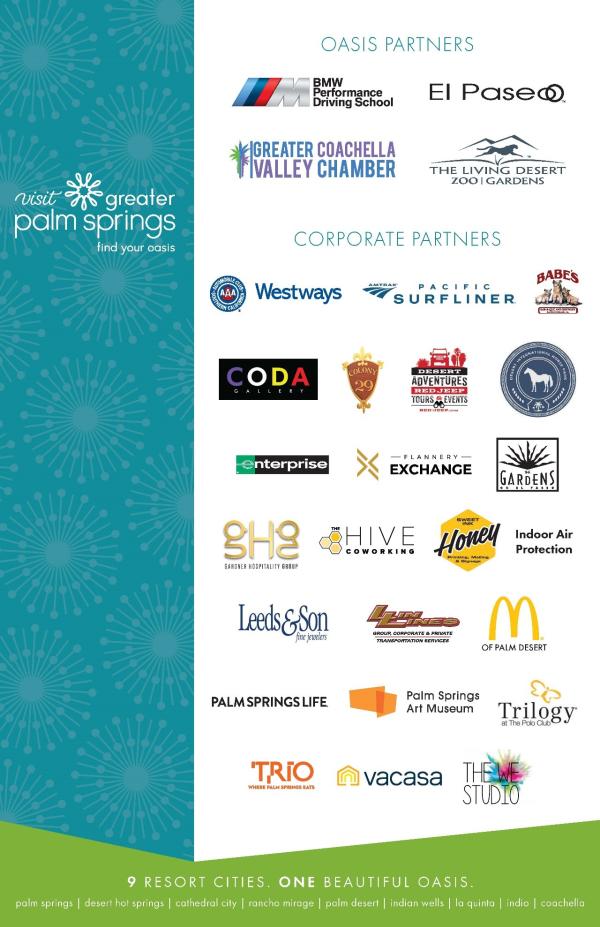 ---

T.E.A.M. GPS offers education and networking opportunities for Partners as well as those who live and work in Greater Palm Springs. The initiative unites our community toward a common goal: creating positive experiences for our visitors so they will return time and time again, which ultimately helps support our local tourism economy and enhance everyone's standard of living.

T.E.A.M. GPS partners with College of the Desert to deliver valuable programming to our hospitality partners, beginning with COVID-related training. This training focuses on the areas of basic COVID-19 safety and sanitation as well as COVID-related customer service and de-escalation. Enroll your employees for FREE. Email Erica Abarca at erica@visitgreaterps.com for more information.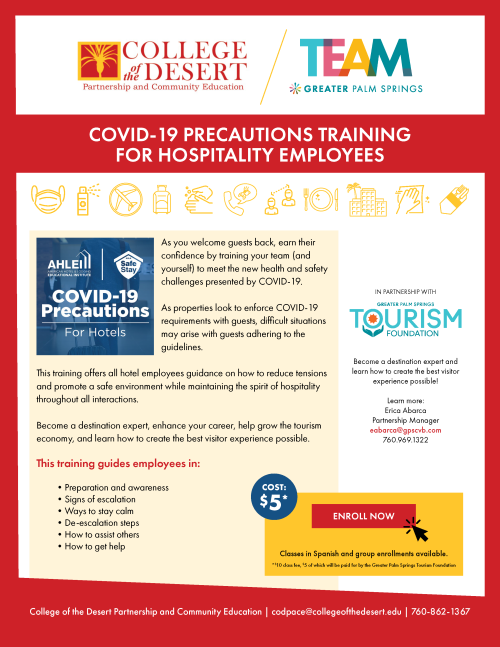 ---
Through partnerships with Riverside County and the Coachella Valley Economic Partnership (CVEP), Visit GSP has distributed free PPE to Greater Palm Springs tourism businesses, including:
277,800 face masks
1,863 bottles of hand sanitizer
800 face shields
Face masks are still available at no cost. Please contact Doedi Ford at doedi@visitgreaterps.com or (760) 770-9000.
Partnership Opportunities

Partnership opportunities are updated at MyGPSCVB.com including how to take advantage of free promotional opportunities, website advertising, co-op marketing and Visit GPS Partnership. 

Weekly IN THE LOOP partnership communications keep Partners up to date on the latest Visit GPS projects and opportunities. 

44 Partner communications since January 1, 2021
2,168 Partners opened in the last 90 days
1,159 Partners clicked-thru from email in the last 90 days

Tourism Partners can get involved with our current promotions and marketing campaigns and gain additional exposure by:

Free and subsidized marketing co-ops are available to tourism partners.

Hotels with 50 rooms or more can find co-op opportunities HERE.

For all other tourism partners, you can find your co-op opportunities HERE. 

WEBSITE ADVERTISING
Advertising opportunities are available on our website through our marketing partner DTN. Take advantage of the increased traffic from potential visitors as the state reopens and tourism resumes. 
Below are dashboards showing our year-to-date Partnership production, including total number of partners (new and renewal), total number of partners by city, total number of partner Chill Deals and total number of partner Chill Deals by city and type.
If you have any questions about Partnership, please contact:
Davis Meyer, Director of Partnership
dmeyer@gpscvb.com | 760.969.1360