OUR PLEDGE TO YOU
The Greater Palm Springs tourism industry is making the pledge to implement the latest safety guidelines developed by the State of California and leading industry associations. While the safety of our visitors, staff and local community has always been a top priority, we recognize it's even more critical today. We are offering this pledge and sharing the additional steps our local businesses and tourism partners are now taking so you can feel confident that our oasis remains a healthy, positive and inclusive destination for all.  More than 500 local businesses have taken the pledge to keep Greater Palm Springs safer.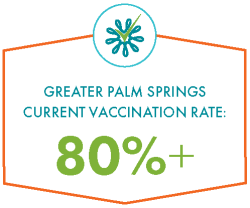 Current rates for the Coachella Valley are over 80% of the population either partially or fully vaccinated. 
Our Safer Together, Greater Together Pledge offers a unified commitment destination-wide among all businesses, which promise to institute the following core safety practices:  
Perform a detailed risk assessment and implement a site-specific protection plan

Train employees on how to limit the spread of COVID-19, including how to screen themselves for symptoms and stay home if they have them

Implement individual control measures and screenings

Implement disinfecting protocols

Implement physical distancing guidelines

Stay informed of and implement the latest best practices
All businesses that have committed to these safety measures and have taken our pledge will have the below symbol included in their business listings on this website. To find out more by business type, click below.

Safer Together, Greater Together is our destination commitment to you!  
We look forward to welcoming you back in the near future.
If you are a business in Greater Palm Springs that is interested in signing up for the Safer Together, Greater Together Pledge, please complete this form.
To view disclaimer, click here.