Embracing boundless energy of the desert's inspiring natural landscapes, Greater Palm Springs has evolved beyond a stereotypical golf sanctuary where groups would team build on greens, fairways and at the "19th Hole." While 115 Coachella Valley courses still make that a possibility, this exquisite retreat showers with a buffet of exclusive diversions that engage everyone from hikers and bikers to those into art, animals and architecture. 
All this energy pays off in trumps for planners seeking to invigorate attendees and provide signature experiences. "It's always great to see how excited planners and attendees are when they learn that Palm Springs goes beyond golf," says Kelley Howard, director of sales with Access DMC. "There are so many things that make us a unique destination."
"To me, it's all about our vibe and glamour that set us apart from other destinations," says Darin Roper, account executive with 360 Destination Group. "It's a sexy destination, especially with our movie star hideaway era." 
Roper adds that Greater Palm Springs is also distinctive since it's located in the middle of an energy vortex. "When people arrive, they get a sense of calm, relaxation and well being. It's a subconscious thing. They feel the healing energy of the valley." 
Beth Daniel, DMCP, national sales manager with AlliedPRA Palm Springs, agrees. "The true allure with Palm Springs is just being here and being present here," she says. "There's a special energy. It's the treasure that's like the pot of gold at the end of the rainbow." 
1) Put the Pedal to the Metal
In a trailblazing concept that showcases autos instead of golf, the revved up BMW Performance Driving School West is debuting at the members-only Thermal Club motorsports utopia. One of only two BMW Performance Driving Schools in the U.S., this pedal to the metal paradise is designed to push both amateur and professional drivers to their limits.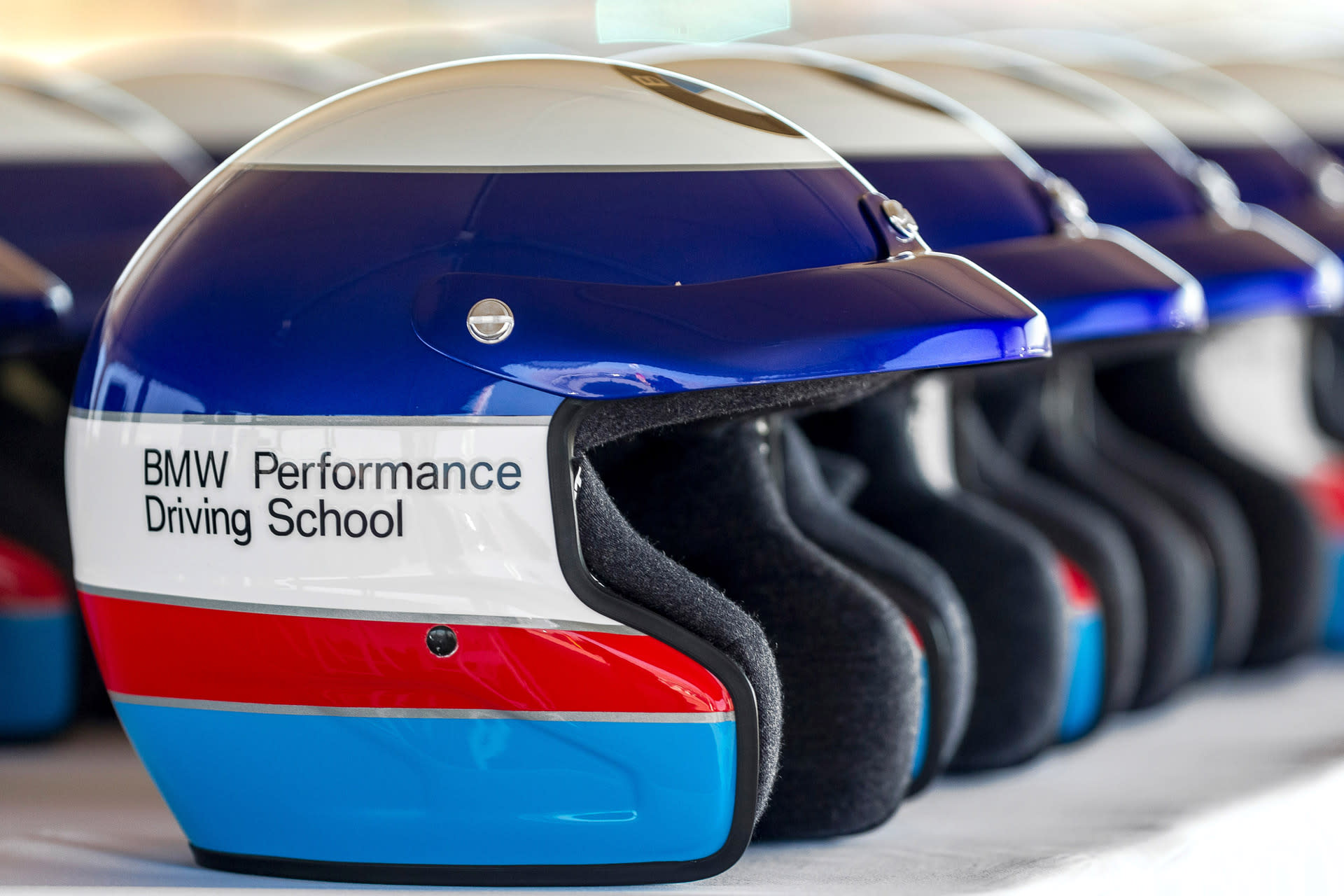 Occupying 32 acres on the club grounds, the adrenaline-pumping facility features a dedicated 1.4-mile road course, 6.2 acres of paddock, a skid pad and an 8,500-square-foot performance facility. The private racetrack has a "no holes barred" attitude, with attendees grabbing gusto in responsible driving classes before strapping in for signature Hot Laps with pros scorching the track up to 135mph. "The difference is that we give drivers more freedom," says BMW Instructor Derek Leonard. "We challenge them to move out of their comfort zone in a way that's real and measurable." 
Leonard adds that the school's most popular corporate program finds groups utilizing meeting spaces for team events, refueling at lunch, and then driving all afternoon. Attendees without a need for speed can cheer on their peers as spectators. Limited corporate programs will launch in the first quarter of 2015, with the grand opening set for fall. 
2) Hike with a View
Groups can challenge each other and themselves by completing this exciting uphill hike. Although the Museum Trail in Palm Springs is only 1.7-miles long out and back, its steep incline tests even the most experienced hikers. The trail begins behind the Palm Springs Art Museum parking lot and scales approximately 0.87 miles up the side of the San Jacinto Mountains. Reach the top and take in awe-inspiring views of Greater Palm Springs, and while resting at picnic tables. 
Feeling hungry after the climb? Stop by any of the amazing restaurants in Downtown Palm Springs, perfect for refueling the team and continuing your adventure in the oasis.
3) Get into the Zone
Greater Palm Springs' nine communities flow to a dramatic wonderland sculpted by seismic activity, wind, water and time. Coveted for its labyrinth of steep walled canyons and some of the most twisted landscapes on Earth is the San Andreas Fault Zone, the only place in the U.S. where two tectonic plates bump and grind it out. 
"You can straddle the North America and Pacific plates at only one place in the universe," Daniel says. "And this is it." Operators like Desert Adventures share the splendor through off-road Jeep and Hummer jaunts, and backcountry trail hiking on a private 840-acre ranch. Team building takes a twist with GPS Geo Trekking, Desert Olympics and a Desert Survival Program.
"Tours here are completely different because of our unique geography," Howard says. "We'll take up to 100 (participants) through twisting canyons, through the fault and to a replica Cahuilla Village on a historic Indian site. Attendees can come back year after year and have a totally different experience since each guide has a specialty – from plant and animal life to Native American and pioneer history." 
4) Surf the Sky
It's tough to eclipse the graceful magic of a lighter-than-air balloon adventure. This lofty travel mode delivers a 360-degree bird's-eye view sprawling across the valley's 100-plus golf resorts and equestrian estates to striking windmill farms, date palm groves, the San Jacinto Mountains and Salton Sea. 
Safely poised within wicker gondolas dangling beneath a seven-story-tall multi-colored balloon, up to 12 passengers hit a 60- to 90-minute natural high that may ascend up to 2,000 feet. It's a surreal mix of serenity and exhilaration for thrill seeking attendees into sightseeing with an edge.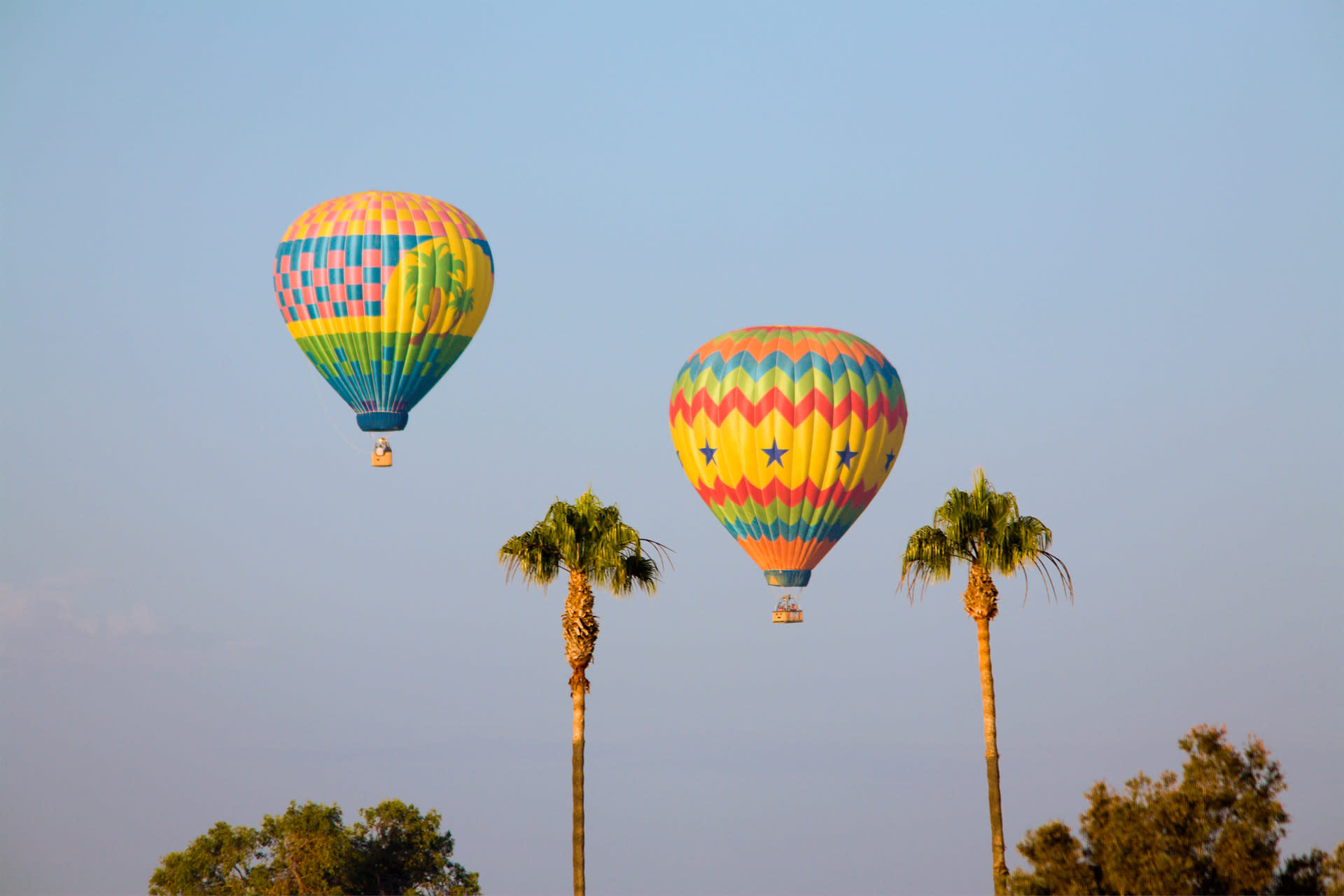 For larger corporate events, Fantasy Balloon Flights will elevate passengers up to 100 feet in tethered aerostats. "We've been doing some fun larger events with a wine pairing dinner, live music and tethered hot air balloons to provide moored 'Balloon Glow' during dinner and after sunset," says co-owner Cynthia Wilkinson. Grounded venues include Greater Palm Springs resorts, polo grounds and country clubs. 
5) Snap into Paparazzi Mode 
Since its days as a dusty cowboy and pioneer town, Greater Palm Springs has catapulted into destination stardom. Credit Hollywood studio honchos for much of that evolution, with the "Two-Hour Rule" requiring actors under contract to remain within 120-minutes of Tinseltown for down-to-the-wire shoots. 
Cinema elite not only drove over for quickie escapes, but eventually purchased hideaway homes for lounging poolside and mixing martinis away from the microscope. Legendary Rat Packers like Frank, Dean and Sammy kicked off a desert domain bash attended by such celestial cronies as Bing Crosby, Dinah Shore and Bob Hope.
"It's about martinis, mountains and movie stars," says Roper. "Celebrity Tours share how Palm Springs became the gateway for the stars, as well as pulling in midcentury architecture and even stops at Sinatra's former haunt, Melvyn's. We can bring in other aspects for an entire day of immersion into what Palm Springs is."
Howard heads to the Movie Colony neighborhood via walking, bus, bicycle or Segway tours with an option of going into the Sinatra Estate or Elvis Honeymoon Estate. True to Hollywood form, these entertaining escapades blend in behind the walls gossip as they scope out dozens of A-Lister abodes.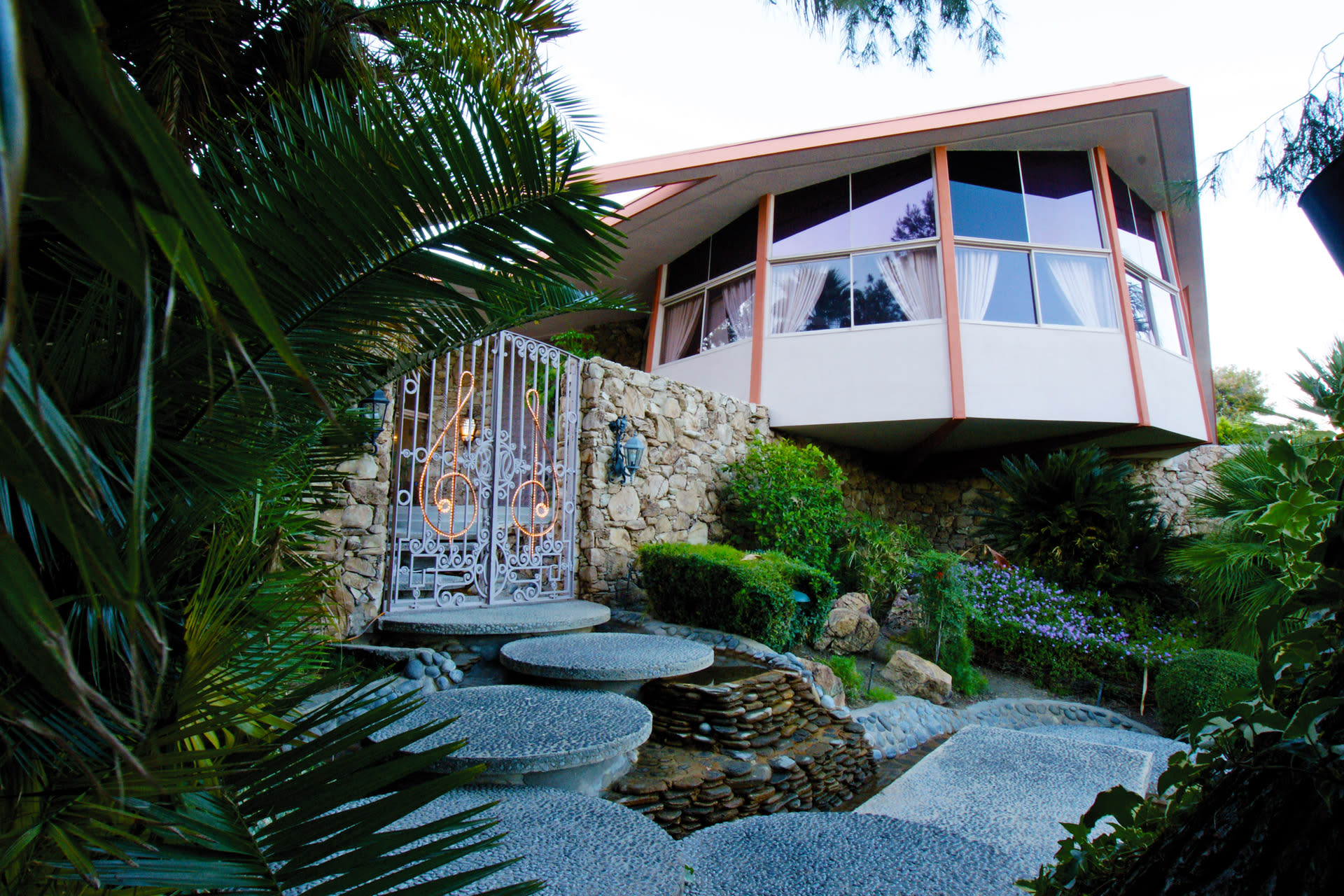 6) Tee Off with Golf Cart Polo
As the Coachella Valley's largest special events facility, Empire Polo Club lets planners take it to the turf beyond January through March matches with golf cart polo. Home of the mega-watt Coachella Valley Music & Arts Festival and Stagecoach Country Music Festival, this massive 200-acre Indio oasis runs amok with group options.  
"We'll give attendees a helmet and mallet, and they'll ride covering the field in golf carts driven by polo players," Daniel says. "We can progress through 75 players in an hour during mini-matches. And even those who aren't playing enjoy and cheer on the action."  
She adds that the multi-faceted venue features four distinctive dining event areas. Overlooking the polo field, enchanting Medjhool Lake is landscaped with plush foliage, stately palms, stone walkways, footbridges and its signature Olympic Peak Tent trio that provides 24,000 square feet of covered function space.  
"Depending on the group size, we can add in photo ops with players, lawn games, bocce ball and a band," Daniel says. "Anything you can image, we've done it here."
7) Get On A Roll
Tucked into one million acres of protected land surrounding Greater Palm Springs, the Meccacopia Wilderness is referred to by geologists as "the most tortured landscape on earth." Within these raw badlands, Big Wheel Tours leads the way through rocking terrain while rolling along on guided mountain bike excursions.   
A geologic extravaganza, the Earthquake Canyon Express routes from the transition zone between the Colorado and Mojave deserts, weaves through Box Canyon's narrow walls, and wraps it up with dramatic views spanning the Salton Sea, Mt. San Jacinto, the All-American Canal and eastern Coachella Valley's thriving agriculture region. 

"The desert becomes even more alive on a bike tour since your senses take in so much more than when traveling in a motorized vehicle," says Evan Trubee, Big Wheel Tours' owner. "Within minutes, our guests find themselves in a completely different landscape that's surrounded by stunning granite rock formations and otherworldly Joshua Trees." 
Wildlife such as white tailed antelope squirrels, red tailed hawks, lizards, mule deer and desert tortoises elevate the high.
With a ratio of one guide for every 10 riders, the company also customizes treks and outfits with all the necessary gear. Other options for exploring this magnificent playground include Jeep journeys and hikes for up to 300. 
8) Hop on a Harley
A universal symbol of independence and self-reliance, motorcycles make a powerful statement about riders and what they represent. Yet, nothing adds oomph to this spirit of freedom quite like hitting the wide-open road on a Harley-Davidson – especially in and around Greater Palm Springs. From zipping through the Mojave and Sonoran deserts to ascending to cooler Mt. San Jacinto peaks.
Whether it's team building, learning new skills or simply unplugging from routine, road trippers rev up for two-hour rides heading west toward Pacific Coast beaches or Joshua Tree National Park that's an hour away.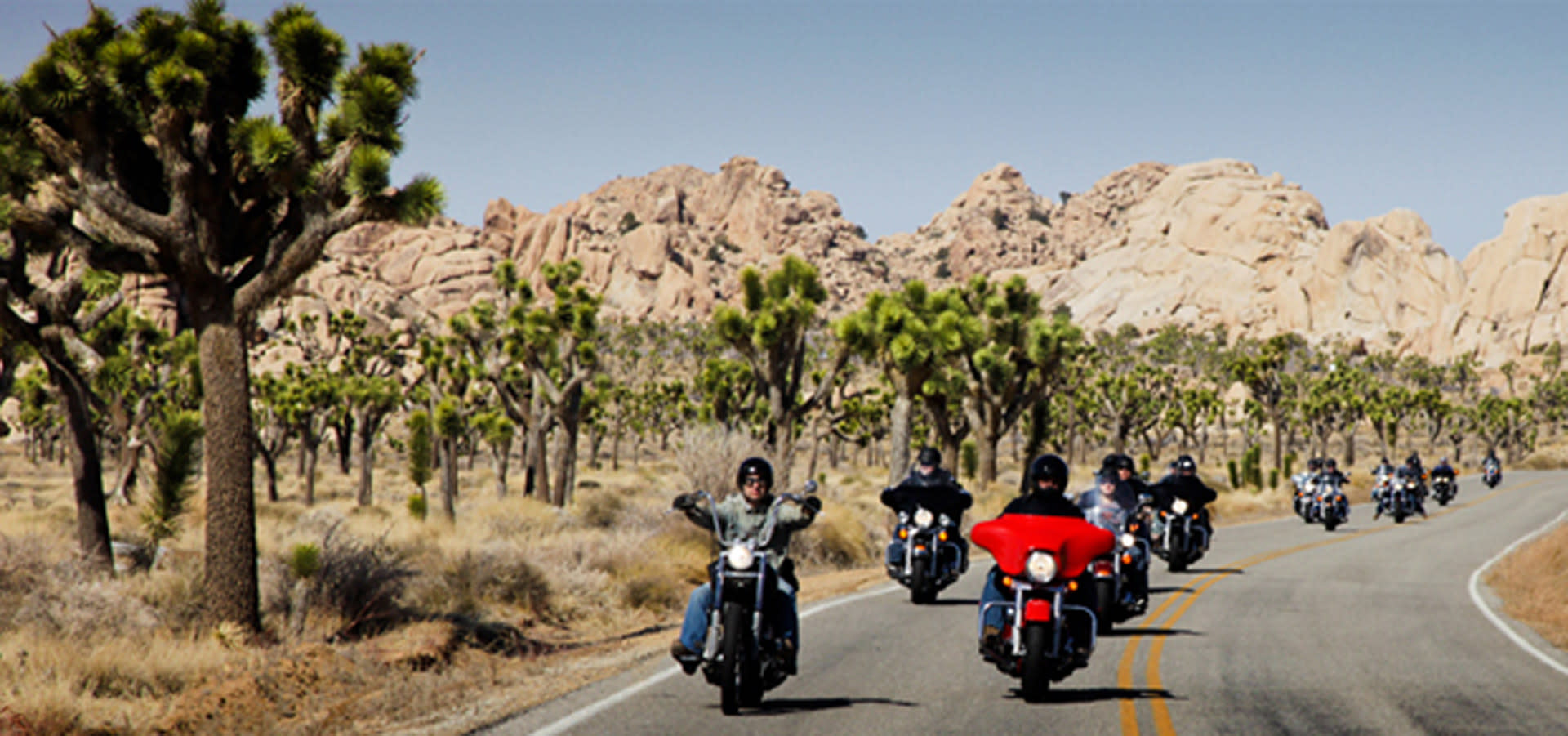 EagleRider jaunts include a professional guide and powersport rental of choice that also includes Honda and BMW motorcycles, scooters and electric bicycles. While riders must have a valid driver's license to rent a cycle, training courses provide another path for those who don't.
Located at the JW Marriott Desert Springs Resort & Spa, EagleRider also appeals with tamer opportunities for attendees who weren't "born to be wild." Lower key action includes a GPS navigated scavenger hunt on a Vespa that takes in civilized settings like casinos, eclectic neighborhoods and plush resorts. 
9) Shop 'Til You Drop
In Greater Palms Springs, shopping is a lifestyle transcending tastes and time. From Palm Canyon Drive's vintage shops packed with retro treasures to Cabazon's massive outlets, this oasis delivers an epic dose of retail therapy. 
Dubbed Greater Palm Springs' "Rodeo Drive," shopping on El Paseo is all about glitz, glam and gawking. Among its 250-plus retailers, the mile-long shopping and dining mecca merges top international designer boutiques with day spas and interior design studios. The River at Rancho Mirage adds its own distinctive splash with shopping and dining on outdoor patios overlooking a waterfront with lush landscaping, fountains and waterfalls.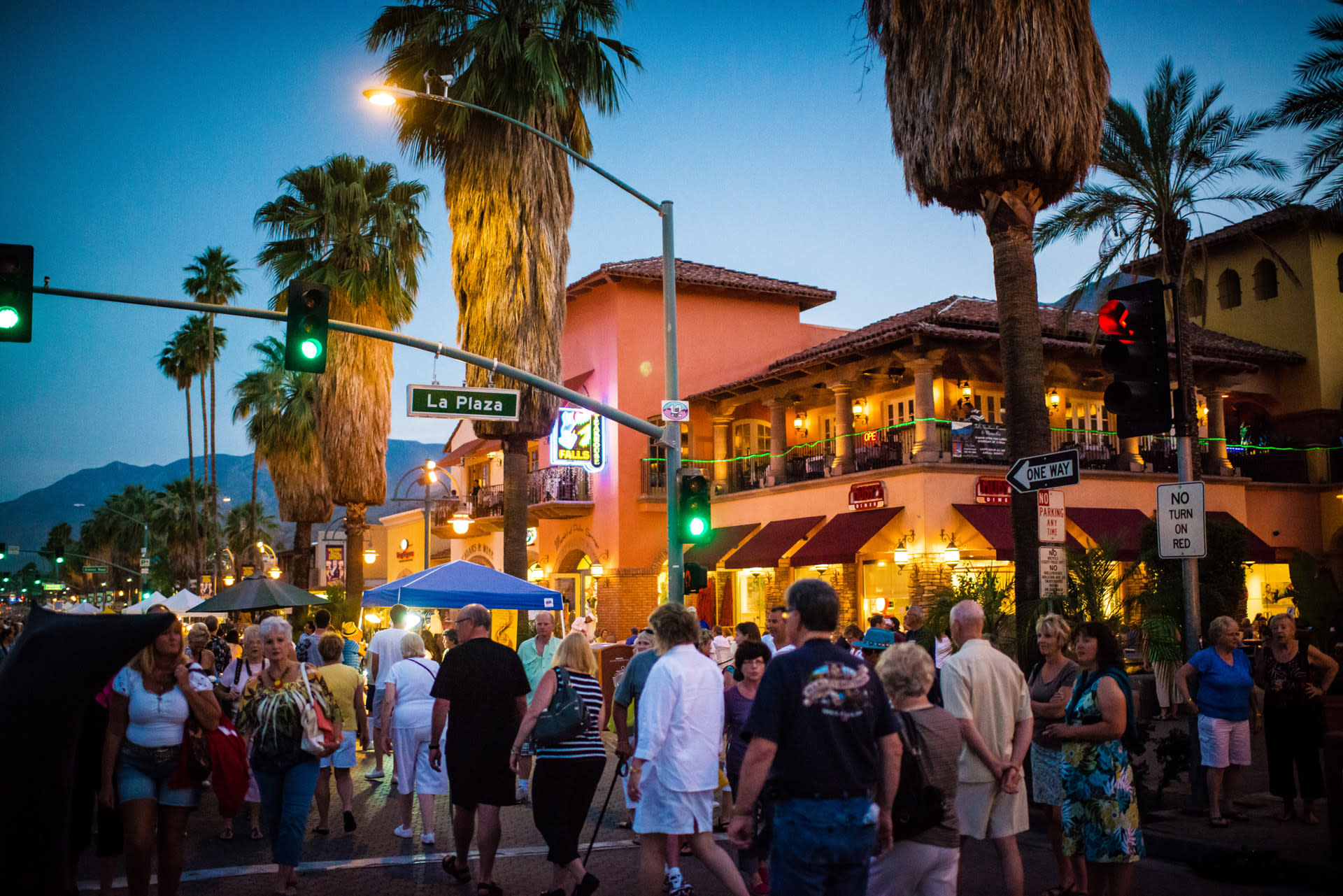 A magnet for midcentury modern enthusiasts, celebrities and design style-setters, Palm Springs brims with dozens of trendy modernism and vintage shops – with the largest concentration in North Palm Canyon Drive's Uptown Design District. Blending yesteryear's thrift and upscale offerings with today's sophisticated decor, these havens prove that kitsch and cool can coexist to satiate fashionista tastes. 
Street fairs also thrive, with Palm Canyon Drive going pedestrian-only each Thursday night (except Thanksgiving) as VillageFest arts, crafts, entertainment, vendor carts and a farmer's market take over the town. And on weekends, College of the Desert Street Alumni Fair in Palm Desert adds a touch of art, crafts, gifts and gourmet foods.