As business travelers trend toward extending meetings and conference stays with leisure-focused endeavors, Greater Palm Springs wows as a natural for this emerging "bleisure" mindset.
Planners can certainly create agendas that provide an inspiring taste of the oasis' vast diversions. Yet, when a closing session wraps, many crave cutting loose to further immerse into what truly makes a destination tick.
In an era where business or leisure has morphed into "bleisure", our nine cities present boundless opportunities to relax, recharge and return feeling more inspired than when arriving.
A cocktail reception at a celebrity home often sparks interest in tour revealing other former A-Lister residences. Hiking to the San Andreas finds avid trail trekkers determined to up the adrenaline by tackling more extreme routes. Or perhaps it's as simple as wanting to book an early tee time, and then unwinding poolside with a La Quinta Brewing Company Even Par IPA in the afternoon.
Greater Palm Springs Chill Deals offer exclusive savings on everything from spa treatments to sightseeing tours. When you toss in Greater Palm Springs' signature events unfolding year-round, downtime easily switches gear for upbeat activities. Year-round golf and tennis tournaments, food and wine affairs, and film, music and art festivals presents endless ways to balance chill with thrill.
The Ritz-Carlton, Rancho Mirage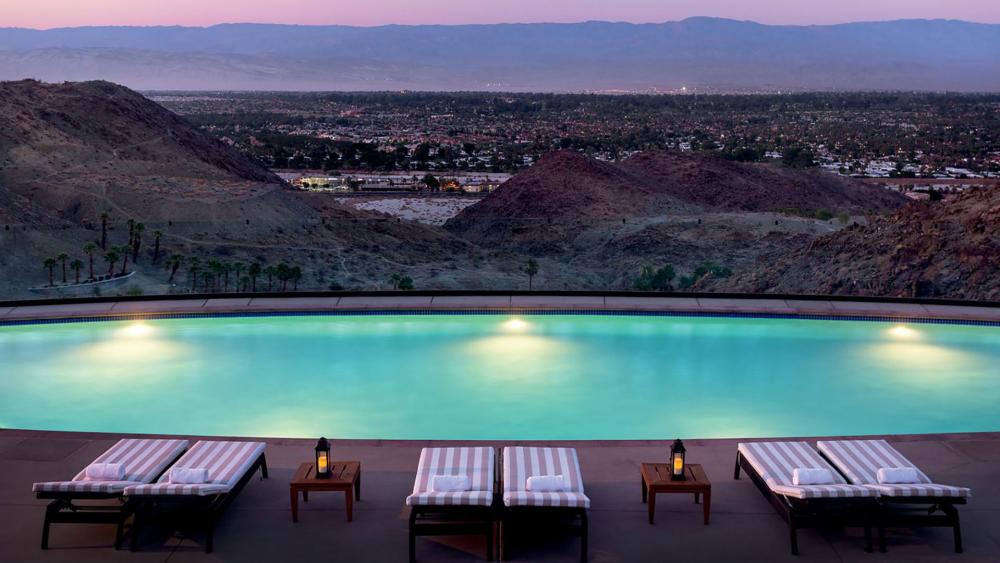 Paying homage to the Southern California desert region's open-air lifestyle, The Ritz-Carlton, Rancho Mirage literally demands relaxation with its 25,000 square-feet spa that beats as the heart of a freestanding, two-story lifestyle complex. No doubt bleisure travelers gravitate to this haven, where signature rituals borrow from Javanese, Egyptian and Thai traditions. 
"When we have the opportunity to have our meeting planners stay for a site experience at The Ritz-Carlton, Rancho Mirage, we acquaint them first hand to the beauty of our desert oasis," says Tiffany Gorman, director of sales and marketing. 
"Once group attendees are immersed in our intimate setting with surrounding mountain ranges and idyllic weather, they're enticed to extend their stay or return another time with their friends and family."
The resort nudges guests to personalize post-meeting stays. "We encourage them to create their own Ritz-Carlton moments beyond the meeting room, whether that be in our spa, by toasting with a glass of wine at the fire pit overlooking the San Gorgonio Mountain range or simply lounging by the pool."
The property's State Fare Bar + Kitchen appeals with a relaxed, multi-setting environment flaunting a chefs' display kitchen, interactive market table, outdoor terraces with striking views, walk-in red and white wine rooms, and artisanal California menus and ingredients.

"State Fare Kitchen pays tribute to California's prized harvest and ingredients, inspired by offerings from the finest purveyors in the Coachella Valley, inland Southern California and the Pacific Coast," says Gorman. Among these stars are Harry's Berries Farm, County Line Harvest, JJ's Lone Daughter Ranch, Shields Date Garden and Windrose Farms.
Depending on the season, attendees can linger longer with packages that include the Summer Chill, Spa Indulgence or Reconnect.
BMW Performance Center West
Rolling out in a trailblazing private club concept that showcases autos rather than golf, BMW Performance Driving School West revs up with high-octane thrills that fuel speed freaks into a skill-centric pedal to the metal mentality. Instructors challenge participants to propel from comfort zones in a process that's safe and measurable.
The private racetrack runs with a "no holes barred" attitude via skill challenges on a dedicated 1.4-mile road course. After finessing behind-the-wheel techniques during responsible driving classes, Jimmie Johnson wannabees downshift by riding shotgun as pro instructors blaze at 135mph along Hot Laps' hairpin turns and speed-inducing straightaways.
Those into two wheels can splash a little mud on the screen with the facility's Chief Riding Instructor during the BMW U.S. Rider Academy off-road course. If this taste ramps the heart rate, imagine what a two full-day course will do.
Hyatt Regency Indian Wells Resort & Spa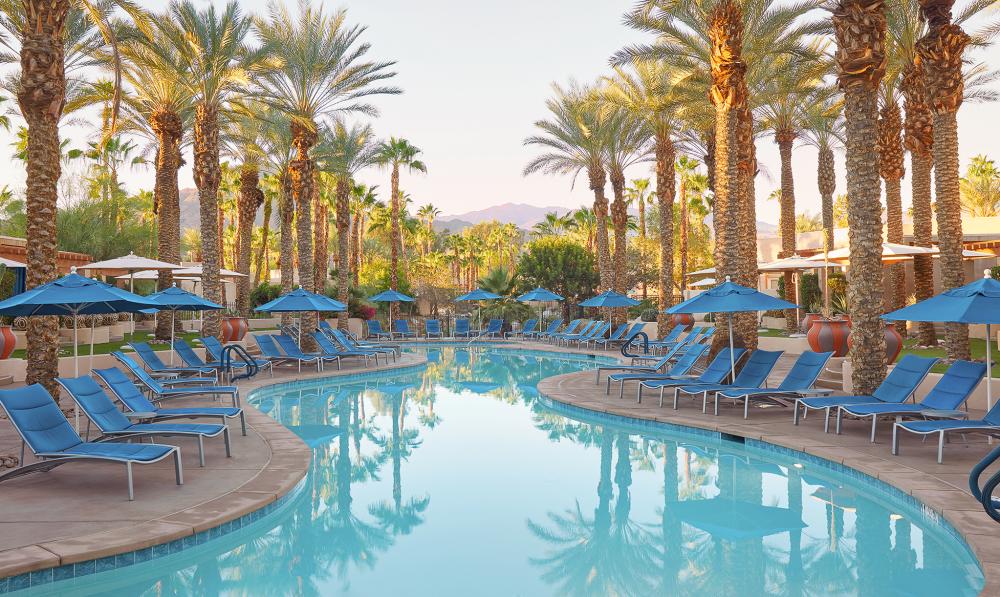 Rambling across 45 desert acres, Hyatt Regency Indian Wells Resort & Spa paints the landscape with a virtual wonderland of leisure pursuits via seven swimming pools (one with a 60-ft. spiral waterslide), private poolside cabanas and Agua Serena Spa.
For more power-generating encounters, plug into the fitness center's cardio and weight training equipment, and movement studio with Vino & Vinyasa or Scotch & Stretch yoga.
Season-dependent packages deliver discounts via the Bed & Breakfast, and Sunshine on Sale that skews toward freebie with a complimentary third night on minimum three-night stays.
Indian Wells also lauds those classic desert diversions of golf and tennis in grand style. Standing in the shadows of the Santa Rosa Mountains, Indian Wells Golf Resort's Celebrity and Players courses are dubbed as "Beauty and the Beast" for their respective scenery and difficulty. Ranked among the Golfweek Top 25 "Best Municipal Courses in the United States," the pair complements play with a 53,000sf club house, and state-of-the-art Teaching and Performance Center.
The Indian Wells Tennis Garden plays into a legacy of greatness, hosting tournaments featuring a stellar roster of the racket sport's greatest. Unless it's one of the four Grand Slam tennis events held annually in Melbourne, Paris, London and New York City, you'll find no grander stage than the venue's 16,100-capacity Stadium 1 that now eclipses all but the U.S. Open's Arthur Ashe among the largest tennis-dedicated stadiums in the world.
Hyatt guests enjoy access to the facility's courts, clinics and classes. They can also time a bleisure stay to catch the BNP Paribas Open that's frequented by the likes of 2019 U.S. Open Champions Rafael Nadal and Bianca Andreescu, plus Novak Djokovic, Roger Federer, Serena Williams and Naomi Osaka.
Agua Caliente Resort Casino Spa Rancho Mirage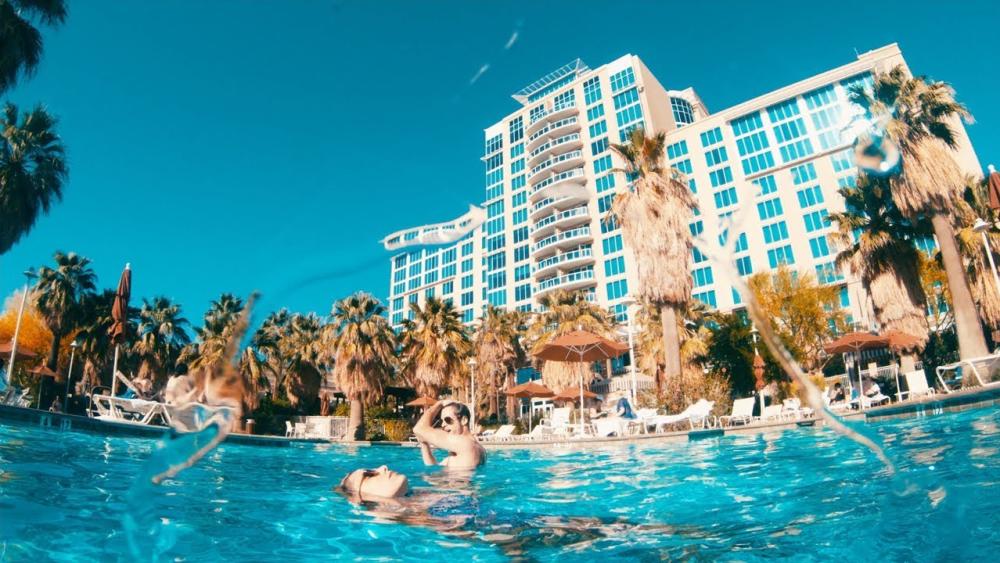 Come for the meeting. Stay for The Show. Coachella Valley's grand entertainment mecca of Agua Caliente Resort Casino Spa Rancho Mirage welcomes weary bleisure travels to unwind in a private cabana at the resort's 50,000 square-foot water playground, savor WetBar nosh poolside, and then hit Sunstone Spa for a Volcanic Earth Body Scrub.
Once sedate cravings are fulfilled, it's time for The Show–the resort's 2,208-capacity theater featuring 12 VIP boxes and an entertainment lineup running amok. Concert fans are well-advised to time an extension to catch such headliners as Steven Tyler, Duran Duran, Sting, Alan Jackson, Steely Dan, REO Speedwagon, Nelly and Smokey Robinson. 
The resort's casino is also mega-watt, with slots, table games, the area's only private live poker room and high-limit gaming in an exclusive, upscale atmosphere. For a breather from casino floor antics, hit the Pivat Cigar Lounge or 360 Sports that ups the ante with state-of-the-art wraparound digital displays for larger-than-life action.
The 2019 Forbes Travel Guide Recommended Hotel also grabbed the No. 9 spot in the category of "Best Casino Outside of Las Vegas" from USA TODAY readers for 10Best Readers' Choice travel awards.
Palm Springs Air Museum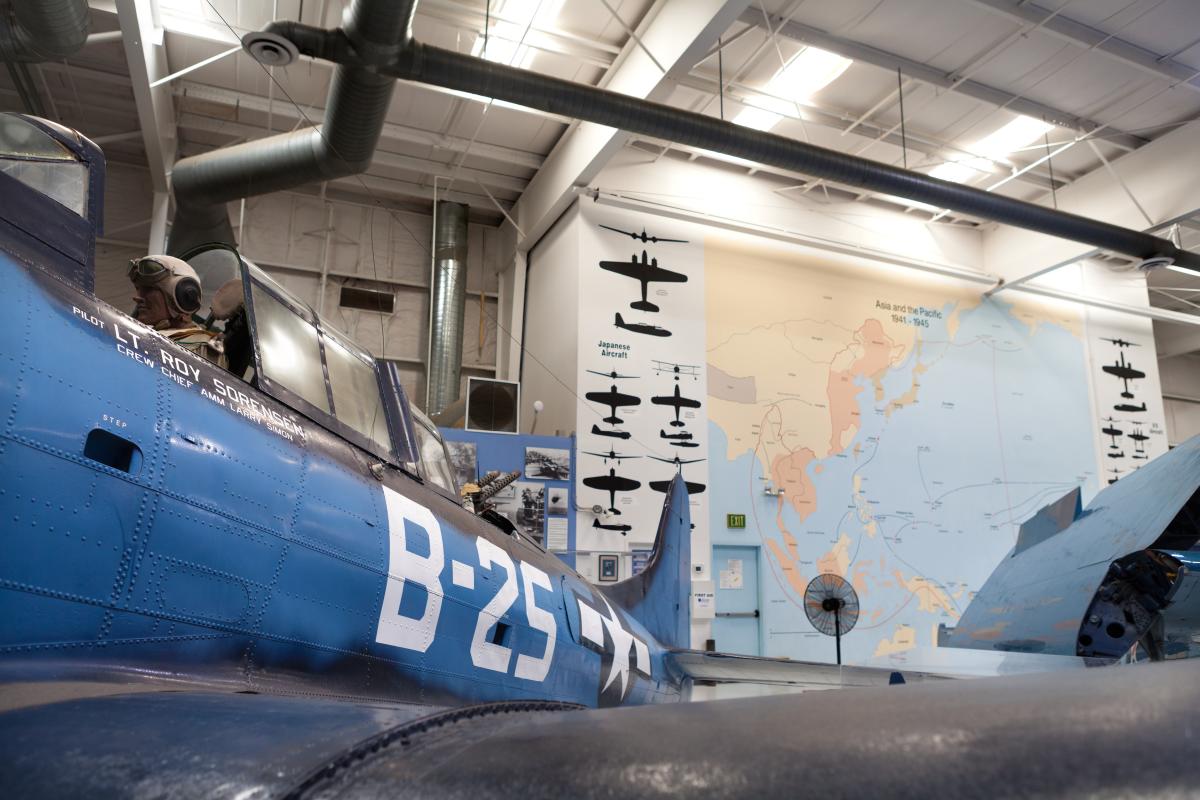 Touting one of the world's largest collections of flyable WWII aircraft, the three-hangar military shrine Palm Springs Air Museum adopts a "ropes free" interactive approach allowing visitors to go beyond hands-on with its vintage warbirds.
Touch and hop aboard such vintage craft as a Boeing B-17 Flying Fortress and Douglas C-47 Dakota. Others comprising the mighty fleet include a Douglas SBD Dive Bomber, Grumman F4F Wildcat, Curtiss P40 Hawk and North American P51 Mustang.
Upping the aviation appreciation are veteran docents who have actually piloted many of the aircraft on display. Quite simply, the insight is intense. History also plays out via artifacts, rare combat photography, murals and memorabilia grouped by the theater of conflict.                                      
Relics aside, this aerial depository hosts a beefy schedule of special public events like the Halloween Themed Car Show & Chili Tasting in October, and the Props & Hops Crafts Beer Festival in November.
Bring health to the forefront at your next meeting with delicious and health conscious dining options in the oasis. Enjoy!