Add Safer Meetings to The Agenda
Our team is ready to assist you in creating inspirational, unforgettable – and safe – meetings. With year-round sunshine and unlimited outdoor space, the options for your next Southern California meeting or event are endless. Book with confidence knowing the safety of your attendees is a top priority for our destination.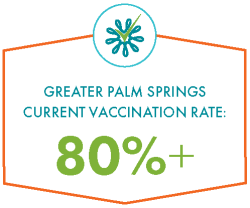 Current rates for the Coachella Valley are over 80% of the population either partially or fully vaccinated. 
Arrive Inspired
Flying into Greater Palm Springs is anything but average. Join Alle Pierce as she steps off the plane, wanders through PSP's open-air breezeway, and strolls to her ride. Then, it's off to her nearby destination hotel, where she'll arrive stress-free...