New Nonstop Flights and Increased Service to PSP
With air service to Palm Springs International Airport (PSP) , it's easier than ever for your attendees to meet in Greater Palm Springs!  PSP will welcome new non-stop flights this year from Sacramento, CA; Portland, OR; Chicago, IL; Dallas, TX; Austin, TX; Oakland, CA; Eugene, OR; Boise, ID; Philadelphia, PA; Fort Lauderdale, FL; San Jose, CA; and Reno, NV.  All making travel to our Southern California oasis easier than ever! Start planning your meeting with our meeting oasis incentive today.
More Flights, More Often at PSP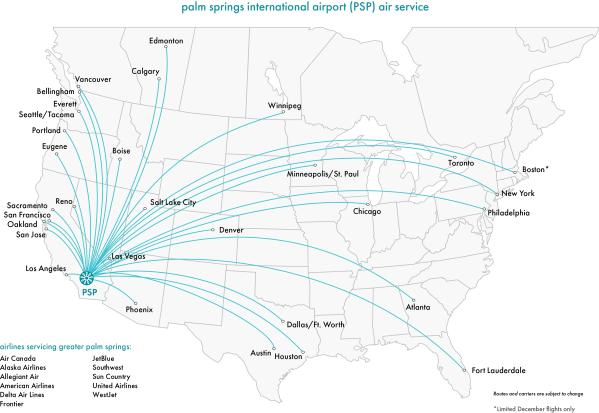 Thanks to air flight options with exciting new nonstop destinations to Palm Springs International Airport (PSP), your meeting attendees have so many options. To meet the ever-increasing demands of the business traveler to Greater Palm Springs, PSP now offers 12 airlines flying nonstop from PSP to 31 destinations, and connecting to more than 500 destinations worldwide.
No Stress, No Lines Equals Productivity
Traveling through Palm Springs International Airport sets the tone for your productive meeting in Greater Palm Springs.  Passengers exchange the long lines and wait times at most airports for a relaxing open-air stroll along outdoor walkways and lushly landscaped courtyards with gardens, water features, and original artwork, arriving at their meeting destination fresh and relaxed.
In fact, PSP's tranquil environment is just one of the reasons why Palm Springs International Airport was named one of the "Top 10 Most Stress-Free Airports in America" by Smartertravel.com.
Year-Round Service to PSP:
City

Frequency

Airline

Bellingham
2-6x Weekly Year-Round
Allegiant
Dallas
2-3 x daily 
American
Denver
3 - 4 x daily
United
Denver - NEW
1 x daily 
Southwest
Las Vegas - NEW
1x daily
Southwest
Los Angeles - NEW
1 x daily
Delta
Los Angeles - NEW
1 x daily
United
Oakland - NEW
2 x daily
Southwest
Phoenix
2 - 5 x daily
American
Phoenix
2 - 3 x daily 
Southwest
Portland

2 x daily
1 x daily starting in April 2021 
2 x daily starting in May 2021 
End of Service: May 20, 2021

Alaska
Sacramento - NEW
2x daily starting October 7, 2021
Southwest
Salt Lake City
3x daily
Delta
San Francisco
2 - 5 x daily
Alaska
San Francisco
1 - 5 x daily
United
San Jose
1x daily starting November 19, 2021
Alaska
Seattle
7 x daily
6 x daily in April 2021
3 x daily in May 2021
Alaska
Seasonal Service to PSP:
City

Frequency

Airline

Launch Date

Atlanta
-
Delta
Seasonal Return: TBD
Austin​ - NEW
5 x weekly 
Alaska
November 2021
Boise
2 x weekly through April 18, 2021 
Allegiant
Restart scheduled in October 2021
Boise
-
Alaska
Restart scheduled in December 2021
Boston
1 x weekly (Saturday)
JetBlue
Seasonal Return: Dec. 18, 2021 
Calgary
1 x weekly (Friday)
WestJet
-
Chicago - ORD

1-2x daily

American
Planned resumption on October 7, 2021
Chicago - ORD
1 x daily
United
Suspending service for May,
Return: TBD
Chicago - MDW - ​NEW
12 Flights Total
Southwest
November 20, 2021
Dallas​ - NEW
22 Flights Total
Southwest
November 7, 2021
Denver
3x weekly
Frontier
Planned resumption on December 18, 2021
Eugene
2 x weekly 
Allegiant
Planned resumption on November 19, 2021
Everett
1 x daily through May 19, 2021
Alaska
Restart scheduled Oct. 7, 2021
Fort Lauderdale 
2 x weekly (Thu, Sun)
JetBlue
Planned resumption on October 21, 2021
Houston
 
 
Not yet in fall schedule
Los Angeles
1 x daily
United
Oct. 1, 2020
Minneapolis
1x daily
Delta
Planned resumption on December 18, 2021
Minneapolis
4 - 7x weekly
Sun Country
Planned resumption on September 23, 2021
New York
4 - 7x weekly
JetBlue
Planned resumption on October 14, 2021
Philadelphia
 
American Airlines
TBD
Portland - NEW
4 flights total
Southwest
Nov. 20, 27, Dec 18, Jan 1
Reno
5x weekly
Alaska
Planned resumption on December 16, 2021
Seattle
1-2x  daily
Delta
Extending their service into the summer. Exact dates: TBA 
Toronto
2x weekly
Air Canada
Planned resumption on October 31, 2021
Vancouver
9 - 15x weekly
WestJet
Planned resumption on October 5, 2021
Winnipeg
2x weekly
WestJet
Planned resumption on November 11, 2021

More Airport Options Close By
If it is more convenient to connect with another Southern California destination, meetings travelers have four major airport choices, all within an approximate two-hour drive or less from Greater Palm Springs. Ontario International Airport is a favorite choice, just over a one-hour drive away. The full-service airport offers nonstop commercial jet service to 18 major airports in the U.S., Mexico, and Taiwan, and connecting service to many domestic and international destinations, averaging 64 daily departures offered by 8 air carriers.
Nearby Airports
ONT: Ontario International Airport (1 hour 15-minute drive)
SNA: John Wayne Airport – Orange County (1 hour 30-minute drive)
LAX: Los Angeles International Airport (2-hour drive)
SAN: San Diego International Airport [2-hour 15-minute drive]
Other regional airports include:
LAS: Las Vegas McCarran International Airport (4-hour drive)
PHX: Phoenix Sky Harbor International Airport (4-hour drive)
 
SUPPORTING PSP AIRLINES