HIKING IN GREATER PALM SPRINGS
The 10 Most Beautiful Hikes in Greater Palm Springs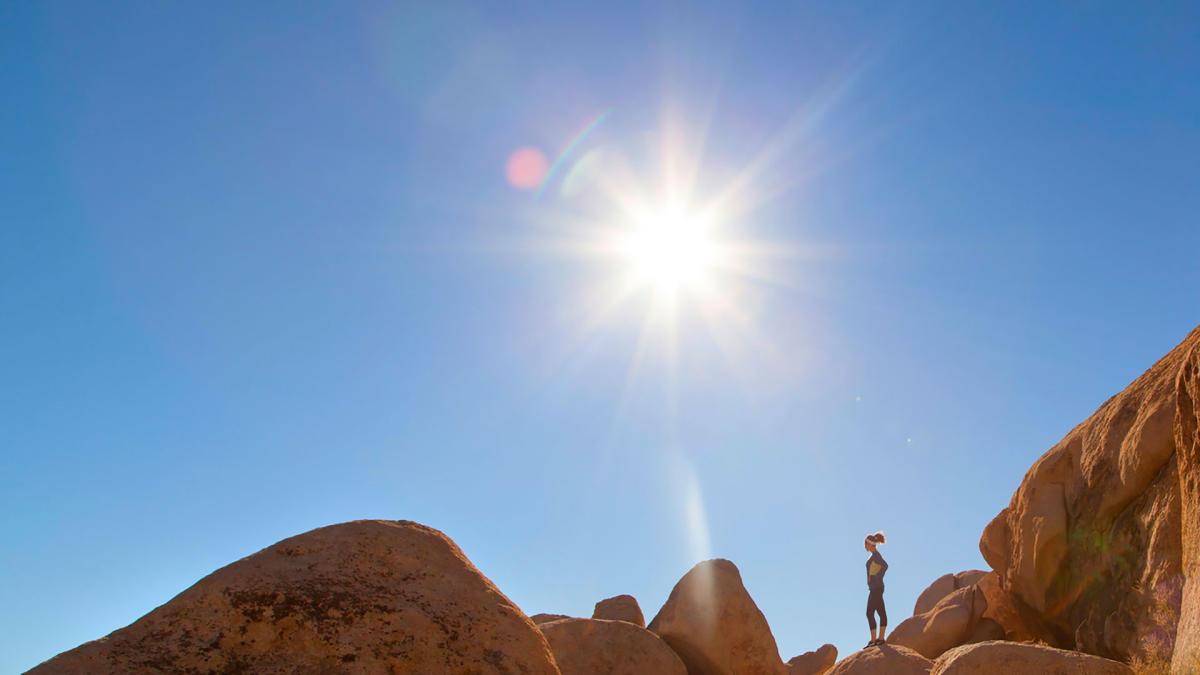 There is no shortage of ways to explore the diverse natural beauty that is Greater Palm Springs.  Some adventure by jeep, others by hot air balloon, and there are those who prefer horseback or bicycle. Some prefer hiking. Greater Palm Springs offers more than 100 trails to choose from. Step-by-step using your own two feet, hiking allows you to mix fitness with up-close discoveries of the most beautiful areas of the oasis. Find 10 scenic hikes to experience below.
To stay up-to-date on outdoor activities, hiking adventures, and more in Greater Palm Springs, take a moment and sign-up for our e-newsletter.
1. Andreas Canyon Trail at Indian Canyons
The casual, two-mile hike amid Palm Springs' historic Agua Caliente Band of Cahuilla Indians tribal grounds counts among the most unique in the region. Part of the Indian Canyons' 60 miles of hiking trails, Andreas Canyon Trail's adjoining stream gives rise to bountiful vegetation which starkly contrasts the texture of the canyon's rocky routing.  
Experience more of Indian Canyons
2. Araby Trail
This six-mile (up and back) hike in Palm Springs may be accessed via the Rimcrest/Southridge development. For lovers of both iconic architecture and celebrities, the greatest beauty may well prove the trail's proximity to the legendary, John Lautner-designed Bob and Delores Hope estate.
3. Big Morongo Canyon Preserve
Located off Highway 62 in Morongo Valley, these 31,000 preserved acres are accessed with free admittance and present a host of beatific hiking opportunities ranging from three-tenths of a mile to an 11-mile round-tripper through Big Morongo Canyon.  Diverse plant life is abundant, as are more than 240 species of birds.
Explore more of the Big Morongo Canyon Preserve
4. Joshua Tree National Park
A sweeping array of nature and fitness treks greets guests across the 1,250-square-mile breadth of space, which makes Joshua Tree among the most popular hiking, camping and rock climbing attractions both nationally and internationally. For leisurely hikes, check out the three-mile 49 Palms Oasis hike or the four-mile Lost Horse Mine & Mountain hike, both of which are filed under Moderately Strenuous by the National Park Service. 
Plan your adventure to Joshua Tree National Park
5. Lake Cahuilla Recreational Area
Just six miles from Old Town La Quinta, the 710-acre park at the foothills of the Santa Rosa Mountains offers a great outdoors family day with its easily-accessible hikes, coupled with a host of recreational selections ranging from shore fishing to horseback riding.
6. Murray Canyon Trail at Indian Canyons
This hike through Indian Canyons offers a slightly more enhanced challenge than Andreas Canyon.  Ranging from two to six miles, the hike ascends higher into the wildlife surrounds of the San Jacintos and reaches the splendor of the Seven Sisters Waterfall.
7. Palm Springs Aerial Tramway Hiking
Ascend the 10-minute ride from the Tram's Valley Station (at 2,600-feet elevation) to the bounty of the Mountain Station (at better than 8,500-feet).  Awaiting hikers at Mount San Jacinto State Park are 54 miles of trails, ranging from scenic walks to extreme tests.  For a happy balance, explore the 2.5-mile hike to comely Round Valley.
View Long Valley Discovery Loop
Take a ride on the Palm Springs Aerial Tramway
8. Palm Springs Museum Trail
Located behind the Palm Springs Art Museum's north parking lot, this free, two-mile hike presents a 900-foot elevation gain which culminates in an exceptional, picnic tabled-view of the city and valley below.
9. Thousand Palms Oasis Preserve
More than 25 miles of hiking opportunities define the Coachella Valley Preserve that contains the lush Thousand Palms Oasis. Nestled into the north end of Indio Hills, the true and unique palm grove is nourished by the waters seeping from the San Andreas Fault. For a secluded hike of measured demand, try the 4.5-mile loop of the Willis Palms Trail.
Plan Your Hike in the Thousand Palms Oasis Preserve
10. The Cross Trail
This 2.6-mile loop hike offers visitors a perfect viewpoint of Greater Palm Springs. Many hikers with headlamps also enjoy this trail in the evening just when the sun is setting behind the oasis mountains and the cross lights up the night sky. 
Hiking in Greater Palm Springs hits all the high notes — serenity, scenery, and fitness — and there's no better way to explore the natural beauty and wonder of the oasis than on foot. Outdoor enthusiasts can choose from dozens of hiking trails that crisscross all types of terrain, from wide-open sandy spaces spotted with cacti and succulents to twisted canyons encircled by fantastic rock formations to lush palm tree oases sheltering trickling streams. You can even venture to the upper elevations of the Santa Rosa and San Jacinto mountains, where walks through woodlands and wildflower-filled meadows await.
With such a diverse landscape, there's truly an expedition for everyone. Families can enjoy the fresh air and spy cottontail rabbits, bobcats, and more than 200 species of bird in their natural wetland habitat at Big Morongo Canyon Preserve, while more experienced explorers can journey all the way to the summit of Mount San Jacinto on the San Jacinto Peak Trail. And if you're looking for the perfect Instagram-worthy trek, we have plenty, whether it's from the top of Murray Hill looking out across Greater Palm Springs or while skirting the mountainside in the middle of a super-bloom. Regardless of which journey you take, you'll find it's easy to embrace the outdoors in Greater Palm Springs – where wildlife, wellness, and wonder collide.
---
Greater Palm Springs Hiking Safety Tips
With more than 300 days of sunshine each year, many hikers (understandably) can't wait to soak up some rays on their outdoor adventures, but be sure to pack plenty of sunscreen and water — 2 liters minimum. Once half your water is gone, it's time to turn back. If you spy a majestic bighorn sheep or other wildlife, observe from a safe distance, and do not leave valuables in your vehicle. Read here for more hiking safety tips. 
---
Greater Palm Springs Hiking Maps
Not sure where to begin your adventure or need a little guidance on getting around? Click below to view maps of local hiking trails.
Wind in your hair, blue sky above, dust at your feet. Finding the way on unpaved earth is a pastime proven to pacify the mind, body, and soul. And in Greater Palm Springs and surrounding areas, the hiking is as gloriously diverse as night and day. From the otherworldly...
Welcome to Greater Palm Springs – where endless sunshine meets boundless holiday experiences.
Read More
Highlights. Greater Palm Springs