"We take photos as a return ticket to a moment otherwise gone." - Katie Thurmes
January 4, 2022: A hidden gem and one of my favorite tours is located at the base of Indio Hills. Metate Ranch sits on over 800 acres of private property. Weddings, corporate events and family celebrations make for a unique event space like no other. When I am there, I am always amazed realizing I am in the middle of the desert sitting on the San Andreas fault line. Desert Adventures Red Jeep Tours offers day jeep tours through the hills to capture the natural mountain views. After a trip on the jeep, I was able to learn about the San Andreas Fault line by the experienced and entertaining jeep guides including a little piece of history on our Agua Caliente Band of Cahuilla Indians. Being a lifelong resident of Greater Palm Springs, I learn something new every time I go on a tour. Fun fact: The fault line runs 800 miles long and 10 miles deep. If you want to experience outdoor adventure this is a must do.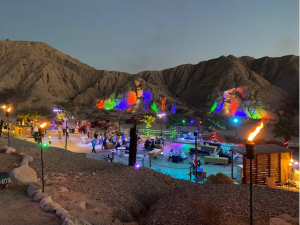 December 10, 2021: I always arrive with an appetite when having a meal at Sherman's Deli Palm Springs. Since opening in 1963, Sherman's Deli a family owned business, has brought in many visitors from all over the world including some Hollywood celebrities. It's also a local favorite and on my top 10 list. Besides the large portions to enjoy, I can't leave without getting dessert. Doesn't matter what day of the week, every time I arrive there is a crowd ready to dive into a mouthful of hot pastrami sandwiches. More health conscious? Enjoy one of my personal favorites, a cobb salad.  If that wasn't enough, indulge in a mouthwatering sweet dessert. When I visit I take in the fresh air by sitting on their patio enjoying the mountain views and nine out of ten times meet someone new.