Tennis paradise returns to Greater Palm Springs with the annual arrival of the BNP Paribas Open. Held at the Indian Wells Tennis Garden this March 6-19, 2023, the ever-ascending event is regarded as the game's unofficial fifth Grand Slam and continues to prove one of the globe's most well-attended and amply-honored tournaments.
In December of 2022, the BNP Paribas Open named both the ATP Tour Masters 1000 and the WTA 1000 "Tournament of the Year," as voted upon by the players. Said accolades have now been bestowed upon the event for a record-setting eighth consecutive season.
Never resting on its honors, this season's BNP Paribas Open aims to improve upon its growing mantle of laurels, with a host of new offerings and fan experiences which are certain to compliment the Garden's celebrated splash of manicured landscape and flora.
For information on the "New Era" of tennis fandom, along with details on tickets, dining, and player prep, here's some further "love" previewing the 2023 BNP Paribas Open.
 
FRESH SET

In what the tournament has dubbed a "New Era" of the BNP Paribas Open, guests new and returning can anticipate a fresh forehand of attendee experiences this March.  From enhanced retail to debut brand partners to new drink and dining opportunities, the '23 event will unveil a host of fan activations.
Now working with the globally-recognized experiences firm, Legends, the event's on-site retail options will present all attendees with a vast expansion of merchandise opportunities.
In turn, the tournament has also welcomed BMW as a new brand sponsor. Along with serving as the Official Car of the event, the partnership will steer fans toward a display outside of the grounds' Stadium 2, featuring two new all-electric rides, the i4 sedan, and the BMW Ix Sports Utility Vehicle.
This year's BNP Paribas Open also sets sail with a new Official Cruise Line partner, Seabourn, which is certain to create a wave with its debut, on-site hospitality lounge.
To toast the new developments, Maestro Dobel becomes the event's Official Tequila brand, and is certain to sate the tennis thirst with its signature Ace Paloma, now the "Official Cocktail of the BNP Paribas Open." Imbibers should seek out the flavors at the grounds' centrally-located (and shaded) bar.
 
VENUES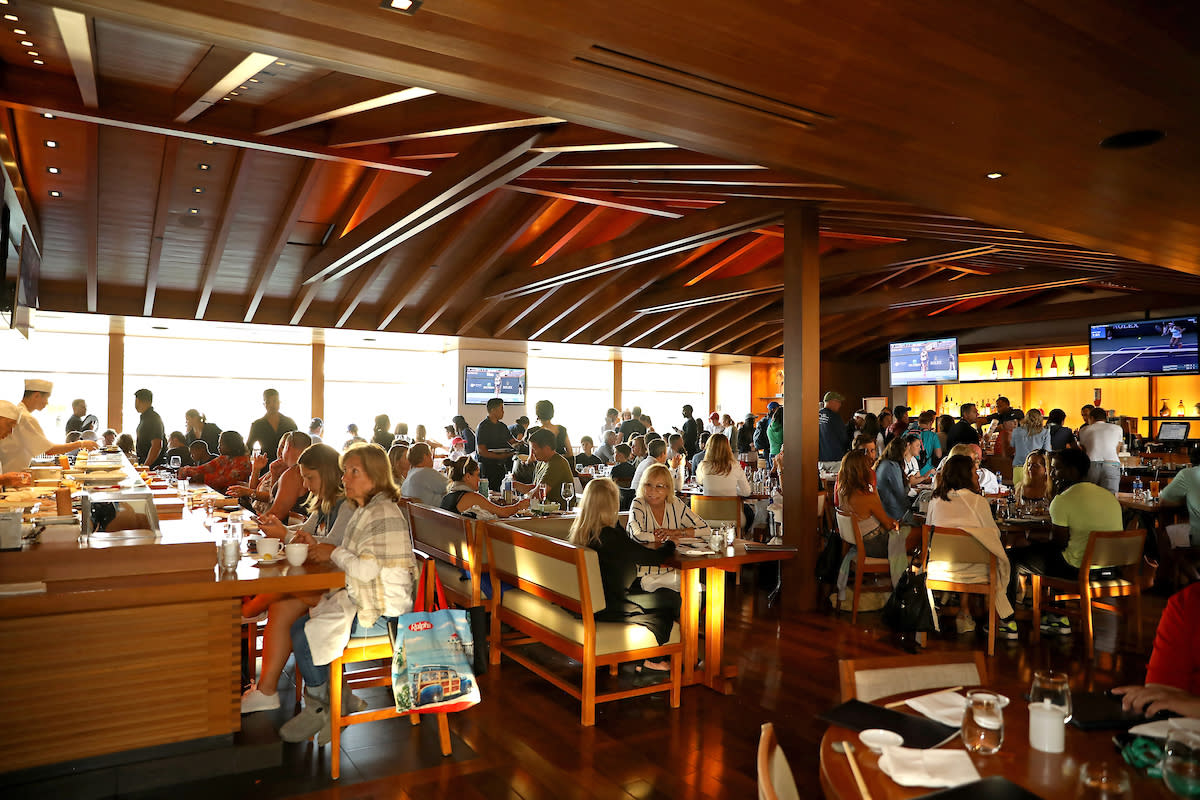 In concert with its popular lineup of annual concession and restaurant options, the 2023 BNP Paribas Open is unveiling a diverse menu of new dining opportunities.
Hollywood icon Pink's Hot Dogs joins the marquee as a concessionaire debutante at Stadium 2, while noted chef and restaurateur Christian Page is set to unveil his Lionel's Fountain concession concept as a permanent dining fixture at Stadium 1.
Also debuting at Stadium 1 this year is Handel's Homemade Ice Cream and Dragon Lili Boba Bar. This is the first time boba teas will be available during the iconic tennis tournament, which includes three fruit teas inspired by the tournament itself- Mango Doubles (mango green tea with mango jelly), Courtside Quencher (strawberry lemon green tea with lemon popping boba), and Tennis Paradise Tea (pomegranate lychee black tea with lychee jelly)- in addition offering traditional boba milk tea and Thai tea. While the Garden's active Food Village scene will welcome local vegan specialist, Chef Tanya's Kitchen.
The fresh arrivals will couple with longtime BNP Paribas Open restaurant favorites, Ristorante Mamma Gina (now moving to Stadium 2), Fresh Agave Mexican Bar and Grill, and the world-renowned flavors of Nobu Indian Wells; for devotees of Chef Nobu Matsuhisa, the Garden announced in early February that, for the first time ever, Nobu Indian Wells will be open on a year-round basis, opening its doors outside of the tournament's two-week window.  
FAN EXPERIENCE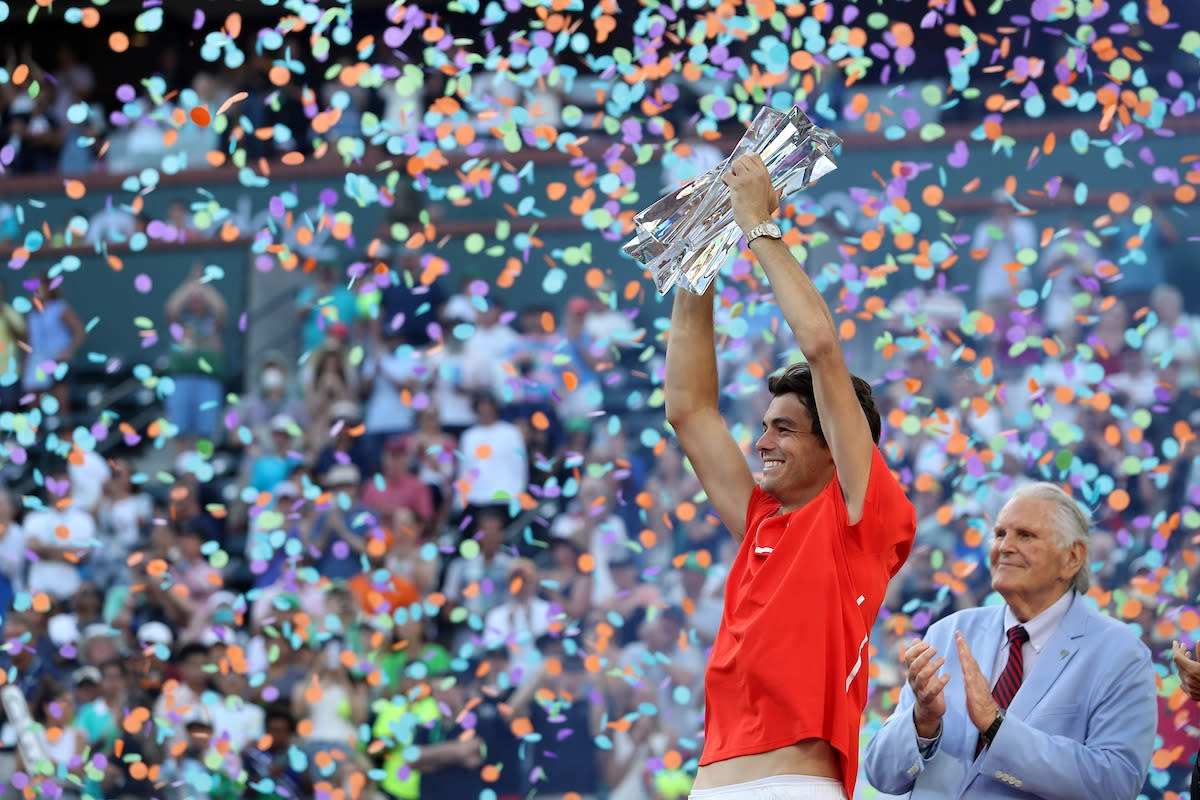 From daily passes to a two-week experience, guests and fans can choose from an array of ticketing options.
For attendees aiming to serve up serious Aces, the Premium Club Suite Package presents a full-on Stadium 1 immersion, included suite space, an open bar, and an all-inclusive, freshly-prepared menu. No descent in engagement is experienced in a variety of other high-end options, ranging from the Club Suite package to the courtside (cushy seats) of the Front Box.
Guests seeking to curate a more specified calendar experience of Tennis Paradise can select from a menu of choice Mini Package options, including Kickoff Weekend, Electric Evenings, and Championship Weekend.
Visitors looking to pair serve and stay in Greater Palm Springs should check out a lineup of BNP Paribas Open Travel Packages with nearby hotel partners, which range from two-night stays to weeklong desert adventures. Among the cache of partner accommodations for the tennis set are La Quinta Resort & Club, the Renaissance Esmeralda Resort & Spa, and the Hyatt Regency Indian Wells Resort & Spa.
And for fans wanting to soak in but a taste of the action, single session tickets, and group packages are also readily available; guests wanting a specified all-day/all-night experience will be well-sated with the popular Daily Double, which provides the same Stadium 1 seat for the same-day session, sunrise to sundown.
Level up your experience further as you step closer to the action via the 20 easily accessible practice courts. Here you will see some of the sport's biggest icons and hottest prospects as they prepare for their campaign in tennis paradise.
THE PLAYERS
New Eras in tennis aren't limited to the fan experience beyond the lines. On the court, the game is seeing an influx of new names and faces.
Of those cemented to appear, SoCal-native and 2022 BNP Paribas Open champion Taylor Fritz returns to Indian Wells in defense of his title, the first for an American at Indian Wells in 21 years; Fritz, with deep desert roots, arrives as the game's top-ranked American (currently No. 8 in the world).
Aiming to unseat Fritz will no doubt be the globe's second-ranked player, 19-year-old Carlos Alcaraz of Spain, and 3rd-ranked Stefanos Tsitsipas of Greece, who is coming off a loss to Djokovic in the Australian Open finals.
For the women, defending BNP Paribas Open champion Iga Swiatek of Poland, the No. 1 player in the world, showed no letdown after claiming her Indian Wells crown, as she's go on to win a pair of Grand Slams in '22 (the French and U.S. Opens, respectively). Hot on her sneaks is the 2nd-ranked player, Arnya Sabalenka, fresh off her maiden major win in this year's Australian Open.   
The top-ranked Americans competing include fourth-ranked Jessica Pegula and sixth-ranked Coco Gauff.   
Looking for more? Take a look at the signature events happening in Greater Palm Springs this upcoming spring.