MEETINGS AND EVENTS IN INDIAN WELLS
In the City of Indian Wells, business is anything but usual. An exceptional meeting experience begins the moment attendees arrive at the Palm Springs International Airport, known for its ease of travel, relaxing ambiance and open-air breezeways. From there, it's a 20-minute drive to the city's four world-class resorts. With over 250,000 square feet of unique and flexible indoor and outdoor meeting space, these resorts both large and mid-sized groups a luxurious alternative to traditional convention centers. Plus, there are countless ways to balance work and play, form a full-service conference center and fabulous spa & fitness activities at the Hyatt Regency Indian Wells to a beautiful olive grove and lushly landscaped event lawns at Renaissance Esmeralda Resort & Spa.
When it's time to take a meeting time out, citrus groves and rose gardens at Tommy Bahama Miramonte Resort & Spa await, while easy elegance and Hollywood history abound at the Indian Wells Resort Hotel, founded in 1957 by Lucille Ball and Desi Arnaz. Hosting a private event at the renowned Indian Wells Tennis Garden or at the Indian Wells Golf Resort, both mere steps away, takes attendee experiences to the next level. The Collection at Indian Wells offers a truly unique combination of top-notch facilities, amenities, and ambiance. And thanks to the city's central location, popular Great Palm Springs attractions, restaurants and activities are just a short drive away. 
Indian Wells is also the perfect place to host special events such as weddings, birthdays and reunions. Each of the city's four resort properties offers inspiring venues for any occasion, whether it's a private garden ceremony next to a lagoon or an extravagant ballroom receptions with a three-course meal. At the nearby Indian Wells Golf Resort, visitors will find event lawns for special alfresco soirees as well as the beautiful glass-walled Pavilion, surrounded by verdant grounds and breathtaking mountain views. And smaller groups can even buy out the midcentury-meets-Moroccan Sands Hotel & Spa for private wedding weekends and other social affairs. 
Learn more about hosting your next meeting or event in Indian Wells below, or by contacting Don Prince at (760) 969-1356. 
Click the image to access the digital Collection brochure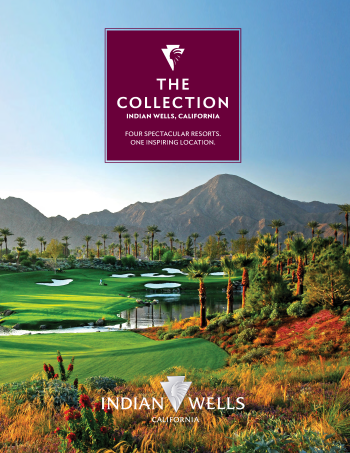 Take a video tour of The Collection: