Greater Palm Springs is an ideal destination for a date—both the romantic kind and the creamy, caramel kind that often ends up in a shake or a memorable salad. Most folks associate palm trees and dates with the Greater Palm Springs area, but the reality is that date palms are not from our area at all.
In fact, the crops were imported from the Middle East and North Africa in the late 1800s as a USDA experiment. Agriculturists realized that the climate here is similar to those desert countries where date trees flourish. Date trees can only produce fruit in dry, arid conditions and need plenty of water at their roots to withstand the intense heat.
At the turn of the 20th century, the Greater Palm Springs was a Garden of Eden as many different experimental crops were introduced here and farming became an important industry long before Hollywood discovered this exotic, beautiful oasis.
Over the ensuing decades,  date gardens were planted throughout the valley, the allure of these stately trees with their finger-like pinnae or crowns along the dusty roads gave our desert a distinctly Arabian look. Hence, the Arabian Nights theme of the National Date Festival that began in 1947.
As road travel in the 1920s began to increase, the Greater Palm Springs area became a destination for road trip adventure seekers. Along the single-lane highway that traversed the desert many an entrepreneurial date farmer opened up date shops, enticing visitors to stop for a date shake and to sample their delicious, unusual products.
With some date shops still in business up through the 1980s and 90s, many folks still recall as children the sweet sticky scent of dates piled up on baskets or in bins and the taste of their creamy, caramel flavor, like eating candy from a tree.  The cool, thick sweetness of a date shake on a hot afternoon, memories of shady palm trees and grassy knolls, sear unforgettable images of a desert oasis into the soul.
We recently visited Shields Date Gardens at the corner of Highway 111 and Jefferson in Indio to get a refresher course on dates. John Ortiz, wholesale and operations manager, gave us the low down.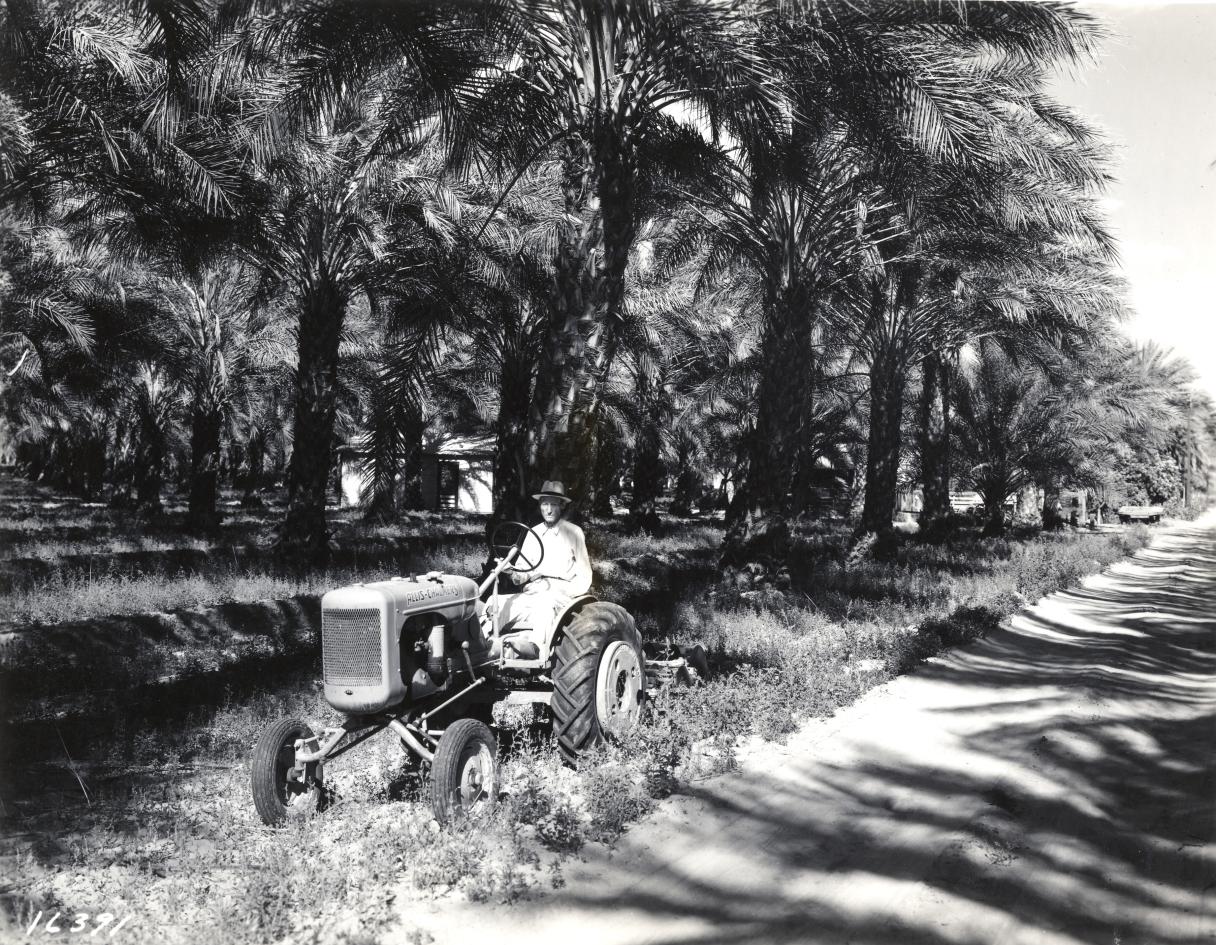 Dates 101
Dates have been a staple food in the Middle East for thousands of years, cultivated in Mesopotamia and Egypt as early at 4000 BCE.  While there are some 600 varieties of dates throughout the world, only a few are grown in the Greater Palm Springs area. 
The largest crop is the Deglet Noor, which means "date of light," in Arabic.  This amber-colored date is elongated, has a thin skin and light caramel flavor. Most of those you buy for out-of-hand eating have been hydrated and machine pitted.
The most popular date is the Medjool, a large, soft, creamy date that is truly like eating a piece of caramel candy. But there are variations even within the Medjools: 
Sugar Medjools are a little further along in the rutab stage (last ripening stage) where the sugar starts to come to the surface.  These are particularly sweet and soft.  The Royal Medjools are the largest of the variety, and soft Medjools are a little smaller, mellow in flavor.
Shields also carries the Barhi date which is a great delicacy when harvested in the khalal or pre-ripe stage.  A bright yellow color, they have an apple crisp texture and are only available during a couple of weeks in August.  Sometimes, you can even buy them on the branch. As the round-shaped Barhi ripen, they grow dark brown and soften into a delicate sweetness.
Shields also grows proprietary varieties which they call the blonde and the brunette date.  One has a blonde honey color and light caramel flavor; the other is dark brown and more densely flavored.
While both are good out-of-hand eating dates, blondes and brunettes are also used for date crystals or sugar from which Shields make their date shakes. One and a half to five-pound packages and tubs of date sugar are available to buy; often that "secret" ingredient to otherwise ordinary recipes.
Other date varieties grown at Shields are the Khadrawi and Halawi, both smooth textured dates; the Abbata, a black date rich in flavor; the honey date, round with a light color, texture and honey flavor; and the Thoory or bread date, which is very dry and used primarily in baking. 
The savvy palm tree observer can distinguish the desert's native Washingtonian palms with their fan-shaped fronds from the date palm's elongated "finger-like" fronds.  Its scientific name is Phoenix dactylifera; dactyl means "finger."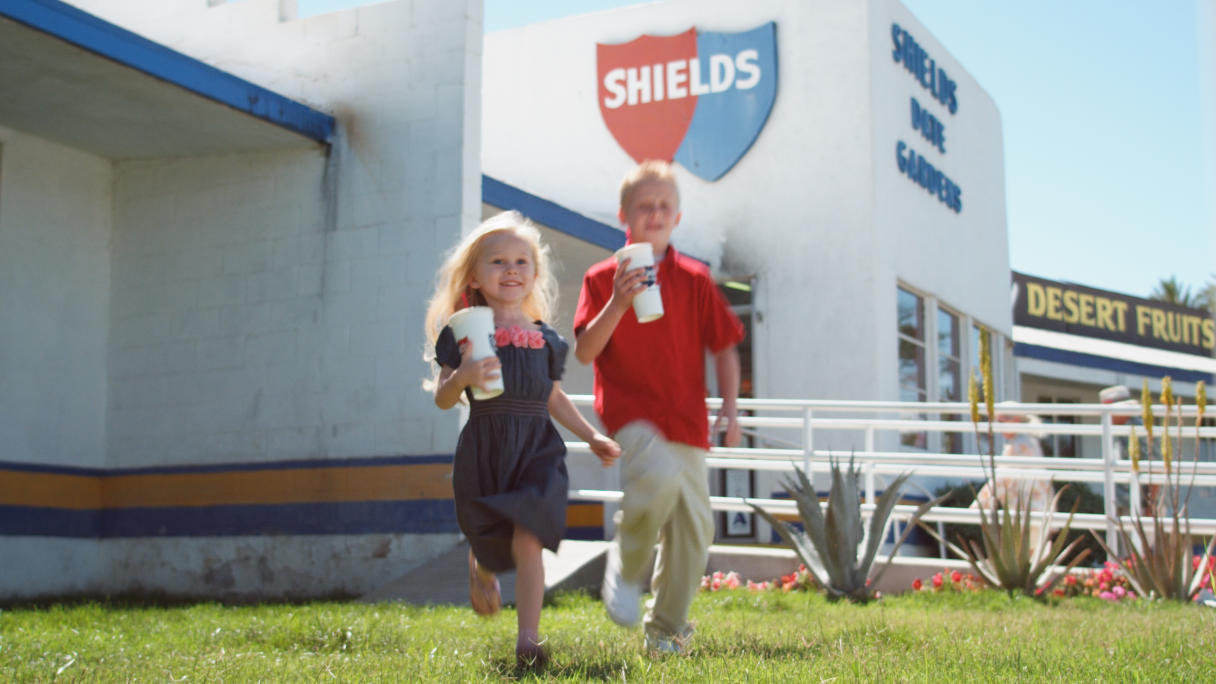 Nostalgia saved Shields Date Garden from being another casualty of urban sprawl.
About eight years ago, the retail store, packing house, acres of still-producing date trees and Mrs. Shields' rose garden were languishing in shabby shape when then-owners decided to put the place up for sale. 
Plans were to raze the 80-plus- year- old building – the former 1930's era General Patton hospital that was moved here from Los Angeles – to chop down the date trees, and sell off the prime location property to developers for more high-density housing or another strip mall. 
Longtime residents and visitors made a public outcry in the media.
Shields was the last of the original date shops and working gardens along this stretch of Highway 111. The giant Shield's knight was an east valley landmark. Lots of folks remember their first titillating introduction to the Romance and Sex Life of the Date screened in the date shop's quirky little theater; and, of course, memories of their first date shake.
To the rescue came Jewel Dates, owned by the Young's, a longtime date farming family, who not only sought to save but to rebuild the site. Recognizing Shields Date Garden's potential as a nostalgic destination, they brought up to code and restored the retail shop, remodeled part of the packing house as a café, and where Mrs. Shields rose garden had been, created a large dining patio and retail garden shop with new rose bushes all around.  The restoration continued later with walking paths among the date trees and sculptures depicting the life of Jesus along the way. 
Yes, the little movie with the sexy name still plays, updated, digitalized and with current information about the Greater Palm Springs' date industry.
Greater Palm Springs is Southern California's premier resort and golf destination. Find Your Oasis in a place of many experiences and surprises in nine distinctive cities: Palm Springs, Desert Hot Springs, Cathedral City, Rancho Mirage, Palm Desert, Indian Wells, La...
Highlights. Greater Palm Springs