Where better to chill than in California's Spa City? With its natural healing waters, Desert Hot Springs is a must during any Greater Palm Springs getaway.
Your fast pass to relaxation can be found at the many independent inns and resorts around the city, thanks to a wide array of pools, jacuzzis and spas filled with mineral water from the warm- and cold-water aquifers beneath Desert Hot Springs. Just east of the San Andreas Fault, super-heated, sulfur-free water emerges from an underground aquifer at temps of up to 200 degrees Fahrenheit. Nearby, to the west of the fault, a cold water aquifer produces water so tasty that it has medaled numerous times at the annual international water tasting competition in Berkeley Springs, West Virginia.
Desert Hot Springs is home to about 20 hot springs resorts, an eclectic assortment of independently-owned boutique hotels. The pools at these properties are filled with the curative spring waters, which are said to improve health, reduce pain and increase metabolism. Moreover, with its concentrated focus on wellness, Desert Hot Springs is also home to some of the top spa therapists in the world.
Ready to chill? Here are a few resort and spa options in Desert Hot Springs:
Hacienda Hot Springs Inn
For a totally laid-back experience, the six-room Hacienda Hot Springs Inn is about as intimate as they come. At this size, staying here feels more like visiting a family friend than it does booking a hotel. You can even book the entire resort for a small group outing or a girlfriend getaway. With gorgeous views of the San Gorgonio and San Jacinto Mountains, this tranquil retreat encourages lounging. Each room is decorated with desert memorabilia as well as an in-room library that is stocked with an eclectic selection of books and historic magazines. Chill with a massage or soak in the pool with day spa access.
Two Bunch Palms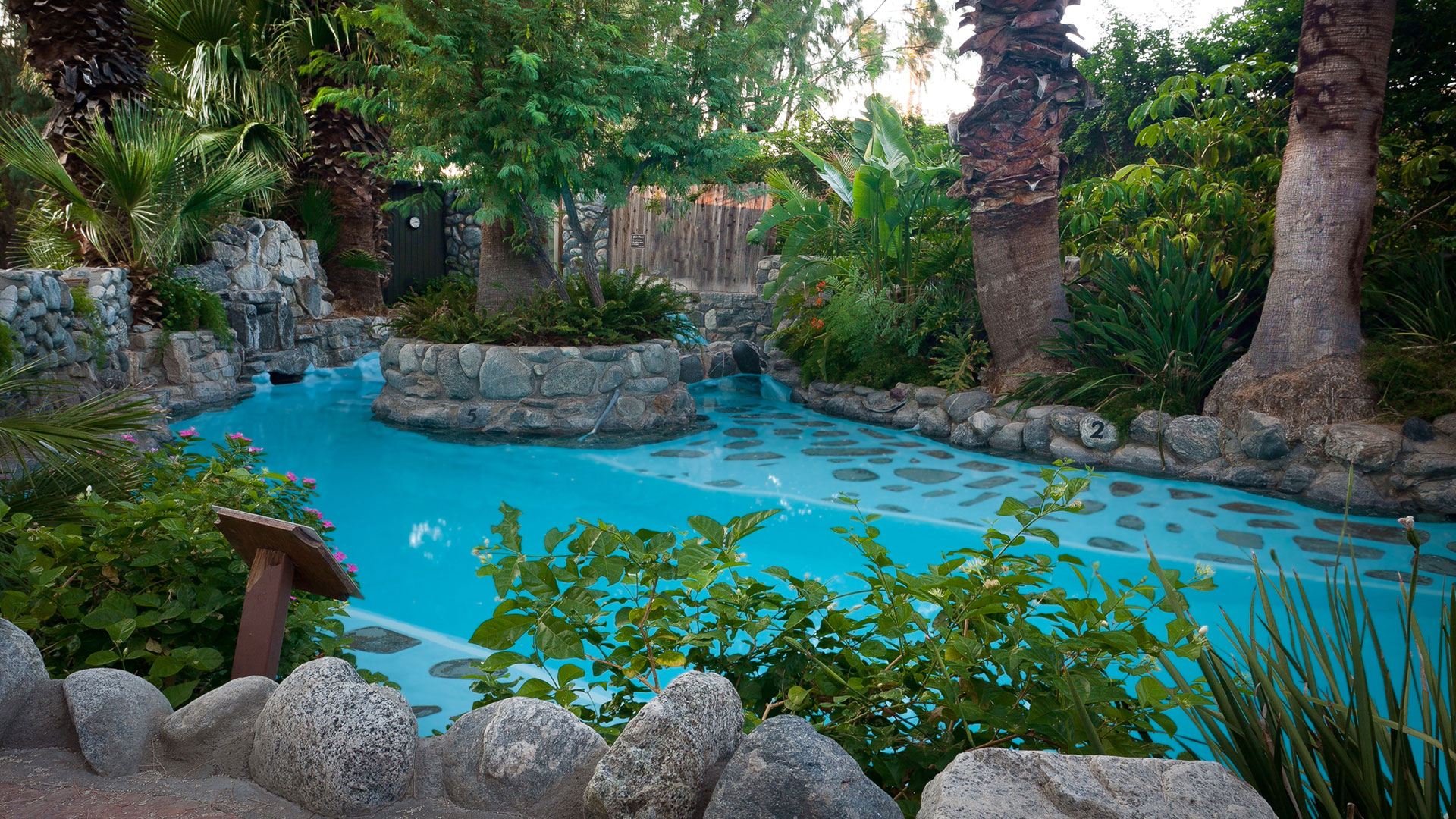 Perhaps the most famed property in the area is the luxurious Two Bunch Palms, which has been listed as one of the "Top Spas in America" by Travel and Leisure. The adults-only Desert Hot Springs resort is set on 77 lushly landscaped acres and is home 70 newly renovated guest rooms and suites. The main draw is the Grotto, with its two naturally heated pools. With the adjacent landscaping, the Grotto replicates the sensation of soaking in a secluded forest. A renovated restaurant, Essence, offers tempting meals featuring fresh flavors and healthy cuisine.
The Spring Resort & Day Spa
For a more intimate experience, the 12-room The Spring Resort & Day Spa, has also earned a number of awards, including Spa Finder's Reader's Choice Award for "Top 10 Worldwide Best for Mineral Springs." Splurge a little and stay in the 1,100-square-foot Desert View Villa. Set slightly apart from the rest of the resort for maximum privacy, the villa features unparalleled views of Mt. San Gorgonio.
El Morocco Inn & Spa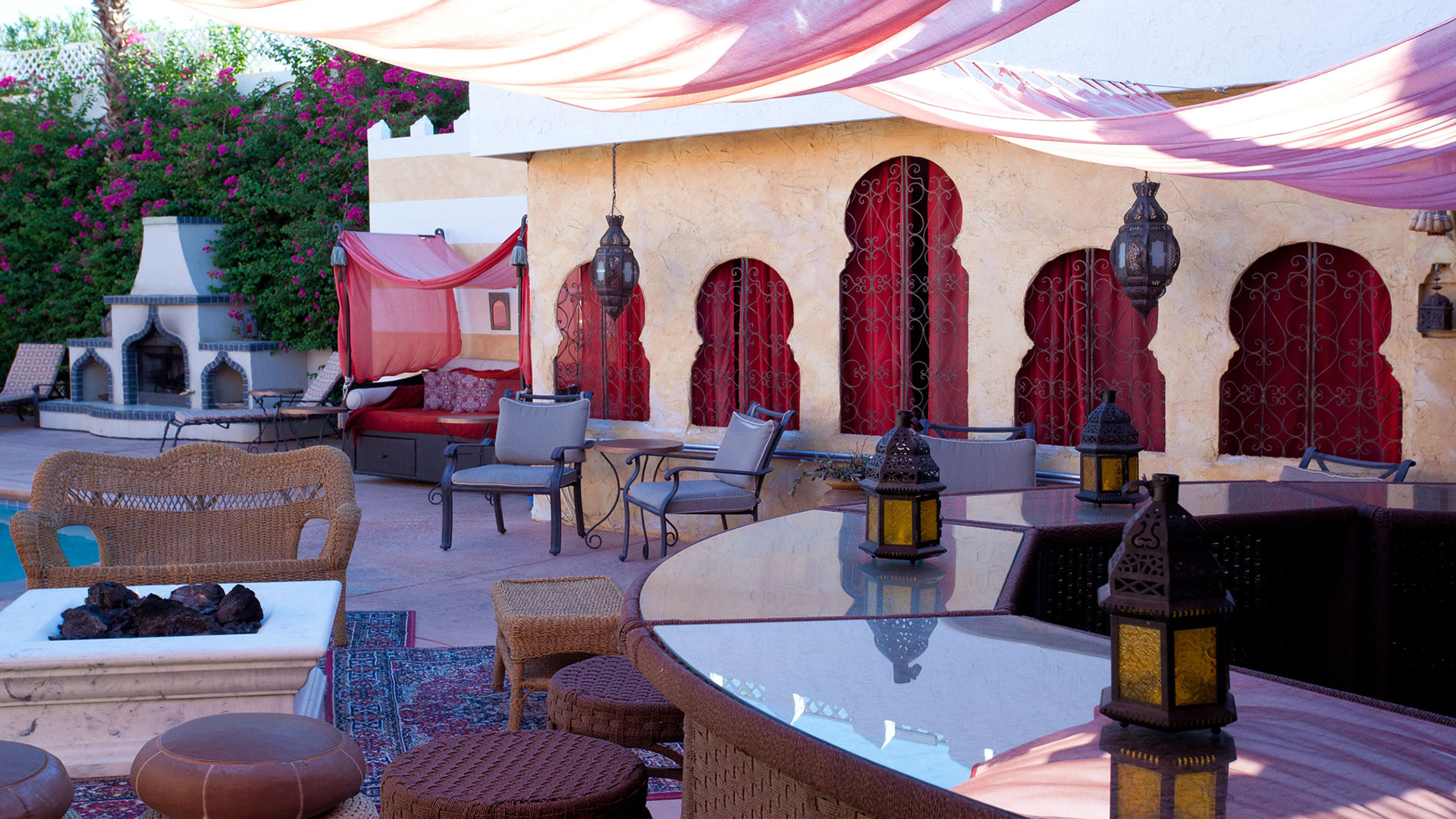 A TripAdvisor Travelers Choice Award winner, and for good reason, the El Morocco Inn & Spa offers an exotic getaway in the heart of the California desert. Lavishly decorated with lush colors and exotic furnishings, many of which were sourced in Morocco, the resort is home to 12 individually designed guest rooms, each with a canopied bed. Be sure to request the Sultan's Playpen, featuring a round 7-foot bed ensconced in its own nook.
A nightly happy hour ritual begins with a Moroccan hand-washing ceremony followed by signature Morocco-tinis, while around-the-clock screenings of Casablanca are aired in the library.
Aqua Soleil Hotel and Mineral Water Spa
Among the larger of the area's properties, Aqua Soleil is home to more than 100 guest rooms. There's even a restaurant and bar on site, distinguishing this from many of the other Desert Hot Springs properties. The resort is undergoing a redo and many of the rooms now feature an updated look with vibrant colors and contemporary appointments.
The well-appointed Mountain View Suite has a private balcony for maximum views, but the customer favorite is the Soleil Suite, which includes an in-room jetted mineral spring. Also look for the Premium Soleil Suites, which include king beds and headboards backlit with LED lighting.
History of Desert Hot Springs
Not surprisingly, much of Desert Hot Springs' history is water-related. Although the aquifers have provided life-sustaining water to Native American people for hundreds of years, the city's earliest non-native resident arrived in 1909, when Hilda Gray, a legal secretary from Los Angeles, established the area's first homestead. In those days there were no wells, no roads and precious little water, making for difficult living conditions.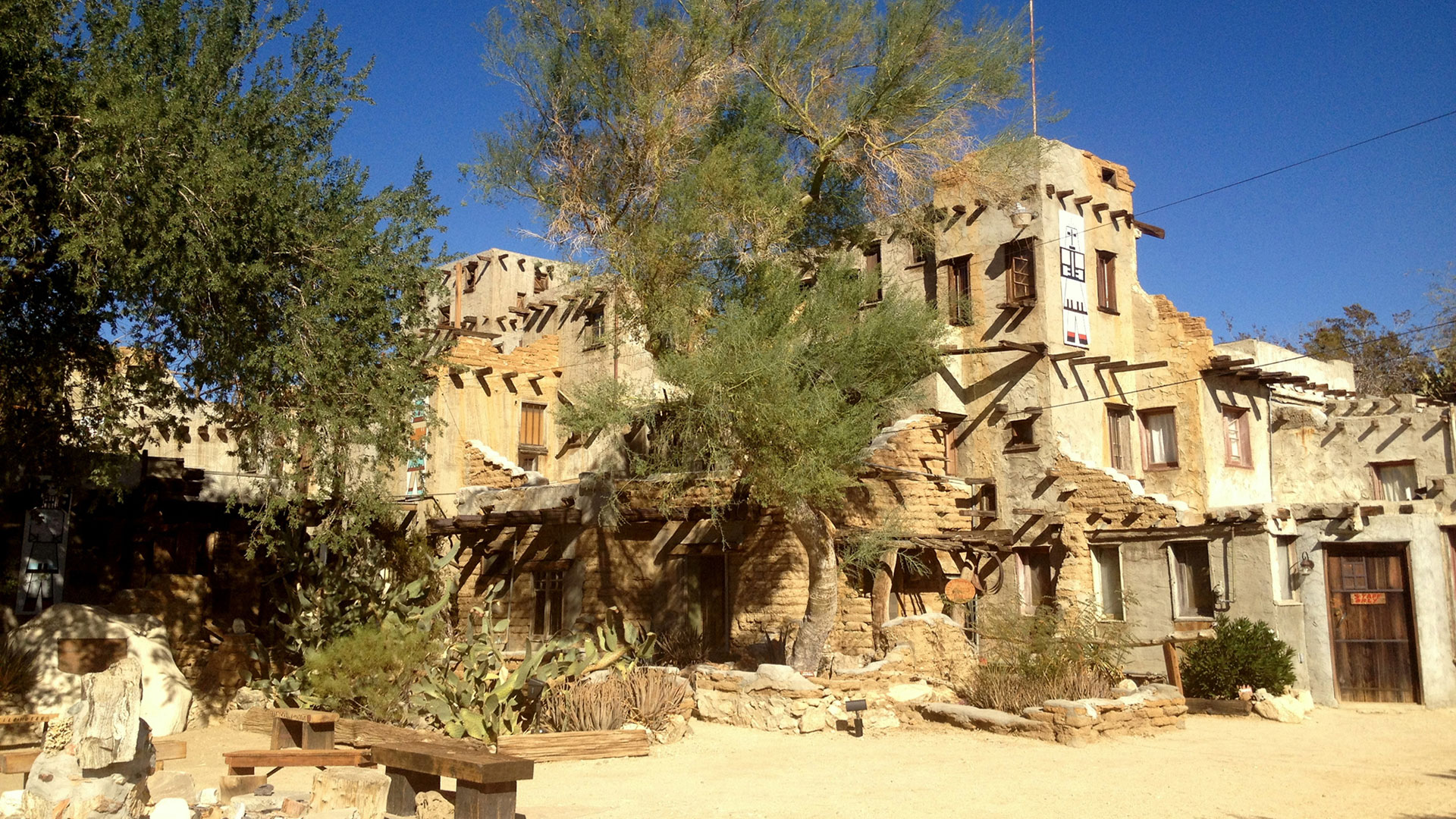 It is Cabot Yerxa, an explorer, artist and writer, who is the city's founding father. Yerxa, who staked his claim in 1913, needed to walk 14 miles, roundtrip, to collect water for his homestead. Much of his free time was spent exploring the area for water sources, until he eventually discovered both the hot water aquifer and the nearby cold water spring. Today, his whimsical homestead (Cabot's Pueblo Museum) remains a nostalgic, one-of-a-kind stop in Desert Hot Springs.

In the early 1930s, Yerxa met L.W. Coffee, who envisioned tapping into the warm spring waters to build a spa capital like the ones in Europe. Coffee opened the area's first spa. The city was incorporated in 1963 and by end of the decade, some 80 "spa-tels" were located throughout the area attracting thousands of visitors every week.

Before your next visit, learn more about the spa city of Desert Hot Springs.
Photos courtesy of Chris Miller (Two Bunch Palms and El Morocco Inn & Spa)