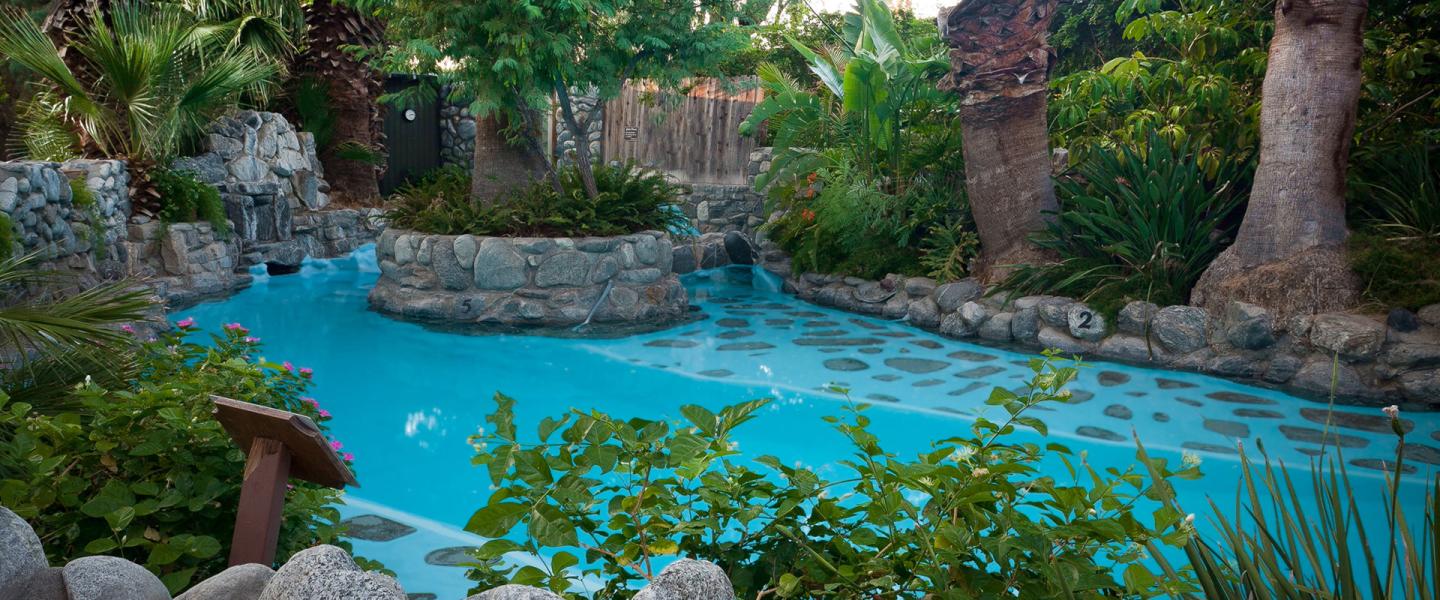 Where better to chill than in California's Spa City? With its natural healing waters, Desert Hot Springs is a must during any Greater Palm Springs getaway.
Your fast pass to relaxation can be found at the many independent inns and resorts around the city, thanks to a wide array of pools, jacuzzis and spas filled with mineral water from the warm- and cold-water aquifers beneath Desert Hot Springs. Just east of the San Andreas Fault, super-heated, sulfur-free water emerges from an underground aquifer at temps of up to 180 degrees Fahrenheit. Nearby, to the west of the fault, a cold water aquifer produces water so tasty that it has medaled numerous times at the annual international water tasting competition in Berkeley Springs, West Virginia.
Desert Hot Springs is home to an eclectic assortment of independently-owned boutique hotels. The pools at these properties are filled with the curative spring waters, which are said to improve health, reduce pain and increase metabolism. Moreover, with its concentrated focus on wellness, Desert Hot Springs is also home to some of the top spa therapists in the world.
Ready to chill? Here are a few resort and spa options in Desert Hot Springs:
Hacienda Hot Springs Inn
For a totally laid-back experience, the six-room Hacienda Hot Springs Inn is about as intimate as they come. At this size, staying here feels more like visiting a family friend than it does booking a hotel. You can even book the entire resort for a small group outing or a girlfriend getaway. With gorgeous views of the San Gorgonio and San Jacinto Mountains, this tranquil retreat encourages lounging. Each room is decorated with desert memorabilia as well as an in-room library that is stocked with an eclectic selection of books and novels. Chill with a massage or soak in the pool with day spa access.
Sagewater Spa
For a simple and sophisticated stay, venture over to Sagewater Spa. The hotel received Trip Advisor's "Certificate of Excellence" award and after spending time here, you'll see why. Built back in 1954, Sagewater Spa is one of the older hotels in Desert Hot Springs. It's been updated since then, yet still keeps its original mid-century architecture. With seven private rooms, a 360-degree view of the mountains, 104-degree spa and 90-dree swimming pool, it's the ultimate place to relax and chill.
The Spring Resort & Day Spa
For a more intimate experience, the 12-room The Spring Resort & Day Spa, has also earned a number of awards, including Spa Magazine's Readers' Choice Awards for "Favorite Mineral Springs Spa." Splurge a little and stay in the 1,100-square-foot Desert View Villa. Set slightly apart from the rest of the resort for maximum privacy, the villa features unparalleled views of Mt. San Gorgonio.
Tuscan Springs Hotel & Spa
If you're looking for a quiet, relaxing accommodation try Tuscan Springs Hotel & Spa. This 21+ boutique hotel offers natural jacuzzis and a generously sized hot mineral water pool. The water is pumped from a 350 ft aqua well naturally volcanically heated to 117 degrees. They provide a continental breakfast, plush robes, and spa services at La Bella Spa.
Lido Palms Resort and Spa
Located 10 minutes from Palm Springs and 25 minutes from Joshua Tree is where you will find Lido Palms. The resort offers private rooms surrounded by palm trees putting you at peace during your stay. Featuring both indoor and outdoor jetted hot mineral pools, the waters will have you feeling ultra-relaxed. Try one of their water therapy treatments exclusively provided by a licensed Physical Therapist to release your stress and tensions.
Living Waters Spa
Awarded one of the "Top 10 Clothing Optional Resorts in the World" and one of the "Top 25 Small Hotels in the USA," Living Waters Spa will provide you with a unique getaway you'll never forget. They encourage guests to soak in the healing mineral waters "au naturale" to totally immerse in nature (and avoid the tan lines). The resort boasts of having one of the highest repeat guest rates of all the hotels in the area.
In the early 1930s, Yerxa met L.W. Coffee, who envisioned tapping into the warm spring waters to build a spa capital like the ones in Europe. Coffee opened the area's first spa. The city was incorporated in 1963 and experienced the majority of its growth in the 1980s and 1990s. Desert Hot Springs High School was opened in 1999.

Before your next visit, learn more about the spa city of Desert Hot Springs.
Two Bunch Palms photos courtesy of Chris Miller