WEATHER
Wondering what to expect from Greater Palm Springs' weather? The answer is that it all depends on when you are visiting. While the oasis is famous for its temperate winters and 300-plus days of sunshine, here are a few good things to know when planning what to pack for an Oasis getaway.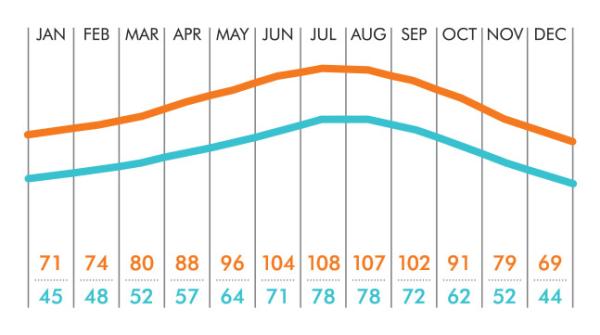 Winter: December - February

Average temperatures: 40-75*F / 4.5-24*C

In the coolest of the winter months, Greater Palm Springs is warm and mild during the day with pleasingly cool evenings. What you can count on is plenty of sun and blue skies, giving the oasis one of the most beautiful winter climates you will find anywhere, but be prepared to pack layers in case of an evening chill.

Spring: March - May

Average temperatures: 51-94*F / 10.5-34.5*C

Springtime brings slightly warmer temperatures with daytime temperatures that provide the perfect reason to take a dip in the pool. Temperatures generally range from the high 70s (24-26C) to mid-80s (29-30C), perfect for getting outdoors. Spring is also a time when wildflowers burst on to the scene with lilies, dandelions and the famed California poppy all making a colorful appearance.

Summer: June - September

Average temperatures: 70-101*F / 21-38*C

July, August, and September are usually the warmest months in Greater Palm Springs with daily temperatures that can hit the low triple digits. Early morning and evening temperatures might dip to the 70-degree range, making for great morning hiking and biking and idyllic patio dinners under a mister. It is the perfect time to take advantage of luxury savings on everything, from resorts to golf.

Fall: October - November

Average temperatures: 48-91*F / 9-33*C

Some might say that our Fall resembles other destinations' summers. Bright blue skies with temperatures that range from the 70s to around 90 degrees are common, although nights in later fall can require a sweater! It is our "secret" season to visit, but we're sharing it with you.