CALIFORNIA DESERTS
Coronavirus is a rapidly evolving situation; the best resources for up-to date information can be found on the following resource sites:
CDC: www.cdc.gov
California Dept. of Public Health: www.cdph.ca.gov
For restaurants, art galleries and stores, we recommend that you check with each establishment for hours of operation and or potential closures when making plans.
Welcome to the California Deserts! Get ready to explore a land of hidden oases and canyons, towering snow-capped mountains, and sweeping panoramas that conjure tales of early California and the Old West while giving way to modern escapes and amenities.
California is actually home to three main deserts. The Mojave Desert, bounded by the Tehachapi Mountains to the northwest, the San Gabriel and San Bernardino Mountains on the south, and eastward to California's borders with Arizona and Nevada. The Colorado Desert lies in the southeast corner of the state, between the Colorado River and the coastal ranges, and continues into Mexico and Arizona to the southeast. The Great Basin Desert lies immediately to the east of the Sierra Nevada range and extends east to Nevada.
Unlike anywhere else in the state, or for that matter the world, the California Deserts are a theme park unto its own. The region lures visitors to elevations of thousands of feet above to more than 280 feet/85 m below sea level, offers health and wellness in the natural hot mineral waters that bubble to its surface, and lays claim to hundreds of old mines and ghost towns hidden in its mysterious hills and valleys. To download your official desert region map, click here or the image below.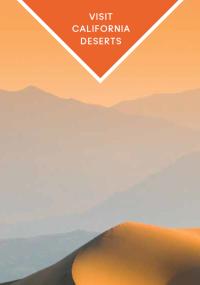 In partnership with Visit California and Visit Greater Palm Springs, we invite you to explore the individual regions of the California Deserts and discover a world you possibly never knew existed — one that is vibrant yet remote, colorful and camouflaged, rustic but luxurious — providing a magnificence found only in The Golden State. For more highlights on California Deserts, see our downloadable flyer here or the image below.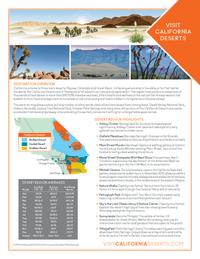 EXPLORE THE DESERT REGIONS
 OTHER CALIFORNIA DESERT RESOURCES
 
NORTHERN
CENTRAL
SOUTHERN

Greater Palm Springs
Morongo Valley