Communications
The Greater Palm Springs Communications team kicked off 2019 by assisting with a total of 139 journalists both in and out of market during the months of January and February.
The beginning of the year brought the team to International Media Marketplace (IMM), Visit California Media Luncheon at New York Times Travel Show, Meredith Publications Editors Panel, SATW Editors' Council Reception and additional media appointments, including the Today Show and CNN Travel in New York City.
Renowned as the industry's leading event for media to connect with travel and tourism boards, the annual IMM event brought over 50 national media face-to-face with representatives from Greater Palm Springs.
In February the team attended Visit California Outlook Forum, which brought together attendees from across the state for updates on California's primary and secondary markets.
The CVB also hosted a group FAM to promote the new direct JetBlue flight from Boston to PSP, providing influencers and journalists an opportunity to escape the cold and find their oasis in Greater Palm Springs.
2019 Media Value: YTD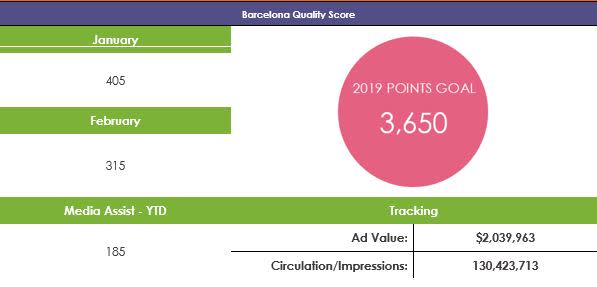 Greater Palm Springs hosted Alex Temblador as part of our Fall Arts + Culture FAM. In the feature "Experience Palm Springs Through Art and Architecture Beyond Modernism Week," Temblador explores our destination's nine cities, taking a deep dive into why it's a haven for art festivals and beyond. Partners mentioned in this coverage include Desert X, Modernism Week, La Quinta Arts Festival, City of Palm Desert, Agua Caliente Cultural Museum, Cabot's Pueblo Museum, City of Coachella and more.

Date: January, 2019
Circulation: 3,000,000
Ad Value: $81,000

Mary Holland explores the design elements permeating Greater Palm Springs, making it the capital of all thing's arts and culture. The coverage features numerous Partners, including La Serena Villas, Sands Hotel & Spa, Andaz Palm Springs, Wexler's Deli, Modernism Week, ARRIVE Palm Springs and more.

Date: February, 2019
Circulation: 286,362
Ad Value: $42,012

Communications – Social Media

The Communications team stays on top of the latest social media and digital developments. We research, share ideas and interact daily on the CVB's social channels to inspire visiting print and online media, digital influencers and FAM groups to post social media content. In addition to the CVB's social media tags, we ask that CVB Partner social media handles and hashtags be utilized during the destination visit.

 

 

Visit California's Mexico Media Days
The Communications team will participate in Visit California's Mexico Media Days. Mexico remains California's No. 1 international market, and this event includes educational opportunities, interactive experiences and one-on-one sessions with national and regional top-tier media and influencers from Guadalajara and Monterrey. This will target the luxury market.

Seoul & Tokyo Media Mission
South Korea is the second-largest outbound market in Asia, supported by 56 nonstop flights from three airlines into two California gateways weekly, while Japan is one of California's most mature markets. Led by active baby boomers and enthusiastic young women, Japanese are traveling overseas in record numbers and showing a resurgence in interest in California culture. The Communications team will travel to Seoul and Tokyo for one-on-one media appointments and to meet with key media and digital influencers.

Goldenvoice Partnership
For the second time, the CVB is teaming up with Goldenvoice to bring top-tier media to Greater Palm Springs during the Coachella Valley Music & Arts Festival. This press trip will showcase what is beyond the music, including arts, culture and culinary offerings.

Food Writers & Influencers FAMs
With a focus on the upcoming Restaurant Week and culinary offerings in Greater Palm Springs, the CVB will host a Los Angeles Media event in May for food writers. In addition, the CVB will be hosting media and influencers through April and May to provide firsthand experience of the dining options available.

Tourism Week & Global Wellness Day
The team is also gearing up for National Travel and Tourism Week May 5-11, and Global Wellness Day June 8.
If you have any questions about Communications and Media/PR, please contact:
Greater Palm Springs Communications Team | media@gpscvb.com