2022 ANNUAL REPORT
Welcome to the 2022 Annual Report of Visit Greater Palm Springs (VGPS), a comprehensive overview of our destination's marketing and tourism efforts and initiatives to promote tourism, enhance the visitor experience, and establish our destination as a top choice for travelers.  
We have chosen to publish this report in an online format, which helps reduce paper consumption, decrease carbon emissions associated with printing and transportation, and minimize waste generation, aligning with our organization's commitment toward sustainability practices. 
Below is a brief overview, highlighting various aspects of our operations. For a more in-depth look — including key statistics, trends, and insights — click on the departmental sections via the navigation links on the right for desktop viewers and below for those viewing on a phone.  
---
VGPS was formed in 1989 as a Joint Powers Authority and is primarily funded (85%) by a Tourism Improvement District. VGPS has evolved over the years beyond sales and marketing to include workforce and economic development, as the future success of the tourism industry in the Coachella Valley depends on many factors: the availability of a trained workforce, affordable housing for the workforce, new and enhanced visitor experiences and attractions, enhancements to sustainability, and continued improvements to transportation access.
Here's a look at tourism's overall impact since 2011.
With the direction of our Board of Directors and JPA Committee, we established these 2-year priorities for the destination, taking us through 2024.
---
2022 Economic Impact of Tourism
We were optimistic that travel would return to its pre-pandemic 2019 levels in 2022, and the year delivered not only a full recovery but also — in terms of visitor spending — Greater Palm Springs' highest record yet in terms of economic impact.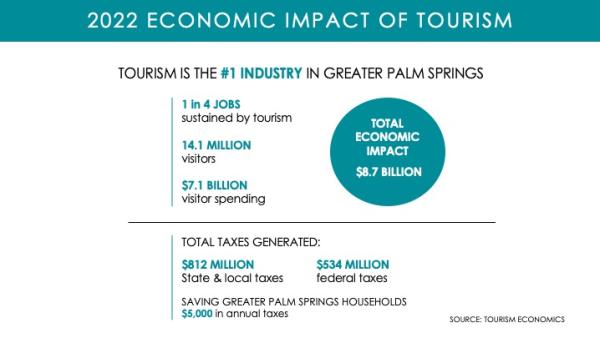 Short-term vacation rentals also delivered a significant contribution to tourism's economic impact in the valley.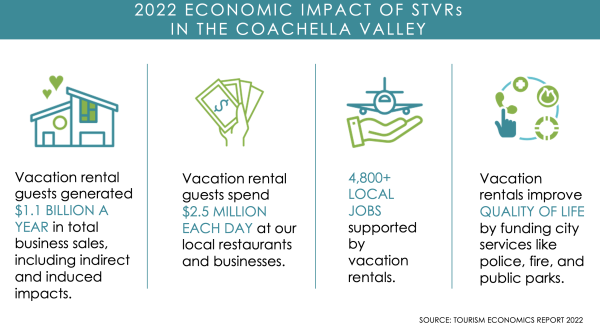 Meanwhile, resident sentiment is also improving. Nearly three quarters (74%) of residents agree that tourism makes Coachella Valley a better place to live. This positive sentiment was highest among tourism employees (86%), followed by Baby Boomers (80%), Retirees (79%), and residents who are aware of the DMO (79%). When asked to name Coachella's most important industries, 56 percent of respondents listed tourism. This was followed distantly by restaurants (30%) and agriculture (25%). You can read the whole report here. 
---
2022 Marketing Strategy
With an overall marketing advertising budget of more than $6 million and programs running again at 100%, VGPS launched several new initiatives in 2022 in addition to flagship brand campaigns targeting leisure and convention sales audiences. These ongoing campaigns included Benefits of Tourism, Vacation Rentals, Workforce Development, Work Remote, Oasis of Art, and dedicated vacation rental promotion. 
The team continued to support both new and existing nonstop flight destinations via co-op marketing and airline-specific advertising and supported our brand pillars (health & wellness, outdoor adventure, arts & culture and dining). 
For our marketing co-ops, our new launches for 2022 included native advertising via Centro, streaming audio via Pandora, and a social media campaign while we continued to offer digital co-ops programs via Adara and Centro, as well as legacy programs such as television and digital outdoor billboards with the goal of providing partners with a number of options — both higher and lower funnel programs along the customer journey based on the partner's objectives, a wide range of price points to fit varying budget levels, and summer-specific programs to continue supporting visitation during this key seasonal timeframe.   
DEI, sustainability, and accessibility are incorporated organically into all aspects of VGPS's marketing initiatives. New landing pages for Native American culture, sustainability, and accessibility, launched in 2022, as well as customized signature event pages while we continued to highlight locations, businesses, and attractions that offer sustainable and accessible experiences for visitors. 
Strategic partnerships to leverage VGPS as a premier meeting destination and stimulate leads and bookings were established with organizations such as ASAE, PCMA, Maritz, Prestige, Conference Direct, and HelmsBriscoe. 
---
2022 Accomplishments
Destination Marketing: VGPS concluded a successful year in 2022 with the launch of several new marketing initiatives in addition to flagship brand campaigns targeting leisure and convention sales audiences that generated over 7.4 million video views; more than 25 billion impressions generated across our digital, out-of-home, print, convention sales, and television efforts; and over 2.2 million television spots aired. Digital media, which tracks people exposed to advertising over a 60-day window via a marketing pixel, showed over $11.5M in hotel revenue generated and over 12,000 flight bookings as a result of our efforts. Our social media channels generated over 41 million impressions and nearly 200,000 clicks to our website. Year over year, organic VGPS website sessions were up 19/6%, partner website referrals were up 28%, and e-newsletter subscribers were up 125.2%. 
Our fly market campaigns helped deliver a record year for PSP. Over 1.48 million people flew into our destination, and seat capacity growth continues to outpace the national average. Palm Springs International Airport has continued to experience record passenger growth, with 2022 officially marking the busiest year on record with nearly 3 million total passengers surpassing 2019 numbers by 16.3%. 
Convention Sales: The VGPS convention sales team ended the year strong and had an exceptional fourth quarter to achieve 117% of the 2022 room night goal, or 182,105 room nights. Lead volume surpassed 2019 levels by 35%, and new lead distribution — which has been a focus for the sales team — surpassed 2019 levels by 30%. The top booked market segments were trade and commercial, health and medical, and manufacturing and distribution followed by financial. 
Partnership & Community Engagement: Our new approach to enhancing the visitor experience by providing JPA grants to our member cities was a success, with VGPS awarding $561,689 to valley cities in 2022. We also grew to 882 business partners, had 1,924 partner referrals, trained 692 TEAM GPS Champions, partnered with COD's PaCE program on workforce education and development, awarded $43,000 in scholarships to hospitality students, and raised $118,000 for the Tourism Foundation.  
---
In Summary
By executing effective destination marketing, leveraging digital platforms, nurturing social media engagement, maintaining robust communications and public relations, attracting conventions and events, focusing on tourism development, and optimizing air service connectivity, Visit Greater Palm Springs successfully positioned itself as a premier tourist destination.  
We invite you to explore the detailed information provided in this report to gain a deeper understanding of the strategies, achievements, and future prospects for Greater Palm Springs as a world-class destination.