DIGITAL ANALYTICS
In March and April, organic sessions continue to be over 50% of all sessions to the website and increased by 26% and 73% respectively over 2019 sessions. In March, top keywords expanded to include shopping and event phrases within the top 20 queries to the website. Out of top landing pages, the restaurant page returned one of the highest pages/sessions indicating strong interest in the culinary scene in Greater Palm Springs, a positive trend leading into Restaurant Week and Summer Eats. 
In April, search phrases around Coachella and Stagecoach dominated the top 20 search queries with event content delivering 40% of organic sessions. This is the first year since the launch of the new website with these customized festival specific pages. Knowing this made up a majority of traffic, Visit GPS will determine how to further optimize these pages to meet the visitors needs and deliver engaging information beyond the festivals.
During the months of March and April the below 16 blogs were created and/or updated including one in partnership with Elisabeth Brentano and Friends of the Desert Mountains which launched for Earth Day.
Year to date, the Visit Greater Palm Springs consumer newsletter list has grown to over 20,000 subscribers and the dineGPS newsletter to over 17,000 subscribers. Both newsletters have exceedingly surpassing industry average of 17-20%. In March and April, open rates performed at 46.1% and 43.7% respectively and click rates of 4.6% and 3.3%. 
Visit Greater Palm Springs has continued creating Travel Stories through Crowdriff, in partnership with Visit California.  Greater Palm Springs' stories have become the 2nd and 3rd most viewed of all destinations, totaling over 100,000 gallery impressions, 40,000 views and 567,000 impressions on Google.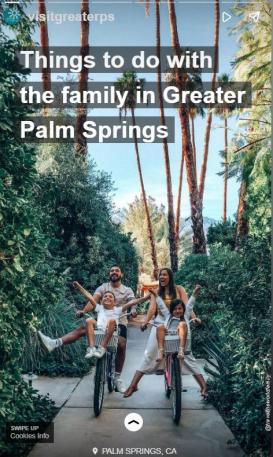 Looking forward, there are plans to support destination marketing campaigns on the website to include the Benefits of Tourism, Restaurant Week and Art & Sol.
Restaurant Week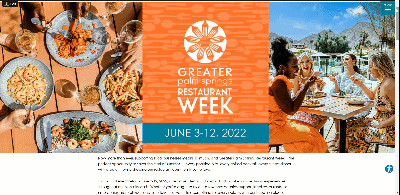 Benefits of Tourism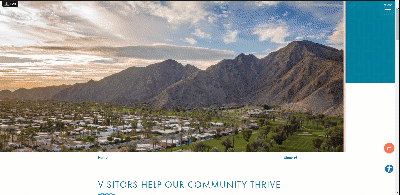 Below are dashboards showing our year-to-date total website traffic, engagement, and conversion rates.
If you have any questions about Digital Marketing, please contact:
Krystal Kusmieruk, Digital Marketing Manager | krystal@visitgreaterps.com | 760.969.1337