Want to learn more about Greater Palm Springs and gain a better understanding of our community, along with all the attractions and activities available to visitors? Join TEAM GPS to become part of a network of destination CHAMPIONS.

Becoming a TEAM GPS Champion starts with a fun and informative 3-hour introductory course where you'll discover everything that makes our nine-city destination unique.

TEAM GPS Champions then get access to exclusive networking events, sneak previews of new attractions, and ongoing education making YOU an expert in all things Coachella Valley.

Follow us @teamgreaterps on Facebook and Instagram to learn more, stay informed, and connect with our TEAM GPS Champions.

What Is TEAM GPS?
Brought to you by the Greater Palm Springs Tourism Foundation, TEAM GPS is a  partnership with College of the Desert's PaCE program to deliver certificate programs and other educational opportunities for our hospitality workforce, offering real-life skills to help support your career, such as leadership skills for new managers, customer service basics, banquets training, and more.

TEAM GPS programming is currently FREE, sponsored by the Tourism Foundation. Become part of the TEAM today! Contact Erica Abarca at 760-969-1322 or erica@visitgreaterps.com.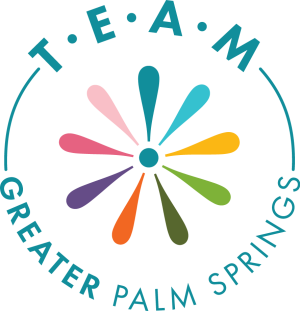 Why Tourism Matters in Greater Palm Springs

Tourism is the region's No. 1 industry, generating $8.7 billion in economic impact annually and supporting 1 in 4 jobs in 2022.

The importance of this industry led Visit Greater Palm Springs (VGPS) to release a Destination Development Plan in 2016, outlining a strategy to reach 16 million visitors by 2026. The community has always played an essential role in making this vision a reality, and as we look toward an even brighter future for our destination's tourism and hospitality industry, it helps to think of ourselves — and all who contribute to visitor experiences here — as part of the same team.

TEAM GPS is an initiative that unites our hospitality community toward a common goal: creating positive, unforgettable experiences for each and every visitor so they'll make plans to return again, all of which ultimately helps support the local tourism economy and enhance residents' standard of living.

Our strategy? It's simple (and embodied in our very name).

Teach – Use your firsthand knowledge of the destination to inform visitors of our unique history and experiences.
Engage – Be the first to say "hello" and make a visitor feel welcome. Smile. Make eye contact. Listen.
Advise – Offer suggestions, directions, even itinerary ideas to help them plan their stay.
Motivate – Inspire and move them to make the most of their time here and plan their return; let them see and feel your enthusiasm for Greater Palm Springs.
 

Whether it's a stress-free arrival at their hotel, an afternoon with top-tier drink service by the pool or a friendly smile at the door, every visitor's first impression of Greater Palm Springs, and the travel experience they have while here, matters. And it starts with us.




 

SOURCE: TOURISM ECONOMICS

What Is the Greater Palm Springs Tourism Foundation?

Set in the heart of Southern California, the destination of Greater Palm Springs is known for its year-round sunny climate, dramatic landscape, outstanding amenities and timeless tradition of hospitality. To carry this legacy of service forward and invest in our industry's future, the Greater Palm Springs Tourism Foundation was established in 2018 with a dynamic mission to enrich and elevate tourism in the reg

The Tourism Foundation supports and initiates diverse programming related to the hospitality, convention and tourism industries with funds raised from individuals, businesses, organizations and other foundations. Initiatives encompass providing education and leadership training, college scholarships, and volunteer and mentor development.

Goals & Vision

The primary goals of the Tourism Foundation include:

Providing scholarship opportunities to local students
Developing funding sources to support Tourism Foundation programs and services
Fostering passion for and excellence of service at every level

Foundation stewardship, coupled with the crucial support of Visit GPS partners and the community at large, helps drive a robust year-round tourism economy with a thriving workforce and unequaled customer service that advances quality of life in the destination for residents and visitors alike.

What Is Visit Greater Palm Springs?

Visit Greater Palm Springs (Visit GPS) is the official tourism marketing agency for the nine-city Southern California oasis of Palm Springs, Desert Hot Springs, Cathedral City, Rancho Mirage, Palm Desert, Indian Wells, La Quinta, Indio and Coachella. Founded in 1989 with a mission to positively affect the destination's $8.7 billion tourism economy and quality of life for its citizens, the organization serves more than 3,000 business partners, providing sales, marketing and PR targeted to potential leisure travelers and event, meeting, and convention group markets.

If you look closely at our logo "bug" (below), you'll see there are nine loops—one for each of the nine cities that make up Greater Palm Springs. Our mission is to grow the tourism economy for the whole destination, ultimately enhancing the quality of life for all its residents.