BACHELORETTE WEEKEND GETAWAY
With year-round sunny weather, dreamy mountain views, picturesque palm trees and relaxing desert beauty found all throughout this Southern California oasis, it is easy to see why Greater Palm Springs has become the hotspot for celebrating bachelorette parties.
To help make it easy on the bride or those who are planning, here is some perfect inspiration to help you craft your bachelorette itinerary.
Your Ultimate Gals Pal Getaway
From play to stay and all in-between, Greater Palm Springs is ready for you to have an incredible time and build memories that will last a lifetime. See all that is here for you in Greater Palm Springs.
Places to Stay
Greater Palm Springs is full of fabulous boutique hotels, luxury resorts and vacation rental properties that each offers a variety of amenities to guests. From mid-century modern and bohemian cool to vibrant, chic, and sophisticated, you'll have no trouble finding a hotel or home that suits your bachelorette party's personality. If interested in booking a stay in Greater Palm Springs, read ahead for a list of places to stay, each with their own unique style and vibe.
Saguaro Palm Springs
A top pool party destination in town, Saguaro Palm Springs is a go-to for bachelorettes looking for a vibrant and exciting time in the desert. Pops of color and desert floral décor give The Saguaro its unique design aesthetic and can be found just outside of downtown Palm Springs on East Palm Canyon Drive. It offers impressive desert-inspired landscapes for the perfect Instagram picture, an Olympic-sized pool for lounging and partying, bike rentals for guests at the hotel, yoga relaxation, an in-house spa, and yummy food and beverage options at El Jefe.
If only staying for the day, you're invited to join the party at The Saguaro Palm Springs! During some weekends, the hotel hosts pool parties with DJ sets, so you can party without having to leave the refreshing pool. Pool passes are available for purchase online here, with day passes starting at $40 and evening passes starting at $20. These passes will give you and your group access to the pool and hut tub, plus the poolside bar to get drinks and bites morning to night. 
Ace Hotel & Swim Club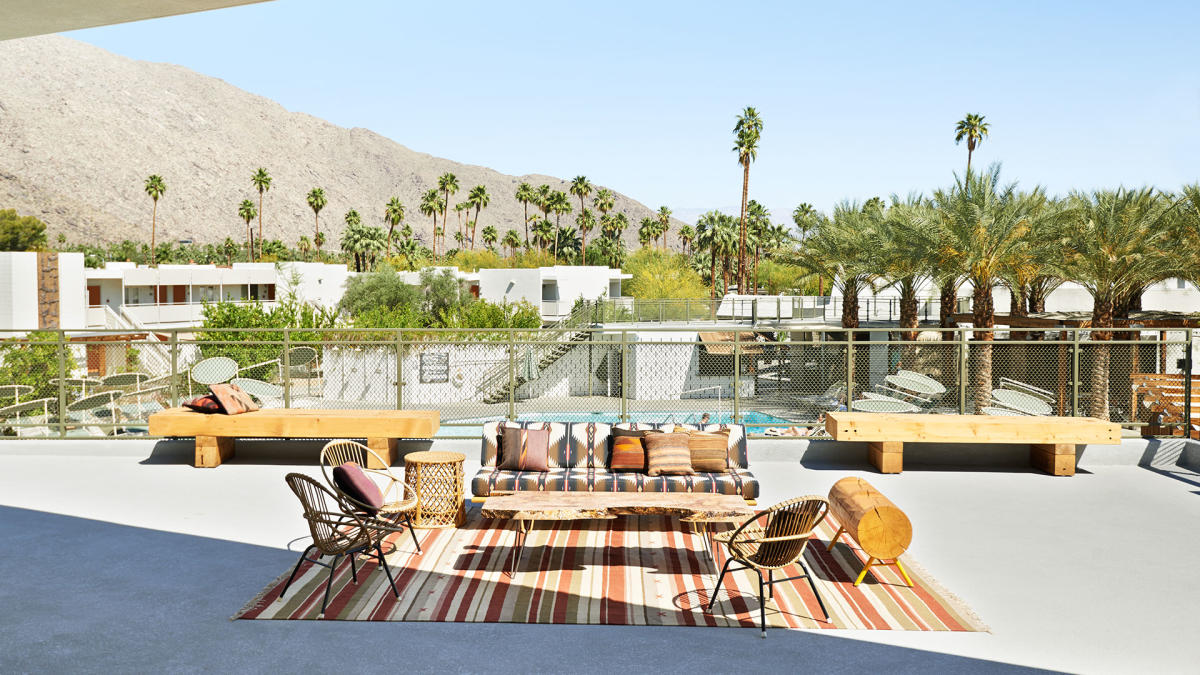 A stylish getaway with boho flair, Ace Hotel & Swim Club is located at the southern end of Palm Springs. The 176-room hotel is within biking distance of downtown Palm Springs and offers guests modernly designed rooms, two on-site pools, spa amenities, vintage photo booth fun and award-winning room service, as well as the Amigo Room; a hideaway bar. The weekends also bring live DJ sets to the Ace that play from 12 p.m. to 5 p.m., making your bachelorette weekend that much more fun! 
Two Bunch Palms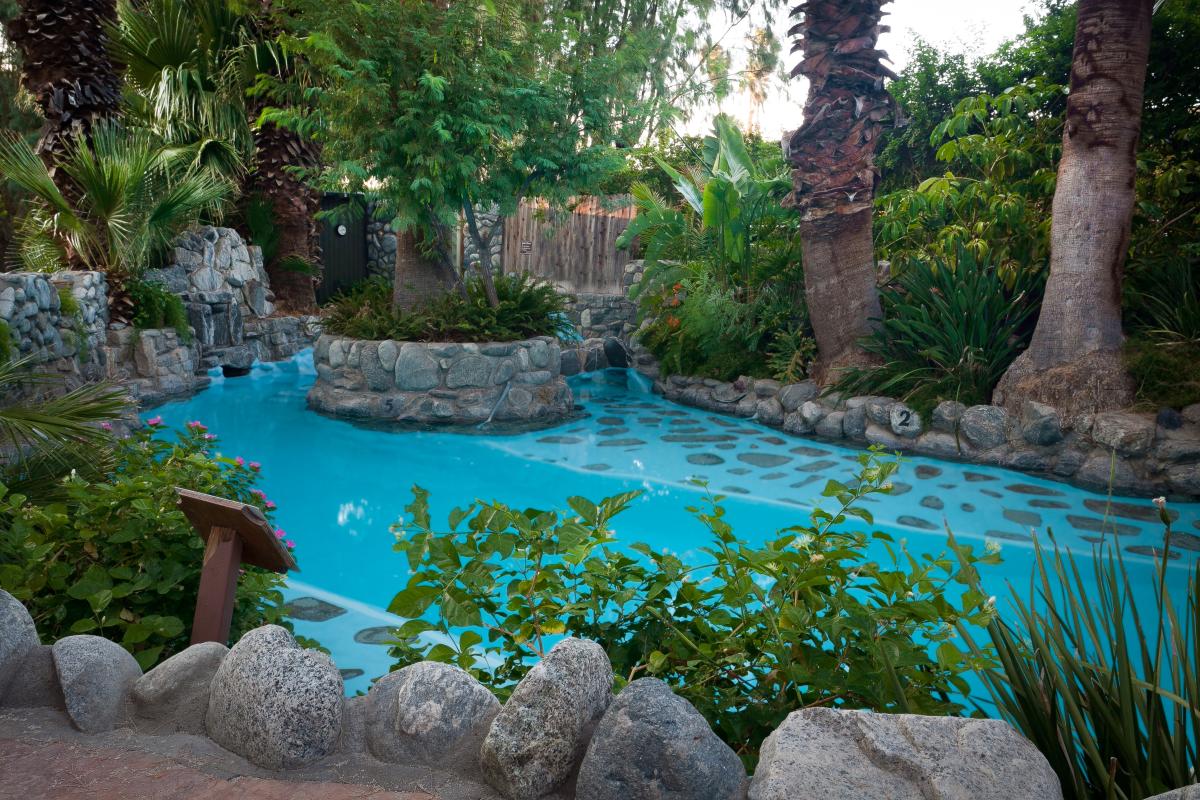 Plan a bachelorette weekend at Two Bunch Palms and discover a whole new meaning of relaxation. From serene and private rooms offering views of the lush, tropical landscape to 5 pools and many outdoor bathtubs filled with natural mineral waters, you will be able to tune out the world and soak up all the soothing moments. For ultimate relaxation, book spa treatments in the newly constructed The Spa, choose from lymphatic drainage treatments or custom massages to release any tension. Explore this property and the incredible bachelorette getaway you could experience. 
Westin Mission Hills Resort & Spa

 
For the bachelorette party looking to get away from it all, the Westin Mission Hills Resort & Spa has everything you need to unwind, let loose and enjoy some pre-wedding pampering. The Mediterranean-inspired resort is located in Rancho Mirage and is set amongst a scenic backdrop of gorgeous mountains and beautiful skies, offering guests several luxury amenities and spa packages. The Spa at Westin Mission Hills has an expansive menu filled with spa services that you and your friends will love, from facials to body wraps, you are bound to leave feeling rejuvenated and relaxed. Book yoga, soak up the sun by the pool and never be too far from food or drinks, with Pinzimini on location, as well as many other options. 
La Quinta Resort & Club 
Step into your own villa of luxury and serenity at La Quinta Resort & Club where you and your group can enjoy private pools or hot tubs with an amazing view of the mountains and palm trees against a vibrant blue sky. This resort offers a variety of amenities, from a wide range of spa treatments at Spa La Quinta to 41 climate-controlled pools to 23 courts for when you want to being out some competition in a game of pickleball or tennis. Sign up for a private yoga class, relax under the sun or step out on the town for more adventure. Find dining options on property, like Morgan's in the Desert and Twenty6, making it a stress-free decision when planning meals. 
Miramonte Resort & Spa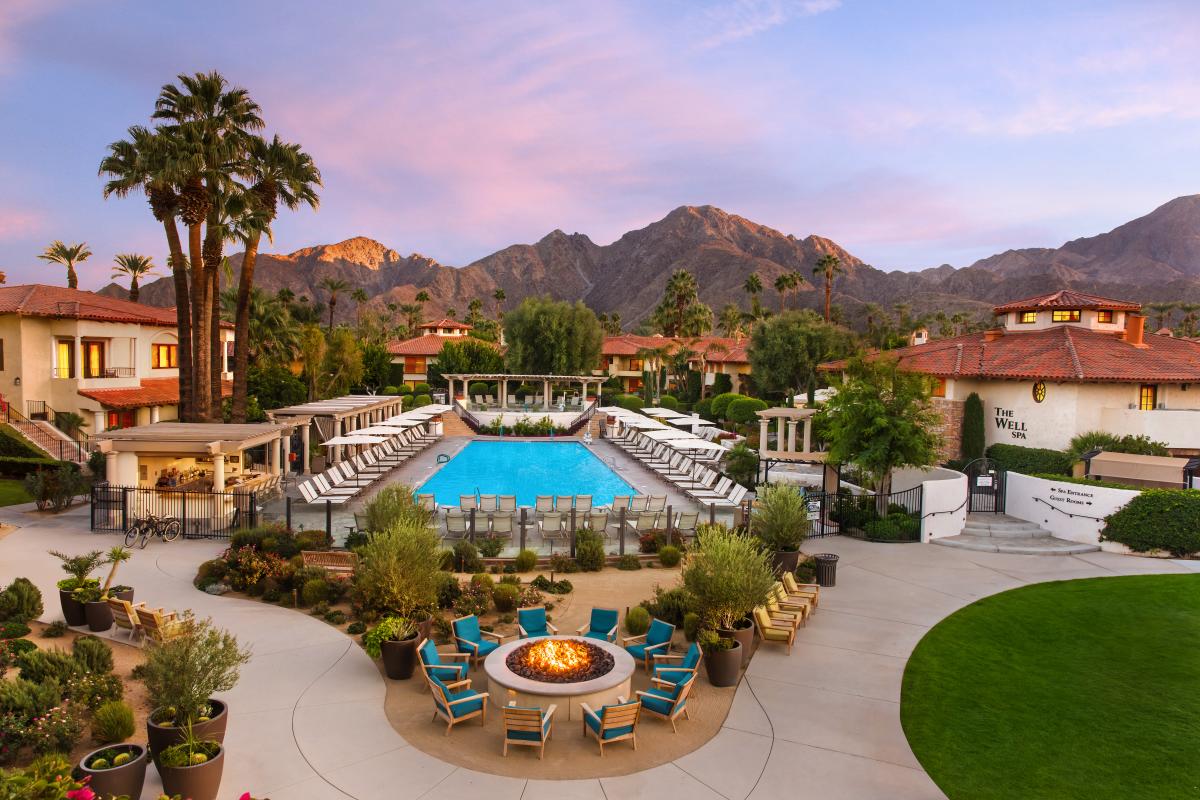 Are you looking for everything luxury as you plan a bachelorette getaway? Expectations will be met when you arrive at the elegantly designed and polished Miramonte Resort & Spa in Indian Wells. With a nearly perfect backdrop of the mountains against the sky and the newly renovated space, your stress can wash away as you soak in the pools and lay under the sun – book a cabana, sip on drinks and grab food from the their poolside restaurant so you won't miss an ounce of relaxation. The Well Spa is a must for a bride and her friends as they live their best life, which can be followed by a 'far-to-fork- experience at Citrus & Palm, serving breakfast, lunch and dinner. 
Vacation Rental Properties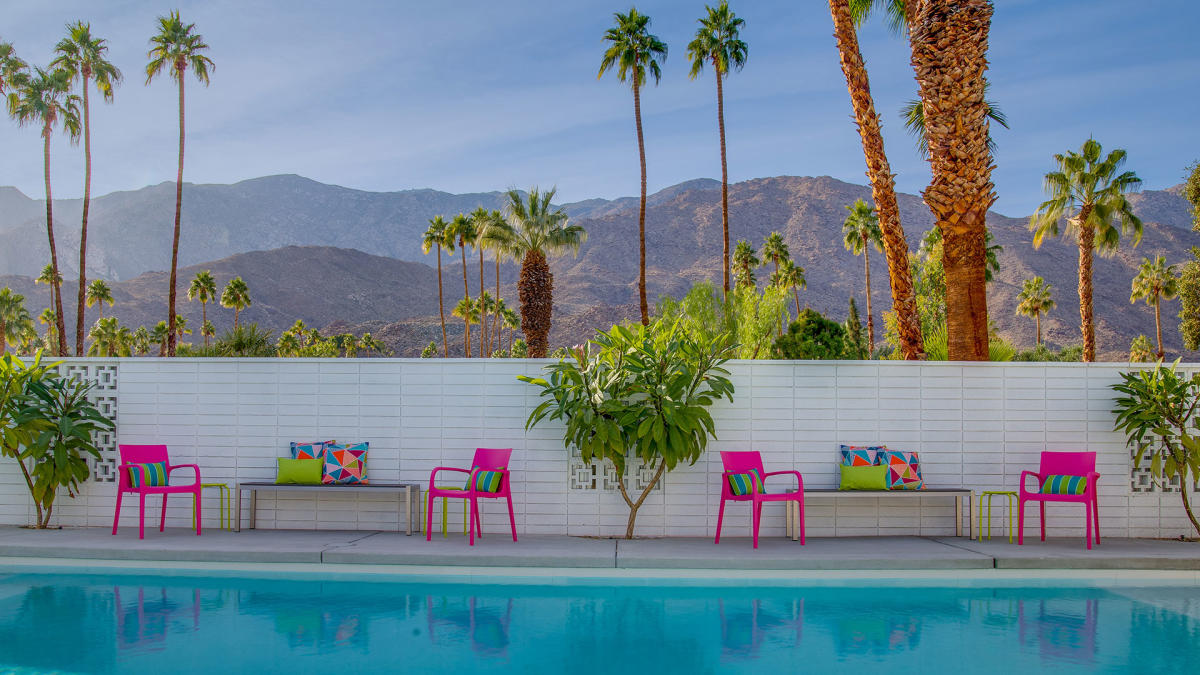 Pretty in Pink House, Courtesy of Acme House Company & Nathan Cox Studios
Looking to bask under the sun in a private vacation rental property? There are plenty of options in Greater Palm Springs where a wedding party can rent out a whole house, equipped with multiple rooms and baths, its own personal kitchen, backyard space and possible private pool usage. For many, staying at a vacation rental property works best as it is both affordable and convenient for bigger parties as well – plus you can plan for it to be all decked out in decorations! Look here to shop all vacation homes and timeshares in Greater Palm Springs! Find what best fits you and your party! 
Where to Shop
It's hard to not get your shop on while in Greater Palm Springs – especially with all the fabulous shops, specialty stores, street fairs and markets available.
Love Local 
Greater Palm Springs is a destination that not only excites and entertains but also one that shows constant support to the local businesses and continues to build them up. If you are looking to support this community and show your love for this one-of-a-kind place, discover where to eat, drink, shop and Love Local. 
El Paseo Shopping District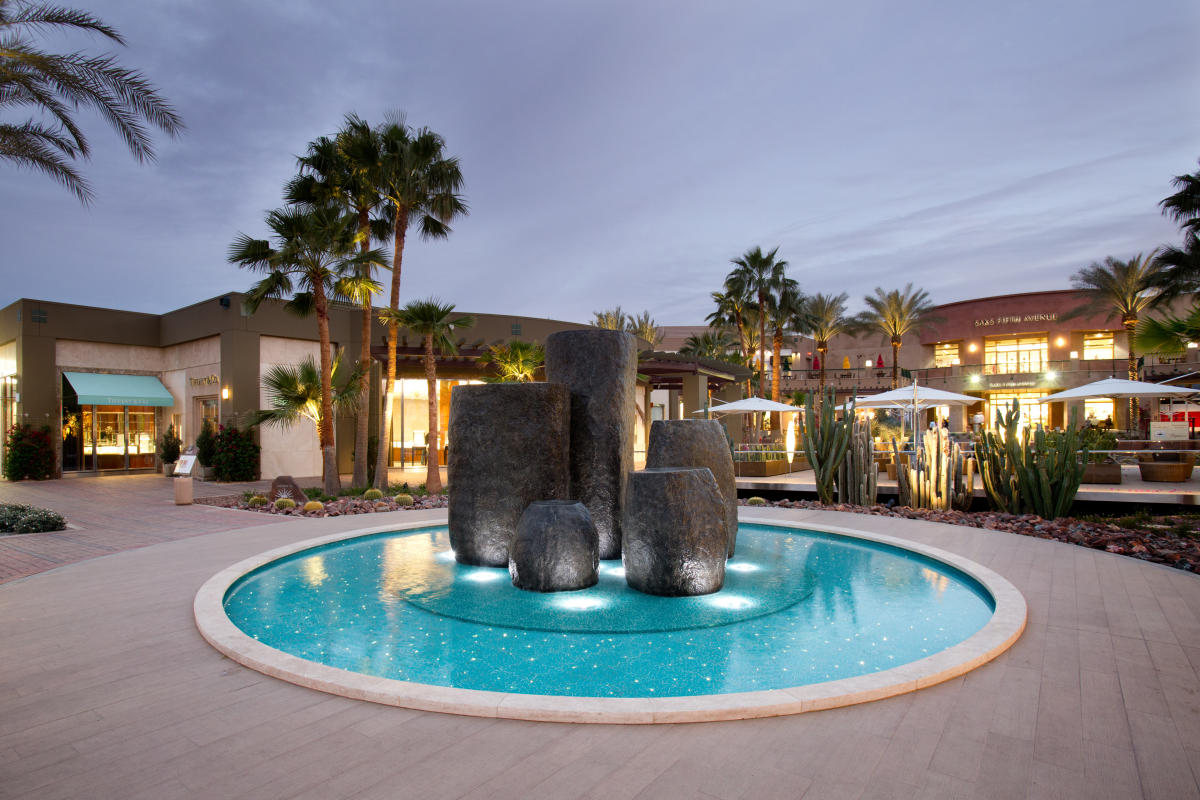 Located in Palm Desert, El Paseo Shopping District is a shopper's paradise. The Shops on El Paseo and The Gardens on El Paseo provide shoppers with over 250 stores that include locally owned boutiques and prestigious international brands. The mile-long shopping strip also consists of a variety of restaurants to choose from, beauty salons and art galleries. Make is a day of fun along El Paseo; shop, dine and enjoy this beautiful oasis as you celebrate a bachelorette weekend surrounded by your best friends. 
Outdoor Markets
Thursday evenings are transformed in downtown Palm Springs as the city hosts Palm Springs VillageFest. Artisans, jewelers, makers, and entertainers line Palm Canyon Drive during this weekly shopping event to bring visitors the best in floral arrangements, accessories, décor, fresh foods and international cuisine. Enjoy dinner or happy hour while watching all the excitement takes place. 
There are local farmers markets happening almost every day of the week, serving up the freshest of fruits and vegetables, homecooked and baked goods, local vendors selling handcrafted goods, there is always something to find! Read more here to find out more about when and where these farmers markets happen! 
Where to Eat
This culinary oasis offers brides an abundant amount of restaurants and bars to choose from and is full of must-try brunch, lunch, and dinner accommodations. Explore some of the best options below for an unforgettable dining experience with your best groups of friend!
Coffee
To start your day off right and ensure that you are properly prepared for the day, head to one of these local coffee shops. If you are in Palm Springs, head into the Instagrammable La Jefa Cafe for a grab-and-go breakfast and latte, or hit up Ernest Coffee to find house made syrups and try the signature Lavender Vanilla Latte. If you're spending the day out and about in Greater Palm Springs, grab a afternoon pick-me-up at IW Coffee or Sixth Street Coffee. To discover more coffee shops nearest you, here is your guide to the best coffee shop in Greater Palm Springs. 
Lulu California Bistro
Make it a sweet memory by having your bachelorette party at the fabulous Lulu's California Bistro. Find options that cater to everyone's wants and needs, incredible cocktails, and make sure to hint to the staff there is indeed reason to celebrate. There may be a sweet surprise in store for the lucky lady! 
Trio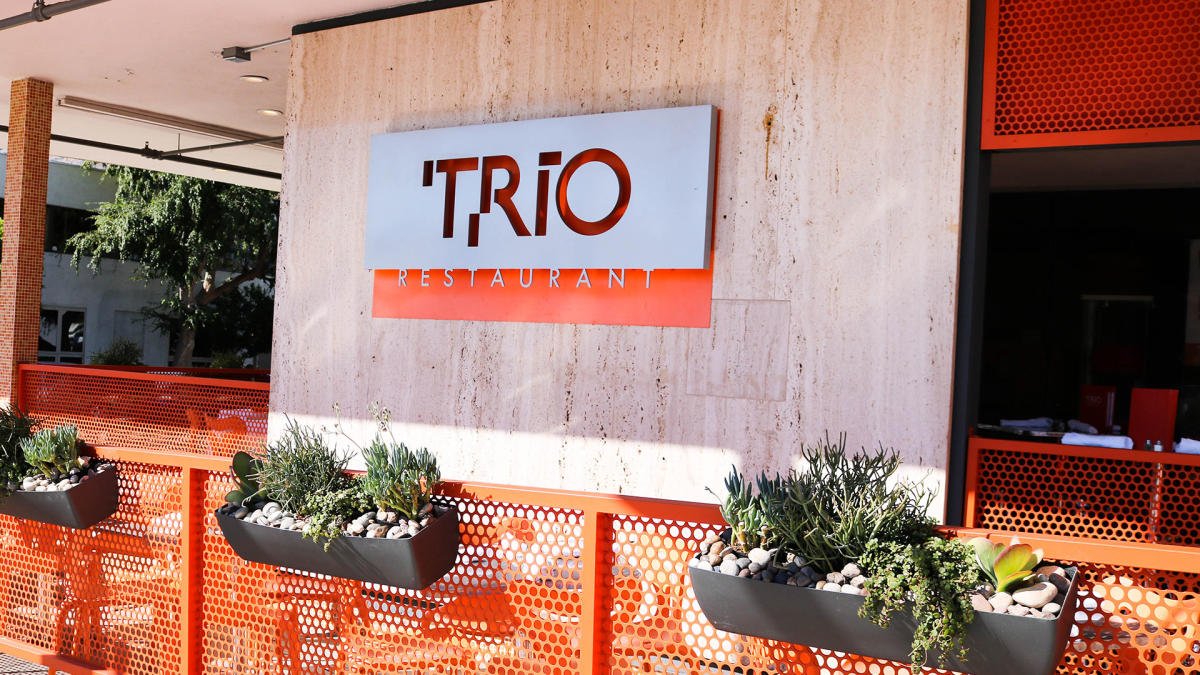 A favorite among bachelorette parties, Trio Restaurant in Palm Springs is an upscale eatery that is serving up daily cocktails, weekend brunch, lunch and dinner options. The restaurant is considered one of the best in the valley and has been featured in numerous travel publications and websites for its top cuisine and dining experiences.
Pinocchio in the Desert
Pinocchio's in downtown Palm Springs is hands-down one of the liveliest places in the valley to have breakfast, brunch or lunch! Known as "the best place in the desert for fun," they offer an all-day happy hour menu, bottomless champagne, hearty servings, and live dancing entertainment.
Wilma & Frieda
Home-style cooking with a modern twist is what you'll find at Wilma & Frieda Café. The family-owned restaurant is located within The Gardens on El Paseo in Palm Desert and includes an impressive list of dishes for breakfast, brunch, and lunch.
La Quinta Cliffhouse Grill & Bar 
Enjoy a local hidden gem while dining on a cliffside patio, where you will have the best view as the sun goes down. La Quinta Cliffhouse Grill & Bar is known for there steak, past and seafood dishes, complimented by award-winning wines and handcrafted cocktails. This is a great options if you are looking for a delicious meal after a long day or want to enjoy drinks in your best-dressed. 
Things to Do
There are many fun things to do all over Greater Palm Springs, and the options below are just a few of the activities bachelorette parties take part in while visiting the region. Explore your options below and book your reservations for these must-do featured attractions!
Pinot's Palette
Feeling artsy? If so, Pinot's Palette is for you! The art studio is located in Rancho Mirage and is open to all who wish to explore their artistic talents. Bachelorette parties can enjoy a fun time painting, music, drinks, and friends, all while creating a masterpiece. You can book online here for parties with a minimum of 10 people, or you can buy the kits and sip on wine in the privacy of your own place while painting. 
Horseback Riding
For the more laid-back type of bride-to-be, horseback riding at Smoke Tree Stables is the perfect blend of relaxation and adventure in Greater Palm Springs. Guided rides are offered by the hour or for the entire day, and custom-designed group packages are available around the oasis.
Escape Room Palm Springs
Signing up for the Escape Room Palm Springs guarantees serious adventure and bonding time for brides and her girls.
Book any of the six escape rooms and let the fun begin! Small and large group sizes are welcome and the price to play is $35 a person. Once the game has begun, groups have 60 minutes on the clock to search for clues, solve puzzles and escape in order to win the game.
Social Cycle Palm Springs
Social Cycle is taking cycling to new heights in downtown Palm Springs with their 16-passenger, pedal-powered vehicle, a fitting adventure for a bachelorette weekend. Play music of your choice as you parade the streets of Palm Springs hopping from bar to bar! All tours are booked with a two-hour minimum and can be custom tailored to fit a bride's needs. Reservations are required and can be made on their website. 
Desert Adventure Red Jeep Tours & Events
Want to take a break from the relaxation and get your hands dirty? Book a tour with Desert Adventure Red Jeep Tours and head into the desert and find yourself off-roading, exploring the twisted terrain on the San Andreas Fault as your hair is blowing in the wind! Life is an adventure, so why not make it a desert adventure, especially with your best friends? 
Where to Party
Casino Lounges
Bachelorette parties looking to have a good time should make their way over to the casino lounges. Check out Agua Caliente Resort Casino Spa Rancho Mirage and Agua Caliente Casino Palm Springs for lively atmospheres where you can find anything from music performances to comedy shows. If you're looking for a fun place to line dance or show off the cowgirl boots, look no further than Fantasy Springs Resort Casino. 
Local Breweries and Wine Bars 
Heading out for a night on the town? Whether you want to keep it lowkey or stay out all night, enjoy drinks at local craft breweries and distilleries in Greater Palm Springs. In the heart of Palm Springs, find a local gem with great atmosphere at Las Palmas Brewing. Enjoy house made beers, organic wines and you can occasionally catch a pop-up serving local food! Looking to sip on some wine and laugh around the table with you friends after a day of shopping? La Fe Wine Bar, located on El Paseo, is an ideal place to mingle with others and relax for the evening.