Bachelorette Parties
With year-round sunny weather, dreamy mountain views, picturesque palm trees, and relaxing desert beauty found all throughout the oasis, it is easy to see why Greater Palm Springs has officially become the newest hotspot for celebrating bachelorette parties.
To help you get started, we've created a guide to planning a bachelorette party in Greater Palm Springs, full of bride-approved places to eat, play, stay and visit while experiencing the ultimate bridal getaway in Southern California.
Places to Stay
Greater Palm Springs is full of fabulous boutique hotels, luxury resorts, and vacation rental properties that each offers a variety of amenities to guests. From mid-century modern and bohemian cool to vibrant, chic, and sophisticated, you'll have no trouble finding a hotel or home that suits your bachelorette party's personality. If interested in booking a stay in Greater Palm Springs, read ahead for a list of places to stay, each with their own unique style and vibe.
ARRIVE

Nothing tells you you've arrived to the oasis quite like staying at ARRIVE Palm Springs. The 32-room boutique hotel is located in the Uptown Design District of Palm Springs and is known for its modern, yet bold design and welcoming atmosphere. ARRIVE is a part of ARRIVE Enterprises and has surrounding establishments that include Ice Cream & Shoppe and Palm Springs Fan Club.
Whether you're staying at the hotel or just stopping by, bachelorette parties are welcome to cool off at the pool, enjoy some drinks, and dance to good music every Sunday during the hotel's popular weekly pool party. Bachelorette parties can also come by and play a quick game of ping pong or take-in the pool scene from the comfort of a cabana, acquired on a first-come, first-served basis at ARRIVE.
Saguaro Palm Springs
A top pool party destination in town, the Saguaro Palm Springs is a go-to for bachelorettes looking for a vibrant, sexy and exciting time in the desert. Pops of color and desert floral décor give The Saguaro its unique design aesthetic and can found just outside of downtown Palm Springs on East Palm Canyon Drive. It offers brides and her girls' impressive desert-inspired landscapes for the perfect Instagram picture, an Olympic-sized pool for lounging and partying, bike rentals for guests at the hotel, yoga relaxation, an in-house spa, and yummy food and beverage options at both El Jefe and Rocco's Electric.
Groups interested in staying at The Saguaro can book a bachelorette special, which includes a two-night stay in one of the hotel's recently renovated rooms, a personal luxury pool float for the bride, a bucket of beer or a bottle of champagne, four complimentary watermelon cups and 1 p.m. late check-out so you can sleep in a bit more after all that celebrating.
If only staying for the day, you're invited to join the party too at The Saguaro Palm Springs! The hotel hosts popular pool parties every weekend, with DJ sets beginning in the afternoon and going through the evening. Day passes are available for guests at the front desk for $30 a person, which gives all-day access to the pool and hot tubs, as well as the poolside bar, serving cocktails, breakfast, lunch, and dinner.
Ace Hotel & Swim Club

A stylish getaway with boho flair, Ace Hotel & Swim Club is located at the southern end of Palm Springs. The 176-room hotel is within biking distance of downtown Palm Springs and offers guests modernly designed rooms, two on-site pools, spa amenities, vintage photo booth fun, and award-winning room service, as well as fun things to do almost every night in the Amigo Room. The weekends also bring live DJ sets to the Ace that play from 12 p.m. to 5 p.m., making your festive weekend that much more fun. Day passes are also available for guests.
Special features for bachelorette parties includes access to the hotel's private Stargazing Deck or Clubhouse, along with a server to take care of all party needs. Bar packages and exclusive spa promotions are also available for bachelorette parties.
Westin Mission Hills Resort & Spa

For the bride looking to get away from it all, the Westin Mission Hills Resort & Spa has everything you need to unwind, let loose and enjoy some pre-wedding pampering. The Mediterranean-inspired resort is located in Rancho Mirage and is set amongst a scenic backdrop of gorgeous mountains and beautiful skies, offering guests several luxury amenities, spa packages, and deals that can't be beaten.
"We have spa programs specifically for wedding and bachelorette parties," shares Laura Hunt Little, Marketing Manager at Westin Mission Hills.
One package available to brides is called The Blushing Bride, which provides an exfoliating honey body scrub, followed by a moisturizing warm candle massage and an oxygen facial. Also included in this package is a French spa manicure and pedicure.
Bridal parties can also get in on the spa fun with Beauties and the Bride, a spa package that involves head to toe pampering, with a choice of a transformation facial or luxurious lava shell massage. This package also includes an exfoliating honey body scrub and a spa manicure and pedicure. Lovely Maids is another package available for bridesmaids that includes a spa manicure, spa pedicure, and hairstyling.
Spa packages range in price from $170-$480 and are customizable to fit specific group needs.
The Amado
If traveling with a large group for your bachelorette, then you may want to consider renting out an entire small boutique hotel like The Amado in Palm Springs. This five-unit classic mid-century building is stylish in nature and boasts desert-inspired décor throughout the property. Each unit boasts an impressive one or two king bedroom, private bath, kitchen, living room, and dining room. Altogether, the complex consists of an outdoor pool and six bedrooms that sleep, 12 people.
Vacation Rental Properties

Pretty in Pink House, Courtesy of Acme House Company & Nathan Cox Studios
Acquiring a vacation rental property for a bachelorette gathering gives brides and her party the opportunity to rent out a whole house, equipped with multiple rooms and baths, its own personal kitchen, backyard space, and private pool usage. For many, acquiring a vacation rental property works best as it is both affordable and convenient for bigger parties as well.
"Staying in a vacation rental is like having all the comforts of home but way, way, way better," explains John-Patrick, Branding Specialist at Acme House Company, a well-known and respected vacation rental home management company in Greater Palm Springs.
"We manage our properties like five-star resorts," he shares. "The homes we manage are specifically set up for small group gatherings–perfect for the girls weekend and as home base for bachelorette parties."
According to John-Patrick, the Lions Gate Estate, Pretty in Pink at Indian Canyons and the West Elm House make great bachelorette rental options. Each home is lavishly designed, offers a chic Palm Springs experience, and provide ample space to accommodate about six to eight guests staying at the property.
In addition to this, John-Patrick explains that Acme's concierge services can also provide pre-arrival grocery stocking and help with arranging everything from flower deliveries and special cupcake orders, to gift bags and a professional photographer to be on hand to capture the all bachelorette magic.
"Our team will also arrange poolside massages, yoga sessions, and private chef services," he shares.
To book your stay, visit at the Acme House Company website or call 866-312-8352 for assistance in picking the perfect property.
Where to Shop
It's hard to not get your shop on while in Greater Palm Springs–especially with all the fabulous shops, specialty stores, street fairs, and markets available around town.
El Paseo Shopping District
Located in Palm Desert, El Paseo Shopping District is the Rodeo Drive of the desert.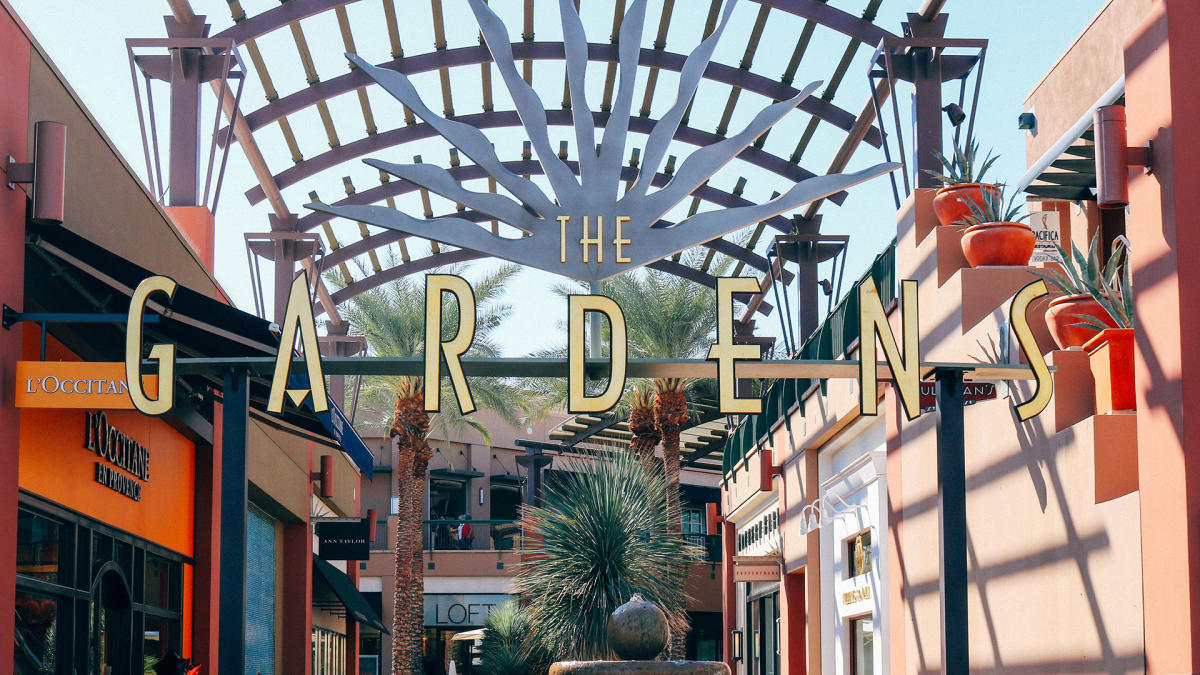 The Shops on El Paseo and The Gardens on El Paseo provide shoppers with over 250 stores that include locally owned boutiques and prestigious international brands. The mile-long shopping strip also consists of a variety of restaurants to choose from, beauty salons, and art galleries.
Palm Springs VillageFest
Thursday evenings are transformed in downtown Palm Springs as the city hosts Palm Springs Village Fest. Artisans, jewelers, makers, and entertainers line Palm Canyon Drive during this weekly shopping event to bring visitors the best in floral arrangements, accessories, décor, fresh foods and international cuisine.
Where to Eat
The oasis offers brides an abundant amount of restaurants and bars to choose from and is full of must-try brunch, lunch, and dinner accommodations. Explore some of the best options below for an unforgettable dining experience with your best girls!
Lulu
Make it a sweet memory by having your bachelorette party at the fabulous Lulu's California Bistro. In honor of brides-to-be and their friends this summer, when a group posts a picture to social media and tags Lulu with #bachelorettecentral, they'll send over a giant order of their famous pink cotton candy for dessert! 
Trio

A favorite among bachelorette parties, Trio Restaurant in Palm Springs is an upscale eatery that is serving up daily all-day happy hour from 11 a.m. to 7 p.m., weekend brunch, lunch and dinner options. The restaurant is considered one of the best in the valley and has been featured in numerous travel publications and websites for its top cuisine and dining experiences.
Pinocchio in the Desert
Pinocchio's in downtown Palm Springs is hands-down one of the liveliest places in the valley to have breakfast, brunch or lunch! Known as "the best place in the desert for fun," they offer an all-day happy hour menu, bottomless champagne, hearty servings, and live dancing entertainment.
Rio Azul
Check out Rio Azul Mexican Bar & Grill in Palm Springs for authentic Mexican food and flavor. The restaurant features happy hour every Monday through Thursday from 4 p.m. to 7 p.m., Friday through Sunday from 2 p.m. to 6 p.m. and all-day $5 house margaritas.
A special feature the restaurant boasts is its drag brunch on Sundays, titled "The Desert Divas Drag Brunch." The show is the longest-running drag brunch in the valley and takes place at both 11 a.m. and 1:30 p.m. It is a favorite among bachelorette parties visiting the oasis, and reservations to attend can be made on the restaurant's website. The cost for Rio Azul's Sunday brunch and show is only $16.95.
Wilma & Frieda

Home-style cooking with a modern twist is what you'll find at Wilma & Frieda Café. The family-owned restaurant is located within The Gardens on El Paseo in Palm Desert and includes an impressive list of dishes for breakfast, brunch, and lunch.
"It's a fun, comforting experience," shares CEO and Co-Owner Kelly McFall on the experience customers receive when dining at the eatery.
Brides looking for a more low-key brunch should definitely visit Wilma & Frieda's Café.
Things to Do
There are many fun things to do all over Greater Palm Springs, and the options below are just a few of the activities bachelorette parties take part in while visiting the region. Explore your options below and book your reservations for these must-do featured attractions!
Pinot's Palette

Feeling artsy? If so, Pinot's Palette is for you!
The art studio is located in Rancho Mirage and is open to all who wish to explore their artistic talents. Bachelorette parties can enjoy a fun time painting, music, drinks, and friends, all while creating a masterpiece.
Groups can sign up for a painting event on the site's calendar page, or reserve the entire studio for a two-hour private class. The price to attend is $35 per person and includes private artist instruction, a 16x20 canvas, paint, an easel, brushes, and music selections of your choice.
Kathleen Arghittu, Owner of Pinot's Palette in Palm Springs, says that she and her staff can meet with brides and bachelorette parties prior to their reservation and make special arrangements for the bridal festivities.  
"If the bride wants something special for her house, we can do a jigsaw collaborative painting party," explains Arghittu. "We can also do wine glass painting, where they paint their own wine glasses."
Pinot's Palette also does mobile visits at vacation rental properties, which can be reserved any day during the week, between 10 a.m. to 10 p.m. To arrange for this, a minimum of 10 people are required for the reservation.  
Horseback Riding
For the more laid-back type of bride-to-be, horseback riding at Smoke Tree Stables is the perfect blend of relaxation and adventure in Greater Palm Springs. Guided rides are offered by the hour or for the entire day, and custom-designed group packages are available around the oasis.
Escape Room Palm Springs
Signing up for the Escape Room Palm Springs guarantees serious adventure and bonding time for brides and her girls.
Book any of the six escape rooms and let the fun begin! Small and large group sizes are welcome and the price to play is $35 a person. Once the game has begun, groups have 60 minutes on the clock to search for clues, solve puzzles and escape in order to win the game.
Social Cycle Palm Springs

Social Cycle is taking cycling to new heights and excitement in the oasis. The attraction brings a 16-passenger, pedal-powered vehicle to downtown Palm Springs for tours and sightseeing, making it the first of its kind "party on wheels" sensation in the area. All tours are booked with a two-hour minimum and can be custom tailored to fit a bride's needs.
"We offer bachelorettes awesome tours of Palm Springs," shares Laura Rovick, Owner/Operator of Social Cycle Palm Springs. "From pub crawls to seeing the sights, Social Cycle is a fun way to be with friends, listen to music, be outside, and have many laughs while cruising the streets of Palm Springs."
Reservations are required for all public and private tours, and booking early is recommended as this popular attraction fills up quickly. To join a public tour, the price is $30 a person, while the price for a weekend private tour is $200 an hour. 
Where to Party
Casino lounges

Courtesy of Agua Caliente Casino Palm Springs
Bachelorette parties looking to have a good time should make their way over to the casino lounges at both the Agua Caliente Resort Casino Spa Rancho Mirage and the Agua Caliente Casino Palm Springs. From the lively atmosphere to the great music played, these casino lounges definitely know how to impress and party the night away.
Costa's
Located at the JW Marriott Desert Springs Resort & Spa, Costa's Nightclub is an impressive club that knows how to bring the party. From good music that will leave you wanting more on the dance floor, to their specialty drinks in the Champagne Lounge, brides and their entourages are sure to have a wild time at Costas. The club is open on Friday and Saturday nights and features DJs and live entertainment.