Coffee isn't just a beverage – for some, it is simply a way of life. There is no better feeling than opening the door into a coffee shop and being welcomed by the smell of fresh coffee, the mouth-watering whiff of freshly made baked goods, the screeching sound of milk being steamed, the friendly smile of the baristas. Are we speaking your language? If so, let's take a tour of the coffee shops that we have to offer in Greater Palm Springs, and what makes them each unique!
Where: 1551 N Palm Canyon Dr., Palm Springs, CA 92262
Conveniently located at ARRIVE in Palm Springs, Cartel Coffee Lab is ready for you every day from 7 a.m. to 6 p.m. Walking up to this shop, you will find its unique architecture being a mix of industrial and Hollywood design that flows to the inside, with its alley-way setup. There are seating options on the patio in front or inside at the high tables. Now for the part that you have been waiting for, the menu! All of their coffee offered is roasted from Cartel Coffee Lab themselves, the plant is located in Tempe, AZ. For a solid cup of coffee, ask for their daily Black Market Blend Forty-Eight drip or their house-made cold brew. If you are feeling sweet, try out the CCL, a Nami vegan caramel, coconut almond cream and cold brew concentrate shaken and topped with Maldon salt, or give their mocha a try, made with vegan Holy Kakow's dark chocolate syrup. To accompany, they have freshly baked cookies, scones and more brought in from a local bakery every morning.
Where: 1101 N Palm Canyon Dr., Palm Springs, CA 92262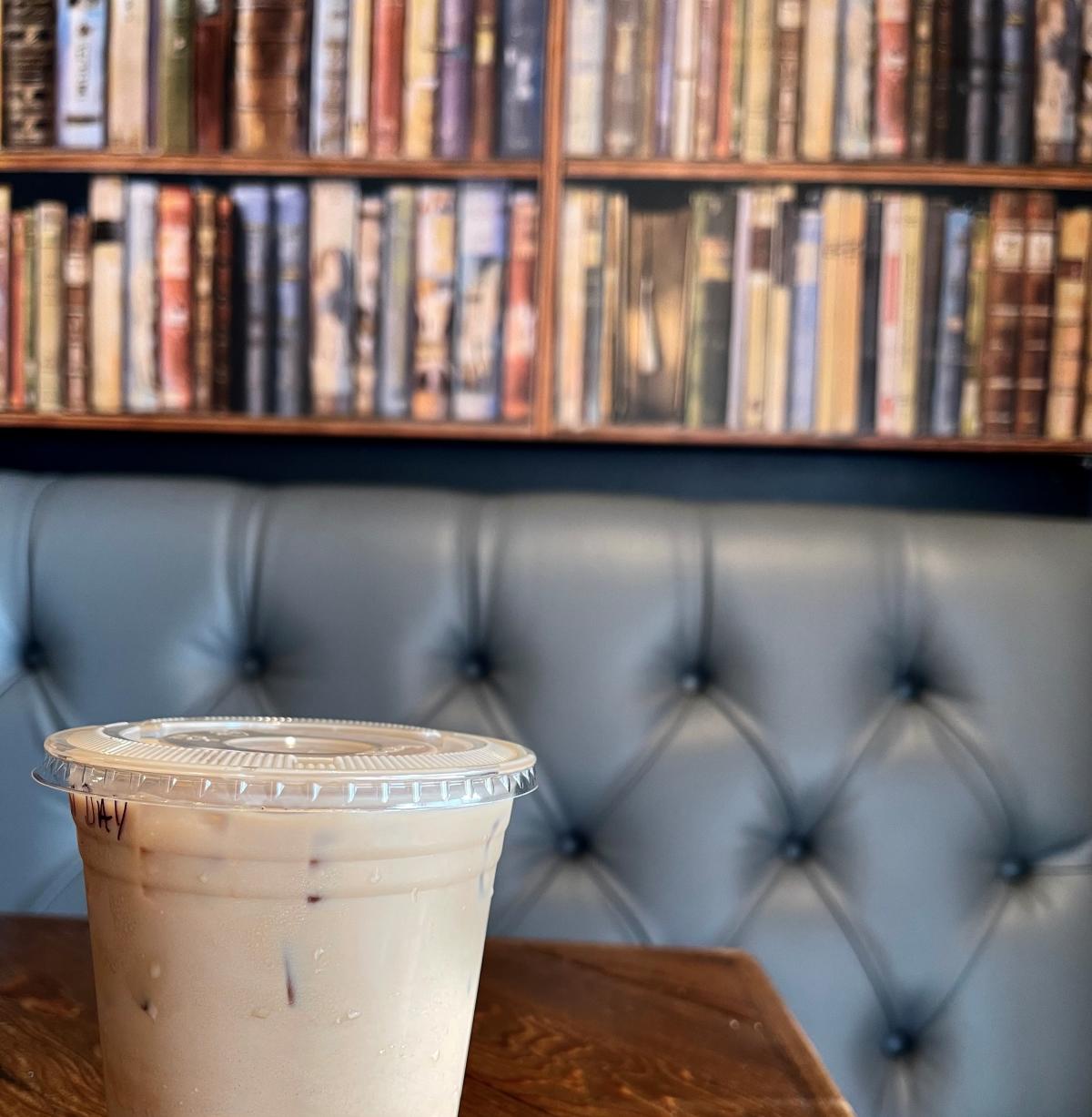 Walk down the street to find Ernest Coffee, a local coffee shop that serves Stumptown, roasted in Portland, OR. Walking in, you will be greeted by baristas and an atmosphere that is great for meeting with a friend or for getting some work done. Whether you are sitting inside or on the patio surrounded by misters, you and your pup are welcome to sit and enjoy. With featured seasonal drinks and a vast variety of options, there is something fitting for everyone from sweet and creamy to strong and bold. Their most popular drinks are the Pistachio Rose Latte, made with house-made pistachio orgeat, blended rose petals and pistachios and topped with a spritz of rose water, or their Horchata Chai Latte, a combination of homemade horchata and chai syrup, oat milk and espresso. They also have fresh pastries delivered every morning; options may vary.
Café La Jefa | serving Sisters Coffee
Where: 750 N Palm Canyon Dr., Palm Springs, CA 92262
Located in the newly upcycled building, Flannery Exchange, Café La Jefa features an aesthetically pleasing environment with its modern touches, making it the perfect place to take that new Instagram picture. You will also find amazing views when you enjoy their large outdoor seating area. Serving Sisters Coffee, you can enjoy a delightful black cup of coffee or add some flavor to your latte with their all-organic syrups, including the sweet and spicy Mexican mocha! Something the owner made sure to feature in the café was a grab-and-go selection of healthy and delicious food options.
Heading down Highway 111, you will find more coffee shop gems in Greater Palm Springs.
RM Coffee | serving Malongo Coffee
Where: 70020 CA-111 Suite B, Rancho Mirage, CA 92270
If you are driving down Highway 111 through Rancho Mirage, make a quick stop at RM Coffee. Newly opened, this shop offers the perfect spot to meet a friend and enjoy the blissful backdrop of palm trees against the blue sky while being surrounded by mountains. "I want to be unique, different from the other coffee places,' stated Philippe, the owner of RM Coffee. In doing so, he bakes all pastries himself, serving items like pecan pies, quiche, croissants of all kinds – enough to satisfy your cravings. Try one of their iced caramel lattes or be adventurous by adding lavender into the mix, creating a personalized drink. Who knows? This may be your new go-to. 
Koffi | serving Koffi
Where: 650 E Tahquitz Canyon Way, Palm Springs, CA 92262 | 1700 South Camino Real, Palm Springs, CA 92264 | 515 N. Palm Canyon Dr., Palm Springs, CA 92262 | 71380 Highway 111, Rancho Mirage, CA 92270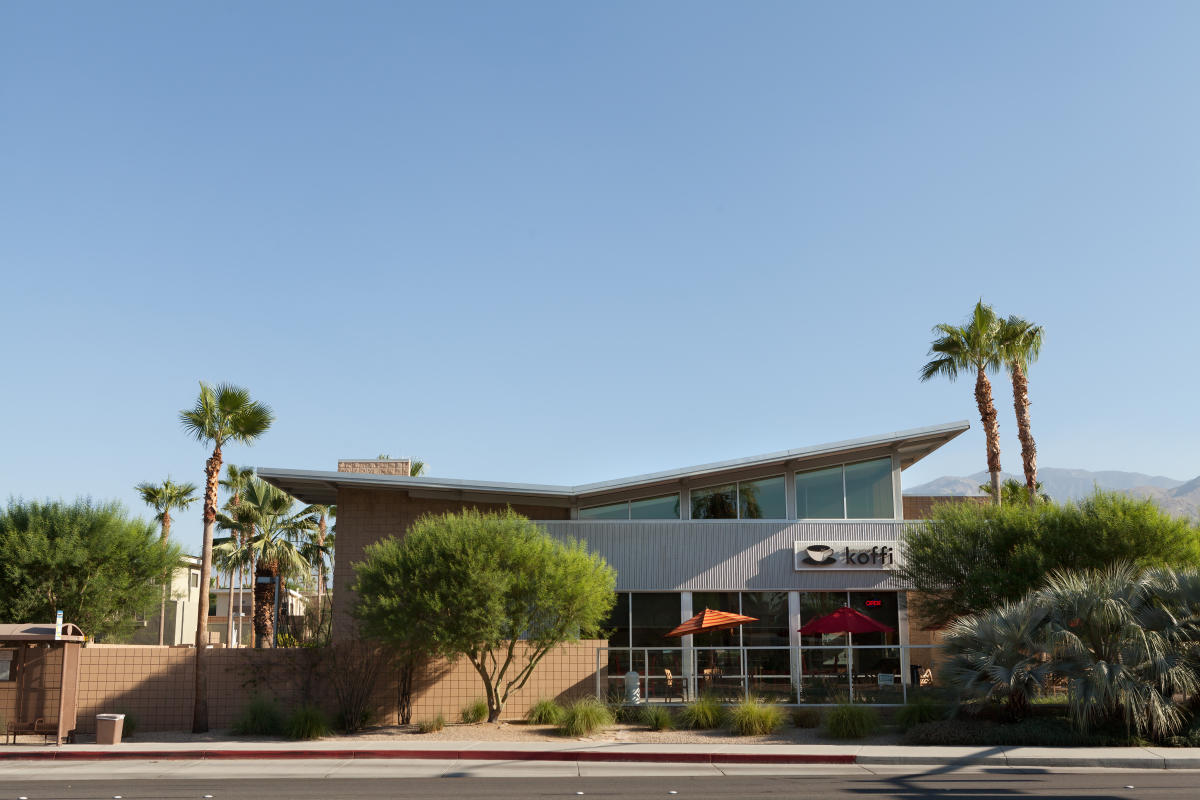 Koffi was founded in 2002 and has since multiplied locations spreading throughout Palm Springs and Rancho Mirage, where they roast their own coffee beans. They are now the largest independent specialty coffee retailer and roaster in Greater Palm Springs! You can find freshly roasted beans and souvenirs in all of their shops, they even have a coffee subscription box, making sure you never run out of your morning fuel. Their menu is vast, offering something for all coffee, or non-coffee, lovers. For the traditional coffee drinkers, order an americano or cappuccino, but if you are feeling for something sweeter, order a coffee freeze. A rich and creamy base blended with espresso and flavors of your choosing. If you are in the mood for food, then try a pastry, breakfast sandwich or a salad or wrap.
IW Coffee | serving Joshua Tree Coffee Co. 
Where: 74995 CA-111, Indian Wells, CA 92210 | 74868 Country Club Dr. #101, Palm Desert, CA 92260
Located in the serene atmosphere in Indian Wells, IW Coffee is the perfect stop as you are headed out for a day of golf or need a little pick-me-up after shopping. The large windows looking out into the palm trees and blue sky make it a perfect place to sip on coffee and take a moment to reflect. Serving Joshua Tree Coffee Co., IW Coffee keeps its drinks unique and delicious. Some of their most popular drinks are the iced Lavender Honey latte, Thai Tea latte and a classic chai latte; keep in mind that their seasonal drinks change, making it the perfect excuse to find your way here more than once! For food, they offer breakfast meals, fresh baked goods, lunch items and more. For those who would rather indulge in something cooler and sweeter, they also serve locally made ice cream from Idyllwild Ice Cream.
Where: 49499 Eisenhower Dr., La Quinta, CA 92253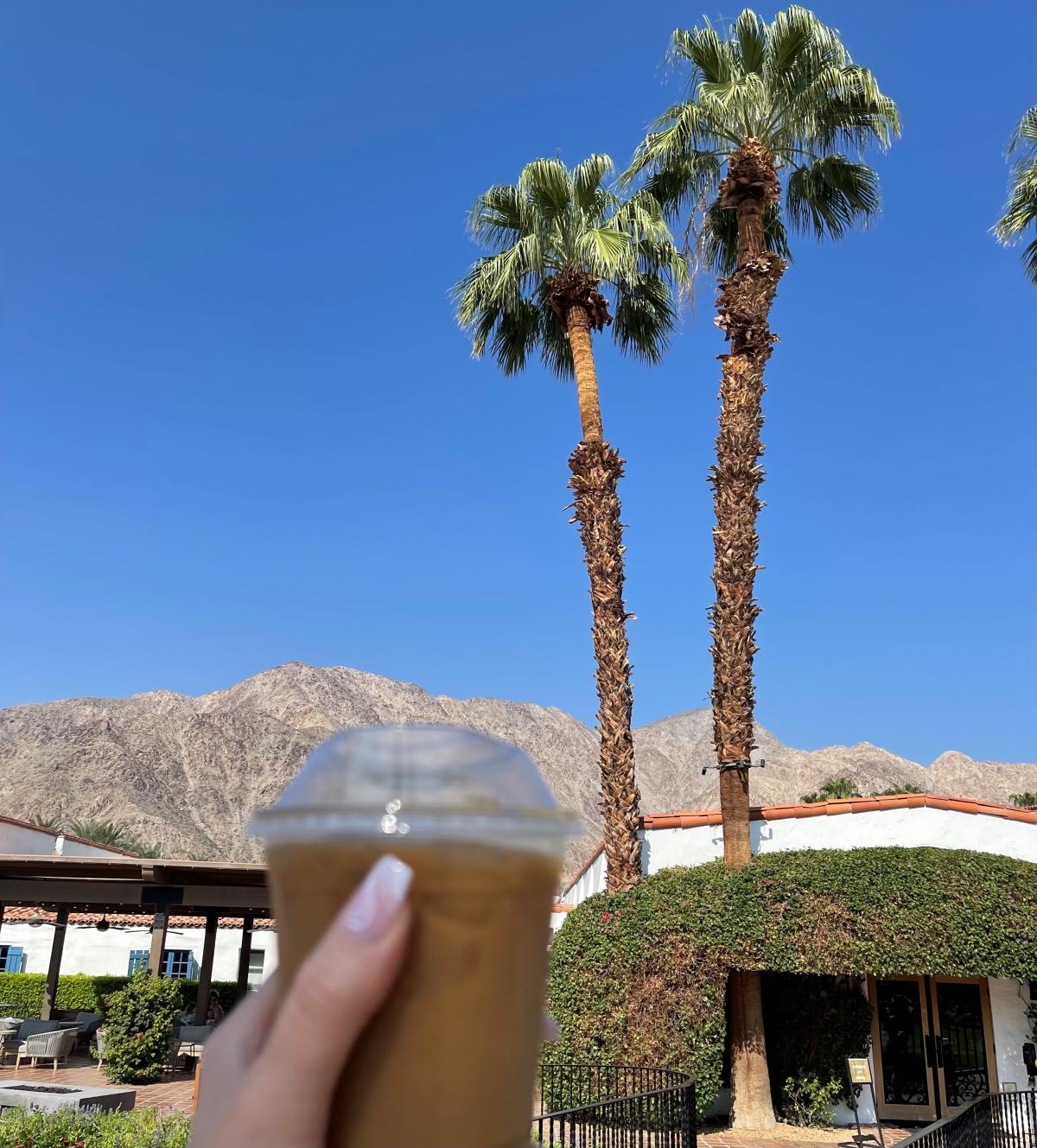 Conveniently located in the beautiful La Quinta Resort & Club, The Marketplace is a perfect place to go if you are staying at the resort and need that morning pick-me-up or you are simply in the area and want a place to enjoy an amazing view while you sip on your drink. The Marketplace is not only a coffee shop, but also offers breakfast sandwiches, wood-fired pizza, beverages like wine, beer and spirits, all things that you may need when enjoying your stay at a resort. On the coffee menu, they have a fresh mint iced coffee, made with fresh iced coffee, muddled mint and a splash of cream; it is a perfect blend. They also offer a house special Spanish Latte, made with condensed milk for a sweeter touch. Grab your drink and something to eat and sit outside under the blue sky and enjoy the serenity of this property. 
Where: 81730 CA-111 Suite 14, Indio, CA 92201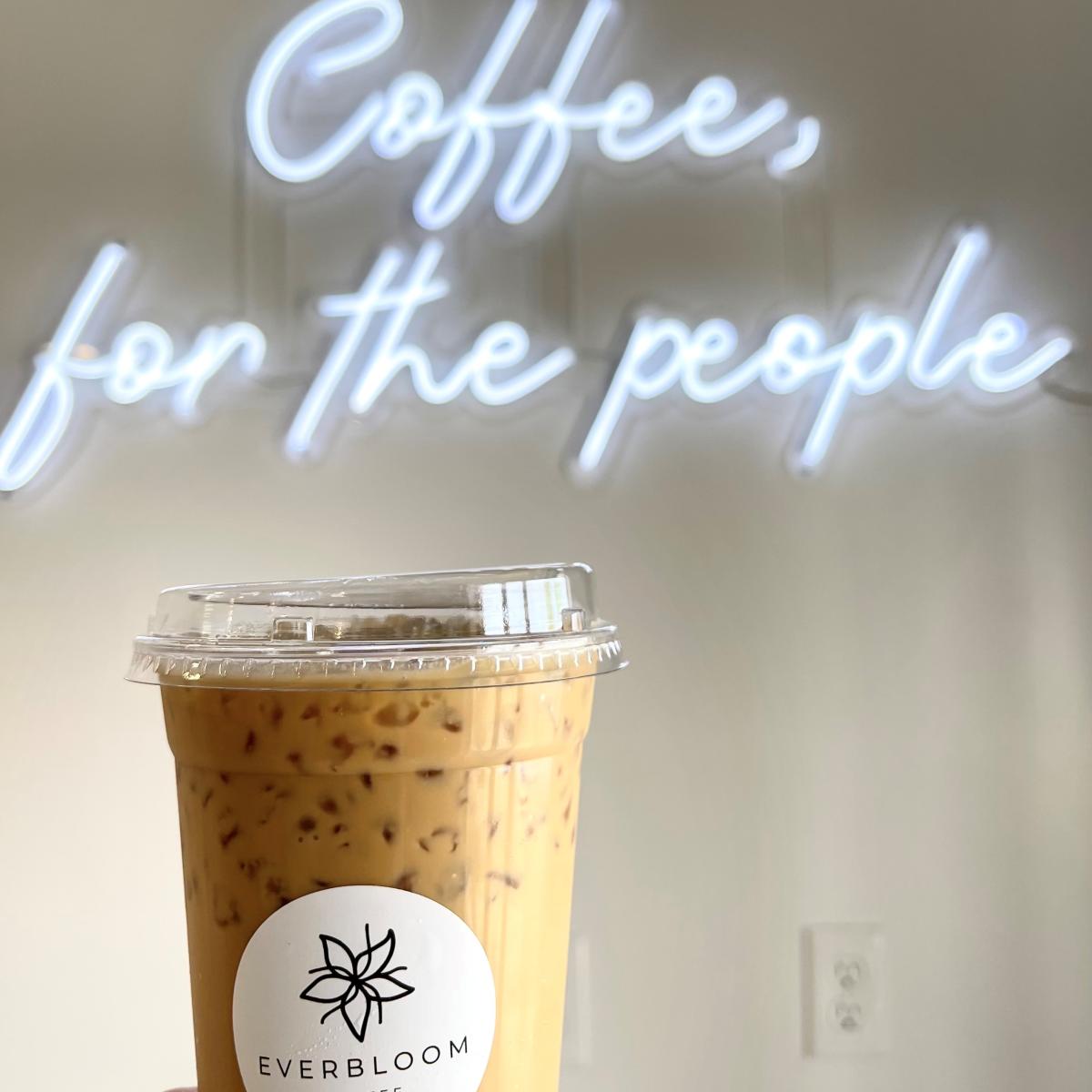 Found on Highway 111 in Indio, Everbloom is a gem of a coffee shop, featuring a minimalistic and modern atmosphere, and a staff that makes you feel like a friend. Their smaller, yet loved menu is always evolving and growing. A couple of their most popular drinks are their butterscotch and honey lavender lattes, made with homemade syrups. You can't forget about their half-gallon 'batch' coffees, serving up to 6 people. You get to choose from their iced latte, chai or cold brew; and yes, they are all customizable.
Where: 1500 6th St., Coachella, CA 92236
Take in the culture and passion that Sixth Street Coffee has built its community around. With a mission to provide a space for creativity and open dialogue, they have taken to serving enjoyable coffee and tea to bring their vision to life. Located in Coachella on 6th Street, they offer a beautiful indoor shop with an aesthetically pleasing atmosphere. On the menu, you can find all sorts of lattes flavors like lavender rose, horchata, chocolate Mazapan and autumn citrus. Are you intrigued yet? Good, but that is not all! They serve brunch on the weekends and select pastries. Stop by and let the coffee speak to you! 
Now it is your turn to try a new drink at one of these cafes and let us know which one you enjoy the most. Be sure to tag us on Instagram @DineGPS, where you can find more food and drink inspiration. Cheers!