Greater Palm Springs is a thriving center for visual arts - both inside the museums and galleries and outside. In high season, art fairs are plentiful, but you can also enjoy free public art year-round, any time you like. Thanks to 'Art in Public Places' programs in every valley city, there are public art tours, and much to see – from murals to mosaics, fountains, and sculptures.  Self-drive art tours are a great way to discover this vibrant element of Greater Palm Springs' cultural landscape.  
In the east valley City of Coachella, 'Coachella Walls' was launched in April 2014. The first mural completed, by acclaimed LA artist El Mac, is a moving portrait of a farmworker, on the side of a downtown Pueblo Viejo building.  Nearby is the 'Casa de Trabajador' by Armando Lerma and Carlos Ramirez, founders of Coachella Walls. Also, be sure to check out 'Etherea' by Edoardo Tresoldi which is most famously known for its time in the spotlight during Coachella Music And Arts Festival in 2018.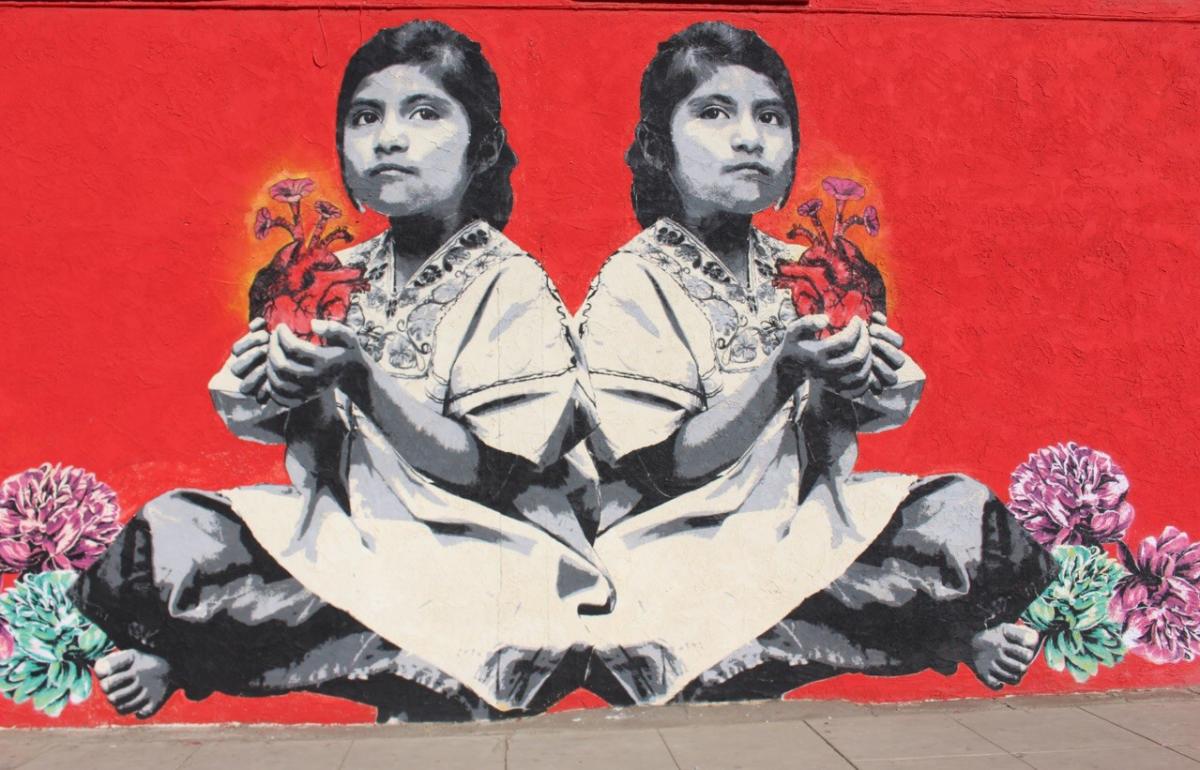 Indio's public art program preserves the cultural heritage of the valley's oldest city with its nine dramatic murals, created by the Historic Mural Project. Don't miss the 'History of Water in the Coachella Valley', 140' long and 15' high, painted by Don Gray.  New sculptures and artworks are regularly installed.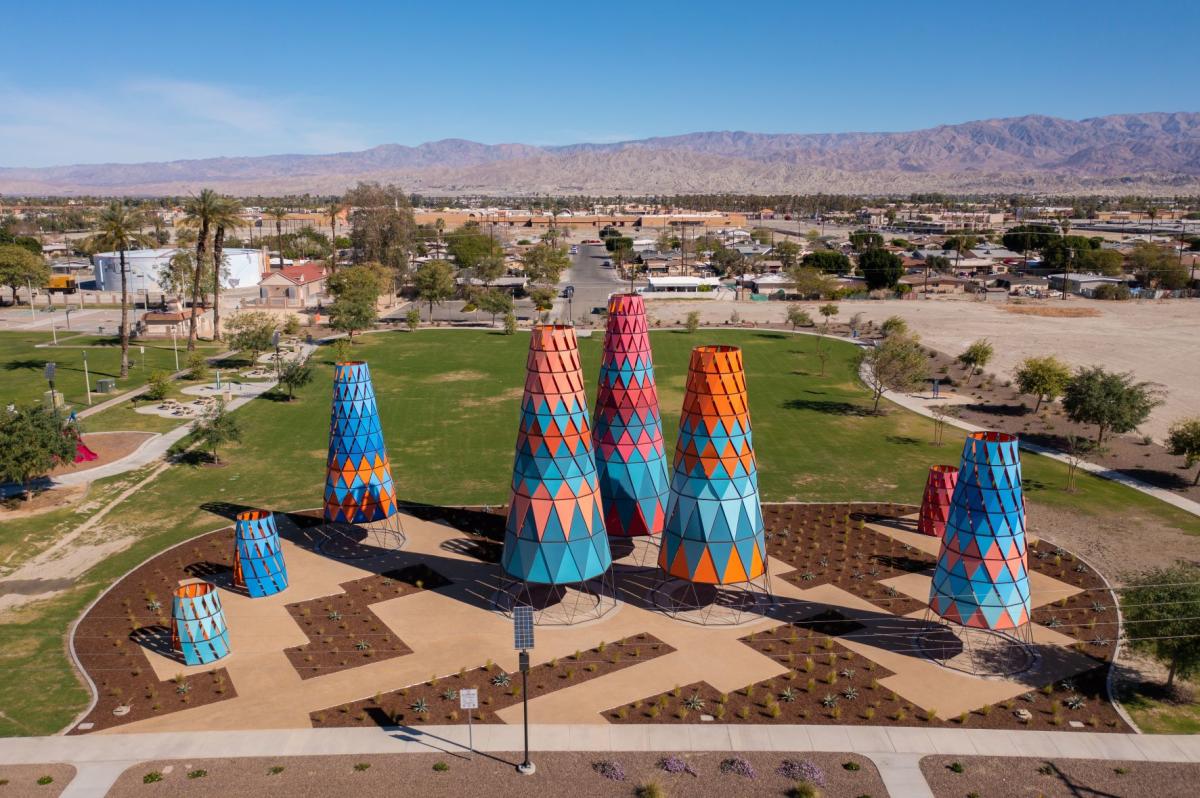 Most recently Sarbalé Ke, which is another well-known art piece from Coachella Music And Arts Festival has found its permanent home in the city of Indio. 

Public art in La Quinta is as important to the city as the annual Arts Festival. Take a self-guided walking tour around the La Quinta Civic Center Campus, La Quinta City Hall, and La Quinta Library. Don't miss the recent 9/11 memorial, 'Never Forget' that incorporates steel from the World Trade Center, designed by a local artist and paid for with funds raised by a local Boy Scout.
The first city in Riverside County to adopt a public art ordinance, Palm Desert now has more than 150 public artworks throughout the city, including the rotating installations displayed along the median of the popular El Paseo Shopping District.  
Don't miss the Palm Desert Civic Center Park, home to more than 20 artworks. Some are surprising, like the 'Fisherman' embedded in the lagoon's bank, or moving, like the impressively detailed 'Holocaust Memorial' by Dee Clements. Palm Desert is also home to the Faye Sarkowsky Sculpture Garden, open year-round, just off Hwy 111. It is a delightful oasis set on four acres, with winding walkways through palm trees, desert plants, water features, and rock formations, interspersed with 10 major sculptural works. 
In Rancho Mirage on Hwy 111, the pretty, shaded 'Cancer Survivors Park' features tiled benches, a pyramid kiosk, a waterfall, and a moving artwork comprising life-size sculptures representing cancer survivors and their families.  It is one of only 22 such parks in the USA. Rancho Mirage Public Library features regular exhibitions by local artists and photographers.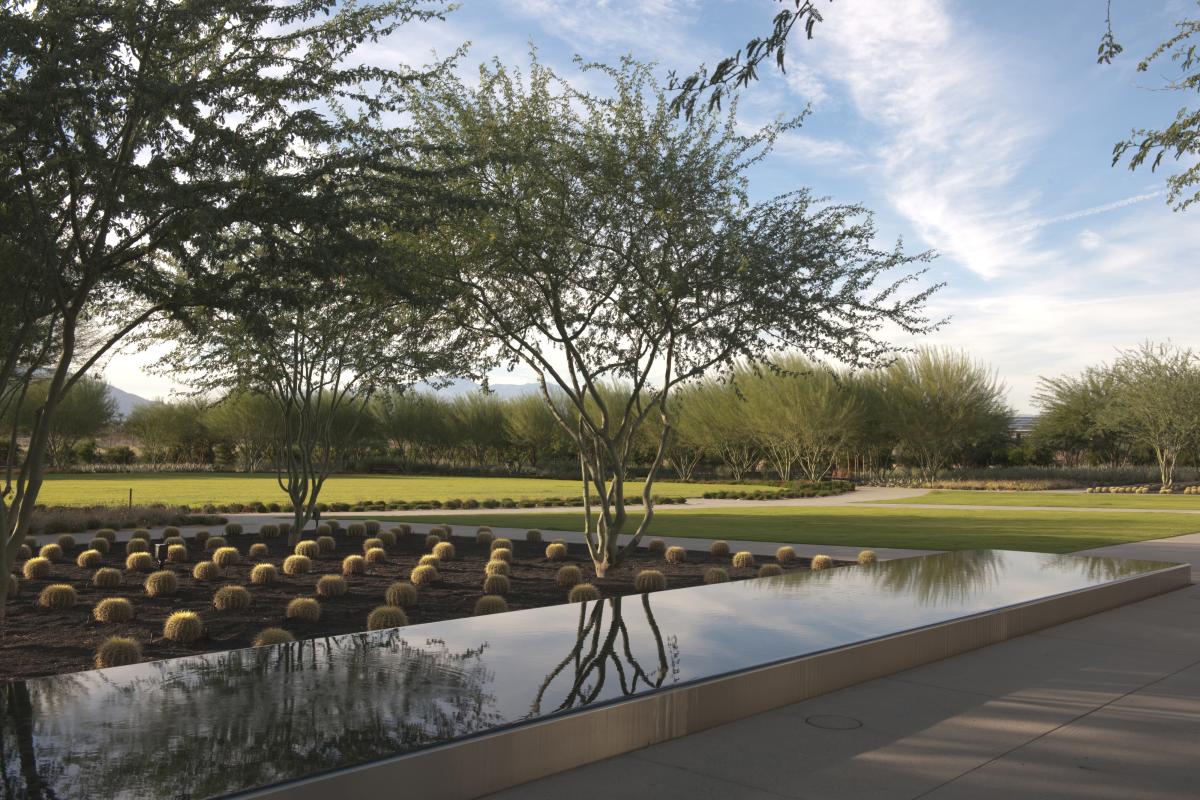 Rancho Mirage residents and renowned artists Karen and Tony Barone create large-scale, colorful animal sculptures that can be seen all over the valley: at the Palm Springs Animal Shelter, Historical Society of Palm Desert,  University of California Riverside/Palm Desert Campus and the Rancho Mirage Library and Observatory.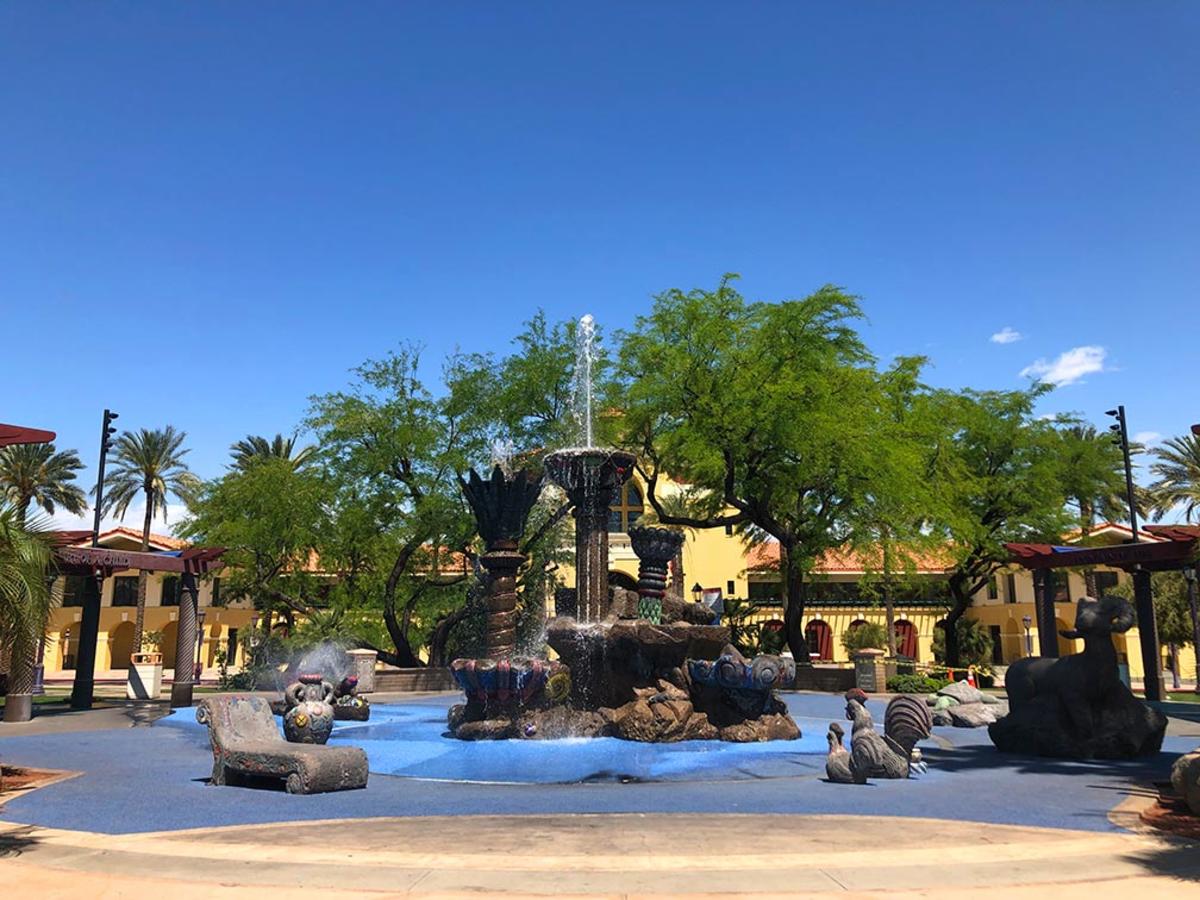 At the Cathedral City Civic Center you'll find several artworks including the delightful 'Fountain of Life' made of artisan-carved Mexican stone. Designer and artist Jennifer Johnson spent months applying hand-cut mosaic tiles and glass to the stone. Look closely and you'll see animals, birds, and flowers. Actor and musician Buddy Rogers were the first to donate to the fountain; his statue stands nearby.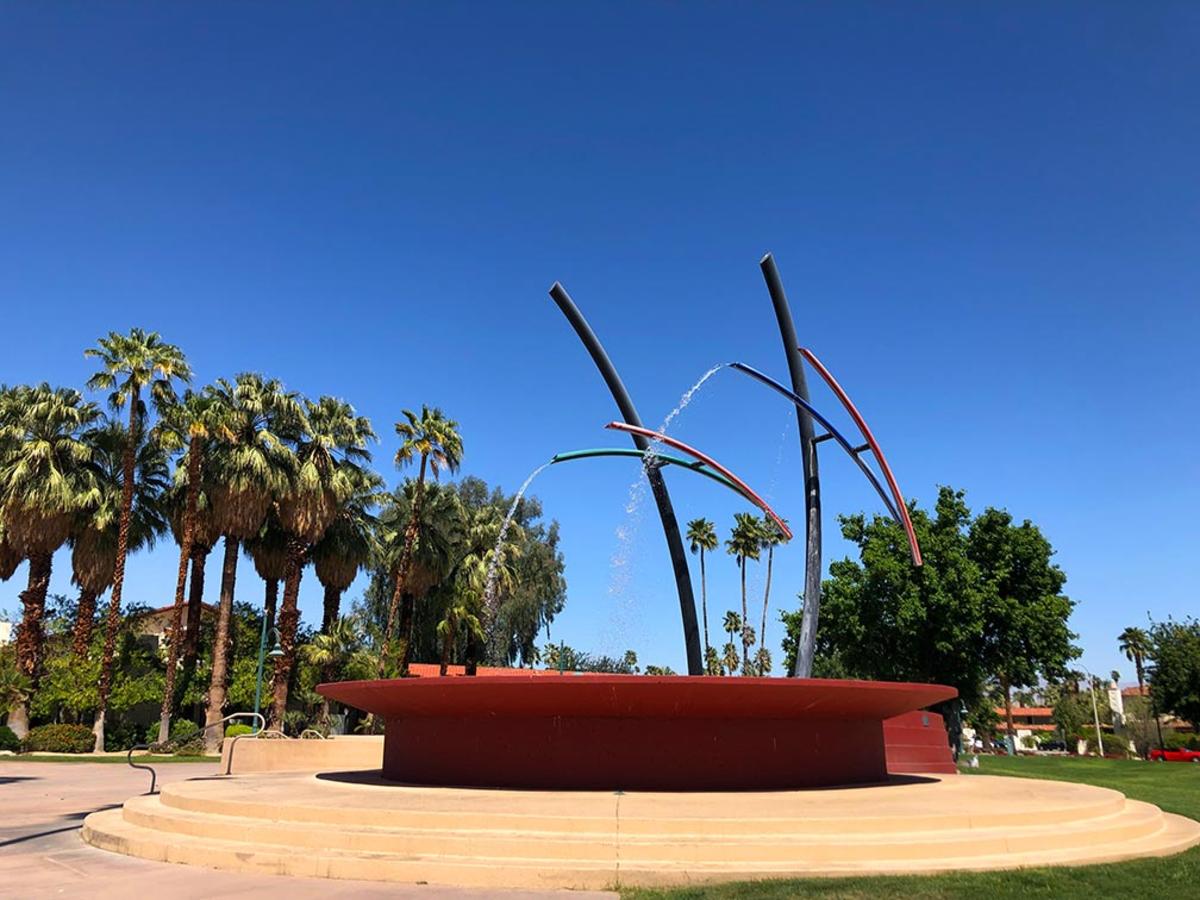 Palm Springs public art collection features 60 works throughout the city. Best known are the much-loved seated statues of Lucille Ball and Sonny Bono in downtown. In the Uptown Design District, the water feature, 'Rainmaker' by David Morris intrigues and entertains visitors with its tipping waterspouts. Whether you're arriving at Palm Springs International airport, visiting the Convention Center, strolling through a park, or downtown, you'll find artwork nearly everywhere you go. Art maps are available at the Visitors Center, Chamber of Commerce, City Hall, or on their website at www.palmspringspublicart.org. 
Looking to continue your art journey on the road? The artsGPS app is your in-person mobile guide to the most prolific contemporary art scene. Check it out and get inspired!