RESEARCH
Because tourism is such a vital part of the local economy—it supports 1 in 5 jobs in the region—Visit Greater Palm Springs conducts ongoing research to not only support visitation to the destination through marketing research of key markets but also track the impact visitors have on the destination. Below are the studies we completed in 2021.

2021 ECONOMIC IMPACT OF VISITORS IN GREATER PALM SPRINGS
In an effort to quantify the economic significance of the tourism sector in Greater Palm springs, Tourism Economics completed this comprehensive analysis detailing the far-reaching impacts arriving from 2021 visitor spending in Greater Palm Springs. 
---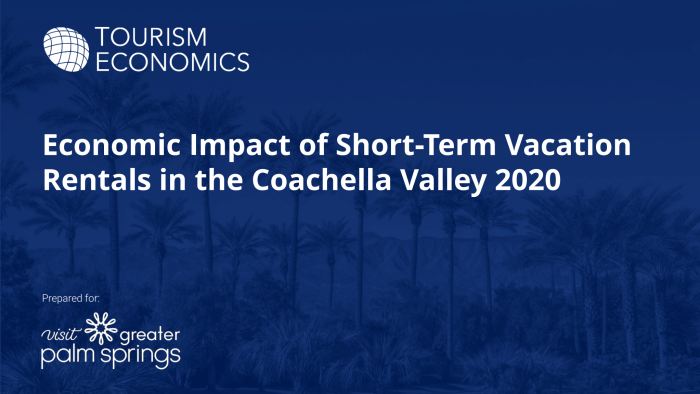 ECONOMIC IMPACT OF SHORT-TERM VACATION RENTALS IN THE COACHELLA VALLEY
Tourism Economics, a division of Oxford Economics, prepared this comprehensive analysis detailing the impacts arising in 2020 from short-term vacation rental visitor spending in Greater Palm Springs. 
Coachella Valley
Cathedral City
Coachella 
Desert Hot Springs
Indian Wells
Indio 
La Quinta
Palm Desert
Palm Springs
Rancho Mirage 
---

NON-PRIMARY RESIDENCES BY LOCATION OF OWNER: NOVEMBER 2021
The study estimates remote home ownership in the Coachella Valley, tracking non-owner occupied homes by the location of their primary mailing address. To view this study, click here.
---

ECONOMIC IMPACT OF THE PROPOSED COACHELLA VALLEY ARENA PROJECT
Developed in conjunction with Tourism Economics, an Oxford Economics company, this study examines the benefits of ongoing operations of the proposed Coachella Valley Arena — looking ahead to a one-year period of operation in 2023 — driven by the visitor component of the arena's expected events. 
---