AIR SERVICE
Transportation Security Administration (TSA) throughput in the United States for September 2023 was 110% of September 2022 levels. October 2023 was 112% of October 2022 throughput. Year-to-date (YTD) October 2023 was 114% of YTD October 2022 levels.
PSP TSA levels for September 2023 finished at 93% versus 2022 levels, and PSP October 2023 TSA throughput was 107% of October 2022 levels. For October 2023 YTD, PSP finished at 113% of October 2022 year-to-date levels.
PSP demand in 2023 continues to be strong, and we project another record year in 2023 by seats and passengers. Year-to-date demand (YE Oct 2023) is up 25% versus 2019 and up 8% versus 2022.
PSP is pleased to welcome back the seasonal return of 20 routes this fall from Chicago (ORD) on both American Airlines and United Airlines; Edmonton (YEG) and Winnipeg (YWG) on WestJet; and Eugene (EUG), Redmond (RDM), and Santa Rosa (STS) on Avelo.
Alaska Airlines will be starting new seasonal service to New York (JFK) on December 14, 2023. It will operate five to seven times per week. We are thrilled with Alaska's investment in growing PSP and providing nonstop service to the Big Apple!
Supporting additional air service growth, Visit Greater Palm Springs along with our air service consultant Ailevon Pacific and Daniel Meier, Deputy Director of Aviation & Marketing at Palm Springs International Airport, are scheduled to travel to Chicago December 5 to meet with the United Airlines team. Discussion priorities will center around new service from the Northeast and Mid-Atlantic regions as well as extending seasonality of our Chicago flights. The team will present extensive data to validate these routes and will continue to work with United, as well as other airlines, on season extensions and new routes. 
Below is the latest data for PSP. Click HERE or the image below to view the multiple-page PDF report.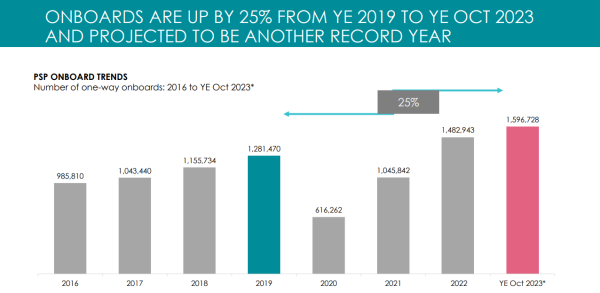 ---
If you have any questions about air service, please contact:
Gary Orfield, Director of Tourism Development​
gary@visitgreaterps.com | 760.969.1335