Champions Of Hospitality Awards
The Champions of Hospitality Awards Gala is a celebration of the individuals and organizations that embody the resilient and innovative spirit of our local hospitality industry. In 2023, this event was hosted at The Renaissance Esmeralda Resort & Spa  . All proceeds from the event directly support the Greater Palm Springs Tourism Foundation, providing college scholarships to local students and career-advancing training and certificate programs for our hospitality workforce. 
The Spirit of Tourism Award -- presented to an exemplary organization or individual who embodies the spirit of tourism in Greater Palm Springs and has worked diligently to move the overall industry forward in both actions and spirit -- was presented to Tim Leiweke, CEO of Oak View Group. 
Here's a look at why some of our nominees love working in the tourism and hospitality industry: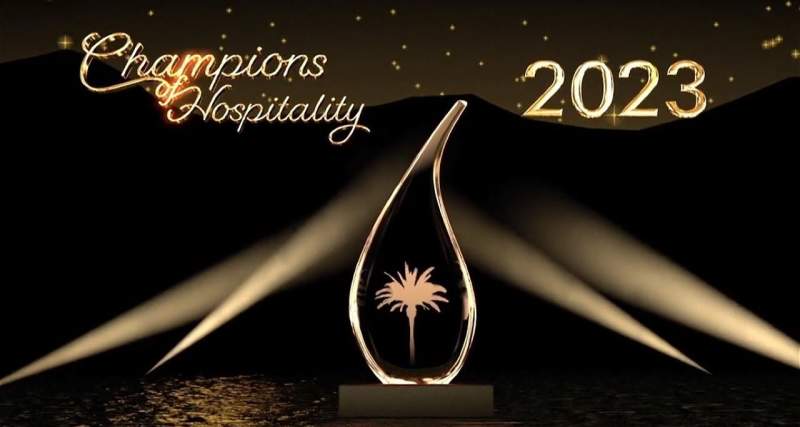 Hospitality is more than greeting others with a smile. It's the summation of warmth and kindliness. It's bringing families and friends together and transforming everyday experiences into extraordinary ones — it's you.
CONGRATULATIONS TO THIS YEAR'S WINNERS!
HOSPITALITY CHAMPION AWARDS
ATTRACTIONS | TOURS
Levi Hernandez, Escape Room Palm Springs
Garth Hoyes, The Living Desert Zoo and Gardens
BOUTIQUE OR HOT SPRING HOTEL
Angie Bettinelli, Azure Sky Hotel

FULL SERVICE HOTEL
Martha Lucio, Hilton Palm Springs
RESORT HOTEL
Heriberto "Beto" Caballero, Tommy Bahama Miramonte Resort & Spa
Elizabeth Donate, Hilton Grand Vacations Club Palm Desert
Guillermo Esquivel​, Renaissance Esmeralda Resort & Spa, Indian Wells
Tatiana Schneider, The Ritz-Carlton, Rancho Mirage
James Toscano, The Westin Rancho Mirage Golf Resort & Spa
Yolanda Leyva​, Agua Caliente Resort Casino Rancho Mirage
Martin Oliveros​, La Quinta Resort and Club
RESTAURANT | BAR
Griselda Perez, Fantasy Springs Resort Casino
Jennifer Torricelli​, Café One Eleven at Agua Caliente Casino Cathedral City
Juan Gonzalez​, TQLAS and The Hideout Kitchen + Bar
RETAIL
Rosa Sanchez, Rancho Relaxo
SELECT SERVICE HOTEL
Enma Lopez​, Hampton Inn & Suites Indio

VACATION RENTAL
Margie Diaz, Meredith Lodging

VENUE
Jessica Gonzalez​, Acrisure Arena
WELLNESS | SPA
Freddy Barragan Aguilar, Parker Palm Springs
Tim Fields​, JW Marriott Desert Springs Resort & Spa
Ioana Vasile​, The Spring Resort & Spa

OASIS AWARD FOR SUSTAINABILITY
City of La Quinta​

PALM AWARD FOR VISITOR EXPERIENCE
Aric Ianni​, Boozehounds Palm Springs
Sean Smith​, CV BBQ
Daniel Spencer​, Agua Caliente Casinos: The Spa at Séc-he & Sunstone Spa
Cathedral City Hot Air Balloon Festival​
Palm Springs Air Museum​

SAN JACINTO RISING STAR AWARD
Nicole Benvenutti​, COJ Events, Inc.
Abril Betancourt, Renaissance Esmeralda Resort & Spa, Indian Wells
Jocelyn Gutierrez, ACME House Company
Gilbert Lujan​, Kimpton Rowan Palm Springs
Jose "Chuy" De Jesus Martin, Lulu Catering & Events
Bianca Nolasco, Empire Polo Club
Christine Willinisky​, FARM, Tac/Quila, Front Porch, and Clandestino

SANTA ROSA DIVERSITY CHAMPION AWARD
Nathan Kelleher​, The Ritz-Carlton, Rancho Mirage

SPIRIT OF TOURISM AWARD
Tim Leiweke, Oak View Group/Acrisure Arena
Thank You To Our Sponsors