DESTINATION NEXT - CASE STUDIES
Initiating new developments and experiences throughout Greater Palm Springs with a broad range of appeal to different demographics is one of the recommendations that came out of the DestinationNEXt study findings. This page highlights examples and best practices our region can consider as we look toward the creation of new product development / guest experience strategies.
Health Alliance for Austin Musicians (HAAM): Austin, Texas
Live music is an essential part of Austin's cultural identity and economic engine, contributing more than $1 billion to the local economy every year. HAAM leverages key community partnerships (including the City of Austin) to provide access to affordable healthcare to the destination's low-income, working musicians. By supporting organizations like HAAM, the City of Austin is supporting musicians who contribute to the fabric of their tourism industry and visitor experience — an example of how destinations can help tourism thrive through unique community partnerships.
Paul Ouimet Case Studies
Paul Ouimet, President and Partner at MMGY NextFactor, gave an overview of general opportunities for Greater Palm Springs during the January 29, 2021 CVB Board Meeting. You can view his presentation here or by clicking on the image below.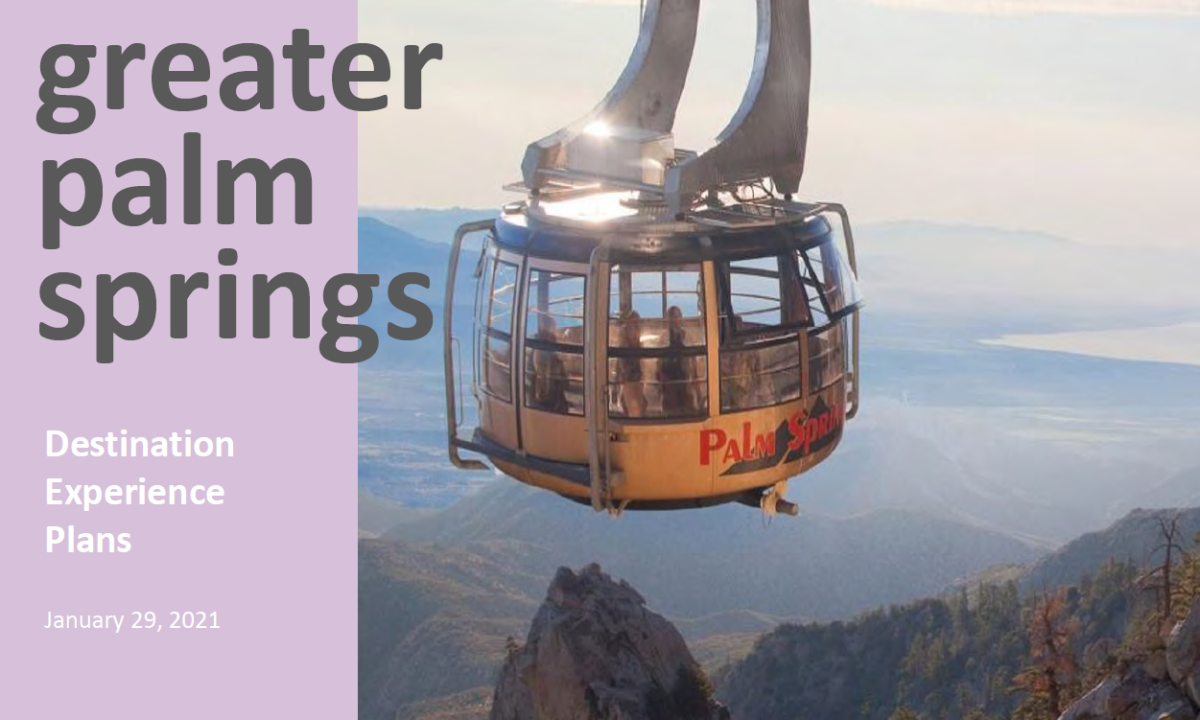 Paul offers the following examples of personalized, unique, and authentic visitor experiences created by other destinations to help attract more visitors and create a positive social media and public relations impact. You can view all the examples on this PDF.
Montreal Memories
Montreal, Canada
This outdoor video projection experience runs year-round at dusk and offers a unique historical depiction of Old Montreal. It has a downloadable app with soundtrack and historical text. It offers a unique historical depiction of Old Montreal.
---
The Six Forgotten Giants
Copenhagen, Denmark
The intention of the project is to bring art out of the museum, show the beautiful and often overlooked nature spots in the destination, and at the same time give an exciting and different experience. All six sculptures are made from scrap wood with the help of local volunteers. Visitors can go on exciting treasure hunts to visit the sculptures across six western municipalities of Copenhagen.
---
Notre-Dame Aura
Montreal, Canada
Created as a new attraction in 2017 as part of Montreal's 375th birthday celebration, this light show in the Notre-Dame Basilica is consistently one of the top tourist attractions in the destination.
Maine Pinnacle Pursuit
Moosehead Lake Region, Maine
The Moosehead Pinnacle Pursuit (MPP) is a six-mountain hiking challenge in the Moosehead Lake Region of Maine. The mountains include Mount Kineo, Number Four Mountain, Whitecap Mountain, Eagle Rock, Big Moose Mountain and Borestone Mountain. Hikers can finish all six hikes (a total of 27.9 miles) and become a registered member of the Moosehead Pinnacle Pursuit.
---
The Alive Experience
Transformational Travel Council, United States
The Alive Experience is a transformational travel experience that offers the elements of wellness, adventure, self-development and connection in some of the most beautiful destinations in the world. The ALIVE Experience is a curated a week of workshops, activities and excursions to inspire and empower participants to create a profound shift in the areas of life that are important to them: happiness, health, fulfillment, relationships and purpose. The trips range from 5-10 days in length and include all meals, accommodations, local transports, activities, workshops and excursions.
---
Indianapolis Cultural Trail
Indianapolis, Indiana
With a mission to enrich lives and connect people and places through dynamic and beautiful experiences and using a sustainable funding model, the Indianapolis Cultural Trail works with a bikeshare program as a catalyst for economic growth.
OASIS Immersion - Palais des Congres
Montreal, Canada
The Palais des congrès de Montréal has added three immersive rooms to its permanent facilities. This new feature comes in the wake of the launch of OASIS immersion, a 2,000+ square-meter space that will be rentable for events and will also host a rich array of walk-through exhibits for the general public. The three new immersive rooms are housed on the main floor of the Palais. They include 105 laser projectors and 119 surround-sound speakers. All parts of the state-of-the-art equipment make possible 360-degree projections on walls and floors that will capture the imagination of one and all.
---
Pumpkinferno
Upper Canada Village, Canada
Started in 2012, the event now features 7,000 handcrafted pumpkins lit at night September through October. The pumpkins are designed and carved by group of young artists.
---
Field of Lights
Paso Robles, California
Begun in May 2019, this 15-acre walk-through interactive light installation by artist Bruce Munro features 58,800 solar-powered lights. Opening weekend, there were 2,200 visitors, with 13,000 Instagram posts using the event's social media hashtag #fieldoflights in the first four weeks. The experience is $79 in advance, $85 when purchased day of.
---
Sin City Classic
Las Vegas, Nevada
The Sin City Classic Sports Festival is a multi-day LGBTQ sports event hosted annually in Las Vegas. Started in 2008, the event has grown to become the largest annual LGBTQ sporting event in the world. Each year, nearly 8,000 LGBTQ athletes and another 2,000 fans and allies supporting 20-plus sports participate in the event.
Arlington Esports
Arlington, Texas
At 100,000 square feet, Esports Stadium Arlington is the largest dedicated esports facility in North America. The facility serves as a turnkey solution for esports events and productions, built to serve the unique needs and demands of the esports community.
Chattanooga Gigatown
Cattanooga, Tennessee
Chattanooga is the first city in the United States to offer 1 Gigabit-per-second fiber Internet service to all of its residents and businesses, over 150,000 people. The 100% fiber network was installed by Chattanooga's publicly-owned electric power system, EPB, to support the most advanced Smart Grid system in the nation.
---
Google Fiber Webpass
United States
Google Fiber is a high-speed Internet connection similar to but significantly faster than other internet service providers. Webpass is a "wired" Internet connection without the wires aimed primarily at high occupancy residential buildings like apartments and commercial buildings. The service has expanded to Austin, Atlanta, Salt Lake City, Louisville and San Antonio among other areas around the country. Webpass is based out of San Francisco and serves Seattle, Denver, Chicago, Boston, Miami, Oakland, San Diego and other areas. Google is also working with local partners across Fiber cities to get more families in public housing online with Gigabit Internet for $0/month.