Communications & Film
In January, Todd Burke joined the team as Vice President of Communications, bringing his expertise to help support public relations and communications efforts. He will also lead communications for the organization's corporate initiatives, which include workforce development, education, sustainability, and DEI, as well as lead VGPS' international media relations efforts.
We also welcomed Finn Partners as our agency of record for the UK and Ireland. In addition to public relations, the agency will be working with VGPS on travel trade and direct-to-consumer marketing. The Finn Partners team will be in Greater Palm Springs at the end of May for an immersion.
---
PR & Media Support
For the first two months of 2023, the Communications team logged 92 media touch points, initiated 20 targeted pitches, and supported 39 media in the market.
Story support for the January and February reporting period was provided to outlets including Skift, California Meetings + Events, Smart Meetings, The Daily Mail, Travel + Leisure, and Meetings Today.
With support of our agencies, the team saw 81 articles published. Highlights included:
Press release distributions included the announcement of the Globe-Trotter Palm Springs Collection, launch of the Kind Traveler initiative, and partnership with Caravanserai.
---
Media FAMs & Missions
With a focus on meetings, the team hosted editors from Smart Meetings and Northstar Travel Group for Palm Springs International Film Festival Gala and FAM.
As part of our work with Visit California's Tourism Marketing Program for Rural Regions, the team held the first-ever Desert Region media tour hosting four French media. The group traveled more than 650 miles over 6 days. The trip covered Ridgecrest, Death Valley, Joshua Tree, Anza-Borrego, and Greater Palm Springs.
The team also hosted a Germany media press trip in partnership with Visit San Diego. The group included media from national publications including Arztliches Journal, RND Redaktionsnetzwerk Deutschland, Passauer Neue Nachrichten, Mittelbayerische Zeitung, and Donaukurier.
More than 50 people including key media and influencers joined us in February for the launch of Globe-Trotter's Palm Springs luxury luggage line in Palm Springs. The was event hosted at The Ware Estate, which was the location for the product photoshoot. This is the first-ever destination line for this iconic UK brand and was the first of four events planned.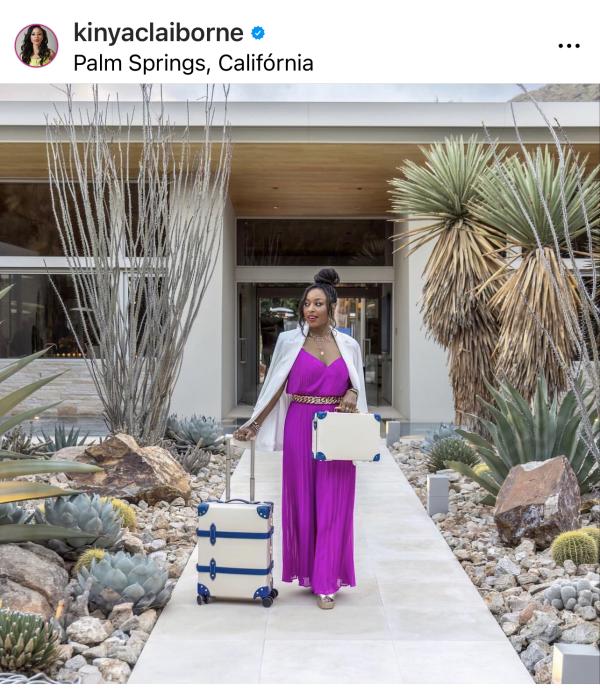 Above: An influencer posts a photo of herself with the luggage at the Ware Estate launch event.
An event was also held at Globe-Trotter's flagship London store in Burlington Square. Led by our UK agency FINN Partners and Visit Greater Palm Springs' UK-based tourism development manager, Gerry Boyle, the event drew more than 45 people.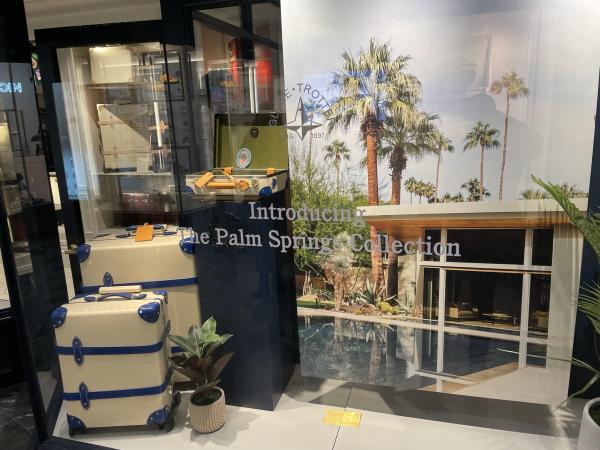 Above: A look at the new Palm Springs luggage line at Globe-Trotter's flagship London store in Burlington Square.
In March Scott White, Colleen Pace, and Joyce Kiehl attended the launch of the line at Globe-Trotter's Ginza store in Tokyo. More than 50 attendees joined the festivities, including Globe-Trotter clients, media, and influencers. 
While in Japan, Colleen and Joyce conducted a media mission meeting with editors from publications including Asahi Newspapers, Nikkei Magazine, Globe-Trotter Guidebooks, Kateigaho Premium Travel, and Nouveau. In addition, they hosted two media luncheons with key media and influencers.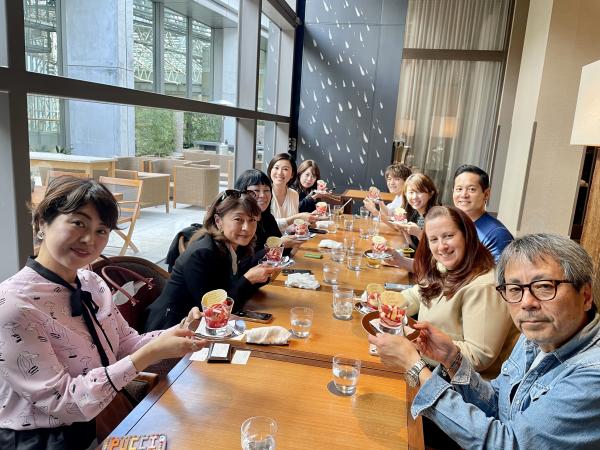 Above: Colleen Pace and Joyce Kiehl host a media luncheon in Tokyo.
In the past two months, the team met with media one-on-one at TravMedia's International Media Marketplace in New York City and also participated in a day of Visit California meetings with Dot Dash Meredith editors. The team attended Destinations Internationals Marketing & Communications Summit sitting on a Crisis Communications Panel in addition to attending Visit California Outlook Forum and participating in Society of American Travel Writers' DEAI (Diversity, Equity, Accessibility, Inclusion) Committee.
---
March 2023 and Looking Ahead
Moving forward, the team will direct its attention to Global Meetings Industry Day on March 30. In April, the team will attend Visit California's Canada Media Mission in Toronto and host a media dinner in Phoenix. The team will leverage the opening of The Spa at Séc-he to bring focus to wellness experiences in the destination in addition to hosting media in market for arts and culture focused experiences in partnership with Goldenvoice. In May, the team will turn its attention to Greater Palm Springs Restaurant Week, hosting media in market for dining experiences. The team will participate in Visit California's Los Angeles Media Reception and head to San Antonio for IPW.
---
Below are dashboards showing our year-to-date total PR Quality Score and article stats. The PR Quality Score measures content coverage on a point system based on story type, media tier, visuals and coverage placement. Scores for earned media range from a low of 2 points to a high of 10 points.
An arrow in the upper right-hand corner of a box indicates additional information is available. Click to open.
If you have any questions about Communications and Media/PR, please contact:
Joyce Kiehl, Director of Communications
joyce@visitgreaterps.com | 760.969.1338